What if we told you that there's probably a lot more you didn't know about Downtown Kuala Lumpur (KL)? Nothing beats exploring your own backyard, especially with domestic travel being more enticing right now. Whether you'd like someone experienced to guide you through the city or you're more of an intrepid explorer, we've got you covered.
But before we get into it, here are some tips for prepping. While Malaysia may be hot and sunny all year round, it's best to prepare for rainfall as weather can change drastically in KL. Pack a light bag with an umbrella, sunscreen, a poncho, and a water bottle. Most importantly, wear breathable clothes, comfortable shoes for walking, and DON'T FORGET your camera!
There's always strength in numbers for self-guided tours, particularly if you're anxious about walking around alone. Exploring with your friends will make the trip more memorable too! For more tips, check out our guide on safely exploring Downtown KL here.
Guided Tours
1. Free Walk Kuala Lumpur Unscripted (FWKLU)
Be mesmerised by all the stories you've never heard of, even if you're a long-time KL-ite. Free Walk Kuala Lumpur Unscripted (FWKLU) doesn't just show you landmarks and historic buildings — their walks are unscripted because it is neither a presentation nor a lecture.
These walks are hosted by a group of passionate guides who have more than 10 years of experience in conducting walks. FWKLU is led by Jane Rai, an award-winning tourist guide, and has been conducting tours since 1993!
Conversation and questions are welcome during the tour, so come with a curious and open mind. You are encouraged to support the local artisans, shops, and communities that you meet along the way. FWKLU is a walking tour so you will be leaving no carbon footprint!
FWKLU currently offers two tours:
Old Kuala Lumpur: East-West Connection
Tales of Sultans | Chinese Kapitans | Colonial Times
Every Sunday
Starts: 9:30am at Cosmo Hotel Kuala Lumpur
Ends: 11:30am at Kuala Lumpur City Gallery @ Independence Square
Old Kuala Lumpur: Chinatown Cultural Walk
Tales of Chinese Migrants | Diverse society | Traditional Trade
Every Saturday
Starts: 10am at Four Points by Sheraton Kuala Lumpur
Ends: 12pm at Four Points by Sheraton Kuala Lumpur
How to book: WhatsApp or send them a Facebook message
Price: Free, but tipping is highly encouraged
Contact: +6019 699 2668
2. Bike with Elena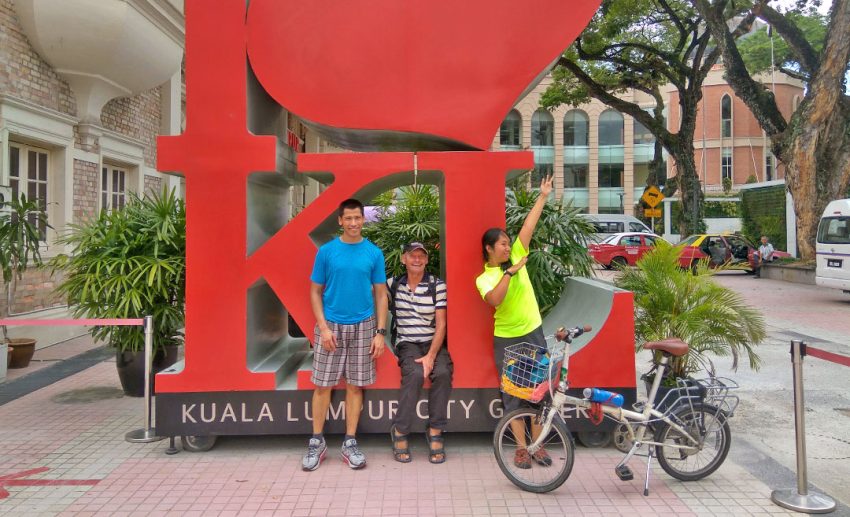 Not too sure if walking will be your thing? Well, you can take a bike tour! Get that daily exercise in while discovering the hidden gems of Downtown KL. Elena loves the outdoors and will be caught doing anything and everything adventurous. She is committed to a lifelong mission advocating for nature, conservation, and cultures.
Join her and other local guides, cycling at a slow, relaxing pace, to uncover the secrets of KL, and listen to the stories of the local community. You will be provided with a bicycle, helmet, a bottle of water, and meals, depending on the time of your bike tour.
Downtown KL tours offered by Bike with Elena:
Hidden Secrets of Kuala Lumpur
Hidden alleyways | Historical gems | Locals only secret spots
Cycling distance: approximately 10km
Starts: 7:30am at MATIC, Jalan Ampang, KL
Ends: 11:30am
Tour page.
Hidden Secrets of Kampung Baru
KL's first Malay village | Sample local delicacies | Raja bot market
Cycling distance: approximately 7km
Starts: 7:30am at MATIC, Jalan Ampang, KL
Ends: 11:30am
Tour page.
Hidden Secrets of Pudu – The Real Little Chinatown of Kuala Lumpur
Famous eats | Best for food enthusiasts
Cycling distance: approximately 8km
Starts: 12:30pm
Ends: 4:00pm
Tour page.
How to book: Book here
Price: Starting from USD60 per pax (approximately RM260)
Contact: +6013 8500 500
3. Chow Kit food tour by A Chef's Tour
No Downtown KL tour is complete without a sampling of local street food. Join this Chow Kit Food Tour for an evening of food heaven. It will be a four-hour walking tour with plenty of rest (read: eating) stops along the way!
Discover the local flavours of KL with passionate guides who have extensive knowledge of the local cuisine. Some of the food you may get to taste is rendang, satay (flame-barbequed meat skewers with peanut sauce), ikan bakar (grilled mackerel wrapped in banana leaf), cendol durian (creamy shaved iced dessert topped with durian—the king of fruits), and nasi kerabu (a blue rice dish coloured with butterfly pea flowers).
How to book: Book here
Price: Starting from USD55 per pax (approximately RM240)
Contact: Contact form.
4. Simply Enak food tour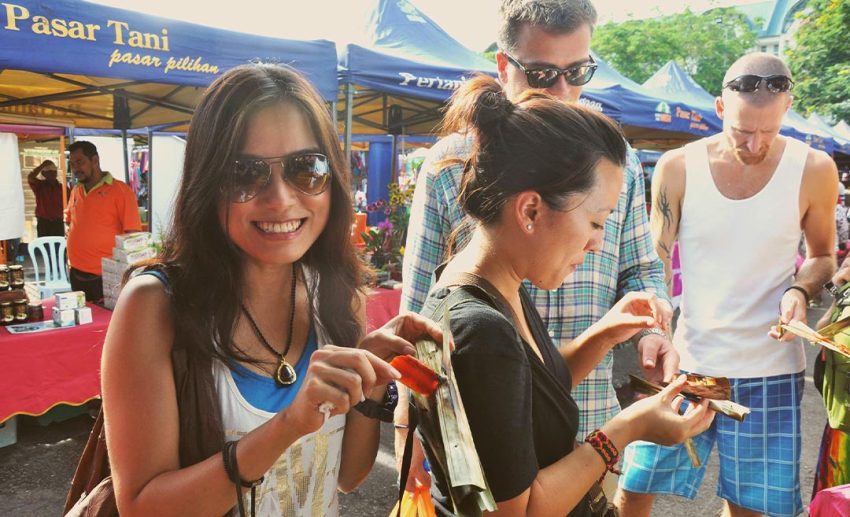 At Simply Enak, they believe food stories extend beyond the palate. Every food tour that Simply Enak hosts will include the heritage, culture, and story of the people who serve the dish. This is how they marry history and food while supporting local businesses and sharing authentic Malaysian flavours with you.
Here are three of their food tours in the Downtown KL area:
Secrets of KL – Nightlife, Street Art, Cocktails & Craft Beers!
*For adults aged 21 and above only.
Street murals | Night market | Speakeasies | Chocolates, cocktails & craft beers
Starts: 4:30pm
Ends: 8:30pm
Book this tour here.
Flavours of Malaysia (Off the Beaten Track)
Wet market | Heritage | Culture | Little Indonesia
Starts: 3:30pm
Ends: 7:30pm
Book this tour here.
Kuala Lumpur Street Food
Handmade pau | Chinese Medicine | Culture and heritage | Charity Cafe
Starts: 9:15am
Ends: 12:45pm
Book this tour here.
Price: Starting from USD63 per pax (approximately RM275)
Contact: +6017 287 8929
Self-guided tours
5. Kuala Lumpur's must-visit attractions trail card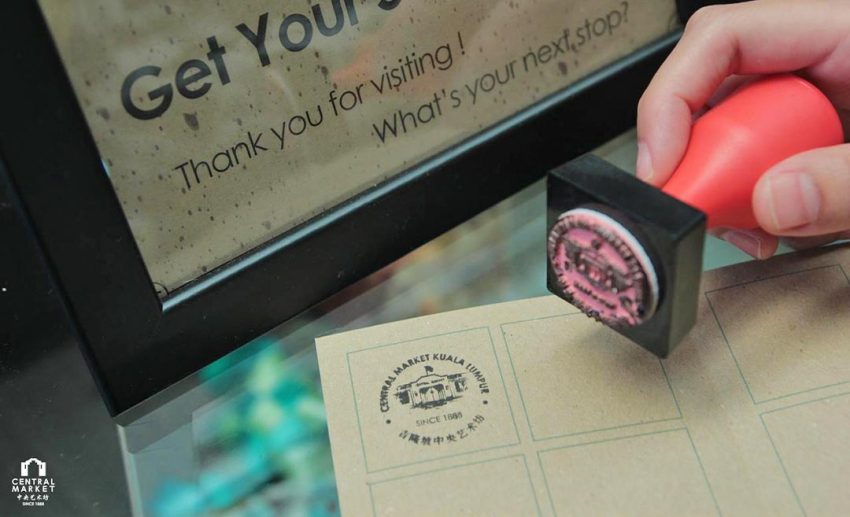 This is a special self-guided tour because you will be collecting novelty stamps at each stop as you visit 12 iconic destinations in KL! You can collect this trail card at the Central Market Information Counter, which is also the trail's starting point. Here are the 12 destinations you'll be visiting:
Central Market Kuala Lumpur (starting point)
Sri Maha Mariamman Temple
Sin Sze Si Ya Temple
Sultan Abdul Samad Jamek Mosque
St Mary's Cathedral
Sultan Abdul Samad Building
Merdeka Square
National Textile Museum
National Mosque
Chan She Shu Yuen
MATiC, Malaysia Tourism Centre (finishing point)
We're sure that this completed trail card will beat any average postcard souvenir you've ever had of KL.
Pro tip: If you're in KL for a few days, take your time spreading out the locations over the days — the operating hours of each site may vary. You'll be able to enjoy the different areas of Downtown KL and soak in its ambience at your leisure.
Address: Lot 3.04-3.06, 06, Jalan Hang Kasturi, City Centre, 50050 Kuala Lumpur
Contact: +603 2031 0399
6. Cafe Hopping Tour
Did you know we have a humungous list of cafes in downtown KL? There are so many charming and trendy cafes in the area that you can make a day trip out of visiting them! Most of the cafes are within walking distance of each other and easily accessible by public transport.
If you need help planning your own Cafe Hopping tour, use the GPSmyCity application to help you map out your route. Or, you can always use Google Maps and put pen to paper to have your little handmade map of downtown KL cafes!
7. An Arts and History Tour
Are you the kind of tourist who frequents museums and art galleries when visiting a new city or country? Check out our list of museums and galleries in the Downtown KL area and beyond! Learn about the history of KL and how it came to be, the story of money in Malaysia, marvel at Islamic and ethnic arts, and so much more.
8. 'Heritage Tour' and 'Old KL & Nature Walk'
Not a fan of digital or handmade maps? Well, grab yourself one of those maps designed for tourists! You can get yourself a copy of the Kuala Lumpur Walks & Tours Map at the Kuala Lumpur City Gallery. It includes a map of the city, a transit map, highlights in the Chinatown area, and heritage sites.
This map also features two trails: Kuala Lumpur Heritage Tour and Old KL & Nature Walk. Take note that different attractions will have varying operating hours. Not to worry if they're closed, though — the buildings are picture-perfect from the outside!
Kuala Lumpur City Gallery
Address: No. 27, Jalan Raja, Dataran Merdeka, 50050 Kuala Lumpur
Contact: +603 2698 3333