The natural world is a wild and wonderful thing! Did you know that in some places around the world, you can encounter otherworldly creatures and plants that naturally glow in the dark?
Emitted from algae or small crustaceans, bioluminescence is an unforgettable experience you should witness at least once in your life. Bioluminescence is best seen when there's no moon or if it's a cloudy night, so keep this in mind if you're hoping to catch it. Here are some of the best places to find this rare and beautiful phenomenon:
1. Tusan Beach, Malaysia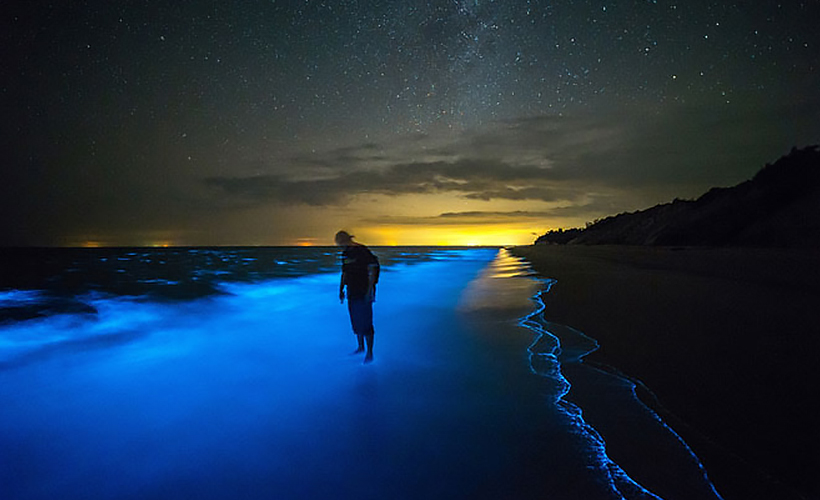 Good news: you don't actually have to venture that far to catch this unbelievable sight – just head to Miri, Sarawak. Half an hour away from the city is the gorgeous Tusan Beach, where the blue glow, known locally as 'blue tears', makes its appearance. Here, it's caused by algae called dinoflagellates.

While the phenomenon has existed in the area for quite some time, it's only recently been known beyond locals to the wider public, increasing the beach's popularity for visitors. The blue tears typically appear towards the end of the year, around September to December.
2.Toyama Bay, Japan
Located on the northern shores of Honshu, Toyama Bay borders the Toyama and Ishikawa prefectures. This tranquil bay is home to Watasenia scintillans, or the firefly squid. Only three inches long, the squid's tentacles have special organs at the ends called photophores, which resemble fireflies, giving them their name and their glow.
While they spend most of their time in the deep sea, in the spring (March to June), you can observe them in abundance, as they come to the bay for mating season. There's even a museum dedicated to the firefly squid in the port city of Namerikawa – the only one of its kind.
3. Vaadhoo Island, The Maldives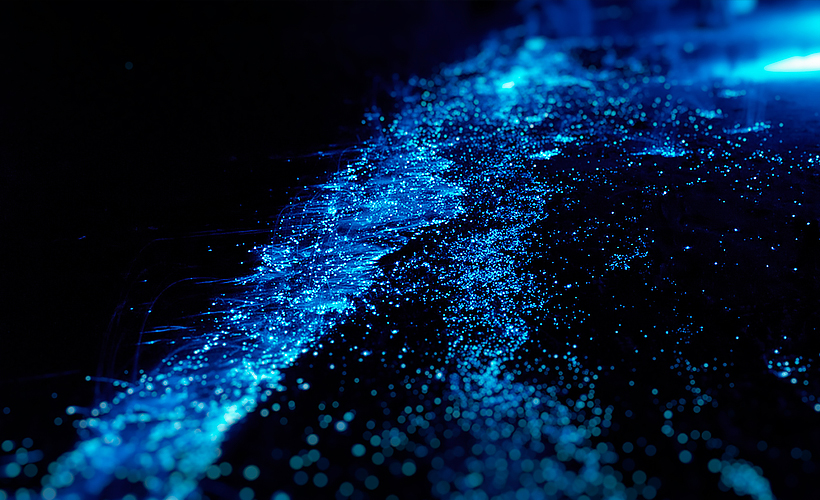 Many of the islands in the Maldives feature beaches with shorelines that glow a mesmerising electric blue. This glow comes from bioluminescent creatures called ostracod crustaceans, which are known to emit their light for longer than plankton do. Vaadhoo Island's Sea of Stars is also one of the most famous and most photographed.

4. Krabi, Thailand
During the day, you can enjoy this idyllic island's sun, surf, and sand, But when night falls, be bewitched by the shimmering waters, which only light up when there's movement. Many tour operators in Krabi offer boat tours that will take you out to sea or you can simply wade into the water from the beach.

5. Tasmania, Australia
The bright blue glow you can find around Tasmania's beaches comes from billions of single-celled algae called Noctiluca Scintillans, more commonly known as "sea sparkle". Preservation Bay to the north or South Arm in the south are some of the best spots to catch them. Due to the low light pollution in the area, you're also likely to get clear, stunning views of the starlit skies above.

6. Sam Mun Tsai Beach, Hong Kong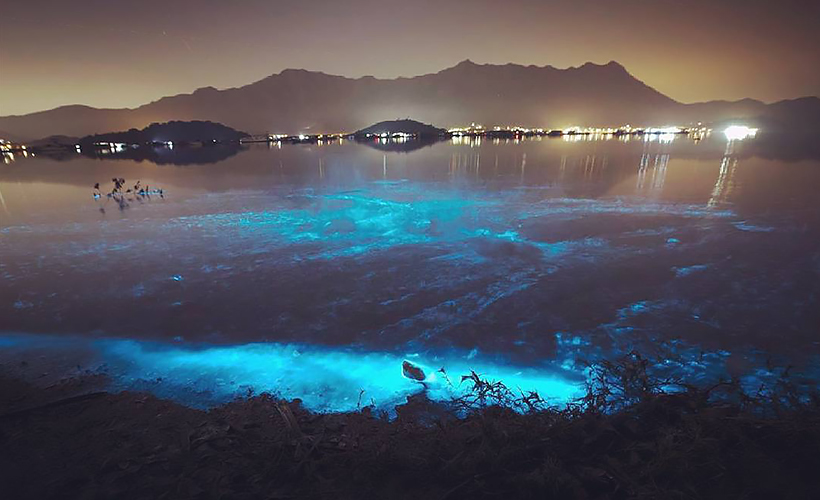 Outside the bustling city of Hong Kong is the sleepy fisherman's village of Sam Mun Tsai. On its beach, bioluminescent plankton isn't present all year round, so you'll have to catch them during an algal bloom, also known as a "red tide".

However, certain types of red tide can be harmful to other organisms, so be sure to check whether it's safe to step onto the beach. Otherwise, witness its splendour from a safe distance if you can.
7. Koh Rong, Cambodia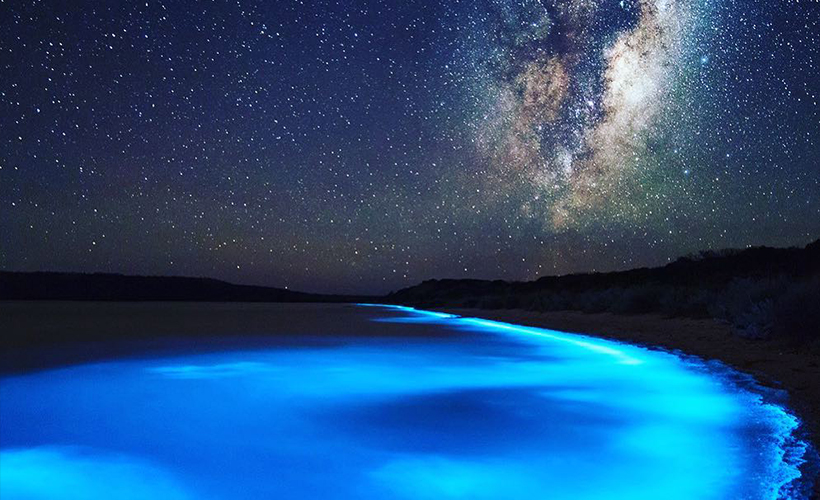 Koh Rong is one of Cambodia's premier island destinations, known for its dense jungles, sandy beaches and best of all, its brilliant, bioluminescent waters.

To splash among the glittering lights, you can either book a boat tour (which will take you out to the open ocean) or make your way to Long Set Beach, Lonely Beach, or Coconut Beach. We highly recommend the first option – nothing beats floating among the otherworldly lights while surrounded by darkness.
8. Mosquito Bay, Puerto Rico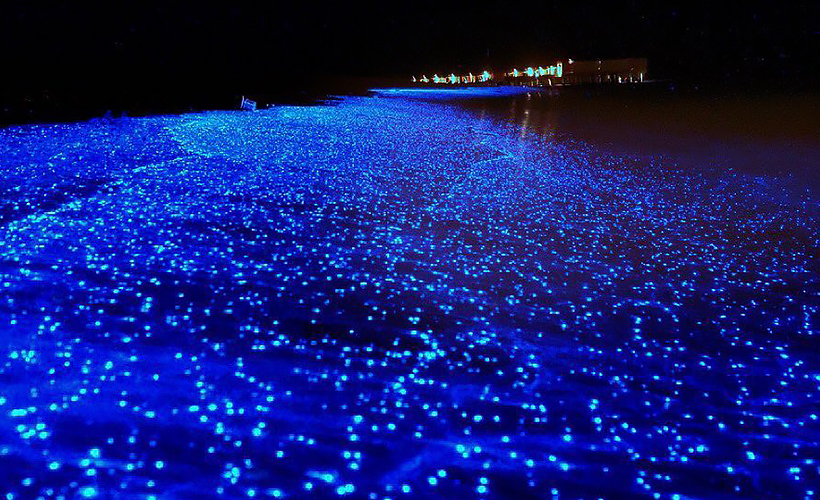 Puerto Rico's Mosquito Bay on the island of Vieques is the brightest and best-known bioluminescent bay in the world. The best way to experience the bioluminescence is to hop on a kayak and paddle around the bay. True to its name, there are mosquitoes galore, so to avoid being eaten alive, do bring along plenty of bug spray.

Suffice to say, photos don't do justice to the real-life experience of swimming among stars, so make your way to these glowing destinations by booking your flights and hotel stay on Traveloka today!
*All photos are courtesy of Traveloka unless otherwise stated.

This story was originally published on Traveloka.
Zafigo republished this story in full with permission from the author to hopefully bring the story and the author to a larger audience, simply because good authors and stories should be read by as many people as possible! If you are keen on Zafigo republishing your stories that will be of interest and useful to women travellers especially in Asia and the Middle East, please get in touch with us at [email protected].
Get all the latest travel stories from Zafigo. Follow us on Facebook, Twitter, and Instagram.