It's every parent's holiday headache — when the kiddos want to bring ALL the toys with them. Of course, they can't, but sometimes there's no reasoning with the pint-sized dictators. So we either follow along and overpack with toys they won't play with on the trip or come to a compromise.
Having travelled with my toddler numerous times, I've learned that one of the best 'compromises' (really, this is for lack of a better word) is to bring along surprises and/or travel-friendly toys. Surprises are great because they'll be fixated on the new plaything for longer (you've struck gold if it's the entire trip), while travel-friendly toys, in general, are anything compact, relatively light, easy to clean up, and won't make permanent messes you'll need to pay damages for (like slime — possibly the worst holiday toy).
Having recently had to prep for my preschooler's first long-haul flight and intercontinental adventure, here are some things that I've either procured for the miniature autarch or stumbled upon to appease (hopefully) even the most discerning toy connoisseur who needs to be separated from their main stash of entertainment. Godspeed, and I hope these help.
Will you be my boo?
Ty Beanie Boos
Yes, I know. Your kid has more than enough stuffed animals at home, but hear me out. Ty's Beanie Boos are teeny tiny glittery doe-eyed plushies that are both collectable and easy to tote around. Instead of letting my little one bring a heaping mound of bulky stuffed toys, we shove her Ty babies into her bag, and she's happy to have so many friends come along on the trip.
We also buy one for her every trip since you can acquire them at just about any airport — usually at WH Smith or a bookstore. She then has recollections of which Ty babies she'd gotten from where and it helps her form core memories. Price-wise, they aren't too bad and even the larger Squish-A-Boos double up as cute pillows to keep them comfy on a flight.
For fidgety babes
Baby spinners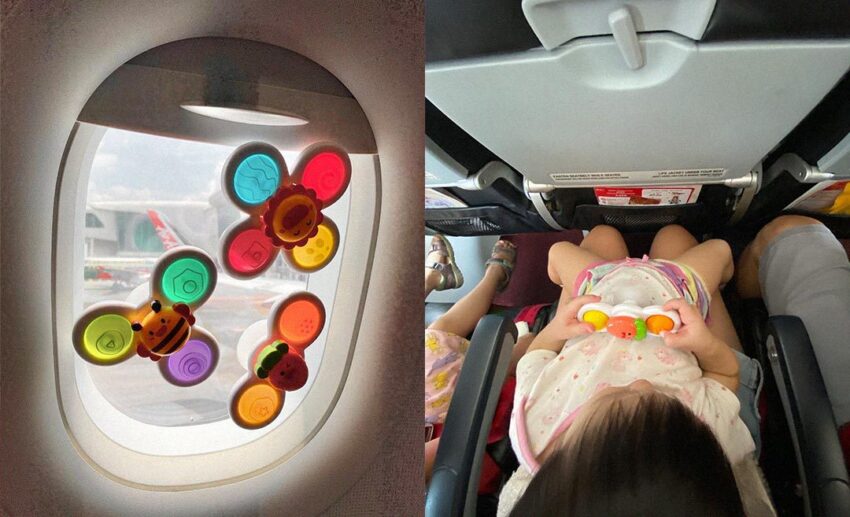 A fidget spinner, a decorative element for your tot's aeroplane/car window, and a pop-it toy all in one! Best for babies and toddlers, this ought to keep the little ones engaged and distracted for quite a while. Get the full set of three and turn some of the in-flight hours into a counting or colour recognition game. Once they're tired of getting quizzed, they can focus on developing their fine motor skills by trying to spin it in one hand.
Buy it here.
Stuck on you
Mideer Reusable Stickers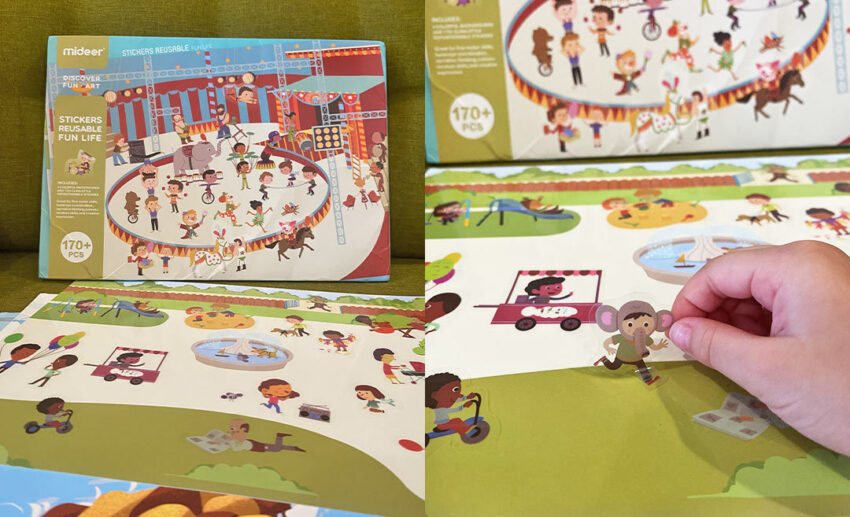 Since you won't pack entire dollhouses or an entire arsenal of dolls, they might be the next best thing. Available in various themes from humanities to transport to animals, these Reusable Sticker sets allow for imaginative play that takes up a mere 0.5cm of space. Each set comes with over 100 stickers and several sceneries for them to make up their own stories and play to their heart's content.
Buy it here.
Have water, will play
Melissa & Doug On-the-Go Water Wow! Reusable Water-Reveal Activity Pads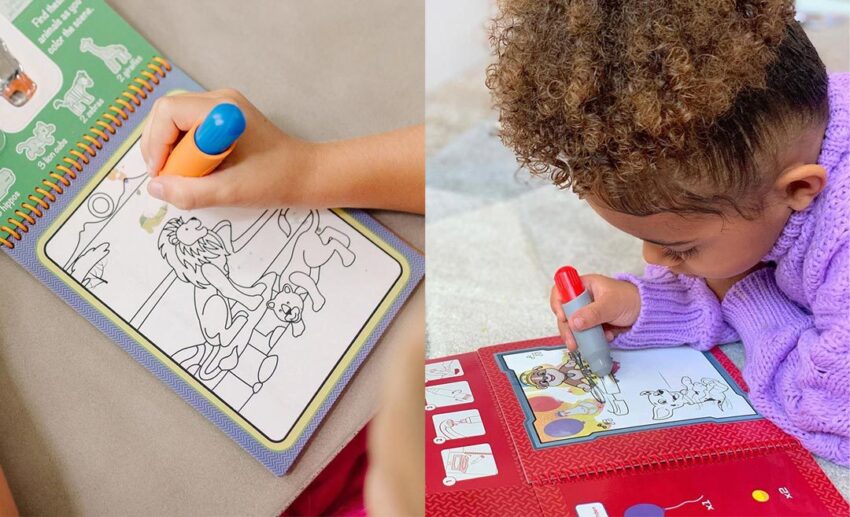 Let your kiddo 'paint' on the go without fretting over the potential of stained hotel bedsheets or furniture. These no-mess colouring pads come with self-and-find activities and are reusable. Each book also only has four pages, so they won't take up much room.
Buy it here.
I love you a lotto
Melissa & Doug Let's Explore Seek & Find Bingo Play Set
Another travel gem from the good people at Melissa & Doug! Also totally reusable, this play set is great for families who enjoy taking their young school-going children (ideally from three to six years old) on vacations to the great outdoors. Packed with two 20-page dry-erase activity pads, the myriad Bingo pages and other activities are suited to all sorts of holidays — like beach trips, camping trips, and jungle expeditions.
Buy it here.
Save a place for me
The Very Hungry Caterpillar Placemats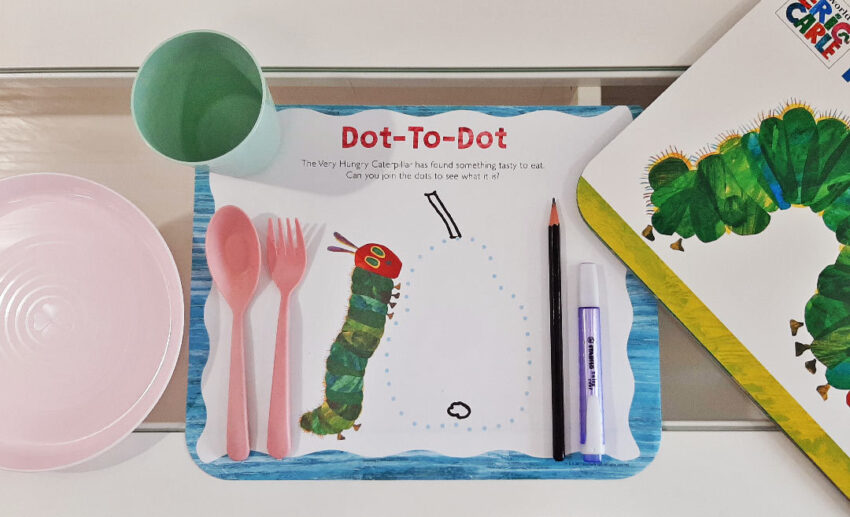 These are brilliant at keeping the little ones occupied without needing a screen during mealtimes. Size-wise, they're just nice for those in-flight stow-away tables, and the booklet they come in is so thin it'll easily slip into any backpack or carry-on.
Buy it here.
Have you found Wally?
Where's Wally? Exciting Expeditions: Search! Play! Create Your Own Stories!
Great for slightly older kids of school-going age, or those who can already read and write, this travel-themed Where's Wally? book allows younglings to get creative and keep busy on their trip. From filling up their own 'boarding pass' to creating their own stories amongst each other or with you, this book offers endless fun! Of course, there are pages for you to actually find Wally, amongst a bevvy of other mazes and activities.
It also comes in a small (I'm guesstimating A5) size, making it easy to tuck away and for the kids to tote around themselves.
Buy it here.
Tote and toss
My Little Pony Magical Mazes Activity Book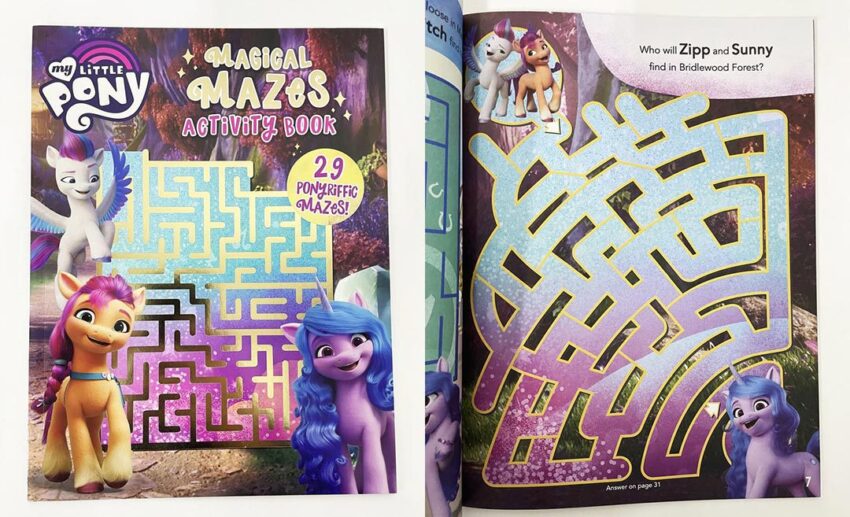 Brimming with page after page of increasingly difficult mazes, follow along with your favourite My Little Pony characters as you help them find each other or their way out of sticky situations. There's literally nothing else in this book but pretty pictures and fun mazes. Sometimes, simple is the way to go!
Since it's not reusable, toss it in the recycling bin before you head back home so there's one less thing to lug back home.
Buy it here.
Buy and keep
Disney Pixar Wipe Clean Activity Book with Erasable Pen
Here's what's essentially the opposite of the My Little Pony book prior to this. This book is reusable, so your kid can enjoy it repeatedly, which is great for their fine motor skills. And if you've got more than one child, even better! The book can be used as a hand-me-down as the kids grow — all you need is a new marker!
It's also got various activities set within, some of which even involve writing. So it's a great chance to get in their head as they fill in the blanks and also allows them to practice their writing skills while killing time.
Buy it here.
Pocket-sized fun
Polly Pocket Unicorn Party Playset
If you've got a girl (or boy) who's very much into dolls or all things cute, then this Polly Pocket Unicorn Party Playset is just the thing. They've got a few varieties, so let the princess choose which one she prefers, but the point is that instead of having to listen to them moan and groan about needing to leave their entire dollhouse collection behind, this is the next best thing.
Of course, it isn't exactly small, but it's pint-sized compared to a Barbie house or Sylvanian Families house/castle/park. It's also super compact as everything fits into a literal carry case, which can be shoved into a suitcase or toted along for the ride.
Buy it here.
Roll out!
Toy Car Container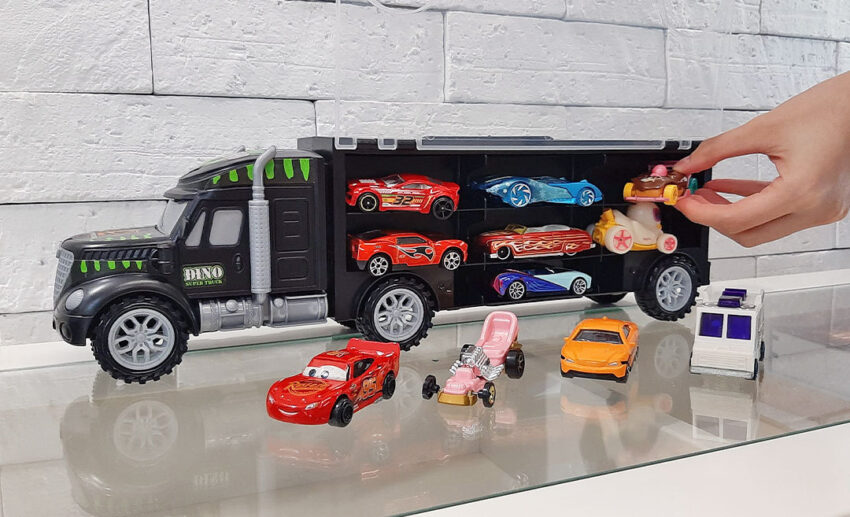 This is a lifesaver for anyone with junior motorheads at home who can't part with their Hot Wheels. Although this truck-shaped carry case isn't designed by Hot Wheels, it perfectly fits them or most die-cast cars like the Takara Tomy Tomica.
Get the kids to pick their fave cars of the bunch and be accountable for each one. You'll have fewer cars to worry about as opposed to bringing a whole bag, and you can easily spot if something is missing since there will be an empty spot.
Like the Polly Pocket, this is also somewhat bulky, but I suppose they should be allowed one medium-sized thing, especially if it's something they really love and enjoy having with them. The whole point is to keep them entertained.
Buy it here.