Picture this: You've spent the morning splashing about by the beach. But even with your skin tickled pink from the scorching sun, you throw on a hat and head out to explore the temples, tour the mangroves, climb the peaks, or meander through the city. Whatever you choose to do on holiday in Malaysia, after dinner, you'll be beat. So, naturally, your accommodation's bed is of utmost importance.
It's challenging enough getting good quality sleep while travelling, as you're slumbering in an unfamiliar bed, but thankfully, the good hotels know that. While most hotels are sure to offer you a comfortable enough place to rest and recharge, some hotels take things up a notch and ensure only the best. Here are some of Malaysia's best hotel beds.
Dream a little dream
The Ritz-Carlton Langkawi, Malaysia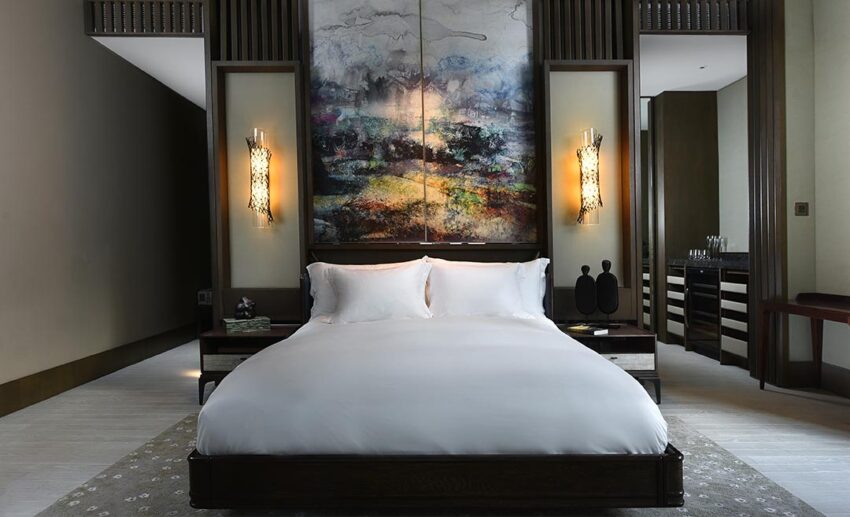 Let's kick things off with arguably one of the best beds in the world. I mean, how can one go wrong with a bed crafted by Simmons exclusively for The Ritz-Carlton, Langkawi?
Sink into a plush bed made of the finest materials, as the custom-designed bed allows you to recline, reflect, and seek repose at the end of an enriching day exploring Langkawi. You'll find two bed sizes available at The Ritz-Carlton Langkawi — the Asian King Bed and the Queen Bed.
Getting down to the nitty-gritty, this signature bed features pocketed coil technology in the mattress and Bonnel coils in the box spring for double coil support that's firm but still comfortable. The mattress is then topped with a soft surface that feels like sleeping on a cloud.
The luxe doesn't end there. The devil is in the details, and the beds are finished with lustrous 100% cotton sateen linens and allergen-free goose-down duvets and pillows made from natural materials. And if you're wondering why or how they're so soft to the touch, that's because they've also been exclusively made for the resort! This time by the historical American brand Frette.
Engineered for a good night
Le Méridien Kuala Lumpur, Malaysia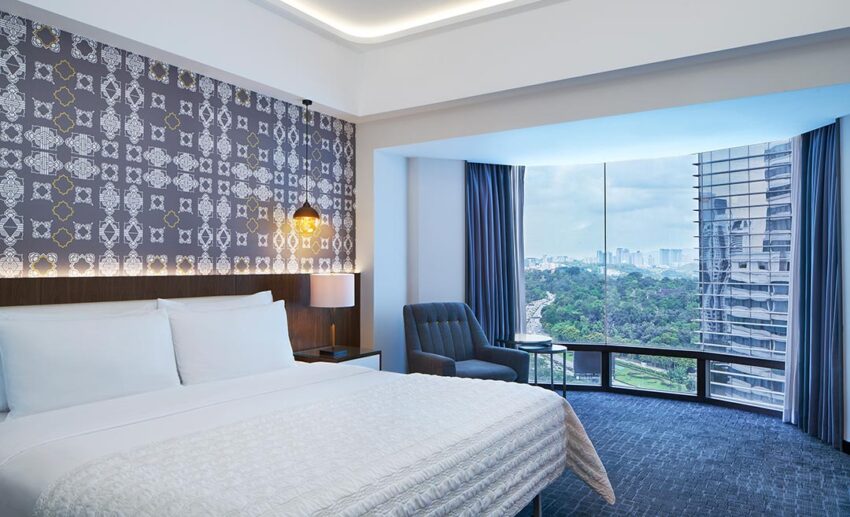 While a central location and mid-century modern chic rooms and suites are all well and good, the main feature of your stay at Kuala Lumpur's (KL) Le Méridien is the signature, Le Méridien Bed.
Equal parts luxurious and comfortable, the featherbed is designed with a plush pillow-top mattress and lovingly embraced by high-quality linens crafted to ensure a peaceful night's sleep. The elegant divan accompanying the mattress is custom-made and engineered for comfort to ensure you're rejuvenated — whether you're travelling for work or play.
And if you happen to want a slice of the good life at home, hit up their site where you can purchase their bed and bedding.
We call it Fort Bed
Shangri-La Kuala Lumpur, Malaysia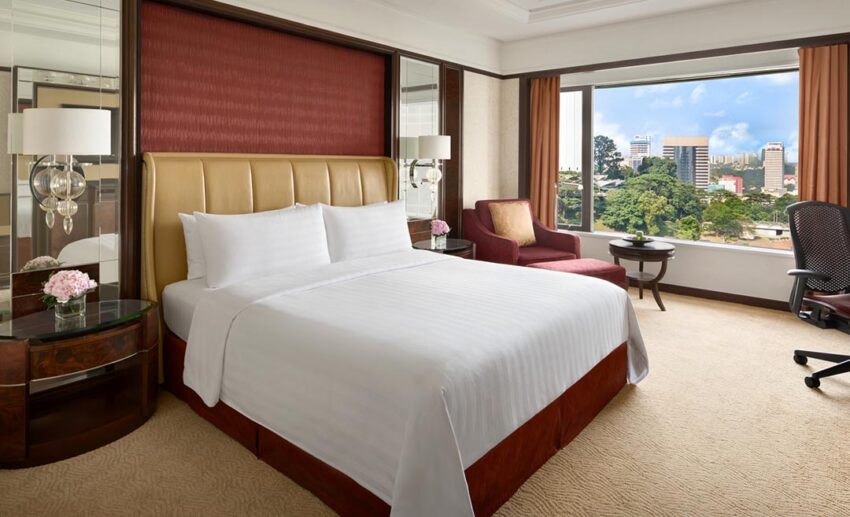 Those of you who've built pillow forts, raise your hands! Live out your childhood fantasies and your adult need for enough sleep when you check in at the Shangri-La KL. The property's bedroom pillows are all custom-made, and the pillow menu offers guests two variants — firm and soft. Get a mix of both to build the pillow fort of dreams you can rest easy in. Peep the closet for extra pillows, but if you still don't have enough, hit up housekeeping for more!
Sleep that's most heavenly
The Westin (multiple locations), Malaysia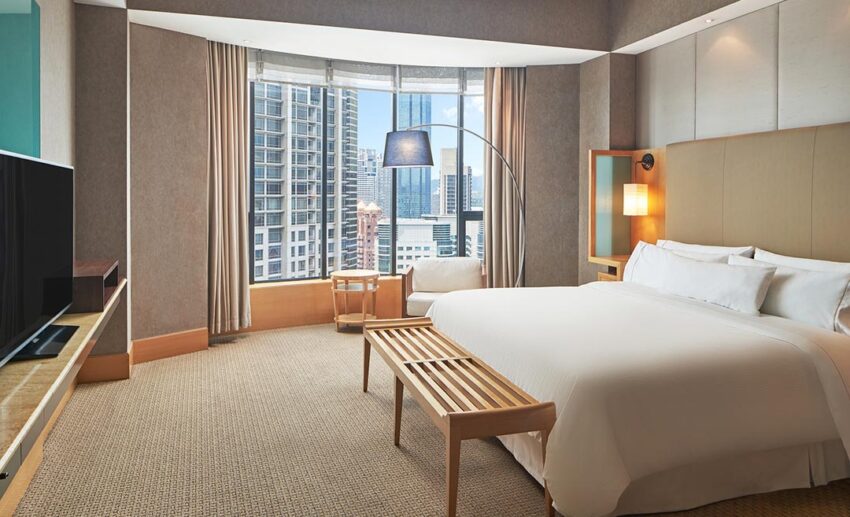 No cap, the Westin Heavenly Bed is renowned amongst any seasoned traveller. I can even recall one of their Heavenly Beds displayed at the hotel lobby of The Westin KL. So confident are they in the goodness of their bed that it's, well, a thing. Whether you're staying at The Westin in Langkawi or Desaru Coast, or even anywhere else in the world, you can always be certain that you'll be coming back to The Heavenly Bed.
But why go to the extent of designing a proprietary bed?
Well, because good sleep is critical for mental and physical health. Every detail of the Heavenly Bed promotes superior slumber so you can wake up renewed and refreshed. This includes signature pillow-top mattresses and crisp sheets to The Westin's down blankets and plush pillows!
You can bring The Westin's sleeping experience home too. The Heavenly Bed and its bedding set are available for purchase at The Westin Kuala Lumpur. Those keen can call +603 2731 8333 or purchase online via their e-shop.
BONUS
'Around' the world in 40 winks
Lé Meridien Bangkok, Thailand
We couldn't not include this on this list. This bonus entry can be found in one of my favourite cities — Bangkok! Staying at this art-inspired property in the heart of the thriving city, you'll find yourself in a little oasis of wellness tucked away from the hullaballoo.
Lé Meridien Bangkok has just introduced the Executive Round Rooms, perched on the 22nd floor of the hotel overlooking Silom. Besides allowing you a 360-degree view of their room and panoramic views of Bangkok's cityscape, you're also given a circular bed.
We know what you're thinking. What even? But circular beds aren't a gimmick — they've been shown to improve sleep quality, ease pent-up stress, and help tension float away. The shape and size of a circular bed also give you greater freedom to move, so you'll doze off faster and sleep deeper.
As an added perk, according to psychologists, a round bed allows the sleeper to feel more in command of their surroundings, which is ideal for anxious travellers.