And just like that, fasting month is right around the corner! As if we haven't already had enough holidays and festivities in this first quarter of 2023, things will go back into full-on party mode in a month with Hari Raya Aidilfitri (Eid al-Fitr) — so it's time to get prepping! No, this time, we're not talking about preparing your Hari Raya food but about prepping yourself from top to toe.
Treat this list as inspo and a checklist so you can look Raya ready with no stress!
The baju
First things first — your baju Raya (Eid apparel). We're sure you've seen by now that many local designers have released their Lebaran 2023 collections well ahead of the fasting month. This goes to show how early everyone's prepping to attain their chosen Raya looks.
If you're going RTW, we recommend placing your orders, well, yesterday! RTW collections from popular designers such as Alia B and Rizman Ruzaini sell out FAST. So don't sleep on your fave looks. We've even compiled this mammoth list of sedondon (matchy-matchy) baju Rayas you can order to match with your husband and the little ones!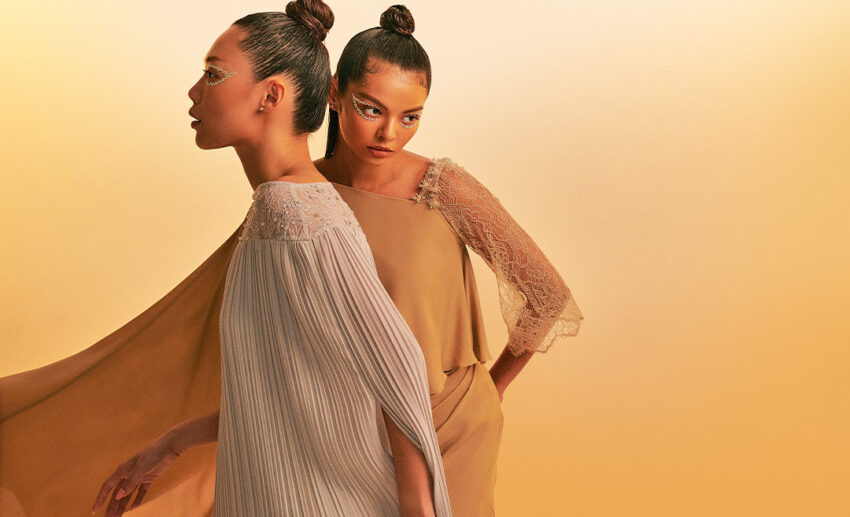 For those who have the means to move away from diffusion lines and prefer something made to measure, designers, including Alia Bastamam, are already taking orders.
The innerwear
No, we're not talking about your bras and knickers but rather about your shapewear and innerwear (for our modest celebrants).
You'll find shapewear to be particularly useful if your baju Raya is tight-fitted. Instantly take off up to 5 centimetres when you use the Pliē Shaping Compression Corset. We can personally attest to how comfortable this is, and as a bonus, its fitted design prevents you from overeating. So, you can pace yourself as you go to more and more open houses! If corsets aren't your thing, consider the Double Compression High Waist Panty that'll still since your torso without any of the boning.
For our friends who dress modestly but whose baju Raya sleeves are coming up a bit short, we recommend Uniqlo's Airism range and Innersejuk's selection of scarves and tudung inners for those who wear hijabs. Both are highly breathable, comfortable, and you'll barely even remember you're wearing an extra layer!
The accessories
You're never fully dressed without jewellery. Whether you're thinking of going full glam with statement baubles or prefer daintier pieces, we've got you, girl.
When it comes to minimalist jewellery (which you can totally stack to turn into a statement, by the way), you can never go wrong with Wanderlust+Co and Nelydia Jewels. We're falling head over heels over the Bulan Bintang Eid 2023 collection, a collaboration between Wanderlust+Co and designer Jovian Mandagie that features all sorts of chintzy trinkets, from hijab pins to necklaces and rings. Meanwhile, Nelydia Jewels offer timeless elegance with cushion cut stones, halo rings, and drop earrings. We've also got a list of local minimalist jewellery brands you can check out.
None of these cute enough for you? Enter TinyPinc. A purveyor of hand-sculpted wearable miniatures, you can wear bright and pint-sized iterations of your favourite Malaysian dishes. After all, Hari Raya centres around food, family, and fun, right?
Now, for all of you who love all things sparkly and OTT. We're long-time fans of The Extra Piece for their high-quality costume jewellery and show-stopping minaudières. From statement earrings and clutches to vintage-style bags and bangles, if you live for glamour, then this is the Instagram shop for you!
The footwear
The aim when it comes to choosing the right Hari Raya footwear is to ensure you can easily slip in and out of them — especially if you've got a lot of open houses to attend. Sensibility is also the name of the game when it comes to choosing the heel height. Or hey, you can always opt for a pair of flats!
There are a number of local footwear brands we love that offer just that. And they're all made in high-quality leather and materials! In terms of pricing, they're fair too, and won't burn a hole in your wallet (not something you need when dishing out lots of dosh). So, what are our favourites? They have to be Nelissa Hilman, Machino, and Kulet.
When it comes to Hari Raya footwear, we prefer erring on the side of caution and not recommending you wear fancy designer kicks — or at least not while you're at an open house and have to contend with the possibility of muddy gardens, other guests stepping on your shoes when you leave them at the door, or even them going missing altogether. Maybe save your fancy heels for your OTTD photos at home.
The little extras
Finally, don't forget to book your salon appointments early! Half the work of getting dolled up is done when you're all booked in. And we're sure you know that just about every salon is booked out and even open for longer hours to accommodate patrons in the days leading up to Hari Raya.
Of course, we do have some recommendations for you. Head over to Nailsmith in Publika if you want to do your nails. You can even get them painted as the salon offers a wide selection of wudhu-friendly (ablution) nail polishes! Meaning that you won't need to miss out on Hari Raya's morning prayers.
Needing a little quick slimming session to ensure a more svelte silhouette in your kebaya? Well, Mimone Spa offers the Ultrasonic Cavitation — Body Shaping and Fat Burning treatment that's said to reduce your waist measurements by up to 4 centimetres instantly! Best part is that it's pretty affordable too at just RM230. We've also given their Lymphatic Drainage Detox Full Body Treatment a go before, and it was bliss!
Finally, your crowning glory. Book yourself a slot at COCOdry the night before or the morning of Hari Raya. There's nothing like getting your hair done to amp up the wow factor of your overall look. We also love that COCOdry has a private room for hijabaes at no extra charge!
So there you have it! All you need to get Raya ready from top to toe. Did we leave anything out? Share your own tips, tricks, and favourite spots to shop down in the comments. Selamat berpuasa!