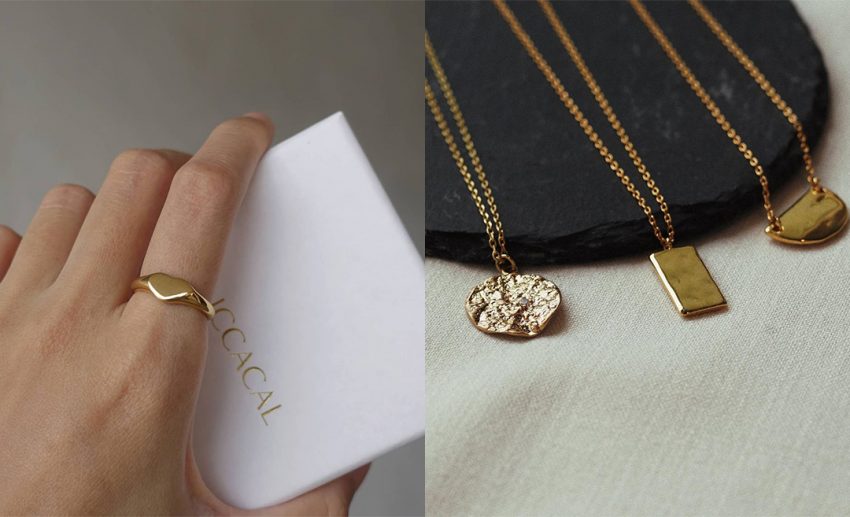 Subscribe to our new 

Telegram

 channel for the latest updates.
Versatile. Elegant. Effortless. These terms aptly sum up the refined simplicity of minimalist jewellery. While there are high-end brands in the growing local market, more and more are veering towards bridging luxurious aesthetics with a less lavish price tag. To suit everyone's taste, we've gladly included them both. 
The best part? Although they remain true to clean designs synonymous with minimalist chic, it's impossible to resist some of their more whimsical and unconventional creations. Whether you choose to mix and match, or layer them on like a tiered cake, the options presented by these local jewellery designers are endless. Time to add to cart:
1. Wanderlust + Co
View this post on Instagram
Unless you've been living under a rock, you'd know that Wanderlust + Co is a cult favourite on the jewellery scene (even internationally) as they often take an experimental approach in their designs. Whether you're diving into their bewitching L'etoile series comprising intricate tarot cards or the Chasing Clouds collection filled with astronomical wonders (including diamante hair clips), there's something to satisfy even the pickiest of fashionistas. 
2. Luccacal
View this post on Instagram
What's to love about Luccacal is that they continuously release handmade and curated demi-fine pieces (made with precious metals and techniques like vermeil plating) that possess a youthful, modern touch. When it comes to their best-sellers, we can't get enough of the engraved rose flower necklace and signet ring. In terms of slightly more unconventional choices, you simply can't go wrong with their stunning Natural Crystal, Abalone Shell, and Freshwater Pearl collections. 
3. Gung
View this post on Instagram
Evoking exclusivity and regality with its name, but practicing affordability and sustainability in its principles is Gung (translates to 'palace' in Korean). With collections inspired by the shapes and structures of buildings, as well as textures of hammered surfaces and natural finishes, it's safe to say that these beauties follow a more unusual and edgy theme. Nevertheless, the daintiness in size makes them easy to wear with everyday ensembles. 
4. Psyndrome

 
View this post on Instagram
With an all-female team in tow, Psyndrome sprung to life to create versatile pieces that stand out from the crowd, tease with a playful design, or sparkle up your look without breaking the bank. True to the spirit of empowering women, the Self Love Necklace is a must-have while the Paperclip Chain and Safety Lock Earrings are a bold, whimsical alternative. 
5. Feithe
View this post on Instagram
How about donning some classic crystal beads that've been given a modern update that stays true to minimalist fashion? Thanks to Feithe, you can now own necklaces, bracelets, and earrings adorned with this underrated mode of muted glimmer under their charming Mabel Series. Additionally, you can scroll through their gemstone charms catalogue to add on to your favourite jewellery. 
6. Minimalist Lab
View this post on Instagram
Exercising simplicity and refinement is none other than the Minimalist Lab. Adhering to the single pendant format, they've created luxurious-yet-modest pieces that feature the luck and protective charms in the Courage series, and even a galaxy-inspired Wonder collection. With that in mind, the elegant LOLA Mother of Pearl Clover Sterling Silver Necklace and Bracelet have stolen our hearts. 
7. VLT
View this post on Instagram
While the diamond/birthstone bar bracelet by VLT (pronounced 'vault') is an excellent go-to for a more personal touch, their Privé Collection packs on the glam with handcrafted pieces embellished with specially-curated South Sea and freshwater pearls, diamonds, and gemstones. Also, be sure to keep a lookout for their upcoming release of ear stacks that include adornment with sapphires!
8. The Straits Finery
View this post on Instagram
Geometric-shaped stacking rings – particularly the gold Nautilus ring – are an exemplary introduction to the design ethos adopted by The Straits Finery. From the multiple parts of the environmentally-influenced Ebb & Flow collection to their classics compilation, the brand's clean constructions will fit seamlessly into your style.
9. MYJN
View this post on Instagram
Another brand that has jumped onto the demi-fine bandwagon is MYJN, named after its founders May and Jun. Coupled with a sustainable core from start to finish, they've released several affordable-but-luxurious collections teeming with clean structures and pearl-embellishment. But our favourites are the jewellery composed of imperfectly rustic, raw-formed pieces.
10. 'KIN
View this post on Instagram
Kick-starting their brand launch with classic hoop earrings, 'Kin then kicked things up a notch with the textured Nysa Hoops in Gold Vermeil. Now, they've branched out, and you'll fin their pieces showcasing gem-encrusted charms that pair perfectly with their clean-cut Rolo chains. It's evident that 'KIN has melded edge, sophistication, and eclectic taste with finesse. We suggest layering these demi-fine beauties for extra flair.  
11. Oranda
View this post on Instagram

Apart from minimalist charms, gothic lettering and scripting are often employed into the sleek designs of Oranda. Presenting a customised letter or word option, feel free to browse through and pick up their dangling vertical script bar earrings or script band rings. On top of that, they've even made elegant pieces with Arabic and Simplified Chinese scripts.
12. Plenty

 
View this post on Instagram
Marvel at the plethora of eye-catching, dainty creations made by the hands of Plenty. While the Genesis Moon and Stars Anklet from the Rose Gold series is undoubtedly gorgeous, the Birth Fleur necklaces marked with different floral patterns for each month make extra memorable gifts. Did we mention they've recently switched to fully sustainable packaging – including pouches, recyclable shipping boxes, and shipping flyers?
13. The Mindful Company

 
View this post on Instagram

What makes The Mindful Company unique is their approach to their design. They create pieces that "serve as everyday reminders" that they hope will be a meaningful addition to the wearer's everyday life. Intricately made with gems and pearls, each piece is accompanied by its jewel's meaning. For instance, how pearls represent wisdom and chrysocolla are believed to empower.
14. Tailored Jewel

 
View this post on Instagram

Specialising in creating bespoke wedding bands, this fine jewellery brand also boasts some everyday jewels with a minimalist aesthetic. From dainty bracelets and necklaces with a single diamond to everyday studs, these are timeless pieces worth every penny.
15. Moodd

 
View this post on Instagram

If you're into stackables, then you're going to love all the pieces form Moodd. Everything is delicate, making them dainty when worn alone, but edgy when stacked. Suffice to say, these wallet-friendly pieces will up your accessories game.
16. My Heavenly Atelier

 
View this post on Instagram

Referring to themselves as slow modern jewellery, My Heavenly Atelier boasts a selection of unique handmade designs that are sure to elevate your style. What's more to love is that these artisanal pieces of wearable art are ethically produced. We particularly love their architectural series of jewellery — basic in wearability but nowhere near basic in appearance.
Editor's note: This article was originally published on 2 March 2021 and updated on 2 December 2021 to include more brands.
Follow Zafigo on Instagram, Facebook, and Twitter. Sign up to our bi-weekly newsletter and get your dose of travel tales, tips, updates, and inspiration to fuel your next adventure!