There's beauty in the old. Since 2008, George Town has received UNESCO recognition as a World Heritage Site. This was based on the Outstanding Universal Values (OUV) of cultural variety as embodied and integrated with living and architectural heritage. The George Town World Heritage Site has various building styles, from government buildings and retail spaces to sacred and religious monuments. But this time, we will explore the shophouse designs in George Town.
What are shophouses?
Shophouses are multi-purpose structures that combine residential and commercial use. These building styles can be found throughout Southeast Asia, often consisting of shops that opens onto sidewalks. They also happen to be the most prevalent urban structure in George Town's built heritage. Fun fact: in Southeast Asia, George Town boasts the most unique of shophouses.
What are the building materials used?
Four conventional building materials, such as clay, lime, timber, and stone, are used to construct these Penang shophouses. In George Town, clay is used to make bricks, floor tiles, and roof tiles. As they can absorb moisture and help cool the temperature inside the house, they are perfect for hot, muggy weather — much like our tropical climate.
At the same time, lime is slaked to create an adhesive mixture utilised in the construction of structures' mortar, plaster, and wash. Additional uses for timber structures include roof beams, supporting beams, staircases, doors, windows, louvred shutters, air vents, and more. Finally, stone or granite is commonly used for the foundation, the surface, and the edging.
Features of a shophouse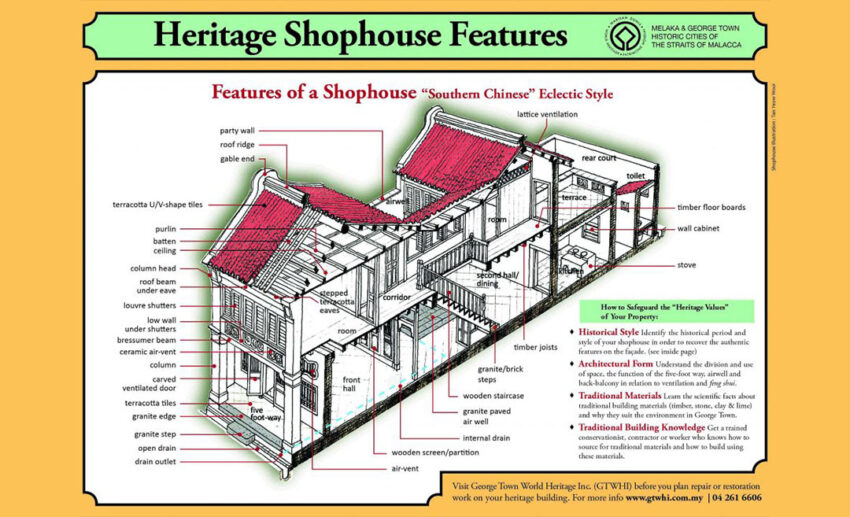 With widths between 12 to 18 feet and lengths from 60 to 140 feet, shophouses in Penang are often long and narrow, with a traditional row of shophouses usually facing the street. They are placed next to one another along a street with no gaps or spaces between them. Here in George Town, the shophouses are typically two to three storeys high.
The airwell that divides a shophouse into halves has a five-foot way (known as kaki lima or goh kha ki). The five-foot path is a semi-open area in front of the ground floor facade, usually covered by an arcaded gallery and separated by columns. In most cases, the owner or shopkeeper resides on the top floor, while the ground floor is utilised for business and commerce.
A shophouse's exterior is ornamental; the facade typically has colours like off-white, indigo, ochre, baby blue, light yellow, and more. Additionally, Malay, Chinese, and European cultures impacted how these shophouses were decorated.
The different shophouse styles in Penang
Now that you have an understanding of shophouses in Penang, here are the main styles of shophouses that you can look out for during your next exploration of George Town.
'Early Penang' Style (the 1790s to 1850s)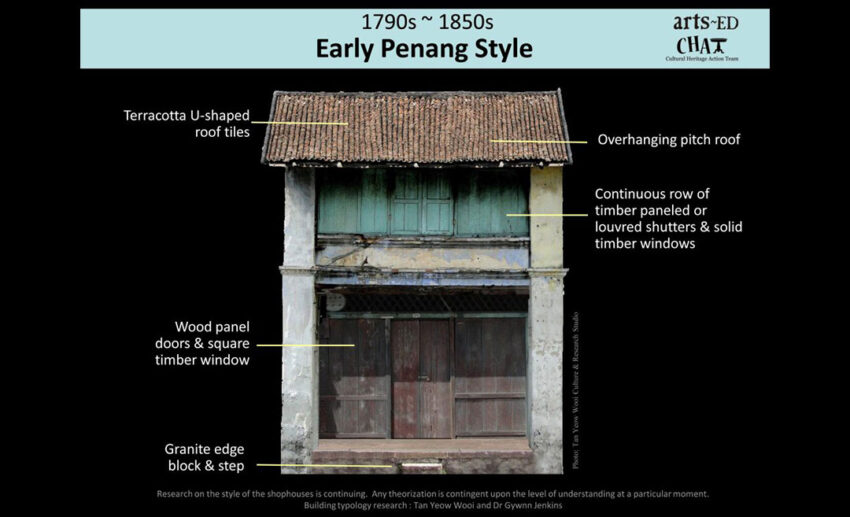 In the earlier times, shophouses were low and had minimal details — they were either single or two-storey structures with a five-foot way. Terracotta tiles were often used to create a roof, and this 'Early Penang' style almost always featured a modest facade. Square wooden windows and wood panel doors are common characteristics of these buildings, with raw materials such as clay bricks, lime, wood, and granite being the usual choice for construction.
Southern Chinese Eclectic Style (the 1840s to 1900s)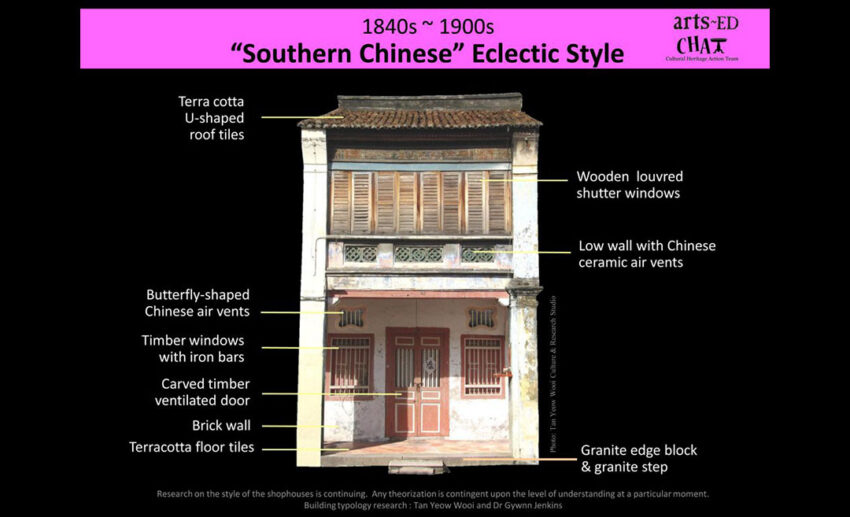 Much like most shophouse styles, ones in this era typically also have two or three stories; but compared to the ones of the 'Early Penang' kind, these are higher. In the 1900s, the design became increasingly decorative but with a sense of simplicity.
Chinese design elements, including carved wooden doors, air vents, and air wells are often seen in these shophouses. Additionally, several of the shophouses exhibited European and Indian influences.
Early Straits Eclectic Style (1890s to 1910s)
In the Early Straits Eclectic architecture, the shophouses were two, perhaps three storeys high. Despite having a blend of Chinese and European embellishments, they are around the same height as Southern Chinese Eclectic Architecture. The introduction of tessellated encaustic clay floor tiles resulted from knowledge and exposure to European culture.
Late Straits Eclectic Style (the 1910s to 1940s)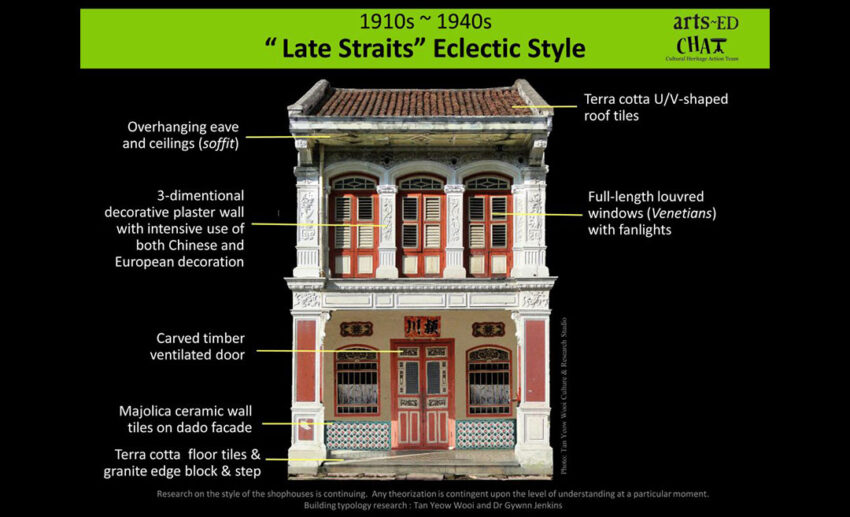 During this period, shophouses typically had a compound garden and two or three storeys with a five-foot way. They are usually shorter in height and heavily decorated with both Chinese and European embellishments.
By incorporating more European influences, this design improved over the previous one. For example, glass fanlights above windows, encaustic cement floor tiles, and majolica ceramic wall tiles are some of this style of architecture's 'upgraded' features.
Art Deco Style (the 1930s to 1960s)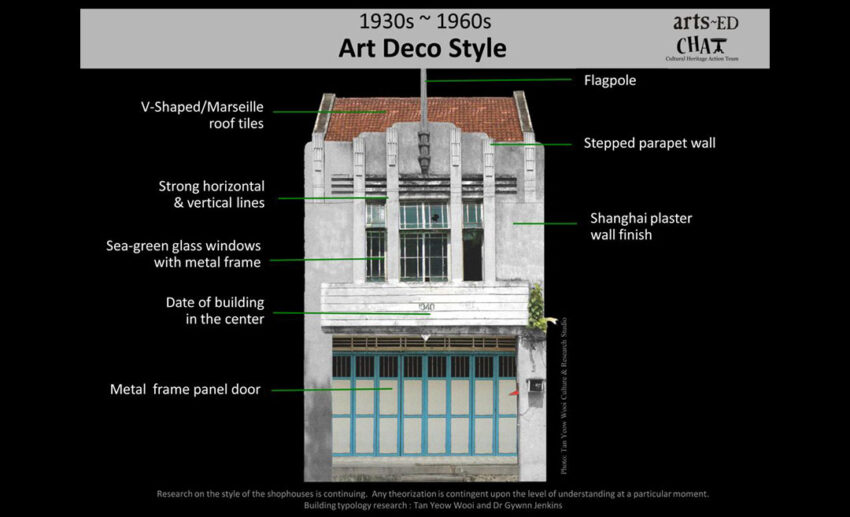 Western business building types, especially cinemas, influence the facade's more fashionable design elements. The height is comparable to that of the Late Straits Eclectic Architecture.
Geometric design emphasising vertical and horizontal lines is one of this architecture's primary defining traits. This design of shophouses features metal-framed glass windows, flagpoles, and relief writing on the walls, in addition to the Shanghai plaster wall finishing.
Early Modern Style (the 1950s to 1970s)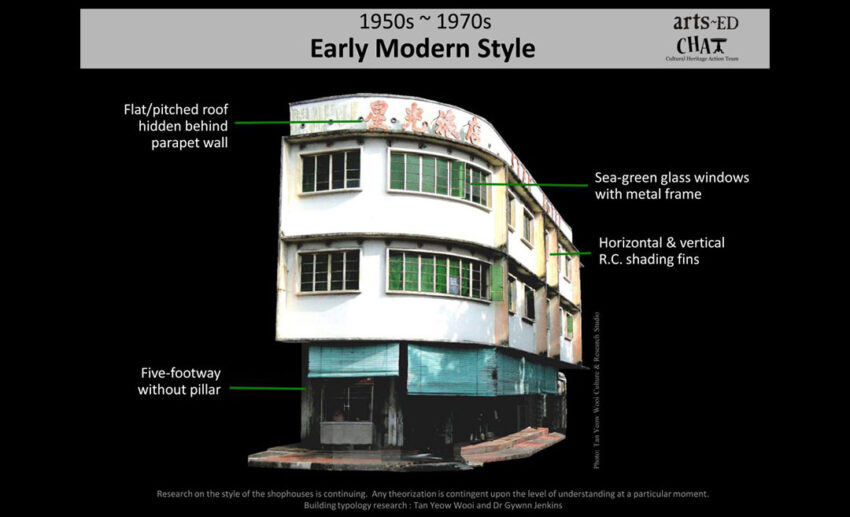 Individual shophouses in this form have two storeys, whereas corner ones often will have three. These row houses with a mix of business and residential space are planned with three levels to appear as one structure. In terms of proportions, it is identical to Art Deco.
Form and design are becoming simplified due to the accessibility of new construction materials and structural advancements in engineering and technology. As a result of these advancements, shading canopies, fins, and metal-framed glass windows are incorporated into these shophouses.
*All images courtesy of George Town World Heritage Incorporated (GTWHI), except cover image.