Who doesn't love a gathering with family, especially one that involves a destination during the festive season? Every year, sometime around Hari Raya or any holiday, my family and I have this tradition where we book a villa and spend quality time during our getaway. And considering the totality of my family members is huge (we're talking 50-plus people here), finding the right space for a family holiday can sometimes be challenging.
But this year, I came across what ticked all the boxes by chance, and it was none other than Melaka's hidden gem, The Rubber Escape. What made it even more ideal was its location, which was central for all family members. Read below to find out why this location should be your next choice the next time you're in Melaka.
About the property
Quite a unique experience that can't simply be found elsewhere, Rubber Escape is truly Melaka's hidden gem, and as its name suggests, the destination is situated in a sprawling rubber estate. Tranquil and secluded, the property is an ideal getaway for city folks to come and enjoy a piece of nature that promises relaxation and a hint of romance.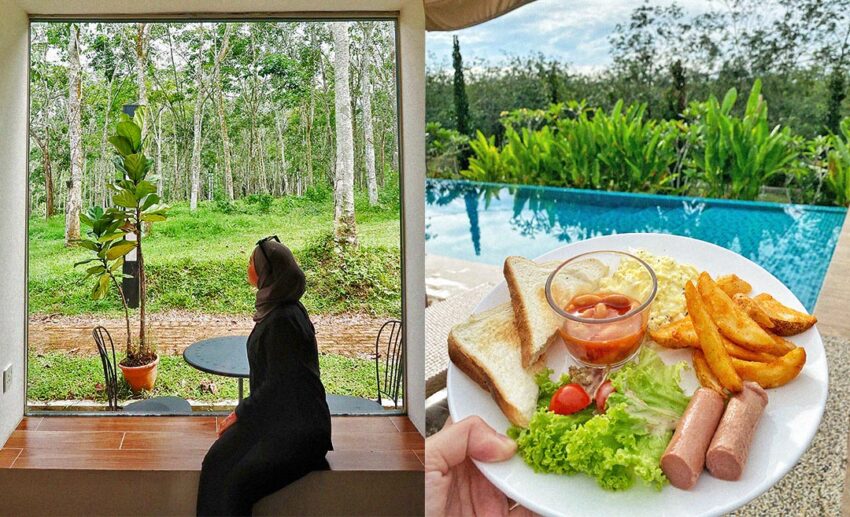 The 12 beautiful units here are simple, but that's part of its charm. And while they may not be luxurious, they're the finest form of simplicity; and beautifully decorated too. Choose from a Deluxe Double Room or the Family Room units, which can accommodate a small family. But if you have a big family like mine, just rent the entire property.
Selected units come with a patio which overlooks the rubber trees. Movie buffs, after a long day of chilling and spending quality time with loved ones, can zone out while watching Netflix as each room comes with access to it. All room rates include breakfast too!
The facilities
In terms of access, the property is a fair way away from Melaka city centre, and the people at Rubber Escape know this, so don't worry about being bored if you're not that great at doing nothing. There's also an in-house cafe ready to feed guests, and it happens to be facing the swimming pool.
There's actually quite a bit to do here, like archery or bicycle riding around the rubber estate. What's the point of being there if you don't at least explore a little? But for those not into working up a sweat, check out their karaoke facilities or opt for some board games with your loved ones!
Like all Malaysians, my family enjoy eating, and we bond even more over food, which is why the barbecue facilities provided at the property were a win, and at only RM50 for rental, we didn't have to think twice.
What else can you do?
Though most of us didn't need to leave the property, some were keen on exploring the surrounding area, even if that meant going for a 30-minute or so drive to Pantai Klebang — a happening food spot. But what exactly should you try? This mini list below should point you in the right direction.
1. Have a taste of authentic asam pedas
One of the many must-try dishes in Melaka is undoubtedly asam pedas, and you can choose from different types of fish here at Pantai Klebang. Take your pick from stingray to pomfret, and if you feel like feasting, give their clay pot version a go.
2. Try their famous coconut shake
You can't leave Melaka without trying their coconut shake, which consists of coconut water and vanilla ice cream. I promise you, it's incredibly delicious and serves as a great thirst quencher! One long-established shop is the Original Coconut Shake Pantai Klebang, so be sure to check it out.
3. Taste the sweetness of kuih keria
Kuih keria is a doughnut made of sweet potato and often generously coated with granulated sugar — the perfect snack to take away and enjoy on your drive back to Rubber Escape. While they're easily found pretty much anywhere in Malaysia, for a truly authentic treat in Pantai Klebang, visit Keria Limbongan Hajjah Rahmah.
4. Check out a submarine up-close
Okay, so enough with the food. History buffs or battleship fans may want to make a pit stop at the Submarine Museum, where a real-life decommissioned submarine is plonked for visitors to marvel at. Worth a visit, for sure!
5. Buckle up at Crazy Racing Malacca
Feeling a need? The need for speed? For a serious adrenaline rush, nip out from the property and head over to Crazy Racing Malacca. Challenge your family to a race and see who ends up with the best time at this 550-metre track. Bring your best Lewis Hamilton self!
Overall, the stay at the Rubber Escape was a marvellous experience, especially with the great hospitality from the staff. Everyone was accommodating, there were plenty of things to do, and it was away from the hustle and bustle, which elevated our stay at the beautiful property!
Address: Jalan Lendu Bakti 8, 78000 Alor Gajah, Melaka
Contact: +6017 678 3611
Web | FB | IG