Ever caught yourself mid-scroll in the endless loop of TikTok videos, Instagram reels, or YouTube shorts and wonder – how can I learn a thing or two while indulging in this guilty pleasure that most Gen Zs are obsessed with (no shade – this Gen Z author is guilty of this pastime too)?
Turn your daily digital scroll into an informative, inspirational, and tummy-rumbling session by following these eight content creators on their social media platforms!
Chatty videos on unique Malaysian recipes
Watch Jean of Jean Bean Studio's mouthwatering Malaysian food recipes, and stay for her relatable video commentary! Check out Jean's shortcut series featuring chee cheong fun and murtabak, in which she uses ingenious hacks to cut down the many tools and extra steps needed to make these dishes.
Other notable works are her renditions of various unique dishes, such as the viral Nasi Lemak Strawberry from the Ramadan bazaars of Cameron Highlands and the Sticky Coffee Pork Ribs from Singapore.
Nutrition tips and healthier Malaysian food recipes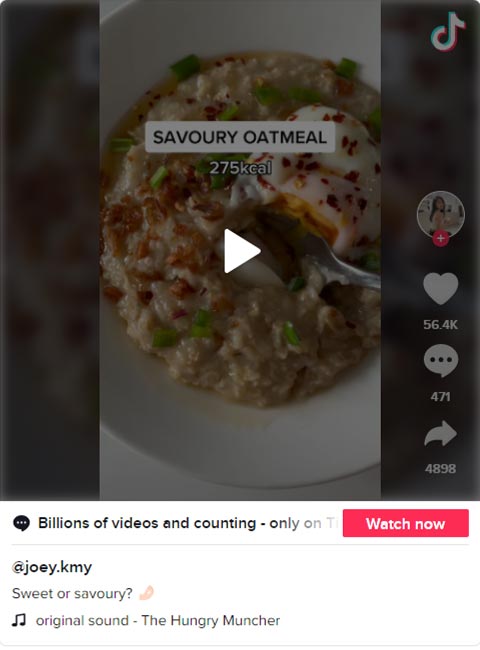 Joey Khor is a student dietitian blowing up on TikTok with her nutrition tips and healthy recipes catered for Malaysians! Check out her 'lazy healthy breakfast/lunch' video series for easy meals that you can easily replicate, and her 'healthier food choices in Malaysia' series for a more nutritious choice when you eat out or bungkus (take away) your next meal.
Adventurous Asian recipes
Foodies may know of Jun from the Take A Bao podcast and his recipes from Food52! Jun is best known for creating recipes with a unique Asian twist and frequently incorporates eyebrow-raising ingredients that surprisingly work.
Personally, we've tried Jun's Miso Mushroom Pasta recipe, and let's say this – our tastebuds were blessed with waves of umami goodness!
Vegan food can taste good too
Kristine is a food content creator on TikTok with a love of all things vegan! This 18-year-old is making waves in the #foodtok and #cooktok community and has amassed a wide following with her creative ways to make any dish vegan!
From Malaysian favourites to traditional Chinese dishes, watching Kristine cook puts a smile on your face as she refers to her audience as 'fluffy bunnies'!
Home cafe aesthetics
If you need the inspiration to whip up cafe-worthy dishes or drinks, check out Rowena's TikTok! This Malaysian foodie makes minimalist and aesthetically pleasing videos for cafe-hopping lovers' viewing pleasure.
Rowena's repertoire may be Instagram-worthy drinks, but she also makes adorable snacks and desserts with her bingtanghulu (candied fruit) and Mango Cheese Tart recipes.
Traditional Korean recipes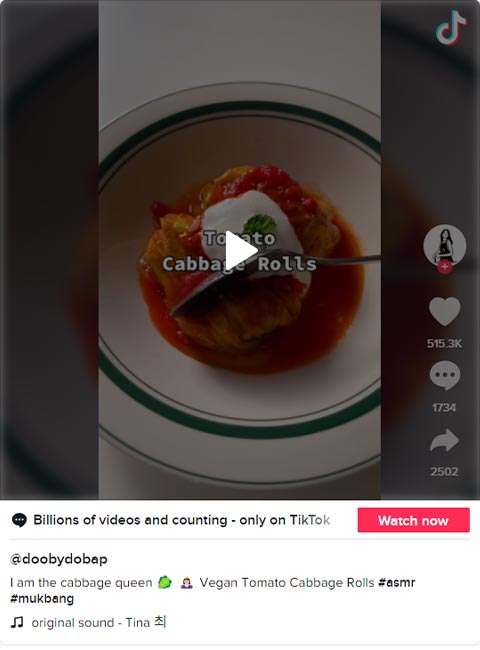 Tina is a South Korean-born, American-educated food influencer who learned to cook during her boarding school days while studying away from home. Feeling homesick, Tina picked up cooking and learned from her halmoni (grandmother in Korean) over various phone calls and vague ingredient measurements.
Living in rural Connecticut and lacking an Asian grocer made Tina sharpen her cooking skills by substituting local ingredients to replicate the recipe at its best flavour. Hence, her love for food grew.
Tina's tagline, "don't yuck my yum", is a clever jab at uncultured individuals who shun her recipes. Her videos are a definite must-watch, especially her traditional Korean recipes!
Bento lunch boxes but make it cute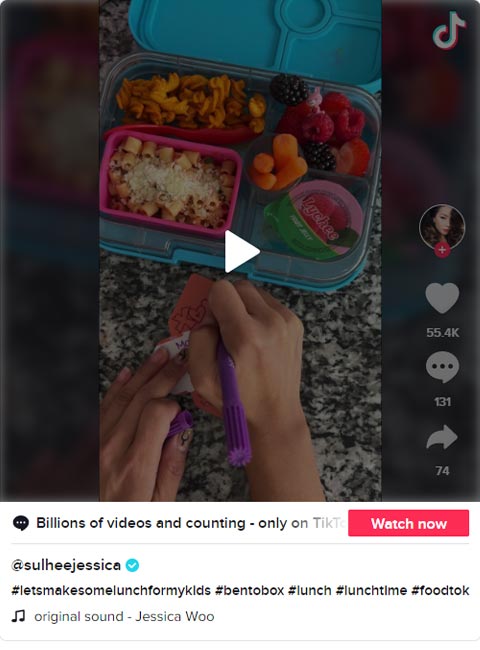 Mamas, this one is for you! Up the kids' lunchbox game with super adorable meals that are kid-approved and nutritious. Jessica earned her Tik Tok fame when she started documenting how she packs her kids' lunchboxes, and she's been on a roll ever since. Pick up some skills or two by watching her busy-mum approved videos!
Pleasing vintage aesthetic bakes
Betül's bakes look tantalising, but she also perfectly encapsulates the timeless warmth of vintage beauty through the cooking utensils. The US-based recipe developer, food photographer, and baker can also whip up a mean dish when she wants to, savoury or sweet!
Last but not least, a tip for you!
On TikTok, you can search up the hashtags "#foodtok" and "#cooktok" to get bombarded with many recipes from creators. Meanwhile, search up "#foodstagram" and tap on the big blue follow button to get these glorious recipe videos embedded into your Instagram feed!