Chinese New Year (CNY) is right around the corner, and this festival signals the beginning of spring and the start of a new year according to the Chinese lunar calendar. And according to Chinese tradition, wearing new clothes during CNY symbolises a new beginning and fresh hopes.
However, searching for the perfect cheongsam or qipao is tricky. Firstly, there's the silhouette to consider, and then the print, the length, down to the height of the collar, and the type of sleeves. Thankfully, our local designers' latest designs for the festive holiday come with a modern twist that's versatile enough to be worn all year round.
Scroll on to see some of the best of the local fashion scene has to offer for the Lunar New Year. We've included high-end and budget-friendly options to cater to each of your budgets:
High-End Designers
1. Innai Red
The brand's latest collection, entitled Rú Yì, which means 'as one wishes' or 'everything goes well' in Chinese, is based on the local insight that home-based get-togethers with intimate groups are the new norm. As such, the focus is on designing practical pieces that are at the same time stylish, essentially bringing back Chinese heritage with a modern twist.
The collection ranges from matching printed separates featuring overlapping scallop detailing and pearl-embellished clusters to embroidered qipaos with exaggerated ruffles and multicoloured beadwork across the collar. When you wear one of Innai Red's pieces, you carry the Rú Yì spirit with you wherever you go and start the New Year on a style high.
2. Melinda Looi
Roar! Just in time to help usher in the Year of the Tiger, Malaysia's national animal becomes a huge inspiration for Melinda Looi's Cruise 2022 print. It is featured in most of the silhouettes in the My Tropical Mars collection, even on its reversible bucket hats. The collection is also inspired by the colourful plants blooming across the planet.

These are then transformed into vibrant batiks and match the brand's iconic reversible dresses and jackets decked out in whimsical prints. Don't forget; there's a selection of cheongsams and jumpsuits too!
3. Wynka
The culture and traditions we pass down from the generations are the rarest gems to be celebrated. GEM by WYNKA was inspired by the closet of creative director Karen Lau's mother. The '60s brought a new wave of appreciation for fashion, and this collection pays homage to that beautiful era. Telling the story of how a kampung girl took her heritage to the big city, traditions in one hand and all the feist of a modern feminist in the other, the collection has a touch of the west and a handful of colonial Shanghainese influences.
GEM features signature pieces with plum bottom and vintage pearl buttons, jacquard fabrics, lace, and enough spark to light up a city. Rich colours are used alongside muted pastels across various styles that showcase gorgeous florals and abstractions on unique materials to craft pieces sure to turn heads.
4. Khoon Hooi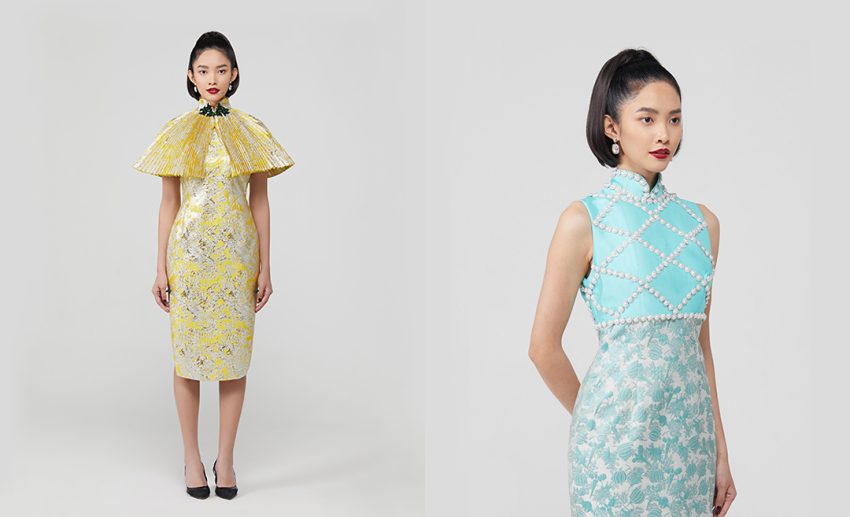 Khoon Hooi's latest collection for the Lunar New Year fits the wardrobe of a queen, or top socialite Madam Lee, to be exact. From emperor yellow with a detachable pleated cape Qian Ru shift dress in metallic brocade to Bingqing, a party-ready sleeveless qipao with pearls embellished on the front and back of the bodice in elegant geometry, you can count on these pieces to bring the drama this CNY.
The protagonist, who is loved for her impeccable sense of style, imagines a line-up of show-stopping traditional and modern pieces full of fine tailoring and luxe details that range from 3D florals to cascading organza ruffles that the eponymous brand Is renowned for. Additionally, Khoon Hooi has also introduced a ready-to-wear capsule line comprising brocade silk shirts and column dresses for both men and women.
Browse and pre-order the Khoon Hooi Chinese New Year 2022 collection in-store at APW Bangsar or online here.
Budget-Friendly Options
5. Doublewoot
To be in style yet not put a hole in your wallet this CNY, check out the Malaysian-grown fashion label Doublewoot's CNY collection. Their qipaos and cheongsams are all under RM200 and are primarily modest, demure, and chic, catering for the strong, confident women of Malaysia.
It's good to know that the popular Oriental collection has been seen on many Malaysian celebrities and artists such as Belinda Chee, Daphne Iking, Elaine Daly, Chelsia Ng, Hannah Tan, Carey Ng, and so many more.
6. Love Knot
Committed to every woman to ensure that they dress well in quality and premium outfits without breaking the bank, Love Knot's CNY 2022 collection is reasonably priced yet designed and sewn in-house by their very own design team. All their designs are proudly 100% original and can only be found exclusively at Love Knot.
Take your CNY pick from floral cap sleeve dress to sleeveless halter neck qipao that will make heads turn during reunion dinners.
7. Dreamscape
Indulge without burning a hole in your pocket with Dreamscape's CNY 2022 qipao collection. With a wide range of short, midi, and full-length qipaos, each one is made with either cotton blend material or satin blend material that gives a flattering bodycon silhouette, coupled along with a slit on one side that will enhance the illusion of your leg.
All the intricacies of a qipao, such as mandarin collared and enclosed zip closure at the back, are carefully weaved in, making it a symbol of luxury and nobility at an affordable price tag of just slightly more than RM100.