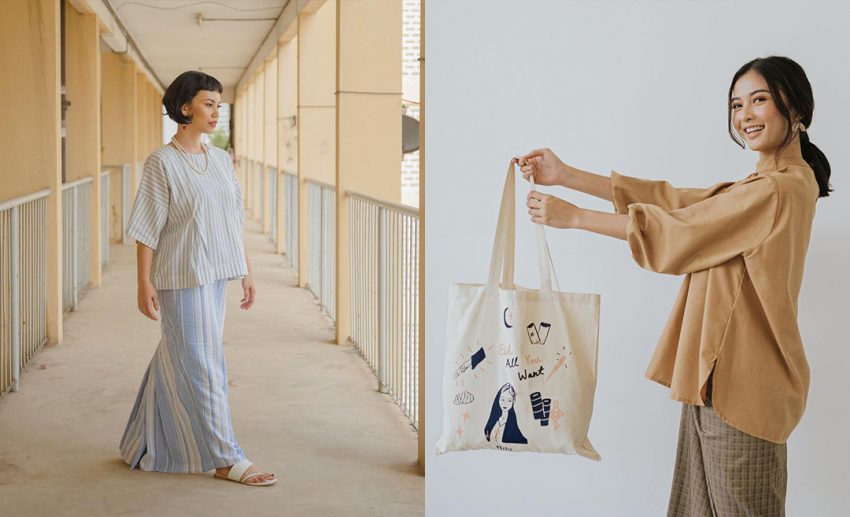 Subscribe to our new

Telegram

channel for the latest updates.



Clothes shopping of late has been a bit of a guilty pleasure for most. Especially since more extravagant buys are countered by the voice of reason in your mind telling you you'll have nowhere to wear them anyway. But if you're having thoughts of entire wardrobes filled with comfy loungewear, athleisure, and a minimalist aesthetic, you need not look too far.
As a matter of fact, there are tonnes of local brands who keep exact shoppers like you in mind. Bookmark these local entrepreneurs and home-based brands for your next payday, and wash away that guilt by shopping consciously to support local artisans and businesses.
Oh Sebenar
A collection of contemporary, earthy tones and trans-seasonal clothing, Oh Sebenar takes the minimal route. The size-inclusive brand aims to empower individuals with its collection of light layers in earthy tones refreshed in new palettes and fabrics. With garments that are comfortable, easily-worn, and perfect for any occasion, we see why the brand has swelled in popularity in the current work-from-home climate.
Shop the soft, textured fabrics of Oh Sebenar here.
---
Whimsigirl Design
Inspired by women with different success stories, passions, and lifestyles, Whimsigirl has put forth collections that are versatile pieces fit for any woman. The minimal, neutral-coloured clothing are designed to produce empowerment, confidence, and independence in women, according to Founder Syazana Sukiman.
An empowered woman herself, Syazana started the brand from scratch, buying books and teaching herself to sew in her free time. She began making clothes for friends and family, and before she knew it, the orders were pouring in. Today, the brand is dedicated to making clothes that look as good as they make you feel.
Cop that Whimsigirl look and refer a friend for rebates here.
---
Auri
Launched in 2020, Auri was established during the pandemic to bring light and uplift people's spirits. Despite holding a host of items from snacks to bodycare and home decor, it's their minimalist aesthetic of everyday clothing that stands out the most.
All about championing size inclusivity with its range of UK12 to 18 sizes, the matching hoodies and culottes, structured blouses, denim, and basic tees are clothes to wear at home or out, if you so choose.
Fall in love with Auri's versatile pieces over at PUBLIKA Shopping Gallery (Lot 46, G2) or get them delivered from Shopee or Lazada.
---
Lilit
The brand has put a contemporary twist on modest fashion since its inception in 2018, and despite the pandemic, Lilit opened its first physical store at KL East Mall in April of 2021. Known for their dreamy contemporary style and also the wide range of sizes from UK6 to 16, Lilit is made for the modern modest woman.
Think: flowy silhouettes to match with your go-to sandals on date nights or cute blouses to match your denims for a day in the park. And if you need a little more Lilit in your life, they also have a range of activewear, prayer wear, and maternity wear on top of day-to-day apparel.
Browse the Lilit lookbook and shop all the looks from activewear to maternity here.
---
Real.m
Looking for a brand that champions practicality and everyday natural living? Well, you'll be glad to know that Real.m uses sustainably sourced materials like bamboo textiles and non-GMO cotton for all their products. These core fibres are weaved into the eco brand's offerings with a goal for their beloved fans to embrace life and travel guilt-free with the garments made using eco-friendly processes such as vegetable dyeing. Putting the money where their heart is, part of each purchase's proceeds are also donated to reforestation projects in Malaysia.
Learn more about Real.m's ethos and shop their eco-friendly blankets, towels and daily wear here.
---
Hanya
Find timeless basics named after iconic women under Hanya's essential edits, alongside a range of dreamy linen dresses, blazers, shirts, and loungewear under themes of self-love over at the Hanya shop.
For those looking to accessorise, they also offer various types of stylish face masks that include reusable satin silk designs and printed disposable versions that are medical-grade, hypoallergenic, and come with a reusable Ziploc bag.
Conscious of the impact of fast fashion, Hanya also practices upcycling, repurposing unsold items in their inventory to give them second life, and you, a guilt-free shopping experience.
Check out the Hanya collaborations and minimalist everyday basics to add to your wardrobe here.
---
Bila Bila
In their own words, Bila Bila aims to curate thoughtful everyday pieces, made to be worn sampai bila-bila. In Malay, the word can mean whenever or until the end of time, a clever name to suit the brand's ethos of clothes that can be worn anytime and made with quality to last as long as you need it to. From oversized kimonos and comfortable culottes, it is unpretentious loungewear at its best.
Browse their latest collections and add the Bila Bila looks to cart here.
---
Kulet
Inspired by the word 'skin' in Malay, the fashionable founders of Kulet, Aina Syahirah and Julie Anne Kang, chose to design all their shoes in neutral and pastel shades most resembling skin colours. Artistically made, these minimalistic shoes have been a hit among locals since its inception in 2016.
Put your best foot forward with synthetic or vegan leather footwear here.
---
FugeeLah
A women-led conscious jewellery brand, FugeeLah was initially a fundraising project to help keep education free at the Fugee School. Since its first collection, the brand has morphed into a successful social enterprise that makes beautiful accessories featuring semi-precious stones and a lot of heart.
Their main cause champions refugee children in need and believes in humanity and inclusivity. Quietly expressive, a little quirky, but above all, classy, the precious pieces are not just great for keeping your look fresh, but works generously as a conversation starter as well.
Learn more about the FugeeLah story and support the initiative that never stops giving here.
Cover image: (L) Oh Sebenar/Instagram / (R) BILABILA/Instagram
Follow Zafigo on Instagram, Facebook, and Twitter. Sign up for our bi-weekly newsletter and get your dose of travel tales, tips, updates, and inspiration to fuel your next adventure!