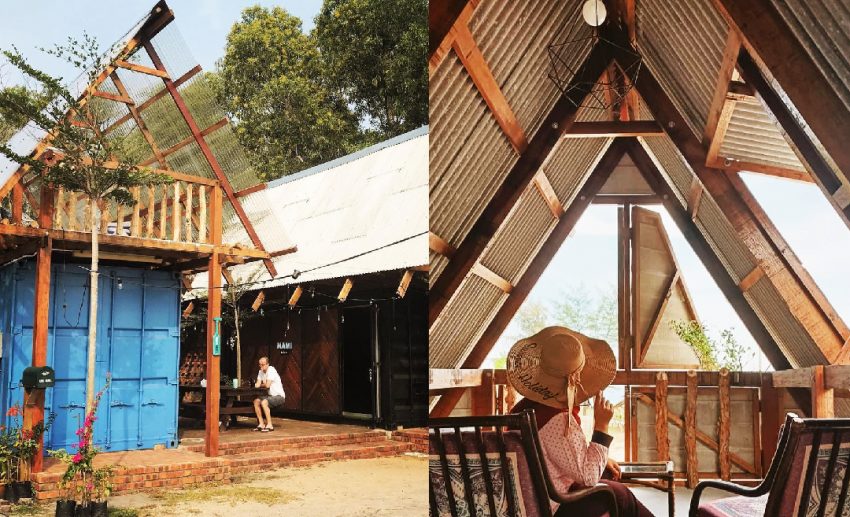 Subscribe to our new

Telegram

channel for the latest updates.



Nami By The Sea (NBTS), an Airbnb rental in the Dungun district of Terengganu, Malaysia plays no games, because as its name says, the property is right by the Teluk Bidara beach that leads into the South China Sea. Located roughly an hour away from the state capital of Kuala Terengganu, NBTS is a unique property that comprises of two shipping containers – one blue, the other black – that have been converted into guest rooms.
It has to be said upfront that when you rent NBTS at its rate of RM350 a night, you're paying to have the entire space – both containers, wading pool, swing, barbecue pit, bonfire pit, and all of the super-spacious compound – all to yourself.
The rooms
View this post on Instagram
Each container is about 20 feet long and eight feet wide, and houses a queen-sized bed that sleeps two comfortably. If you have a little one in tow, they'll fit in the bed quite nicely too. If you brought some sleeping bags, you can have another adult or two kids sleeping on the floor next to the bed. Full, generously-sized bathrooms are annexed to each container using bricks, which makes it nice and airy.
While this adds to the rustic look of the property, guests who are afraid of creepy crawlies should take extra precaution. Because the property is in the middle of nature, there is a high chance of you encountering the odd visitor at any given time of day. Personally, this writer had quite a stressful time trying to avoid the geckos. But that's just a personal fear. Reptilian friends are aplenty where nature is in abundance.
The rooms also come with shelves for storage space, a mini-fridge to keep drinks and snacks cool, an electric kettle, a stand fan, coffee tables and chairs, bath towels, an iron, and air conditioning. Both containers have electricity and running water. Another thing to keep in mind is that when the container doors are closed, cell phone reception drops to a bare minimum (goodbye 4G, hello EDGE) because of the density of the containers. Although, truth be told, that's not the worst thing; especially when you're looking to disconnect from the world. We recommend reconnecting to your socials on the container's verandah so you can do so to a picturesque view.
The amenities
View this post on Instagram
The walk from the front doors of the containers to the beach takes 90 seconds (we timed it). There is the super-long driveway to take into consideration, as well as the small road to cross, and the sandbank to cross before your feet come into contact with the lapping waves. After having been in lockdown and deprived of the sea for so long, it is safe to say that this was the most exhilarating 90 seconds of our lives!
Meanwhile, the compound itself is large enough to neatly park at least 20 cars. We were told by the caretaker that people have had large group gatherings on the property. They simply brought their own tents, which they pitched on the surrounding grounds, and still had space to have a bonfire, barbecue, and hold telematches and games. There is a small pondok at the very front of the property where you can sit and chill to chit chat or look out onto the beach.
In between the containers is a picnic table and bench where guests can have their meals. There is also a decent-sized wading pool (which takes between four to five hours to fill up) at the back with a canopy where you can enjoy a little after-sea soak. Also between the containers is a staircase leading to the upper deck where guests can go and sit to chat, relax, or even enjoy a drink while watching the sunrise or sunset.
The deck above the blue container is open-air and a great spot for photos. The deck above the black container, however, is closed and can double as a sleeping space for four to six people in sleeping bags.
The area
View this post on Instagram
NBTS is a great and affordable property, but the security of the place felt a little questionable. While there is strength and safety in numbers, there were only two of us there from #TeamZafigo – both women – that had us feeling a little concerned for our safety. Because the property is surrounded by a low wooden fence and a boom gate, thoughts of possibly being ambushed crossed our minds.
However, the caretaker reassured us that it was perfectly safe, and people in the area minded their business and didn't trespass onto the grounds. We've also been made to understand that while the idea of low fencing may seem too open for some, it's a trade-off for an unobstructed view of the ocean (especially if you're choosing to pitch a tent). That said, we didn't want to take our chances. We made double sure that we never lingered outside at night, and securely locked ourselves in the blue container at bedtime.
The whole stretch of beach is great for a morning or evening walk, and there are swings along it that make for great photo ops. At the very end of Teluk Bidara is a sea cave that you can explore should you be so bold. This activity is something that we recommend you do in the day during low tide so as to not get caught or trapped in said cave.
As for conveniences, it would be wise for you to buy your necessities and food before checking in to NBTS, as the nearest shop is at least a five-minute drive away. If you want to buy food, Grab Food and Food Panda services are available, but keep in mind that selection is limited due to Dungun being a small town.
If fast food is your thing, the usual suspects – McDonald's, KFC, and the like – are available in the town area. However, we suggest trying some of the nearby eateries to enjoy the incredible local fare.
Here are some local must-try restaurants as suggested by our hosts:
Nasi dagang at Tapak Pasar Malam
(available on Friday nights only)
Chinese food at Restaurant C.B.Wee
(no pork but the serve beer)
Checking out
NBTS, all in all, is a neat little getaway that is worth the four-hour drive from Kuala Lumpur. Driving up to the property and seeing the sea come up on the horizon is absolutely priceless! Ultimately, the simplicity of NBTS' experience which forces you to slow down, take in your surroundings, and truly just enjoy being in the moment without unnecessary distractions makes it the most perfect of getaways. After all, isn't that all we want?
41399, 10404, 39812
Follow Zafigo on Instagram, Facebook, and Twitter. Sign up for our bi-weekly newsletter and get your dose of travel tales, tips, updates, and inspiration to fuel your next adventure!