Subscribe to our new 

Telegram

 channel for the latest updates.
Get ready for another instalment of Street Food Journeys with Jackie M and Tourism Malaysia! Malaysian-born, Sydney-based hawker food expert, Jackie M and her group of culinary experts are collaborating with Tourism Malaysia Sydney for the second series of Street Food Journeys.
Series 1 took Australian online viewers on a trip to discover the street food scene of eight Malaysian states. Now, Series 2 continues their journey across the remaining states of Kuala Lumpur, Selangor, Perlis, Sabah, Negeri Sembilan, and Kelantan. Series 2 will also include a combination of on-the-ground interviews, how-to cooking segments, and an exploration of the unique food culture in each state.
This six-part series aims to not only teach viewers how to recreate signature Malaysian flavours from the comfort of their own kitchens, but also share valuable travel tips for each state or territory, which will be presented by either Shaukani Abbas, an award-winning Malaysian tourist guide, or one of the guest travel contributors. All the recipes, travel articles, and content will also be available in an e-magazine.
Jackie M expressed her gratefulness for the success and positive feedback received through Series 1 and can't wait to share with the audience their special guests — including internet sensations The Jetlag Warriors and Mark O'Dea — who will be virtually exploring Malaysia's rich cuisine and culture.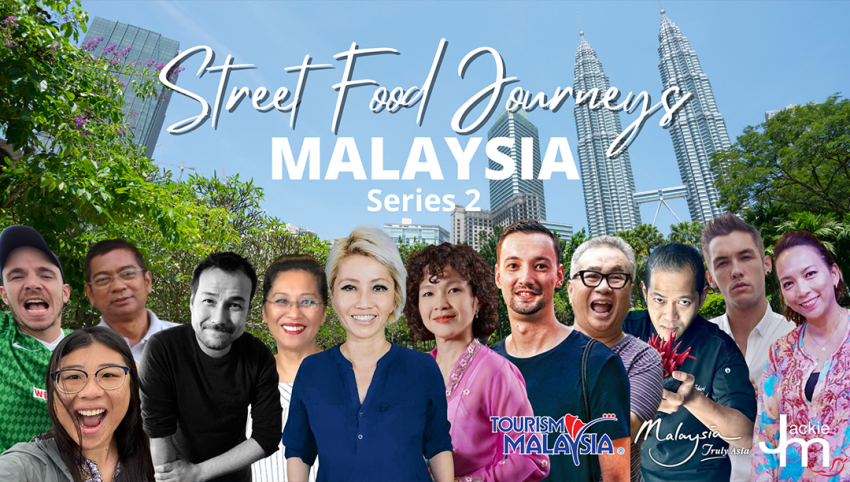 She continues, "While the closures of international borders have left us waiting to travel again, we hope that this additional series will give everyone a virtual experience and a general idea for them to plan ahead for their future travel to Malaysia." But hey, it works for us who are in Malaysia as we can't travel interstate just yet.
Street Food Journeys: Malaysia Series 2 will start airing on multiple platforms on Sundays at 9 PM AEST/AEDT from the 19th September. The series will be available through various platforms, including Jackie M's YouTube and Twitch channels.
Episode 1: Kuala Lumpur (19 September), Episode 2: Perlis (26 September), Episode 3: Kelantan (3 October), Episode 4: Negeri Sembilan (10 October), Episode 5: Sabah (17 October) and Episode 6: Selangor (24 October).
You can catch the team live at Masters of Malaysian Cuisine. 
Did you know KL's Curry Laksa ranked number two in the world in Lonely Planet Ultimate Eatlist and Penang Assam Laksa has been recorded in CNN's list of World's 50 best foods? So what better way to experience Malaysia if not through our grub.
42659, 45835, 36743