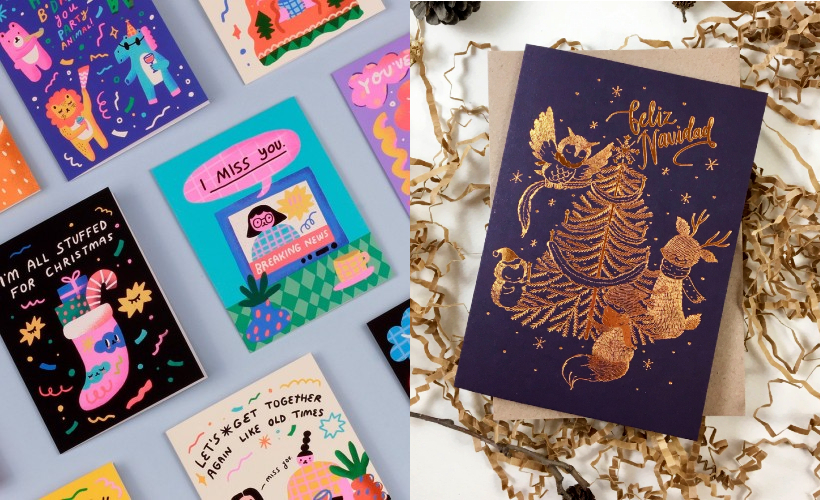 [box color="#14afa9″]We're on Telegram now too! Subscribe to our channel for the latest updates.[/box]
In spite of the technological convenience for easy communication in the modern age, nothing warms the heart during the holidays quite like receiving a personalised or handwritten card. As #sapotlokal season is a 365-day affair, extra points are always awarded when they're given a local touch – whether it's designed, made right in our backyard, or even both.
In the spirit of the ho-ho-holidays, pick up one or a few of these winsome greeting cards to send to your loved ones this year. Opulent, whimsical, or just straight up delightfully kooky – there's certainly something for everyone.
Mossery x Liunic
View this post on Instagram
Vibrant. Colourful. Playful. No other adjectives best describe these holiday greeting cards created by local stationery powerhouse Mossery in collaboration with Jakarta-based illustrator, Martcellia Liunic. With eye-popping visuals (including offbeat characters) combined with witty greetings printed on the cover, these splashy greeting cards are the perfect choice to perk up anyone's mood. With an array of choices fit for almost every occasion, take your pick from the Christmas-themed part of the collection. After all, who doesn't love a pun-filled Christmas card?
Website | Instagram | Facebook
Whimsy Whimsical
View this post on Instagram
Keeping true to the name, Whimsy Whimsical is home to the heartwarming woodland-inspired creatures etched onto their wide array of paper goods. Located in Kuala Lumpur, this studio-based company is proud to print their creative hand-drawn designs using light-textured FSC-certified paper with eco-friendly soy ink. With almost 20 holiday-themed greeting cards in store, you'll certainly be spoilt for choice. Our favourite has to be this eye-catching card with copper foil stamped 'Furry Navidad' illustration set against an aubergine hue.
Website | Instagram | Facebook
Paper Pen and Brush
View this post on Instagram
What do you get when you blend the simplicity of iconic Christmas decorations with the elegance of refined calligraphy? The answer: Paper Pen and Brush by design duo, Jy and Flo. Instead of merely feasting your eyes on these stylish pieces fit for the mantle, why not pick up one of the three newly-released in-house designs featuring the Christmas Tree, Jingle Bauble, and Dove of Peace? Or grab them all for a steal when you slide into their DMs!
Bonus point: If you'd like the stunning penmanship on the outside to equally match the one inside, you can send them your intended message once you've purchased one of their cards and they'll be sure to pen and mail it on your behalf.
Website | Instagram | Facebook
The Alphabet Press x Takos
View this post on Instagram
If simple-yet-sentimental is the mark you're aiming for, check out the minimalist print crafted through the artistic collaboration between The Alphabet Press and Takos – the perfect marriage between paper and printing with handmade embroidery and knitting. Created as an antidote to ease up on the isolation and interface reliance associated with life in the fast lane, the 'All Occasion Card' range inspires connections and exchange in intercultural narratives through meaningful, heartfelt conversations. Along with the few bold pigments delicately added in, the hand-embroidered details over letterpress printing results in an unusual 3D-like effect – a tactile element that you (and your lucky recipient) will find impossible to resist running your fingertips over.
Website (The Alphabet Press) | Website (Takos) | Instagram | Facebook
Paper and Print KL
View this post on Instagram
Within the local stationery game, another fan favourite that's emerged and consistently knocked it out of the park is Paper and Print KL. With a history of dabbling in an eclectic mix of vivid hues and funky prints to muted tones and minimalist patterns, it's fair to say this brand has pretty much done it all.
As the countdown to the 25th has already begun, it's best to get started on your checklist with their greeting card that's detailed with clean, geometric designs straight out of Santa's modernised workshop. In fact, you can even grab the entire futuristic-looking package through their Christmas set that's also filled with postcards, stickers, gift tags, and a wrapping sheet!
Website | Instagram | Facebook
Owl & Quill
View this post on Instagram
Inspired by the owl post and quill seen in the magical realm of 'The Boy Who Lived' (also known as Harry Potter for the muggles out there), the brand with the wizarding equipment namesake sprung to life at the hands of expert calligrapher and engraver, Pui Yee, back in 2017. Based in KL, her studio focuses on creating elegantly handcrafted penmanship, custom stationery, and designs, and she is backed by an impressive resume of stellar clients – such as Jo Malone, Tory Burch, Estée Lauder, and Tiffany & Co., to name a few. Offering commission work as one of the services available, feel free to get in touch to create your own customised holiday greeting card and Christmas letters.
Website | Instagram | Facebook
Yimin Heng
View this post on Instagram
As the art of calligraphy will never go out of style, another craftswoman wielding the mighty fine pen to keep your eyes peeled for is Yimin Heng. Rooted in Penang, the graphic designer turned experimenting with longhand styles and lettering as an activity to unwind into a successful, passion-fuelled business.
Aside from handmade glass-like coasters, she also adds in a personalised touch to her charming greeting cards adorned with printed watercolour flowers and holographic foil calligraphy on the cover. On top of that, you're given the option to choose an ink colour from their wide selection – from traditional copper and gold to unconventional shades like lavender and rose – to write your message with.
Website | Instagram | Facebook
Follow Zafigo on Instagram, Facebook, and Twitter. Sign up to our bi-weekly newsletter and get your dose of travel tales, tips, updates, and inspiration to fuel your next adventure! 
[vc_row][vc_column][zf_post_boxes widget_hide_desc="true" num_post="3″ post_id="40109, 40054, 39997″][/vc_column][/vc_row]