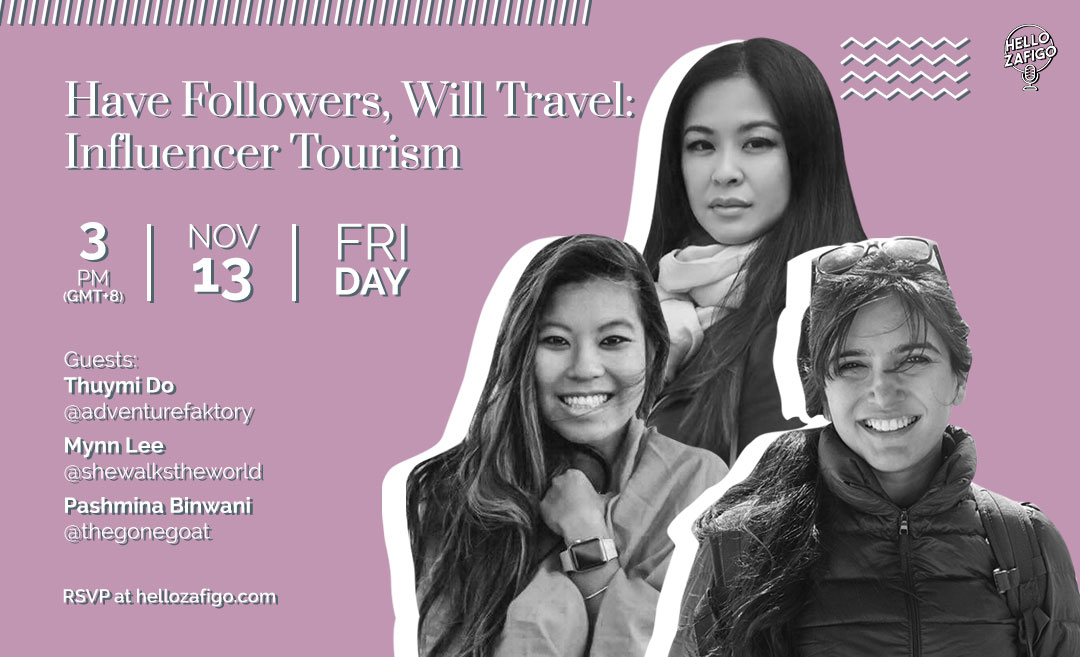 This 
Hello Zafigo session has concluded but you can read about it, watch it on YouTube, or listen to the podcast here.
As we become more dependent on social media as a means for news and information, the value of social media influencers continues to grow and evolve. While some brands do still depend on major celebrities for endorsements, many have started working with influencers to plug their products and services. Why? Because their content is deemed more genuine, and relatability is critical in marketing.
For the travel market specifically, social content seems to influence travellers' destination choices more than any other type of advertising in this day and age. Granted, these influencers have not always gotten a good rep, with some hotels opting to shun them on the basis of 'blogger infestation', but it's a known fact too that travel influencers have helped make travel more accessible by providing first-hand experiences and insights. They have also aided in tourism boosts in lesser-known destinations around the world.
In a session aptly titled 'Have Followers, Will Travel: Influencer Tourism', we speak to three key opinion leaders in the travel scene — Thuymi Do (Adventure Faktory), Pashmina Binwani (The Gone Goat), and Mynn Lee (She Walks The World) — about the glamorous (and not so glamorous) life of a travel influencer and the possible pressures that come with it. We also touch on the current pandemic, how it has affected their globetrotting plans for the year, and what they think the future holds for the industry. So tune in this 13 November at 3pm.
A native Montrealer, Thuymi spent her childhood and school years in Canada. From a young age, she inherited her parents' passion for all forms of art. Apart from painting, drawing, and sculpting, she also dabbles in digital arts like photography and film. Photography eventually led to travel, and she has not stopped doing so since.
A blogger since the early 2000s, Thuymi dreamed of one day starting a travel website where she could showcase her photography and translate her hobby of travel scrapbooking onto an online platform. After meeting her partner, Mitch, another fervent traveller, together they launched Adventure Faktory — a website with a goal to help accelerate positive change within the travel industry. Both being experienced digital marketers and social media experts, they soon evolved their little travel website into a consultation brand with expertise in the travel business, working closely with tourism boards, travel brands, and hospitality groups.
"Travel is a very important part of my personal and professional life," Thuymi says of her wanderlust. "It has helped me in my career and business, and it has truly become my passion to use that knowledge from visiting over 85 countries to help others."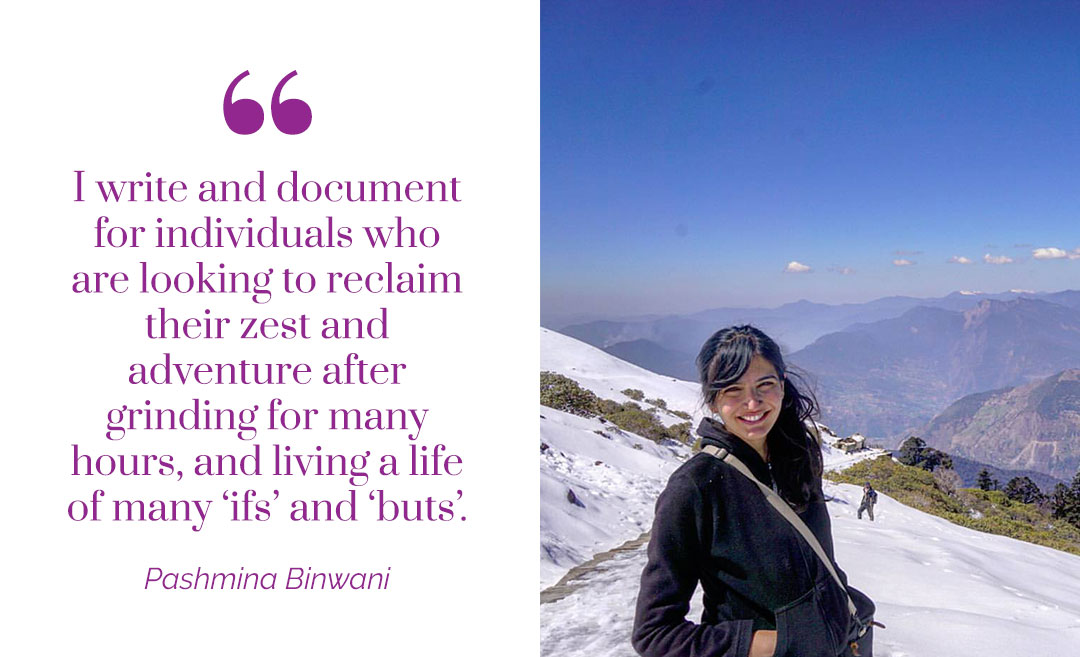 In her mid 20s, Pashmina realised something was amiss with her life. After spending most of her formative years working two jobs, trying to be financially secure while supporting her family, she did not have much time left to pursue outdoor activities and things that truly made her happy. "I didn't even know how to ride a bicycle, I couldn't swim, and I had no clue what hiking was like," she shares on her blog, The Gone Goat. It was after losing her father that she decided it was time to make a change. She learned how to cycle, swim, and — for her first-ever hike — climbed Mount Kinabalu.
Pashmina soon caught the travel bug and started going on solo backpacking adventures. In 2016, she quit her job and travelled alone through the Himalayas, India for three months, with the little savings she had.
Now a seasoned traveller, she continues to explore unknown places and territories, and writes about her trips in hopes of inspiring others to visit them. She believes it's important to travel with purpose: "I've come to realise that I can't just enjoy these natural places if they're going to disappear in the next decade or so — the least I can do is shine a spotlight on these places."
Mynn's voice and face may be familiar to many who live in the Klang Valley. While working as a radio announcer between 2011 and 2015, she also found time to host The V Squad, a travel show for children, which ran for two seasons. Whenever she could, she would share travel stories and ideas with anyone who would listen. It was after these few years in the entertainment industry that she realised her true passion is in travel. After several nudges from friends and departing her radio job, in 2015, she launched She Walks The World, a blog that functions as her online journal to document her travel adventures, as well as a space to share suggestions, ideas, and hopefully, a little inspiration.
In 2018, Mynn completed a personal project she dubbed #adventureofthemonth2018. The goal was to do something special every month of that year, be it visit a different city or country, or partake in some unique adventure or experience. She has travelled to 36 countries to date, and when she is not travelling, she is producing movies. Her experience producing has also helped her expand her travel brand into vlogging. "I figured that since I have lots of footage of my travels, why not turn them into videos and share that too? That's how my YouTube channel came about."
Now a new mother, Mynn looks forward to travelling with her daughter once it's safe to do so. "It's going to be challenging and scary, but it will be something new to share with my readers," she says.
Have Followers, Will Travel: Influencer Tourism will be hosted on Zoom for FREE. Details of the web session are as follows:
DATE
Friday, 13 November
TIME
3PM (GMT+8)
DURATION
60 to 75 minutes
Sign up for the session on Zoom here:
[button url="https://bit.ly/HZs2e5″ size="large" value="REGISTER NOW!" color="#14afa9″]
Please note that:
If you are joining the panel via your mobile phone, you will be required to download Zoom. Download the Zoom app from the Google Play Store (Android) or App Store (iPhone).
The session is limited to 100 participants. After clicking the invitation link, if you are redirected to a Waiting Room, it means that the session is full. You can only join the session if another participant leaves.
To stay up-to-date on this and future sessions of Hello Zafigo, follow us on Facebook and/or Instagram.
Watch sessions from season 1 of Hello Zafigo at www.hellozafigo.com
Follow Zafigo on Instagram, Facebook, and Twitter. Sign up to our bi-weekly newsletter and get your dose of travel tales, tips, updates, and inspiration to fuel your next adventure! 
36185, 31629, 32241