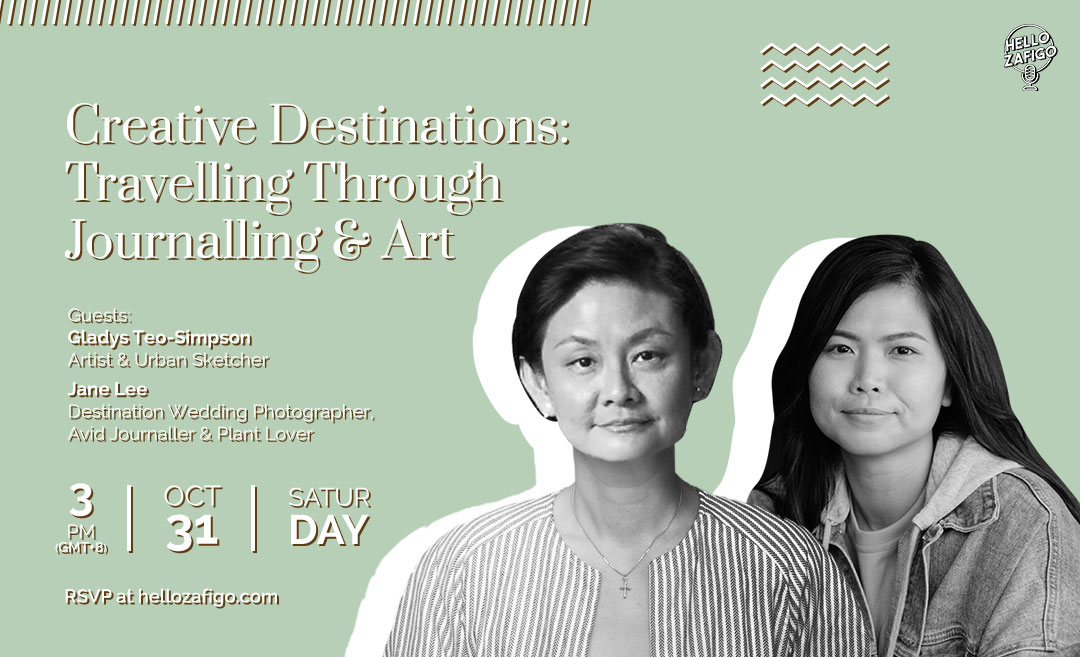 This 
Hello Zafigo session has concluded but you can read about it, watch it on YouTube, or listen to the podcast here.
While we may not be able to physically travel during the pandemic, we can still journey with our minds by revisiting memories through a travel journal to keep our wanderlust spirit alive!
Join us in the next Hello Zafigo session titled Creative Destinations: Travelling Through Journalling & Art, on 31 October at 3pm (GMT +8), and learn how to start a travel journal with artist and urban sketcher, Gladys Teo-Simpson, and destination wedding photographer, Jane Lee, who will share how their passion projects and travel have enabled them to better their crafts! Both Gladys and Jane are also known names within the Malaysian journalling community, having led sketching and journalling workshops, and exhibited and published their works respectively.
The magic of journalling
Many of us collect keepsakes from our travels, little mementos to remember the places we visit and people we've met, such as ticket stubs, scribbles on a napkin, a photobooth picture, or even a dried leaf from a park. Very often, they end up in storage instead of being appreciated and displayed. We also tend to take photos that get buried in digital clutter. All these can be better enjoyed in a journal.
Come join us and learn how to get started with materials you already have, the different journalling styles you can explore – like sketching and painting, and also discover the lifelong benefits of keeping a travel journal.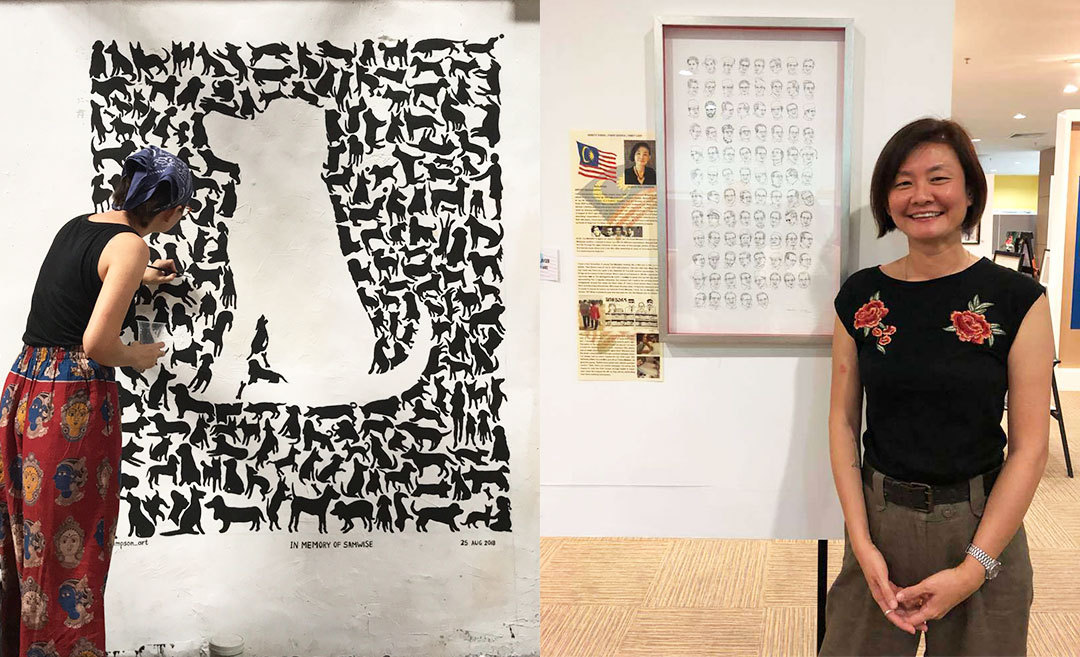 Born and raised in Sarawak, the land of the hornbills, Gladys' interest in art was cultivated from her primary school years. By the time she was in secondary school, she was winning art competitions, and one of her biggest accomplishments then was painting a large mural for a school throwback. In an era when children were pushed to become doctors or lawyers, and although her father had initially wanted her to take up LCCI accounting, Gladys' parents helped foster her artistic talent by letting her go to art classes.
[col-sm-6 style="padding-left: 0″]After earning her Diploma in Graphic Design, Gladys worked full-time as a graphic designer, eventually working her way up to becoming an art director. She now has 15 years in the advertising industry. From 2005 until 2009, while she lived in the Philippines and Hong Kong, she experimented painting with acrylic and oils. On her return to Kuala Lumpur, she split her time between studying creative writing (for a year) and further developing her drawing skills. In 2014, she started creating realistic portraits of dogs and also got hooked on urban sketching, which eventually led to her love of travel journalling. She calls them her visual diaries.
[/col-sm-6]
[col-sm-6]
"Sketching gives me time to observe my surroundings better. Many a time curious locals start chatting with me. What better way to get to know a new place".

Gladys Teo-Simpson
[/col-sm-6]
Now living in Jakarta, Indonesia, Gladys has had her work featured in several exhibitions, including the
Tun M: The Forever Legacy
in 2018, and her own solo showcase titled
Ode to Unconditional Love
in 2016. Having a supportive husband and two children off at university has given her ample time to indulge in her passion. Her first love is still drawing portraits of dogs, but she now takes on quite a bit of design and illustration projects.
Pictures paint a thousand words
A self-taught photographer, Jane nurtured her talent by first taking photos of herself and editing them in Photoshop. Her photography skills eventually landed her jobs for events, fashion catalogues, and lookbooks. Somewhere along her seven-year journey as a lenswoman, she found her niche in the wedding industry, specifically as a destination wedding photographer. Her wedding assignments have allowed her to travel the world.
For an adventure-seeker, it wasn't difficult for Jane to love her job, and this allowed her to be passionate about every project.
[col-sm-6]
"I am fascinated with human connection and life, they inspire me to document with my camera and tell a story through a photograph".

Jane Lee

[/col-sm-6]

As someone who has made a living out of documenting important life moments, it only made sense for Jane to want to catalogue her own experiences. In 2015, she picked up journalling as a hobby, and that eventually led to her publishing Jane's Journal: India. The book, launched this year, is a travelogue featuring photographs, mementoes, and diary entries collected over her many trips to the South Asian nation. When asked why she chose India as her first destination to feature, she says that she's had a long-term fascination with the country. In India, she found herself constantly surrounded by people and immersed in the native culture, and this inspired her.

Some of Jane's work is currently being exhibited at the Leica Store KL in Avenue K. The exhibition will run until the end of this month.

(L-R) Gladys at her 'Ode to Endless Love' exhibition in 2016 (Photo by Jee Foong); Jane at a recent press shoot for her book (Photo by TK Teo)

Creative Destinations: Travelling Through Journalling & Art will be hosted on Zoom for FREE. Details of the web session are as follows:

DATE
Saturday, 31 October (Malaysia)

TIME
2PM, Jakarta (GMT+7)
3PM, Kuala Lumpur (GMT+8)

DURATION
60 to 75 minutes

Sign up for the session on Zoom here:

[button url="https://bit.ly/HZS2E4″ size="large" value="REGISTER NOW!" color="#94288e"]

Please note that:

If you are joining the panel via your mobile phone, you will be required to download Zoom. Download the Zoom app from the Google Play Store (Android) or App Store (iPhone).
The session is limited to 100 participants. After clicking the invitation link, if you are redirected to a Waiting Room, it means that the session is full. You can only join the session if another participant leaves.

To stay up-to-date on this and future sessions of Hello Zafigo, follow us on Facebook and/or Instagram.

Watch sessions from season 1 of Hello Zafigo at www.hellozafigo.com

Follow Zafigo on Instagram, Facebook, and Twitter. Sign up to our bi-weekly newsletter and get your dose of travel tales, tips, updates, and inspiration to fuel your next adventure!