Thinking of taking the plunge and travelling solo? Stunning landscapes and a welcoming culture are the hallmarks of what make Nepal an excellent choice for solo female travellers. Nepalese are helpful and friendly by nature, welcoming traits when you're off exploring on your own.
Here are the must-see places throughout the country to help any adventurer embrace the beautiful local customs and explore the breathtaking beauty of Nepal as you prioritise safety.
1. Kathmandu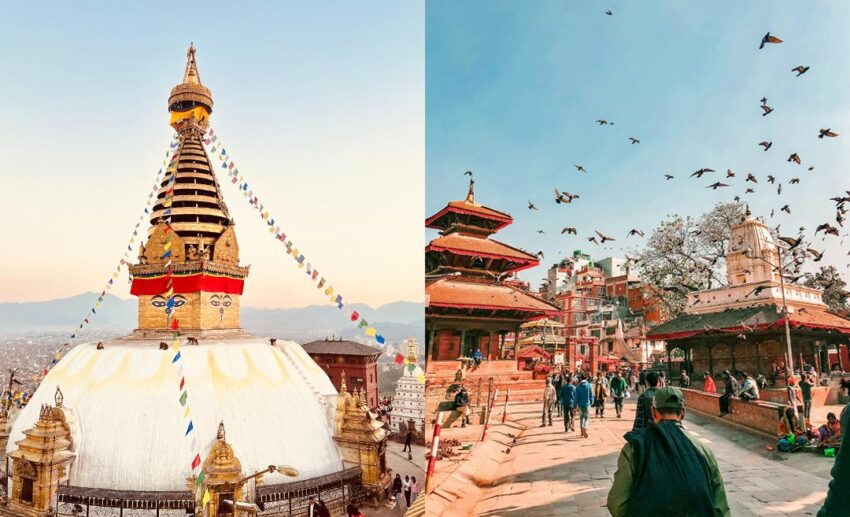 You'll likely begin your trip to Nepal in Kathmandu, the country's capital city. While many would use it as a jumping-off point to trekking sites, it's worth spending a day or two. It's home to beautiful temples, monasteries, and some of Nepal's most iconic attractions. Kathmandu is also a wonderful place to meet and socialise with other travellers who can become your trekking buddies!
One of the top things to see in Kathmandu is Swayambhunath, an ancient religious complex set on a hill. It's also called the Monkey Temple because of the abundance of monkeys who thrive on the generosity of visitors to the temple complex. Another place to explore in Kathmandu is the Durbar Square, a UNESCO World Heritage Site that's one of the country's foremost historical locations. Here, you'll find many buildings featuring Nepal's traditional architecture and showcasing the rich history of the country and the lifestyle of Nepal's royal families.
Also within Kathmandu is Thamel, an area best known as the city's backpacker hub. Aside from the affordable lodging, it is full of souvenir shops, restaurants, cafes, and tourism offices where you can organise treks and other activities. If you need to stock up on items for a trip to the Himalayas, you will find many shops in the area that sell affordable trekking gear.
2. Nagarkot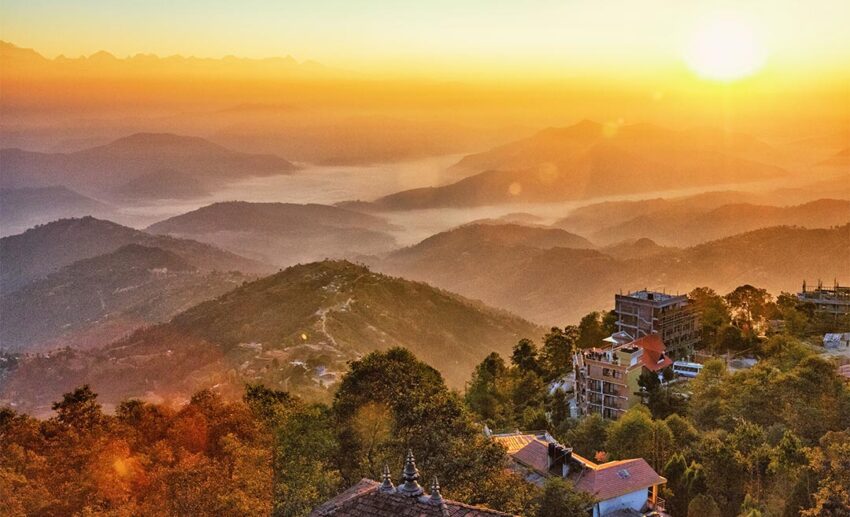 If you want to see the most spectacular sunrise view of the Himalayas, head to Nagarkot, a famous hilltop tourist town sitting over 7,000 feet along Kathmandu Valley's northern edge. Surrounded by lush pine forests, charming villages, and views of Mount Everest, it's an incredibly scenic place worth seeing on your holiday to Nepal.
Nagarkot is also famous for outdoor activities, such as hiking, mountain biking, rock climbing, and paragliding. Its stunning location on top of a hill gives you an overview of some majestic Himalayan peaks, such as Langtang, Manaslu, and Dorje Lakpa. It's also worth visiting the Nagarkot View Tower at sunrise, where you can enjoy panoramic views of the Himalayas.
Just 30 kilometres from Nagarkot is Bhaktapur. Consider dropping by Bhaktapur, another UNESCO World Heritage Site, thanks to its well-preserved architecture. Do ensure you get the help of a guide or tour agency to arrange a trip here, especially since you'll need to travel here by private car of bus. To save money, consider joining other tourists. But you will have the best experience if you book a private tour, of course.
3. Khumbu Region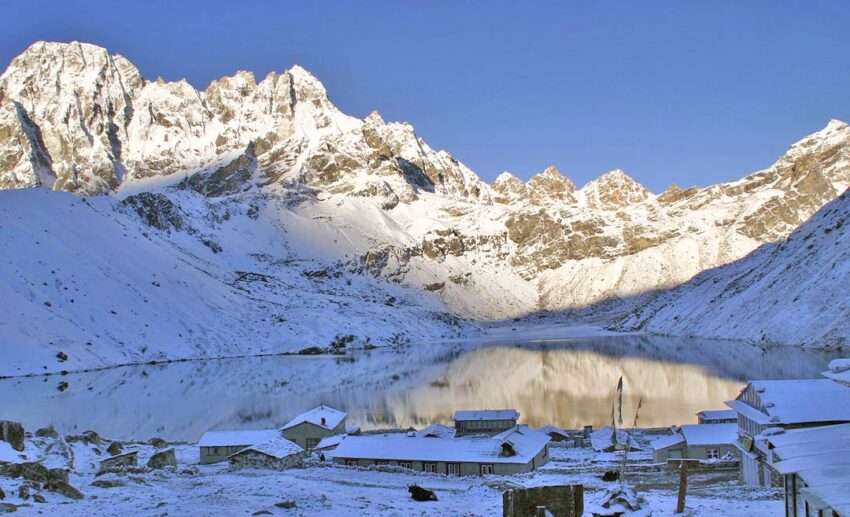 The Khumbu Region is a great place to visit for those looking to partake in treks and tours in Nepal — the best way to see the country's beautiful surroundings! Trekking the Khumbu Valley will reward you with some of the best views of Mount Everest. It's also an interesting way to peek into the country's culture and history since it takes you to some historical sites, including ancient monasteries, along the way.
Solo female travellers planning to trek the Khumbu Valley should hire a local guide to arrange permits, accommodations, and all other things required. The trek will take you towards the stunning Khumbu Valley, with the majestic views of some of the world's tallest mountains. Depending on the route, it can take as long as two weeks to a month!
Note that the Khumbu Valley Trek is best suited for experienced trekkers. It's a difficult journey, requiring several days at high altitudes. The trail's remoteness and isolation can also make medical assistance hard. Therefore, ensure you are in good physical condition before embarking on the trek.
4. Sagarmatha National Park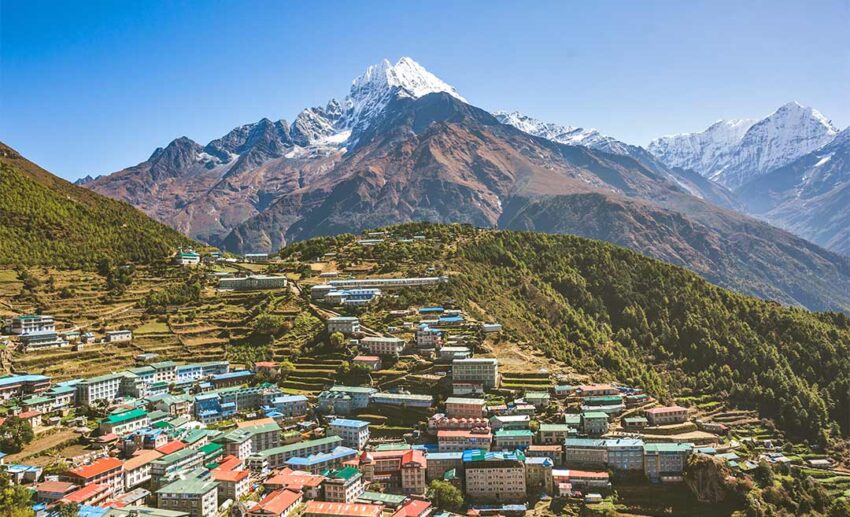 Sagarmatha National Park is a protected area dominated by the snow-capped peaks of the Himalayas, including Mount Everest. It is a wildlife reserve nestled deep in the ravines of the Himalayas and yet another UNESCO World Heritage Site. Situated about 135 kilometres from Kathmandu, tour agencies in Thamel can arrange your visit here.
As a wildlife reserve, the park is home to fascinating wildlife, such as musk deer, the Himalayan tahr, snow leopards, lynx, weasels, and wolves. It's also home to rare and endangered bird species, such as the yellow-billed chough, Himalayan monal, blood pheasant, and snowcock.
Considered the world's highest national park, getting to the Sagarmatha National Park requires trekking to a height of over 3,000 metres, offering an incredible experience. While the higher section of the park is barren, the lower areas are rich in flora and fauna, and you'll witness this unique evoluteion the higher up you go. Along the way, you will also see Buddhist sherpas living at monasteries within the national park, the temples replete with colourful prayer flags.
Getting around
As one of the world's top trekking destinations, Nepal is relatively easy to access from anywhere in the world. Even from Malaysia, taking just five hours.
Those flying to Nepal will likely arrive at Kathmandu's Tribhuvan International Airport, the only international airport in the country. Those from the neighbouring country of India can travel by bus to Nepal through the Indian cities of Patna and Gorakhpur.
Once you arrive at the Tribhuvan International Airport, you can take a taxi to your hotel in Kathmandu. Most travellers usually head straight to famous trekking destinations while others fly to the lake town of Pokhara. You can also take a bus to Pokhara, which requires about eight hours of travel. A more convenient option for travelling to Nepal is to book a tour that includes transportation, from airport pickup to the places you wish to trek.