Running is an excellent way to stay fit, unwind, and explore the outdoors. If you're a resident or a visitor in the vibrant Klang Valley region of Malaysia, you're in for a treat. With its diverse landscape and numerous parks, the Klang Valley offers a multitude of picturesque running routes to suit all fitness levels and preferences. Here, we highlight some of the best city running routes in the area, allowing you to combine your passion for running with a sightseeing adventure.
Taman Botani Perdana (Lake Gardens), KL
Located in the heart of Kuala Lumpur (KL), Taman Botani Perdana, formerly known as Lake Gardens, is an oasis of greenery spanning 91.6 hectares. With its well-maintained pathways, this park offers an ideal setting for runners of all levels.
You can choose to circle the scenic lake or explore the park's various themed gardens, including the Orchid Garden and the Hibiscus Garden. The tranquil ambience and beautiful surroundings make Taman Botani Perdana a favourite among locals and tourists alike.
Address: Jalan Kebun Bunga, Tasik Perdana, 55100 Kuala Lumpur
Phone: 03-2276 0432
Taman Tasik Titiwangsa, KL
Also situated in the heart of Kuala Lumpur and just off the main road that's Jalan Tun Razak is Taman Tasik Titiwangsa. This park provides a scenic and easily accessible running route for city dwellers.
The park encompasses a large lake, where you can enjoy a leisurely jog while taking in the breathtaking views of the city skyline. With its well-paved paths, shady trees, and ample green spaces, Taman Tasik Titiwangsa offers a pleasant environment for both casual runners and serious athletes.
Additionally, the urban park hosts various events and fitness activities, adding to its vibrant atmosphere. It's a great place to bring the kids too!
Address: Titiwangsa, 53200 Kuala Lumpur
Bukit Kiara trails, KL
For those seeking a more challenging trail running experience, the Bukit Kiara Trails in the swanky Taman Tun Dr Ismail (TTDI) neighbourhood is an excellent choice. With its network of forested trails, this area provides a refreshing escape from the bustling city.
The trails vary in difficulty, catering to both beginners and seasoned runners. You'll encounter lush greenery, steep inclines, and beautiful views along the way. Just be sure to bring appropriate footwear and be mindful of your surroundings.
Address: 78, Jalan Abang Haji Openg, Taman Tun Dr Ismail, 60000 Kuala Lumpur
Phone: 03-4047 0000
Shah Alam Lake Garden, Shah Alam
Situated in Shah Alam, the Shah Alam Lake Garden is a spacious park surrounding a scenic lake. The park offers well-paved paths ideal for running and jogging. With its serene ambience and beautiful landscaping, it provides a peaceful environment for exercise. Enjoy the refreshing breeze as you complete laps around the lake, and take in the view of the picturesque Sultan Salahuddin Abdul Aziz Mosque.
Address: Pesiaran Tasek, Seksyen 14, 40000 Shah Alam, Selangor
Phone: 03-5522 2834
Kepong Metropolitan Park, Kepong
Located in Kepong, this spacious park offers a combination of paved paths and trails that wind around a large lake. Kepong Metropolitan Park is popular among runners due to its serene surroundings and the opportunity to spot various bird species. The park provides a refreshing escape from the urban hustle, and you can enjoy stunning views of the lake and surrounding greenery as you run.
Address: Jalan Lingkaran Tengah 2, 7, Pavement, Taman Metropolitan Kepong, 52100 Kepong, Wilayah Persekutuan Kuala Lumpur
KLCC Park, KL
Nestled at the foot of the iconic Petronas Twin Towers in the heart of KL, KLCC Park offers a picturesque and invigorating running route for fitness enthusiasts. Boasting lush greenery, manicured gardens, and a serene man-made lake, this urban oasis provides a unique and captivating backdrop for a memorable running experience right at the front door of one of the city's most bustling shopping malls and 5-star hotels.
Address: KLCC, Lot No. 241, Level 2, Suria, Kuala Lumpur City Centre
Phone: 03-2382 2828
Jalan TAR Car-Free Area, KL
Jalan Tuanku Abdul Rahman, simply referred to as Jalan TAR, is a well-known shopping district in KL that's been gazetted as a car-free road every Sunday from 6am to midnight. As part of its efforts to become a low-carbon city, KL has closed the portion of the pedestrianised route between the Jalan Esfahan intersection and Jalan Melayu to all vehicle traffic.
This means that running enthusiasts have access to a large, clear running path because there are no cars present. This guarantees a secure and pleasant running experience, regardless of whether you enjoy a leisurely stroll or a harder workout.
Address: Beside Menara DBKL, Jalan Raja Laut, Kuala Lumpur City Centre, 50100 Kuala Lumpur
Contact: 03-4141 5500
Revolutionising Running: Introducing the adidas SWITCH FWD
adidas has unveiled its latest running shoe innovation, the SWITCH FWD, representing the brand's relentless pursuit of cutting-edge advancements in athletic footwear. At the core of this groundbreaking new design lies an integrated 3D printing technology within the EVA compound midsole, featuring intricately designed voids that ingeniously convert gravity into forward motion. This revolutionary engineering transfers weight with each stride, propelling athletes of all levels smoothly forward, delivering a seamless and dynamic running experience.
Complementing the innovation within, the SWITCH FWD showcases a lightweight Continental™ outsole, offering exceptional grip in all weather conditions. Its lightweight engineered mesh upper features strategically placed windows, providing enhanced breathability during intensive runs. With a sleek colourway selection catering to both men and women, the SWITCH FWD stands as a testament to adidas' ambition and dedication in delivering top-tier running shoe technology to athletes worldwide, elevating their urban running experience to new heights.
Win a Pair of adidas SWITCH FWD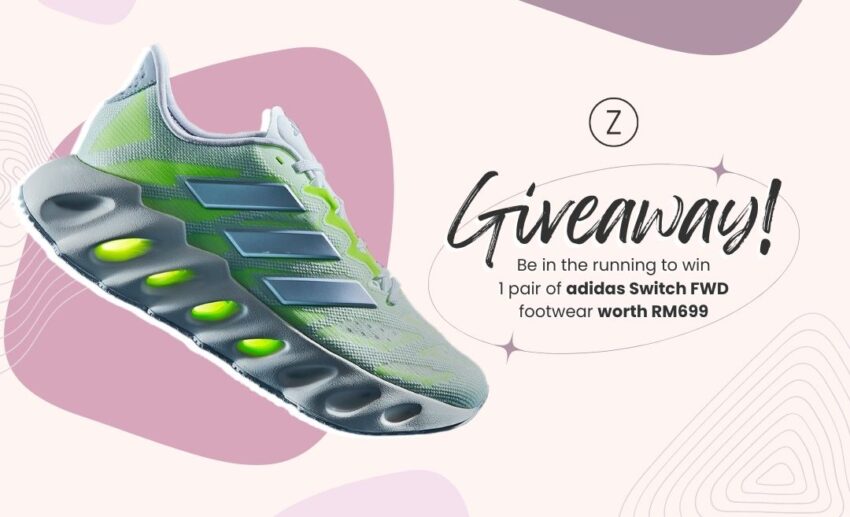 Experience the future of urban running with the adidas SWITCH FWD. We're giving away a pair of these game-changing shoes! To enter the giveaway and have a chance to win, just follow the simple steps in the form below. If you're lucky enough, you'll be able to elevate your running with the revolutionary SWITCH FWD!
Win a pair of adidas SWITCH FWD!
Terms & conditions:
Applicable for residents in Malaysia aged 18 and above.
Spam/giveaway accounts will be disqualified from the giveaway.
The giveaway ends on 8 August 2023 at 23:59.
One (1) winner will be announced on 11 August 2023 in the comments section of the giveaway post and on Instagram Stories.
The winner will be selected by adidas Malaysia and all decisions are final.
Winners will need to DM their full name, phone number, address, and email to Zafigo.
adidas Malaysia will arrange shipping of this giveaway's prize to the winner.
Prizes are not exchangeable for cash/credit/other items or vouchers, in part or in full.
The voucher cannot be sold.
By participating in the giveaway and being selected as the winner, you consent that your name, content, and any photos or videos related to this giveaway be published on Zafigo's social media channels and any other publications.
Zafigo and adidas Malaysia reserve the right to cancel and/or change the terms and conditions, prizes, and plans at their discretion without any prior notice.
Zafigo is not responsible for any claims incurred by the winner due to the cancellation/changes of the giveaway.