W've come across a lot of travel bloggers out there in the Internet of things, but none quite as niche as Nikos Loukas' Inflight Feed. As you can tell from the title of his blog, Loukas writes about aviation, specifically in-flight food. While the rest of the world buy flight tickets for a holiday or work trip, Loukas travels for the sake of tasting the in-flight meal experiences different airlines have to offer. The self-proclaimed in-flight food addict reviews airplane food on his blog and gives us the low down on which onboard meals are as good as on-ground dining.
We scoured through Inflight Feed's reviews to take you around the world in 18 airplane meals. Here are some of the best inflight meals offered by airlines around the world, according to a man who has tasted it all:
1. SAS (Scandinavia)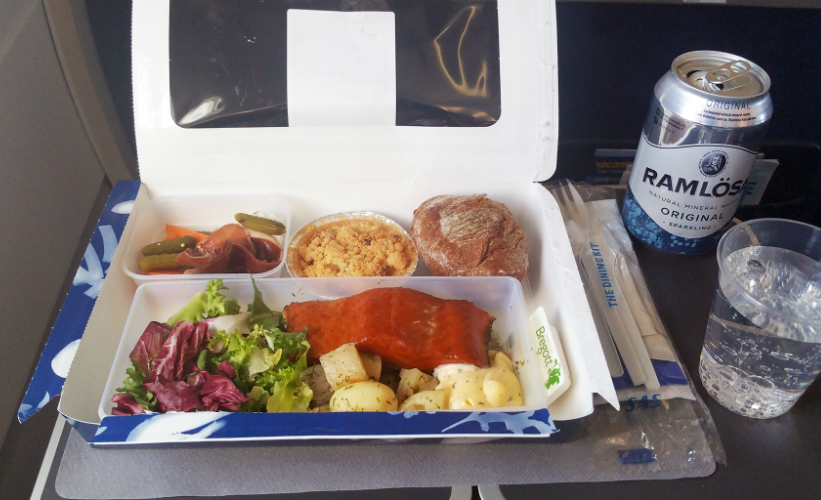 Flight: Copenhagen to Dublin
Meal: Cecina with Blue Cheese and Carrot served with Hot smoked salmon with yuzu roasted celeriac and chervil Hollandaise and for dessert a Rhubard tartelette with Granola crumble.
"SAS' onboard meal experience uses local brands to highlight their Scandinavian heritage, such as Apple Must juice that is cold pressed in West Oslo by the same family since 1661, Coffee by illy, and Europe's first Sake hailing from Grimstad in southern Norway."
2. Air France (France)
Flight: Paris to Dublin (Operated by CityJet)
Meal: Grilled meat and vegetables, blue cheese and a raspberry cake for dessert.
"Air France might be one of the only airlines in the world to offer champagne in all cabin classes for free. Passengers in Economy and Premium Economy on selected flights can upgrade their main meal for something closer to business class meal including dishes created by France Top Chef winner Jean Imbert."
3. Norwegian Air (Norway)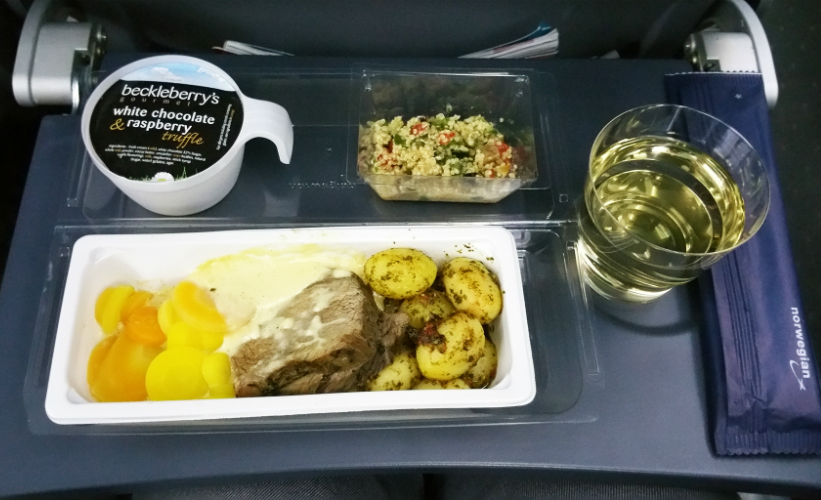 Flight: Oslo to Bangkok
Meal: Roast beef served with creamy pepper sauce, marinated potatoes and carrots, grilled vegetables with Quinoa salad and white chocolate and raspberry truffle dessert!
4. IndiGo Airlines (India)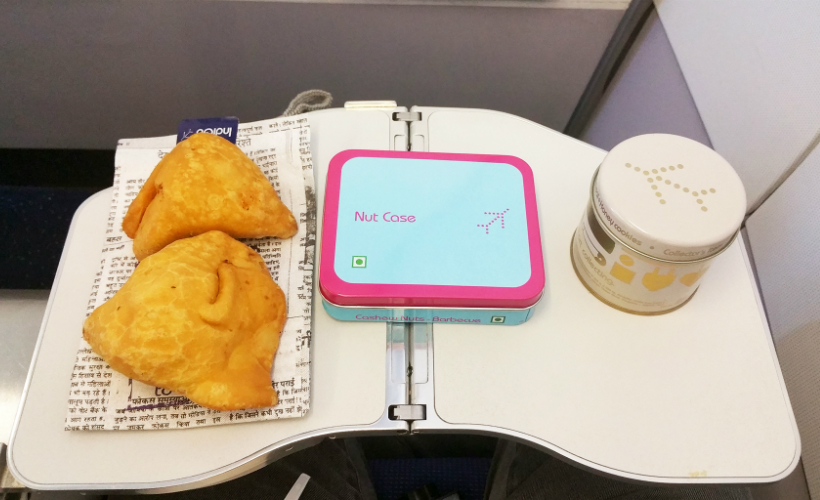 Flight: Mumbai to Bangalore
Meal: Vegetarian Punjabi Samosa served at room temperature and delivered in newspaper style packaging
"As part of the buy onboard menu, IndiGo offers collectable tins that have either cookies or nuts, they are quite popular among the airlines frequent flyers."
5. Malaysia Airlines (Malaysia)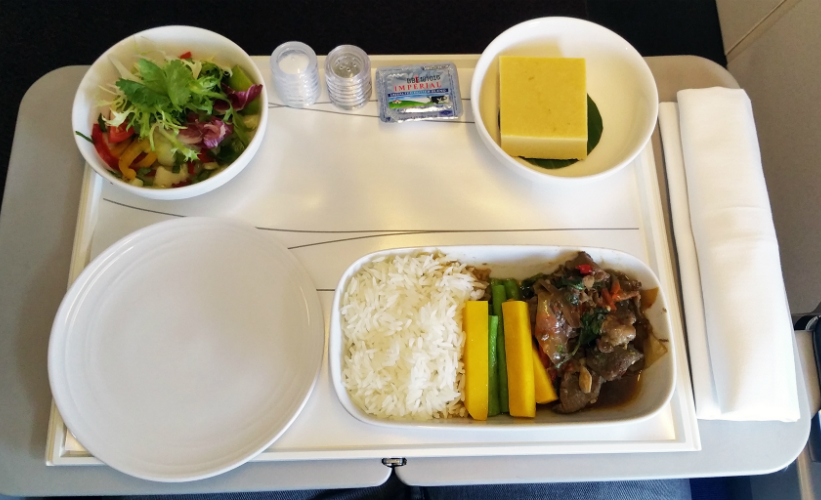 Flight: Bangkok to Kuala Lumpur
Meal: Chilli beef with steamed rice and vegetables.
"The satay served onboard Malaysia Airlines is something that has become a signature dish of the airline. Fresh shallots, turmeric, garlic galangal and lemongrass are all part of the secret to making this dish. The airline has served satay onboard flights since they commenced services and since 1973 have been produced inhouse, every day 20,000 sticks of satay are enjoyed by Malaysia Airlines passengers around the world!"
6. Xiamen Air (China)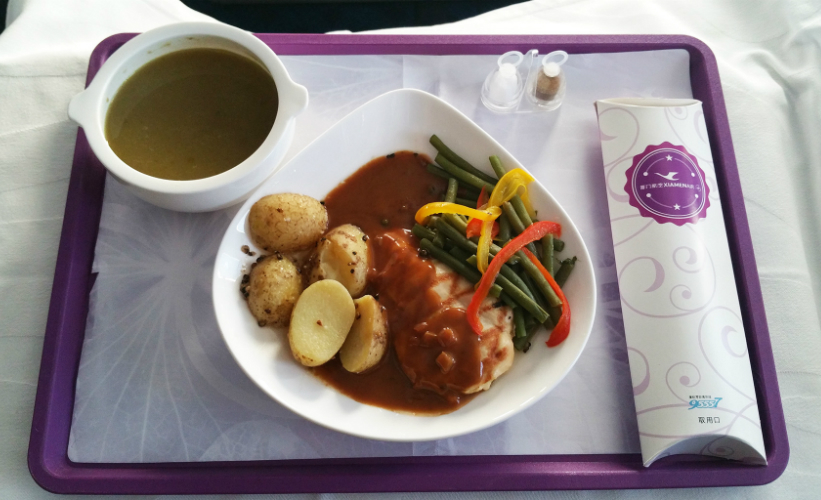 Flight: Amsterdam to Xiamen
Meal: French onion soup served alongside grilled chicken fillet with green pepper sauce, green beans, capsicum and potato.
"Honestly it was like dining in a proper restaurant on the ground, the chicken was succulent, the vegetables didn't seem over cooked and the roast potatoes were delicious. I didn't expect it to be this good."
7. Lan Chile (Chile)
Flight: Madrid to Frankfurt
Meal: Iberico Ham salad served with Las Doscientas Chilean Balsamic dressing, a warm bread roll and for dessert a very tasty fruit cheesecake.
"Whilst wines are offered to everyone with their meals and you are able to order a wide range of alcohol, you just need to ask the crew what the options are."
8. EVA Air (Taiwan)
Flight: Paris to Taipei
Meal: Pasta and meatballs served with a potato salad, fresh fruit, chocolates, and a chocolate brownie.
"This is probably the happiest flight in the world! Brace yourself, it's not just the meals that are Hello Kitty themed, nearly everything on the aircraft is branded with Hello Kitty's face. From your inflight meal right down to the toilet paper."
9. Korean Air (Korea)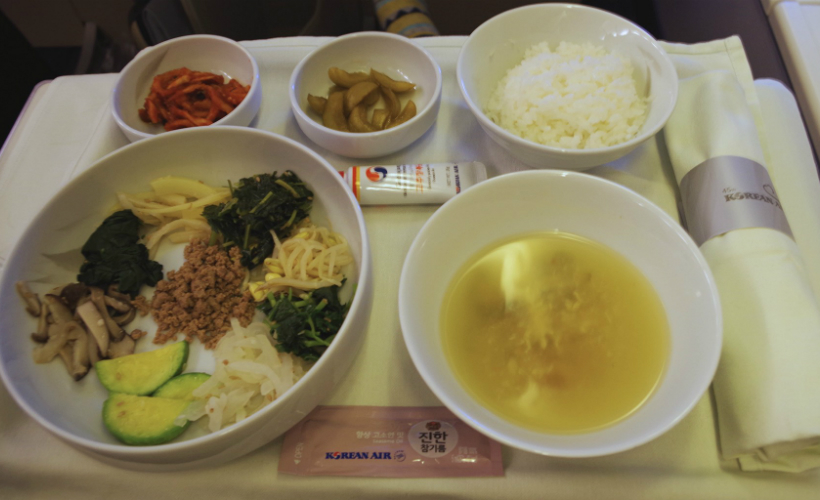 Flight: Seoul to Frankfurt
Meal: Korean Bibimbap.
"One thing that people may not be aware of is the fact that the airline has their own organic farm on the island of Jeju in Korea, it's here that some of the food products used in first class are produced. There are over 2400 cattle and approximately 6000 chickens that live on the farm and are supplied to Korean Air Catering for first class passengers."
10. Russian Airline (Russia)
Flight: Istanbul to Moscow
Meal: Rabbit Patty with tempura vegetables.
"In summer, dishes are lighter and by autumn/winter dishes gain extra calories to compensate for the lack of warmth and sunlight."
11. Icelandair (Iceland)
Flight: London to Reykjavík
Meal: Chicken spelt ciabatta bun with red curry, spinach and tomatoes served with a raw food cake with peanut butter, and a plate of crisps.
12. Aegean Airlines (Greece)
Flight: Brussels to Athens
Meal: Grilled fillet of chicken with Lyonnaise potatoes, green beans and turkey bacon with lemon thyme sauce.
"Greek culture is about making you feel at home (and making you eat a lot!) and Aegean has successfully integrated this culture and food experience in their airline cabins."
13. Peach Aviation (Japan)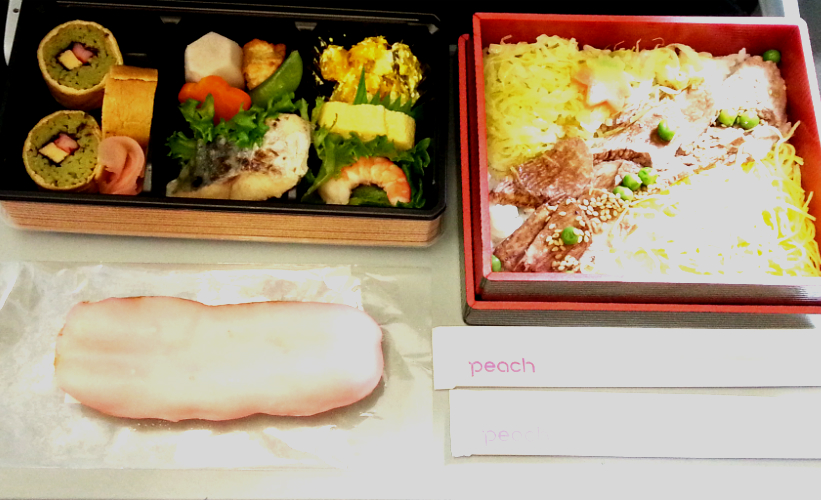 Flight: Departing from Osaka
Meal: Sushi bento box made fresh in Osaka, Kobe Beef bento box with rice, salad and noodles, and a peach eclair with cream and frosting.
"During Christmas time, Japan Airlines serves KFC on selected flights as part of the country's strange but true tradition of KFC Christmas dinners."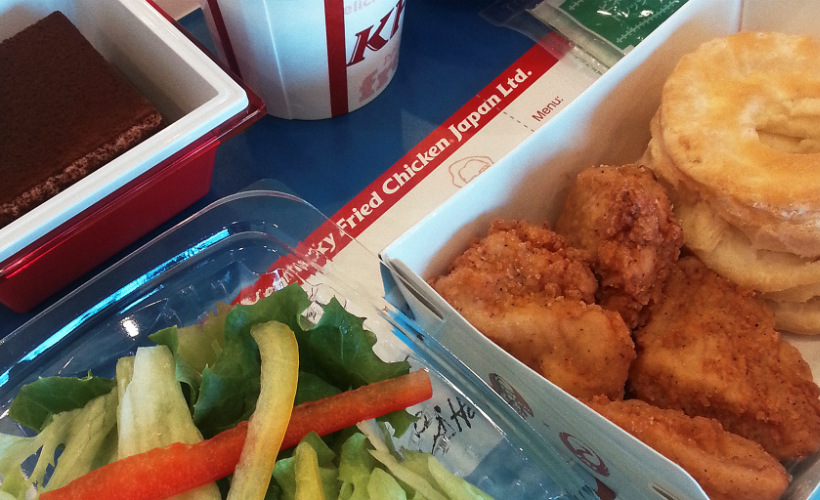 14. Thai Airways (Thailand)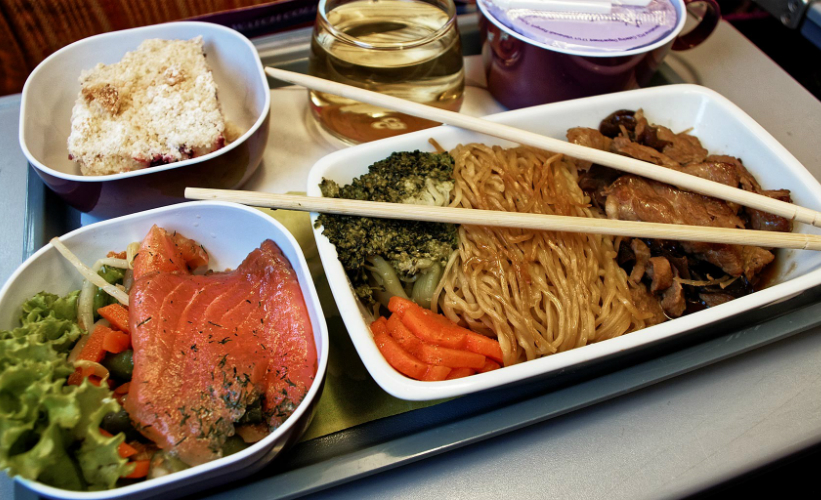 Flight: Bangkok to Brussels
Meal: Chicken Curry with Potatoes, Rice and Peas. Western Style Breakfast consisting of Scrambled Eggs, Sausage and Stir Fried Vegetables.
"The food at Thai Airways is so good that they even have their own chain of restaurant aptly named Thai Airways Restaurant. Look out for it at the Phuket International Airport Level 3 before going through security. The restaurant has been running since 1965 and are also available at Chiangmai and Chiangrai airports."
15. Hong Kong Airlines (Hong Kong)
Flight: Hong Kong to Kunming
Meal: Hong Kong Style Baked Pork Chop with Fried Rice; Chicken Curry Rice; Korean Style Beef Rice; Peking Style Roasted Duck Wrap; Dim Sum set with Oolong Tea; Mini BBQ Pork and Chicken Pies.
16. Singapore Airlines (Singapore)
Flight: Hong Kong to Singapore
Meal: Hot fried pork with steamed rice and Chinese vegetables.
17. Finnair (Finland)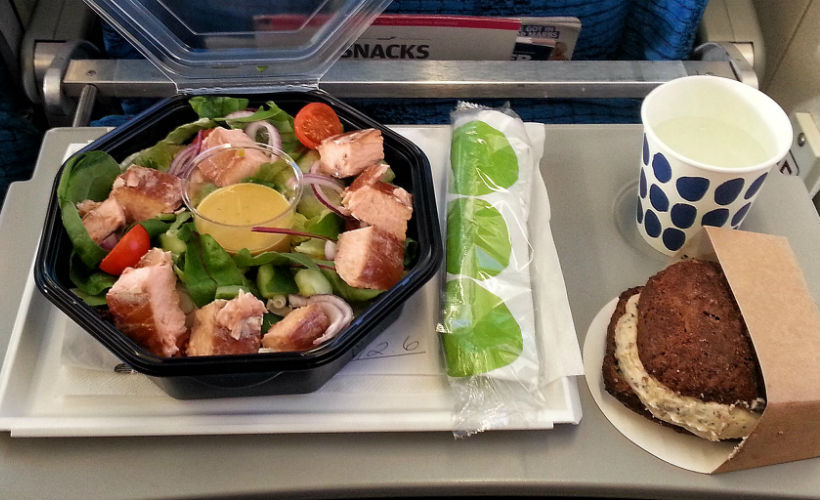 Meal: Salmon salad and a tuna roll that was offered for free
"It felt like there was about half a kilo of salmon in this salad! The quality and quantity of the salmon was fantastic and the salad itself is quite a large meal portion. Oh and the free sandwich that everyone else got was super delicious too."
18. Air Dolomiti (Italy)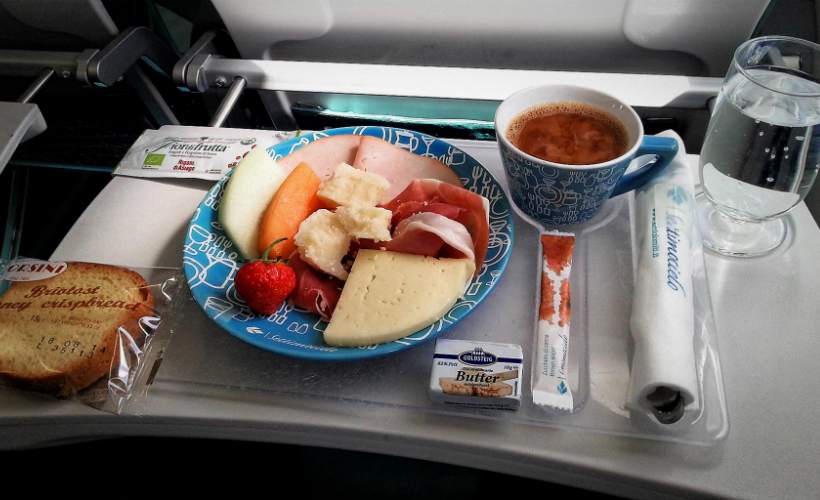 Flight: Milan Bergamo airport to Munich
Meal: Prosciutto e Melone (Cantaloupe and Italian Ham), Two different types of Italian Cheese, Cold Meats, Fresh fruit, Italian Crispbread and a local Italian Jam. Of course we were served Freshly Brewed Coffee also.
To read the full review of each airline, visit the Inflight Feed blog.

Read Next:
| | | |
| --- | --- | --- |
| | | |
| 15 Ipoh Must-Eats That Are Approved By Local Foodies | The World's Most Loved And Hated Airlines According To TripAdvisor | |