Online travel agency kiwi.com have produced a ranking detailing countries of the world which offer the least and most expensive flights. The research, which took into account over 1 million international and domestic journeys, found that India offered the least expensive flight prices per 100km of travel, whilst the United Arab Emirates clocked in with the most expensive tickets.
Kiwi.com undertook the research in order to help travellers find the most suited deals on flights around the world.
Malaysia ranked in number 2 out of the 10 countries offering the least expensive flights, with an average flight cost of USD3.78 per 100km of travel. The least expensive country, India, averaged a flight cost of USD3.25 per 100km of travel.
The study revealed that the 10 countries offering the least expensive flights are:
At the other end of the ranking, United Arab Emirates calculated at a cost over 30 times higher, at USD105.71 per 100km of travel. The countries offering the most expensive flights are: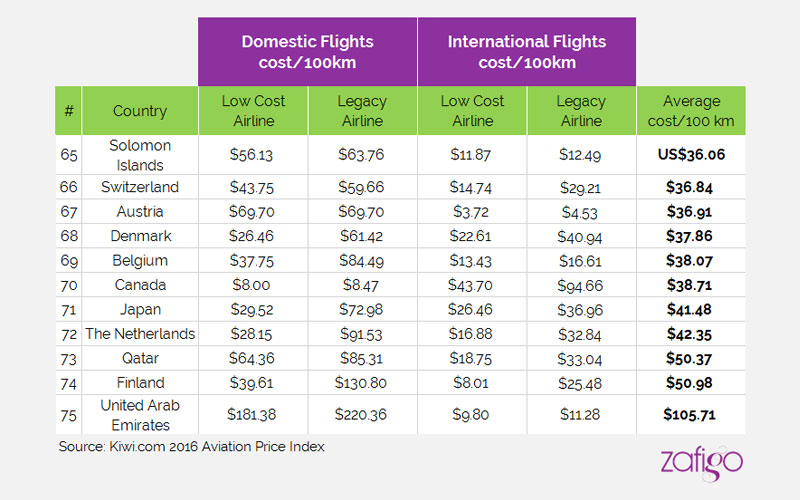 To calculate the rankings, Kiwi.com analysed over a million flights to find an average price of domestic and international flights on a low cost and a legacy airline from each of the countries.
Domestic flights were calculated by finding the average flight costs from the country's capital to up to five major cities within the country (where available). If no domestic flights were available, they chose a major city in a neighbouring country.
International costs were calculated from the capital of each country to up to five international hubs within the same continent. All flights were checked for the same dates of travel (or neighbouring dates where necessary) on- and off-season. They also take into account the same destinations and travel scheduling.
Further findings from Kiwi.com's 2016 Aviation Price Index:
Country with the cheapest domestic flights: India
Country with the cheapest international flights: China
Country with the most expensive domestic flights: United Arab Emirates
Country with the most expensive international flights: Canada
With Malaysia being the cheapest country in Southeast Asia to fly locally and internationally, it's no wonder it's developing a new aviation hub around the Kuala Lumpur International Airport.