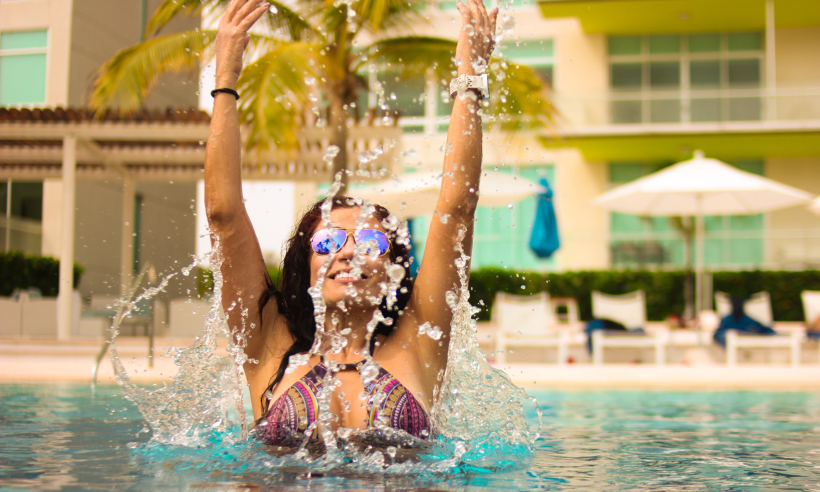 Airbnb is often the best option for most people around the world in search of affordable stays at worldwide destinations. And if you look hard enough, you may even stumble upon accommodations offering more than just the basic necessities of a bed and bathroom.
If you are planning a short sojourn in Malaysia and are looking for a reasonably-priced dwelling with great interiors and stunning views, take a look at our top picks for the perfect place.
1.Teratak Damai Langkawi
Take a break from your gadgets and work by staying at this traditional Malay-style chalet located on Langkawi – one of the country's most popular island retreats. Surrounded by nature, the picturesque panorama of Mat Cincang mountain and scenic views of the paddy fields are bound to take your breath away. Also, making your way to the popular white sands of Chenang Beach is only a five-minute car drive away.
Location: Langkawi, Kedah
Price: MYR174 (about USD40)/per night
Airbnb listing page: Teratak 1 – Malay Farmer's Hut
2.Lato Lato Resort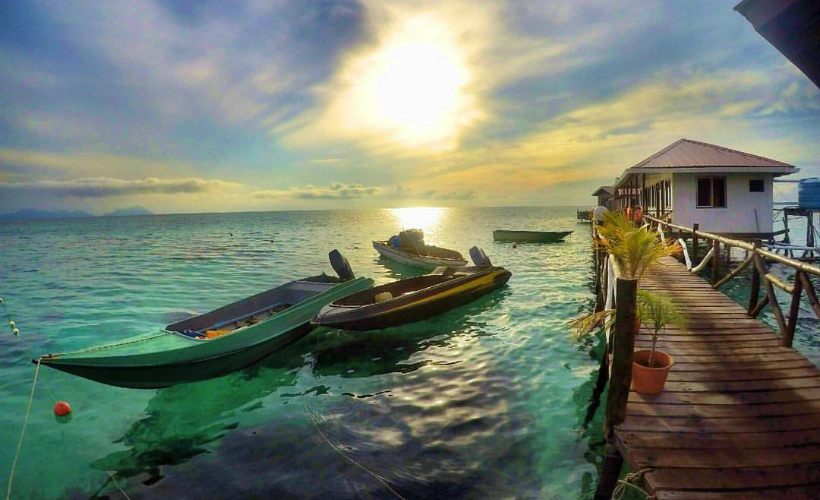 This chalet in Semporna, Sabah in East Malaysia is quite literally paradise. Built on stilts, this homestay is directly above the sea. Imagine waking up and being able to jump straight into the water. They do not provide any WiFi, so use this escape as a chance to catch beautiful sunrises and sunsets undisturbed. You can also stargaze at night from the comfort of your room. Free breakfast, lunch and dinner are also thrown in.
Location: Semporna, Sabah
Price: MYR147 (about USD34)/per night
Airbnb listing page: Lato Lato Resort
3. Home Away From Home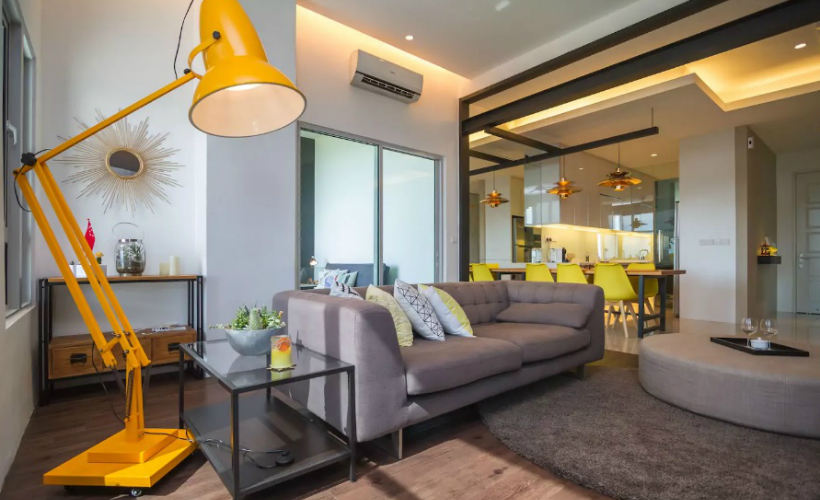 This space is perfect if you and a group of three are headed to the Malaysian island state of Penang, popular for its street eats and heritage sites. The amount of effort the host puts into making the spacious apartment homely, cosy and clean is guaranteed to make your stay a pleasant one. The stunning backdrop from the balcony area is also worth showing off on Instagram. A car rental service is also offered if you are looking to enjoy a five-minute drive to Gurney Drive to grab some grub.
Location: Tanjung Bungah, Penang
Price: MYR174 (about USD40)/per night
Airbnb listing page: Home Away from Home
---
You can't leave Penang without sampling the food!
---
4.Comfy Home Studio B2-6-2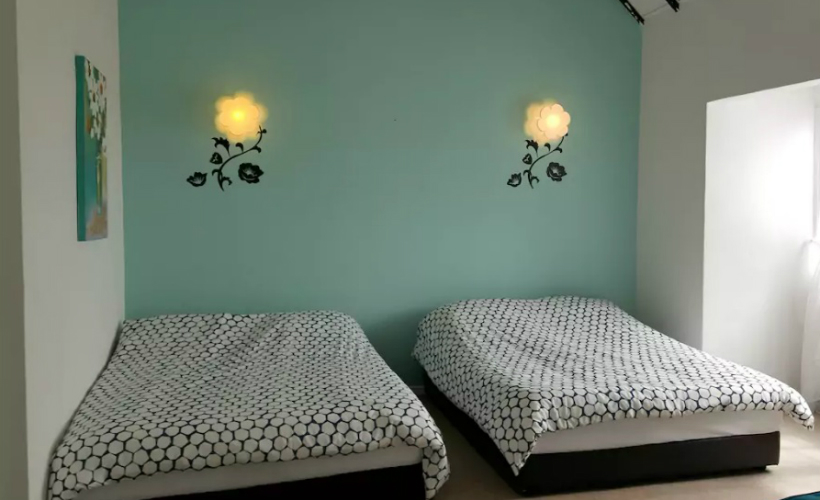 Offering a breathtaking view of Bukit Fraser's lush highlands and clear skies, this pretty blue penthouse is the place to be for a quiet getaway from the bustling city, as it's a short two-hour drive from Kuala Lumpur. The cold and fresh air is also a refreshing change of climate. While the unit can fit up to four people, we recommend two for a more spacious and quality stay with a close friend or loved one.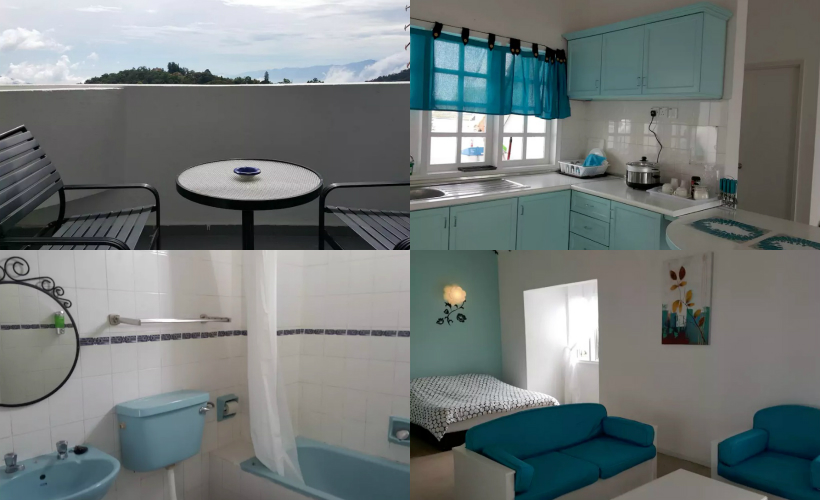 Location: Bukit Fraser, Pahang
Price: MYR151 (about USD35)/per night
Airbnb listing page: Comfy Home Studio B2-6-2
5.Lanai Relaxation
Right in the heart of Petaling Jaya is this spacious, high-ceiling duplex that can hold up to a party of five, making it perfect for hosting a family or a group of friends. Besides its contemporary and cosy interior, it has a large window that looks out on to a lush green scenery. Those looking to spend time at the mall will also be delighted to know that big malls like IKEA, The Curve and One Utama are all located nearby.
Location: Taman Tun Dr Ismail, Petaling Jaya, Selangor
Price: MYR151 (about USD35)/per night
Airbnb listing page: Lanai Relaxation over the Lush Green Forest
---
Want to be surrounded by nature, or a charming city hotel? Here are the best places for a short getaway.
---
This story was originally published on www.marieclaire.com.my
Zafigo republished this story in full with permission from the publisher to hopefully bring the story and Marie Claire Malaysia to a larger audience, simply because good authors and stories should be read by as many people as possible! If you are keen on Zafigo republishing your stories that will be of interest and useful to women travellers especially in Asia and the Middle East, please get in touch with us at info@zafigo.com.
Get all the latest travel stories from Zafigo. Follow us on Facebook, Twitter, and Instagram.