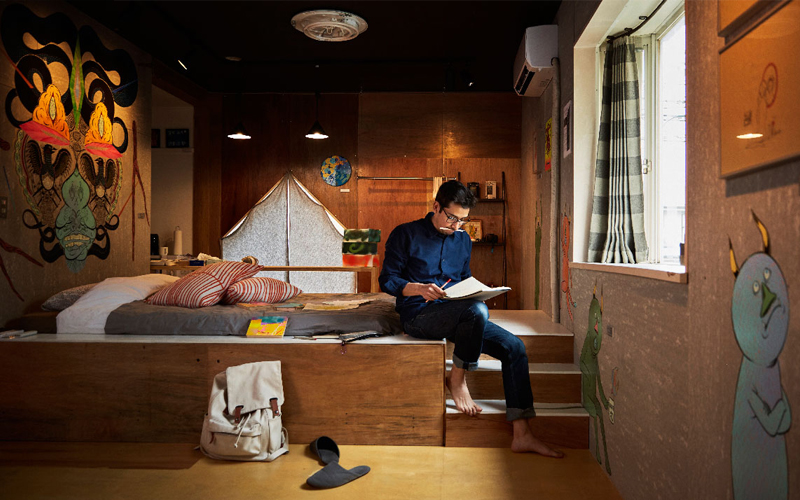 I had been unsure about Airbnb until I went on a family trip to New Zealand. The Airbnbs we rented were amazing – one had a fireplace stocked full with firewood, one had a jacuzzi in the backyard, and the other had kayaks that we could use in the nearby lake.
As much as we enjoyed sightseeing, some of the best moments from the family trip were in our Airbnb homes. We had the whole house to ourselves and would spend evenings enjoying the fireplace or watching TV together. It felt like we took over the homes of some very kind and welcoming Kiwis, there were even bread, milk and eggs in the fridge to make sure we don't go hungry.
I was sold on the idea of Airbnb ever since. Airbnb delivered exactly what it had promised – a warm, local experience at a price that was cheaper than hotels. However, booking an Airbnb is not as straightforward as hotels as you are like to deal with residents rather than a corporation.
To help first-time Airbnb users make the most out of their stay, check out these nifty tips columnist Lucas Peterson shared in this New York Times article:
1. Hotel or AirBnB?
Don't feel like leaving your comfort zone? Want to get in and get out of a city quickly, with minimal hassle? A traditional hotel may be for you. The check-in process is predictable, there are creature comforts like housekeeping, and you can expect a certain minimal level of service.
If you're feeling a bit more adventurous, though, you could explore Airbnb. There, you would find opportunities for a more local experience than you could ever hope to have by staying in a traditional hotel. In Moscow, I stayed in the gorgeous artist's studio of a local sculptor and got to know him and his wife. He shared his likenesses of Lenin and Yuri Gagarin, and she spent an afternoon showing me around the city. It was a unique experience I'll never forget.
2. Be realistic with your expectations
One aspect that draws travelers to Airbnb is that it is frequently cheaper than hotels. Therefore, it's important to temper your expectations. The bed may not be perfect, the faucet may leak, and the WiFi may be spotty. Oh, and the "breakfast" part of "bed-and-breakfast"? Best to take that with a grain of salt; it hasn't existed in any of the Airbnbs that I've booked.
The greater informality can have its advantages, too. It lends itself to more flexibility as far as what time you can check in, for example, as well as what to do when you check out. In at least two places I've booked, "Just leave the keys under the mat" was the only instruction I received.
3. Pay attention to the space and amenities described in the listing
You don't want to show up at your booking with your significant other and awkwardly encounter another person — or worse, another couple — staying in the same place. The headings in the Airbnb listings search are: "Entire home/apt": You're booking an entire apartment or house and should not expect to share the space; "Private room": You are booking a private room within someone else's home (bathroom privileges may vary); and "Shared room": You're in a bunk bed/hostel situation (this is generally the cheapest rental).
Pay attention to your search parameters so that there are no rude surprises. Chances are, if you're getting an insanely good deal on that beachfront villa, you're probably not going to be there alone.
4. Message your host beforehand
There's a natural vetting process with Airbnb. You have to message your hosts when you request to stay at their home, and they vet your message, and you, before they approve the stay. This allows the hosts to pick and choose their guests (and unfortunately has also led to cases of racial discrimination). There is also an Instant Book option, denoted by a small lightning bolt, that allows you to make a booking without sending a message or request.
Generally, though, the more you communicate ahead of time with your host, the better. You can exchange information, coordinate schedules and figure out the best time to hand off keys. A quick back-and-forth to get to know the person whose home you're renting (and vice versa) makes for a more comfortable and pleasant experience.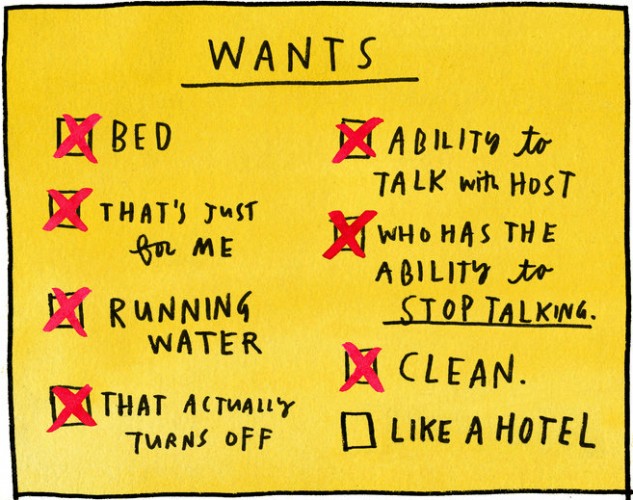 5. Filters are your friend
After the initial landing page, when you've entered the basic parameters of your stay, you'll see a map with your lodging options. On the left side, above the first listing, is a button labeled "Filters." Click on it, and you can whittle down your options by the number of bedrooms and bathrooms, as well as the neighbourhood. Scroll down to "Amenities." Initially you'll see a few choices. But on the right side, you'll see a small black arrow. Click on it to reveal many more options. Do you absolutely have to bring your dog along? Check off the "Pets Allowed" option. You can be very granular with your parameters; if you want the host to provide shampoo, or if you require a lock on the bedroom door, you can search for that, too.
6. Know the cancellation policy
Before you book, know your host's cancellation policy. Cancellation policies can vary from "Flexible", meaning you're allowed a refund provided you cancel within 24 hours of arrival, to "Strict", which will afford you only a 50 percent refund — provided you canceled at least a week ahead of time. Either way, say goodbye to Airbnb's nonrefundable fee, the exact calculus of which is maddeningly unspecific — it is "typically 6-12% but can be higher or lower," according to the website.
7. Take photos of any damages in the room
There are far more horror stories of guests damaging the homes of Airbnb hosts than of nightmare hosts, but it's always good to be safe. When you arrive, do a quick inspection for any damage to the walls or furniture, and snap a few quick pictures — if you have a smartphone, a couple of panorama shots would do nicely. If you do notice something problematic, mention it right away to your host. Do this by communicating through the Airbnb website — not by sending personal emails back and forth.
When you leave, take a couple of quick shots, as well. In the unlikely event of a dispute, time-stamped photos would help you prove you left your rental in good condition.
8. Review your Airbnb
The Airbnb ecosystem lives and dies by honest feedback. Reading reviews is the best way to learn about the quality of a rental and the best way to weed out the bad eggs who misrepresent their properties, or worse. So it behooves you, after your stay, to leave honest feedback and to rate various aspects of the property on a scale of 1 to 5 stars. But don't think this goes only one way — hosts can also leave reviews of their guests.
9. When in doubt, rent from a Superhost
If you are wary about staying in a stranger's home, you have the option of renting from a Superhost — someone who has consistently received positive reviews, denoted with a small gold medal by the profile. 80% of Superhosts' reviews have been awarded five stars, and Superhosts are held to high standards of responsiveness and following through with their bookings (i.e., not canceling at the last minute).
Using Airbnb for the first time can be both an exciting and slightly anxious experience. If you have reservations but want to test the waters, a Superhost's home may be a good first stay.
The article was originally published in The New York Times, read the original article here.

Read Next: