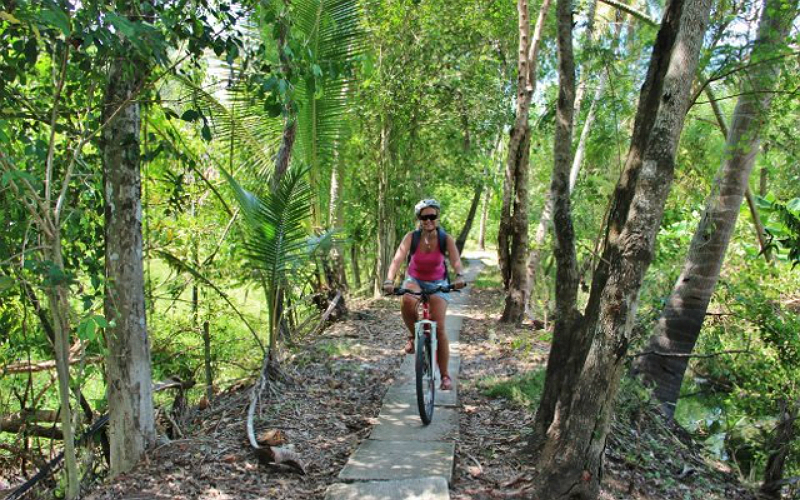 Bangkok may seem like a bicycle-averse city, with crowded streets, no adherence to bike lanes (when they exist), and steamy, sometimes suffocating heat. Becki at Borders of Adventures Blog felt similarly about Bangkok until her recent trip, where she took some time to explore some of the outer neighbourhoods on a bicycle.
"When I heard about the opportunity to go biking in Bangkok to check out the countryside, I was intrigued, yet sceptical; Bangkok in no way screams 'rural'.
"Cycling long distance in Southeast Asia has become a regular hobby – my most recent adventure being a seven-hour ride to a jungle temple in Siem Reap. For me, it's one of the best ways to encounter the off the beaten track towns, villages and paths leading to the heart of a destination you otherwise wouldn't find without local knowledge."
"The six-seven hour round journey moving north-east of the city starts on Ratchadamneon Klang Road at 9am, just around the corner from brash Khao San Road, which you will pass through in order to reach the tranquil riverfront and the peaceful Santi Chai Prakan Park – an ideal short break from the energetic city you have started to leave behind and a cool down from the sweat you've started to build up from cycling in the intense heat (don't expect to look pretty in your photos!)."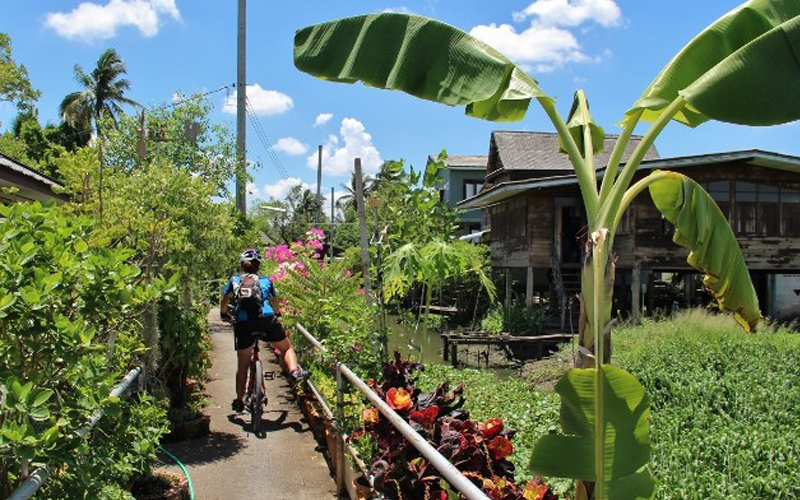 Her day cycling through the interiors of the city showed her that she's been wrong about Bangkok all these while:
"When I set off on my bike in Bangkok, I never expected to see a completely different side of the city – a serene expanse of green fields, pockets of forest and winding narrow alleyways of communities that reminded me of the hutongs in China. I guess I had been wrong about Bangkok all along – it isn't just a bustling, sprawling city. You have to search out the parts of it that are tucked away."
"It's easy to say you've seen Bangkok, with its old historical side and new, sky-train connected modern suburbs. Yet it's only now that I feel as if I can say that I have seen more of Bangkok – its alternative side and the outskirts of the city that are underdeveloped and not spoken about. But I still have a lot more to see until I can say that I know Bangkok in its entirety. Maybe another bike ride is in order…"
To read more about Becki's bike tour, check out the full article here.

Read more off-the-beaten-path stories from Bangkok:
Get the latest travel stories from Zafigo. Follow us on Facebook and Twitter for updates.