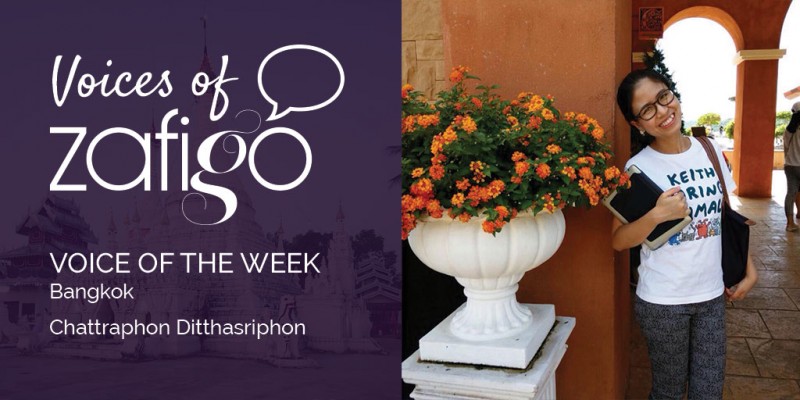 Jom loves nature and recommends four ways to immerse in the greens in Bangkok, Thailand
---
Chattraphon Ditthasriphon
Known to her friends and family as Jom, is from Bangkok, Thailand and has been living here for the most of her life – except when she studied abroad in the UK and USA. She also lived in Northern Thailand for two years, working at refugee camps on the border with Myanmar. Having spent a lot of time indoors as a government employee, Jom enjoys seeking out nature and open spaces on weekends (and getting away from unhealthy office snacks!).
She recommends these four ways to immerse in the greens in Bangkok:
Look in between the concrete jungle
"Bangkok is a very big city and full of concrete, but you can find nature even amongst all of these buildings. Suan Rot Fai (Benjathas Park), near Mo Chit Skytrain Station and Chatuchak Market, is huge and has many places to relax in the shade or near the lake. On a busy weekend in December or January, you will see many groups of friends sitting on bamboo mats eating or just hanging out.
Bring an umbrella if you go any other time of year though because all of the spots in the shade will be taken and it is too hot to stay in the sun for too long!"
Tip: Check out this Coconut's Bangkok article for more information on Suan Rot Fai.
Head north
"I spent two years in Mae Hong Song in northern Thailand and fell in love with the scenery and beauty. It makes for a lovely escape when Bangkok gets too hot, as it is very green and sits among the mountains. But if you go in the beginning of the year, it can get very cold!"
Getting there: To get to Mae Hong Song, you're best off getting to Chiang Mai first and then taking a quick flight or a bus from Chiang Mai. Visit the Wikitravel page for Mae Hong Song for more details.
Look up
"Sometimes it is hard to get out of the city, so I like to visit the rooftop garden at Siam Square One shopping centre called Siam Green Sky, or the rooftop jungle at EmQuartier. The rooftop garden at EmQuartier is much more of an escape but it is nice to go to Siam Green Sky to learn more about living eco-friendly in Bangkok."
Tip: The EmQuartier rooftop garden is open during normal business houses (click here for more information) but the Siam Green Sky has limited hours and regular special events so check out Thai Travel News's article for more information.
Go for a bike ride
"I love to cycle but Bangkok is a bit too crazy on normal streets. Many people take their bicycles to go around Rotfai Park, but there are also some nice places further away from the city centre. You can rent bicycles in Phra Pradaeng, also known as the Green Lung of Bangkok. The Bang Krachao Park in Phra Pradaeng takes a little work to get to but is completely worth it!"
Check out Migrationology's guide to biking around Bang Krachao here.
In Voices of Zafigo, we ask local women to give us their top recommendations on a particular subject or area of interest in their city. If you'd like to be featured in this section, drop an email to [email protected] with the subject line 'I want to be a Voice of Zafigo for my city'.

To find out more about Bangkok, read Zafigo's City Guide here
Read more Voices of Bangkok
Get all the latest travel updates from Zafigo. Follow us:
[button url="https://www.facebook.com/zafigo" size="small" value="Facebook" color="#94288e"]  [button url="https://twitter.com/ZafigoAsia" size="small" value=" Twitter " color="#89c44c"]  [button url="https://instagram.com/zafigoasia" size="small" value="Instagram" color="#14afa9″]