One of the best things about Bangkok is its central location. It is a great place to start a backpacking trip through Southeast Asia or as a jump-off point for travel just around Thailand.
Price of Travel explores the best ways to travel on a budget regardless of where in the world you're going. To plan a great day trip from Bangkok, their top five cheap day trips gives visitors the quick rundown of exactly where to go, how to get there, and what to budget for each trip.
Here our top picks: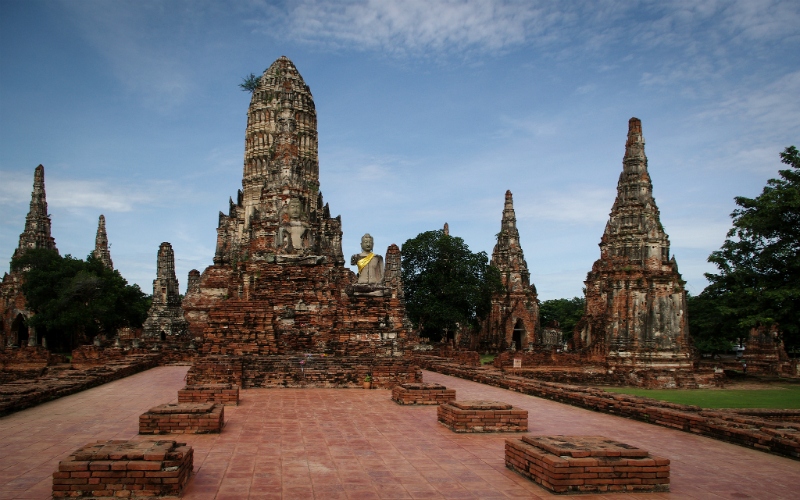 Ayutthaya: Ancient Siamese Capitol and UNESCO World Heritage Site

The ancient city of Ayutthaya was the old capitol of Siam until 1767, when it was sacked and burned to the ground by the Burmese. Due to its largely stone construction, however, much of Ayutthaya's greatest sites survived, and today the city still boasts tremendous ruins of old temples and palaces, as well as impressive chedis (stupas) and stone Buddhas.

Due to its historical richness, it was recognised as a UNESCO world heritage site in 1991, and it continues to be a popular day trip with both tourists and Thais alike. Most of the temples are free to enter, but some of the larger and most impressive ones (Wat Phra Si Sanpet, Wat Phra Mahathat) will charge an entrance fee of 50 baht (about US$1.50).

One of the cheapest and most popular ways to tour around the old ruins is by bicycle, which can be rented for about 40 baht per day. Maps of the city are free in most hotels. The city itself is quite small (less than 6 square miles), so the distances between temples are very manageable – just bring a large bottle of water with you for the day.

Alternatively, motorbikes can be rented for around 300-400 baht per day. If you're travelling with a group, hiring a tuk tuk to take you around to the major sights is another viable option – these can be hired for around 1,000 baht/4 hours.

Getting there

There are a variety of options for reaching Ayutthaya from downtown Bangkok. The cheapest and most scenic option is by train from Hualamphong Station – 2nd-class A/C seats are 245 baht, while a 3rd-class non-A/C ticket is a mere 20 baht (seating not guaranteed). Expect a two to two-and-a-half hour trip.

Another option is catching a bus from Bangkok's Mo Chit Northern Bus Terminal. Buses leave about every 20 minutes with the last bus leaving at 18:00. Tickets cost 56 baht for a first-class air-con bus, and the journey will take 1.5-2 hours, depending on traffic.

Lastly, minibuses (vans) operate throughout the day from Victory Monument. You'll find them lined up along the edge of the traffic circle, underneath the BTS overpass. These cost 60 baht per person, and the journey should take only an hour and twenty minutes, assuming you don't have to wait too long for the van to fill.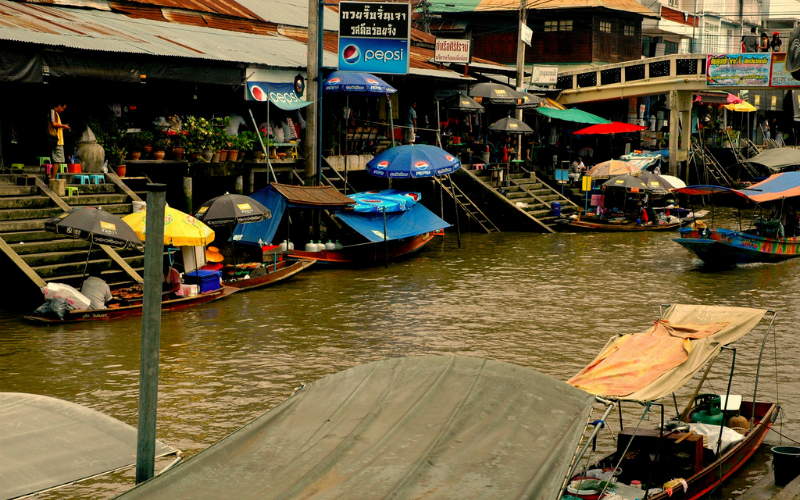 Amphawa Floating Market, Samut Songkram Province

To the west of Bangkok, in the neighbouring province of Samut Songkhram, lies the small village of Amphawa. Amphawa is the birthplace of King Rama II, the second king in Thailand's current dynasty. Every weekend (Friday through Sunday), Thais flock to the small canal that runs through this village to enjoy the floating market that has flourished here since the mid-seventeenth century.

While it is quite commercially developed at this point, it still maintains much of its historical charm. The best time to visit the market is between 15:00-21:00, when the waters are filled with vendors selling local goods, clothing, handicrafts, and souvenirs.

Getting there

The fastest way to get to Amphawa is by getting a minibus (van) from Victory Monument. The queue of minibuses is the same as for Ayutthaya, above – ask the drivers for Amphawa/Maeklong (70 baht, 90 minute ride). The minibus will take you to Maeklong, and from there you'll need to hop a quick songthaew ride (8-10 baht) to get to the floating market.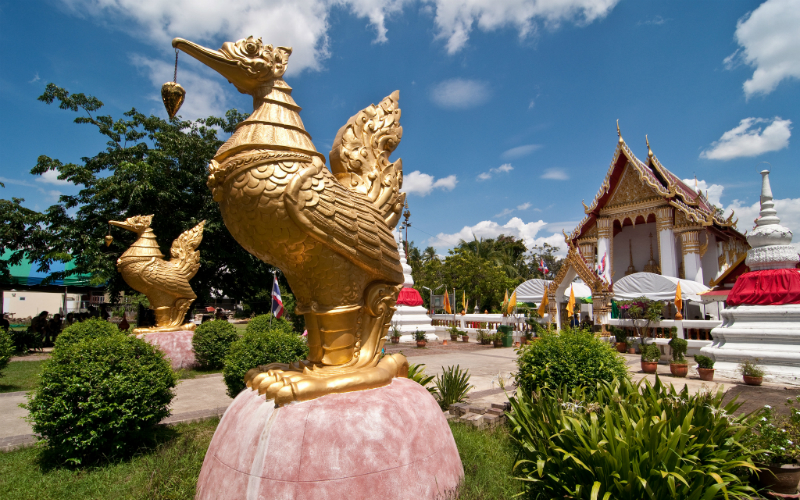 Koh Kret: Man-made island with its own culture

Koh Kret is a man-made island in the middle of the Chao Phraya River, just north of Bangkok in Nonthaburi Province. It was originally created when a canal was dug in 1722, to facilitate the sailing of ships from Bangkok to Ayutthaya. Later, the Thai king gave permission to the indigenous Mon people to live on Koh Kret.

The Mon, a traditionally isolated minority, have a culture uniquely their own, which can be seen from the different style of the temples upon Koh Kret. The most notable one is Wat Paramaiyikawat, located on the northeastern tip of the island, which features a leaning golden stupa built over 200 years ago, with a reclining Buddha inside.

The best time to visit Koh Kret is on weekends, when everyone is out and the shops are all open. The island's biggest draws are its handmade desserts and its pottery. The island is small, and it's possible to walk around it in 2 hours, seeing the temples, shopping, and sampling the local food.

Getting there

The quickest way is by taking bus No. 166 from Victory Monument (19 baht) – ask the driver to take you to Koh Kret. When you get off, it's a two minute walk to the pier, which is located behind Wat Sanam Neua. The ferry to the island is a quick hop that costs only 2 baht.

Alternatively (and highly recommended) is taking the scenic river route. You can get on the Chao Phraya Express Boat heading north from any stop in Bangkok, and take it all the way to the end of the line, at Nonthaburi (13 baht). When you get off, you can catch bus 32, 51, or 104 to the pier (19 baht), or alternatively, you can hire a taxi for about 100 baht. After a day touring the island, you can always get bus no. 166 directly back to Victory Monument, just in time for a cold Singha.
To see all five destinations, check out the full article at the link below.
Read full article:
5 Best Cheap Day Trips from Bangkok, Thailand
Reposted from: Price of Travel
Picture credits: Flickr, Flickr, Flickr

More from Zafigo
The 10 must-see places in Bangkok
Eating out in Bangkok: 4 under-the-radar outdoor food markets
Get all the latest travel updates from Zafigo. Follow us: