Chinese New Year is a festive occasion celebrated by ethnic Chinese all over the world on the first day of the Chinese lunar calendar. Malaysian Chinese also celebrate it with a lot of gusto and their own personal flair.
Traditionally, the occasion spans 15 days but only the first two days of the celebration are declared a public holiday. Most businesses and services would resume services after the public holidays but smaller businesses sometimes take at least a week off.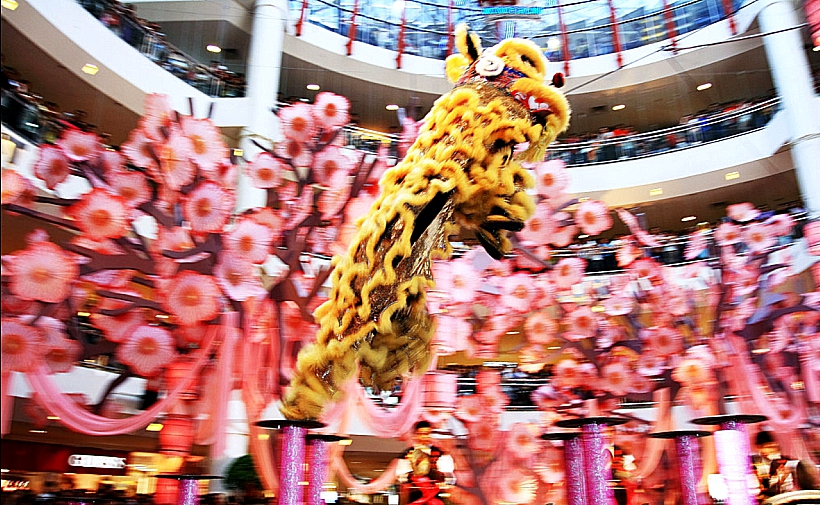 What to do
Before the celebrations officially start, you will already see festive decorations in shopping malls, temples and of course, Kuala Lumpur's own Chinatown on Petaling Street. So enjoy the sights, though it will be a slightly different experience from countries such as China and Hong Kong, what with the Chinese being a minority in the country.
You could also visit Taoist and Buddhist temples in the city, which will usually host events of their own. Be aware that some temples will be fairly crowded with visitors.
The first day of Chinese New Year is usually reserved for family thus your Chinese acquaintances might only invite you over on the second or third day. The 'open house' tradition, where houses are open to all visitors is a Malaysian tradition practised during most festival occasions, with the Lunar New Year being no exception.
Every year, a national open house celebration will be held with the country's highest-ranking leaders in attendance. Look out for official announcements of public open houses.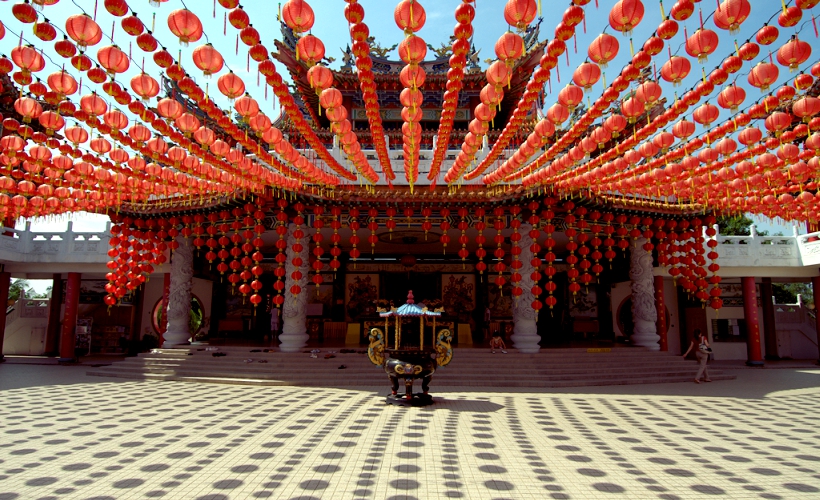 Where to go
Thean Hou Temple
A popular destination is the Thean Hou Temple. One of the largest and most prolific temples in the city, it is managed by the Chinese Hainanese community and is a popular tourist destination even on ordinary days. While it usually opens from 9am to 6pm daily, the hours are usually extended on festive occasions.
Direct public transport to the temple isn't available so just take a taxi from MidValley Megamall, Bangsar LRT station or the Seputeh KTM station.
Address: 65, Persiaran Endah, Taman Persiaran Desa
Website: www.midvalley.com.my
Petaling Street
It may seem cliché but Kuala Lumpur's own Chinatown is worth a visit for the decorations and general atmosphere. Sure, many of the little shops in the enclave will be closed on the first day but you can still enjoy the decorations and if you're lucky, you just might catch a lion dance performance! It's easily accessible by taking the RapidKL LRT to the Pasar Seni stop. It's only a 10-minute walk from there.
Address: Jalan Petaling (where Jalan Hang Kasturi and Jalan Hang Lekir meet)
What to eat
Food is an important part of celebration in Malaysia and Chinese New Year is no exception. Special dishes incorporating ingredients with names that are homophones meaning prosperity, good luck and longevity are usually served.
A unique Malaysian dish is yee sang (homophone for 'an increase in abundance'); a raw fish salad made with various shredded vegetables, sauces and condiments.
Another popular dish is nian gao which is a homophone of a 'more prosperous year'. Nian gao is a pudding made up of glutinous rice flour and can be cut into pieces and deep fried.
Bakkwa (Chinese dried meat) is usually made with pork or chicken, marinated in various sauces and spices and then grilled. Think of it as pork jerky with a hint of spice.
Do keep in mind that visiting Malaysia during Chinese New Year may mean a few days of inconvenience in the form of traffic and public holidays. However, there'll be a lot to learn culturally and gastronomically from visiting at that time.
Hotels and restaurants in Malaysia would usually have a special menu for Chinese New Year with special items such as 'Buddha's Delight', a vegetarian dish served with algae, bamboo shoots, ginkgo, cabbage, snow peas, black fungus and others.
Mandarin oranges are considered symbols of abundance and good fortune. These are used as decorations and also presented as gifts to friends, family, and business partners.
Firecrackers are banned in Malaysia, but you might still see them being set off in quiet corners. Feel free to watch from afar and avoid the temptation to procure your own.