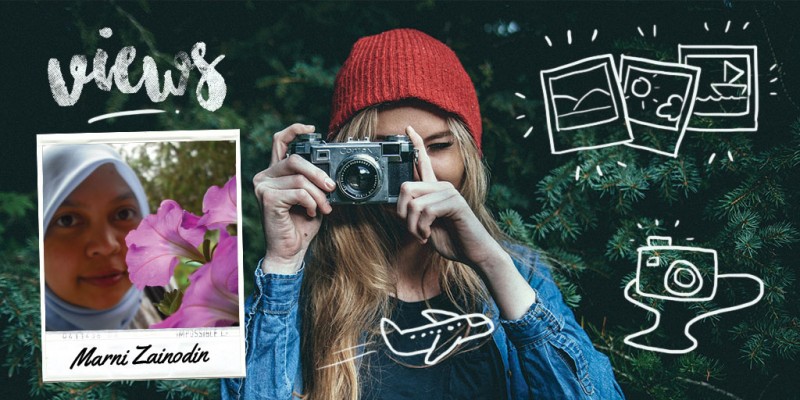 Views is our photo essay section, where we ask women to share 6 of their favourite images that tell the story of their city or a destination they have travelled to. We welcome contributions from readers; if you have a photo story to share, email [email protected] and indicate 'Views' in the subject line. Published submissions will receive a token sum from us.
---
Marni Zainodin was in Penang, Malaysia during the Thaipusam celebrations this past 23 January where, for the first time, she witnessed up close what the Hindu festival is all about. While capturing the numerous awe-inspiring sights with her camera, she also had a sketchbook and a stack of plain postcards in hand to immortalise them in pen and watercolour illustrations. These are among the memorable scenes she saw along Jalan Dato Keramat in George Town, Penang:
Her beautiful saree
Medium: Watercolour sketch on postcard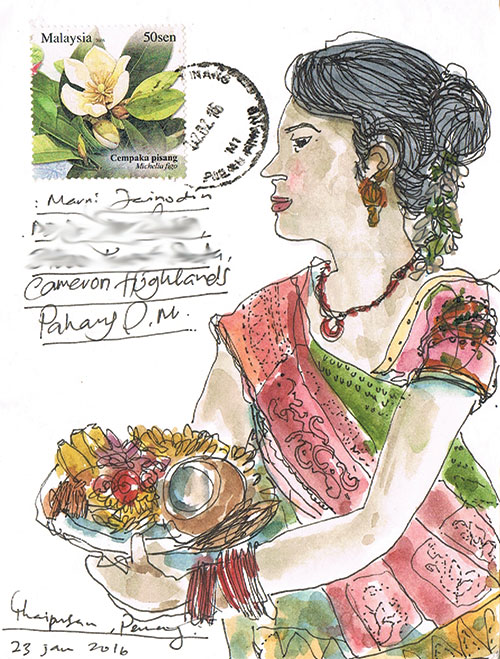 "There were sarees, sarees and more sarees everywhere I turned! I could not help but admire the beautiful colours."
Her back
Medium: Sketchbook
"I particularly like to sketch the back profiles of the women while clad in them. It is intriguing to know that this beautiful traditional Indian costume is, dare I say, sexy."
All our contemplating
Medium: Sketchbook
"You can't miss the coconut smashing during Thaipusam, symbolic of taking away the hard things in life and wishing for the better. Personally, I think of it as a moment to see and think about things in their entirety…the good and bad. In life, there will often be things we do not agree with but they will happen anyway. The act of smashing a coconut to the ground is perhaps, a cue to stop, let go and wake up."
That ain't heavy, it's devotion
Medium: Watercolour sketch on postcard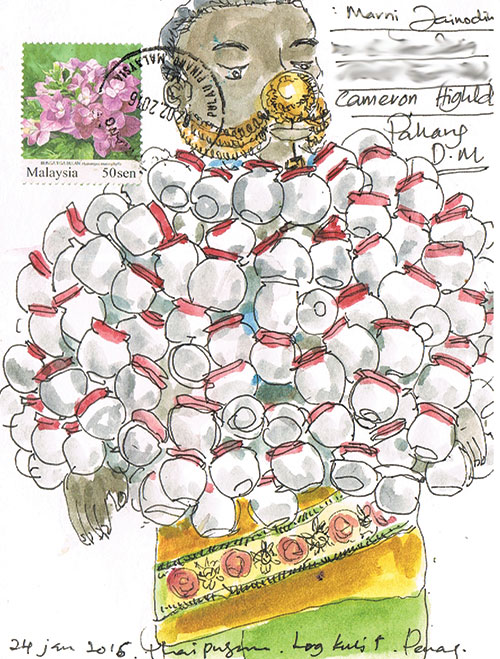 "It looked scary to me but at the same time, I saw that it's a representation of the person's devotion to his faith."
At his peace
Medium: Sketchbook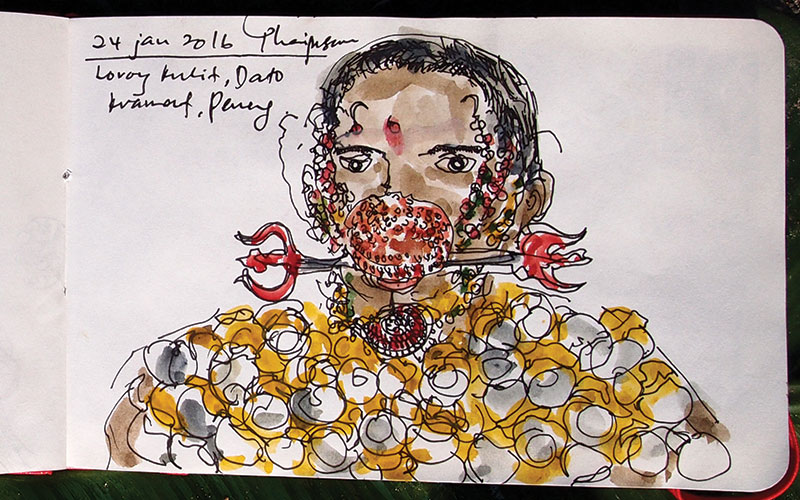 "I often thought of Thaipusam as scary, what with all the piercings and carrying of heavy kavadis. But as I walked among the devotees, the thing that struck me the most was how they were all surrounded by families and friends, who stayed by their side motivating them, walking with them, carrying water to feed them along the way…it made me realise that, regardless of religion, families are our roots. We may not be able to choose the family we're born into, but we can choose who we love, the friends we smile at and the people we want to see in our daily lives."
Kavadi
Medium: Watercolour sketch on postcard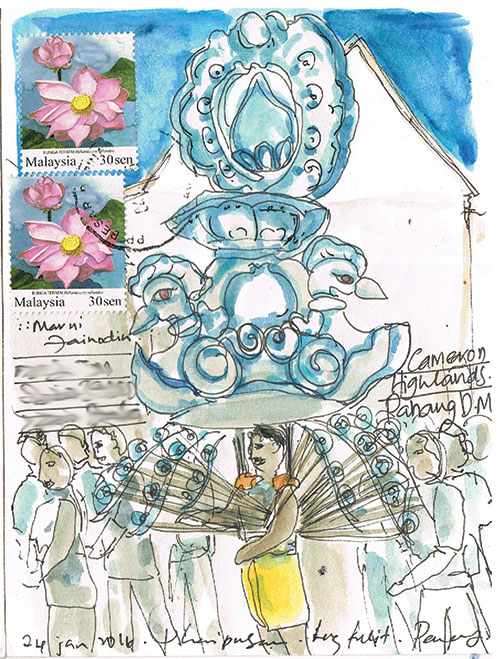 "The kavadis come in many colours and designs. Some are so big and elaborate that the devotees needed assistance in lifting and placing the kavadis on their bodies. It's not unlike queuing up at the post office or bank where you have to wait for your number to flash on the LED screen. Even during sacred moments such as Thaipusam, you still have to be patient and wait for your turn."

Read Next:
Get all the latest travel stories from Zafigo. Follow us on Facebook and Twitter.