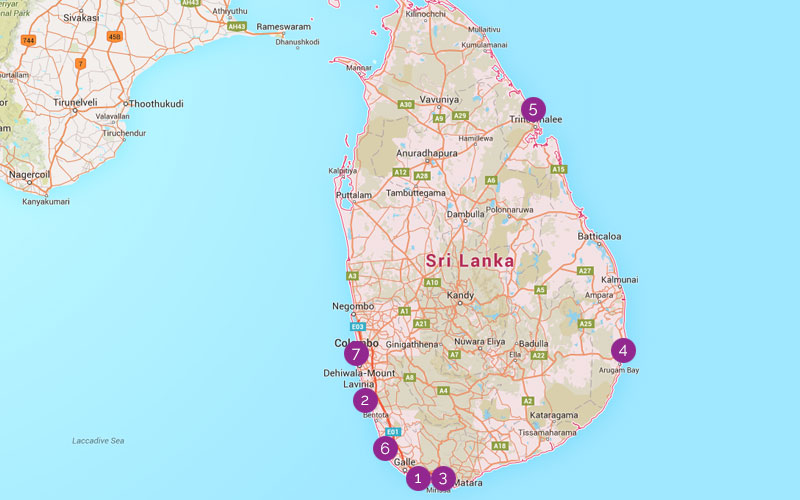 In Sri Lanka, one quintessential activity is to visit its beautiful golden sandy beaches. There are so many pristine beaches around Sri Lanka, also known as the Jewel of the Indian Ocean, that you'll be spoilt for choice. If you're struggling to decide where to sunbathe, dive, and swim in, Travel Triangle recommends these seven stunning beaches across the island.
Here's an overview of where the seven beaches are, the best times to visit, and what each beach is famous for:
1. Unawatuna
Unawatuna is one of the best beaches in Sri Lanka which is famous for calm blue waters. The unique selling point of this beach is that one could spot a whale shark if lucky.
Best time to visit: Late August and early September as the rain start to set by mid-October
Famous for:
Enjoy some water sport such as scuba diving and snorkeling
Get some tan at the beautiful golden sand beach
Take some blessings at the Temple Yatagala Raja Maha Viharaya
Treat yourself to an Ayurveda massage and get pampered at the sanctuary spa
Relax at the Thaproban Beach House and enjoy some authentic Sri Lankan cuisine
This beach is famous for turtle nesting and whale watching
2. Bentota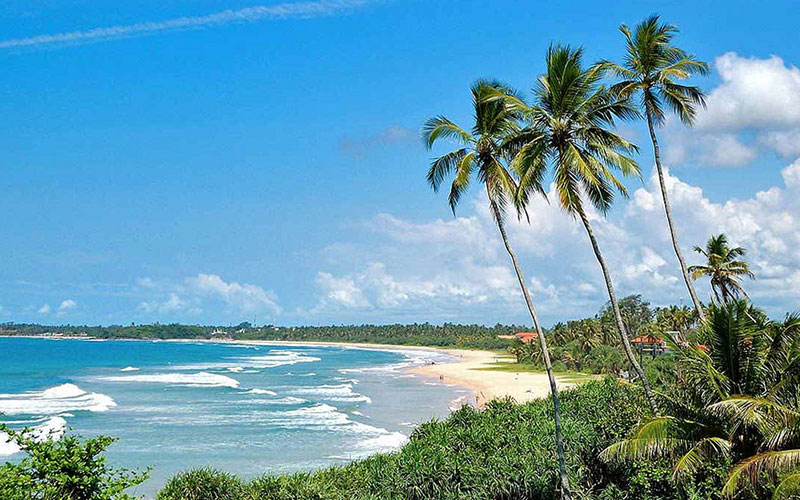 If you are looking for a Sri Lankan beach holiday and wish to stay at resorts that specialise in medicine centers and relaxing spas, Bentota is the place for you. It is a perfect getaway for tourists who are looking spend a few days away from the hustle and bustle of the city.
Best time to visit: End August to mid-October
Famous for:
This beach is relatively less crowded
Try your hands on water sports such as water skiing and canoeing
Visit the aquatic life protection center and get an opportunity to release a turtle into the sea
Relax at the ayurvedic centers and enjoy a relaxing spa
Book yourself a river safari and whale watching
Start your morning with a bicycle tour of the city
3. Mirissa
Number three on our list is Mirissa Beach. With views of aquatic wildlife in its natural habitat, Mirissa attracts people from all over the world come to Mirissa for both ecological purposes as well as for holidays.
Best time to visit:
December to March to see turtle hatching, or through August to October
Famous for:
Mirissa is one of those beaches in Sri Lanka which is ideal for swimming.
West side of the beach is known for watersports, especially surfing, and a small coral reef
Spot dolphins & whales, if you visit in December, you may spot turtles laying eggs too.
Hire a boat and go fishing with the locals near the coral reef.
Enjoy a relaxing Ayurvedic massage in Ayurveda centers in Mirissa
A river safari would definitely money well spent as you could see nature at its best, well spread out paddy fields hovered by migratory birds and water animals are definitely a treat to eyes.
4. Arugam Bay
Arugam Bay is amongst the top beaches in Sri Lanka known especially for surfing. The blue waters of the Arugam bay provide ample opportunities for fishing and underwater photography.
Best time to visit: March to October
Famous for:
Arugam Bay is synonymous with one of the best surfing points across the world. You can rent all the basic equipment from the locals shop and indulge in this activity.
Book a lagoon tour which provides a slow and relaxing journey through the hidden treasures of Pottuvil lagoon.
If you happen to visit the Arugum bay during off season you would be amazed to see millions of migratory birds.
Plan a walk to the Elephant Rock while enjoying the serenity of this marvelous beach.
Visit the Hulannuga Caves which is situated on top of the hill is the home to the reclining Buddha statue
Plan a trip to the Yala East National Park which is indeed the twin of the Yala Ruhuna National Park is famous for elephants and leopards.
5. Uppuveli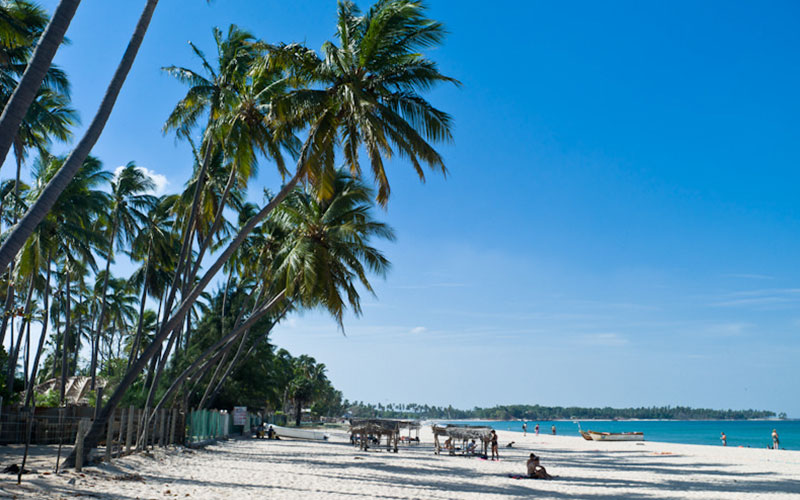 Uppuveli is amongst the beautiful beaches in Sri Lanka. If beautiful landscape, classic accommodation, and authentic cuisine are one your mind then Uppuveli is indeed the most suitable choice. You would be amazed how the locals welcome the tourist and make them a part of their festivities. Away from the hustle and bustle of the city, this village is packed with natural beauty and relaxation.
Best time to visit: August to mid-October
Famous for:
Hire a rickshaw and ride across the beautiful village to explore the natural beauty.
Moonlight strolling on this beach is a wonderful experience
Swami Rock of Trincomalee definitely is a must visit which not only protects the village by Tsunami but also makes the each perfect for watersports such as diving, swimming and snorkeling
Enjoy a relaxing massage followed by some yoga to rejuvenate your senses.
Explore the seabed at the Pigeon Island which is not too far from the beach.
6. Hikkaduwa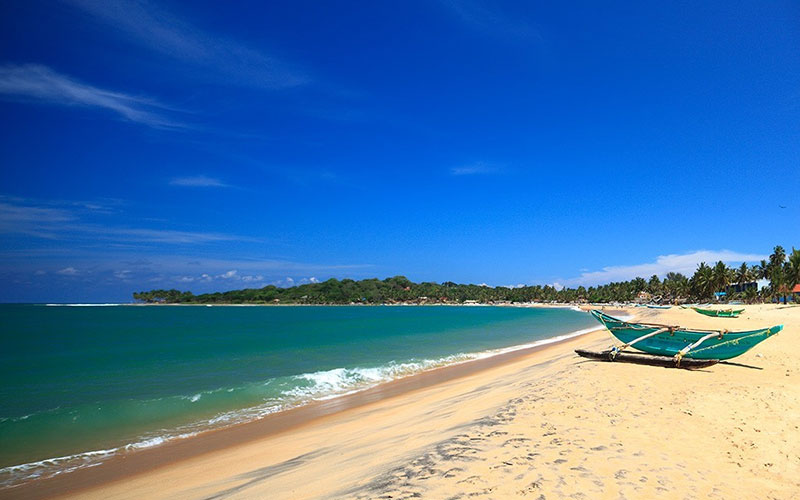 Hikkaduwa Beach is characterised by some of the most plush hotels and night clubs. This feature often attracts many overseas tourists. It promises loads of untouched natural beauty and relaxation for both body and soul.
Best time to visit: March to September
Famous for:
Indulge in some shopping spree in the local markets & treat yourself with silver jewelry and gemstones.
Enjoy authentic Sri Lankan cuisine at the beach side cafes and party late in one of the best nightclubs
Be a part of the local community in celebration of the Hikkaduwa Beach Festival
Learn some facts about the turtles and the coral life at the Coral sanctuary where the turtle eggs are buried in the sand for hatching.
Take a boat ride on a glass bottomed boat to have a look at the most beautiful aquatic life in the coral sanctuary
7. Mount Lavinia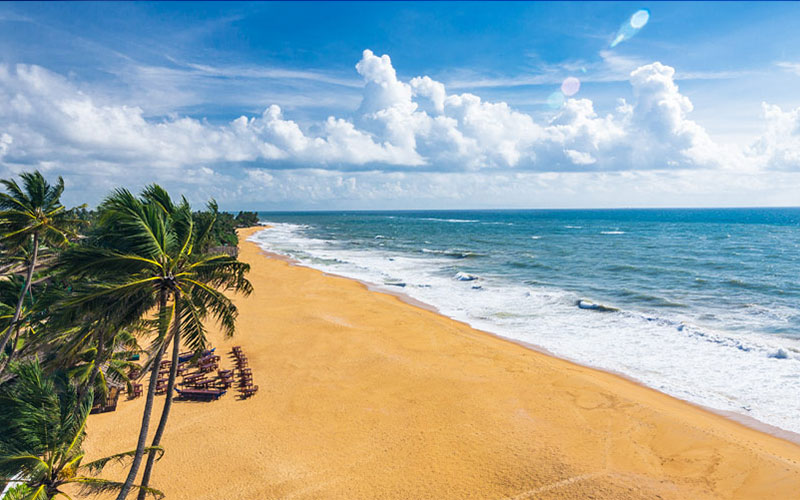 Whether it is a boat ride or an elephant ride, Mount Lavinia is one of the best beaches to visit in Sri Lanka. Apart from having all the striking features of a beach, Mount Lavinia is a perfect destination to enjoy a great beach holiday.
Best time to visit: January to March and August to November
Famous for:
Turtle Conservation Project is one of the most popular aquatic projects in Sri Lanka
Enjoy an elephant ride and explore the beautiful city. Go scuba diving & snorkeling in the blue waters.
Sri Lanka Airforce Museum is a must visit
Are you mesmerised by the beauty of these beaches yet?