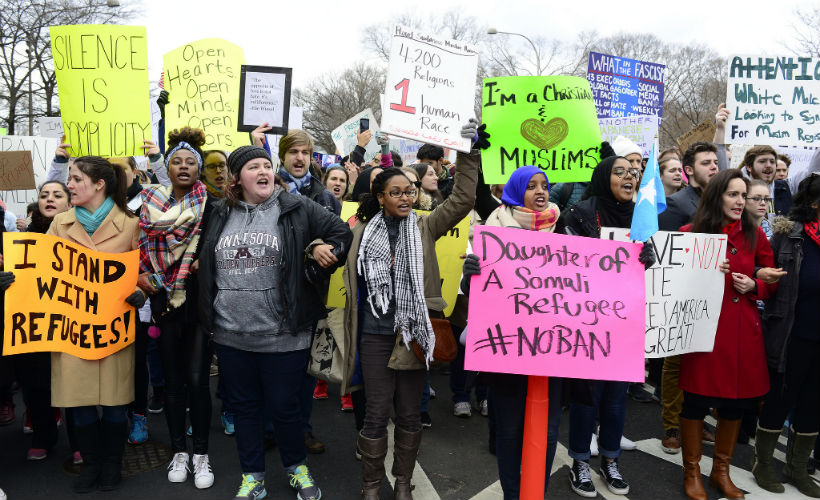 Growing up, I was surrounded by relatives, aunts and uncles who all talked about the "big American dream." They said America is the land of opportunity and equality. A country that takes in all and helps everyone achieve their dreams. That received a major setback when, on 27 January 2017, US President Donald Trump signed an Executive order banning travellers from 7 predominantly Muslim countries from entering the US, in a bid to protect the country from terrorism.
The Order suspended the entry of travellers from Iran, Iraq, Libya, Somalia, Sudan, Syria and Yemen for 90 days, while refugees from those same countries were barred for 120 days. Syrian refugees were barred from entering the US indefinitely unless otherwise stated.
Airports, airlines and law enforcement agencies grappled with the frantic situation, which was estimated to affect over 200 million travellers. The ban has now been lifted – albeit temporarily – by US District Senior Judge James Robart, but not before a furore of angry feedback flooded social media timelines.
 The Executive Order was condemned deeply by many, including those in the travel industry who fear that it would weaken the American tourism dollars. It also contradicts the very basic tenets of travel – the act of visiting a foreign country, after all, facilitates an exchange of culture, ideas and thoughts.
In between the anger and strongly-worded comments, some positive and inspiring actions emerged in support of those who were affected by the ban.
Here's a round-up of how the travel industry responded to the ban:
1.Travel + Leisure magazine called it "a betrayal of American ideals" and noted that the ban would cost Americans at least 18 billion dollars.
2. AirBnb ran a "we accept all" advertisement showing a diverse group of people, and released it just before the Super Bowl game in the US. In addition, Brian Chesky, the CEO of AirBnb tweeted that the company would provide free housing facilities to refugees and others affected by the travel ban.
3. In an exclusive to the New York Times, the CEO of Expedia, Dara Khosrowshahi, an Iranian immigrant to the US in 1978, sent an email to his employees condemning the ban. He also said that Expedia is generally not aggressive about issues not related to their company. "But this is travel, our soul and our spirit, and we felt we had to respond. Honestly, it was not a debate whether we should be involved." he further added. About 1,000 Expedia employees are affected by the ban.
Standing up for our travelers and our immigrant roots. Expedia Supports Lawsuit Against Trump's Immigration Ban https://t.co/UwawZETzUn

— dara khosrowshahi (@dkhos) February 1, 2017
4. Steve Kaufer, CEO of TripAdvisor, shared a post on LinkedIn and called the ban "cruel and discriminatory". He also stated that, "Refugees who come to the United States are most vulnerable. Horrific circumstances like war or persecution have forced them to flee their homes. Not able to return, probably for many years even though they want to. We should not turn them away."
5. Uber CEO, Travis Kalanick, formerly a member of President Trump's economic advisory group, said that he was buying airline tickets for all Uber drivers who were stranded because of the ban.  He said that the Muslim travel ban "is against everything that Uber stands for". The travel ban affected nearly more than 1,000 Uber employees. According to a latest report by CBS New York, Kalanick has also quit Trump's council of business advisers.
6. Lyft, a ride-sharing platform similar to Uber, described the ban as "anti-ethical to both Lyft's and our nation's core values" and pledged to donate USD1 million to the American Civil Liberties Union (ACLU) for the next four years.
7. The New York Taxi Workers Alliance launched a 1-hour stoppage of pick-ups at the John F Kennedy Airport, and another one at the Battery Park City neighbourhood. In a Facebook post announcing the move and calling for solidarity from all taxi drivers, the Alliance stated: "Be united brothers & sisters for a just world. We cannot be silent. We go to work to welcome people to a land that once welcomed us. We are the wretched, the tired, the hungry, the poor. We will not be divided."
8. American Airlines, Delta, British Airways and Air Canada waived fees on rebooking options and offered refunds for passengers affected by the ban.
12569,8263,3742