Oman is a very underrated travel destination. Not sure where Oman is on the map? Don't worry. I lived there for seven years whilst growing up and until now, I still have to explain to my friends that "it's the country next to Dubai".
Unbeknownst to many, Oman has plenty to offer. You could do trips down the beautiful coastline, visit turtle hatching sites, or tour Salalah, a very green city in the heart of a desert country.
My stay in Oman was unforgettable; I saw how the rich Omani heritage and traditions are well alive, experienced how friendly the locals were, and enjoyed exploring a country that is hardly touched by tourist. Every weekend, my family and I would go on little day and weekend trips to enjoy the country's unspoken beauty. Here are five of my favourite trips:
1. Wahiba or Sharqiya Sands
Wahiba Sands is one of Oman's desert regions, named after the Bani Wahiba tribe. From the capital city of Muscat, it is only a two-hour drive. Wahiba Sands is so untouched that you could drive for hours and hours without seeing any civilisation. Adding to the peacefulness are stunning sand dunes in different hues of orange. You can go sand dune-bashing in a four-wheeled drive, sand-skiing, or sand-boarding either on your own or with a skilled guide.
Besides tours to the area, there are also Bedouin camps and resorts scattered across the desert. Alternatively, get the best of both worlds at the Desert Nights Camp. This accommodation offers a modern desert tent equipped with an outdoor fireplace surrounded by comfy Omani cushions.
If you do decide to spend the night in Wahiba Sands, plan on packing a picnic; it'll make watching the sunset from the top of a sand dune even more memorable. At night, some resorts offer Arabic feasts and live oud music. The mesmerising night skies here are cluttered with dreamy stars. Spend an evening by the fire counting them but don't forget to pack warm clothes as it will get chilly at night.
2. Jabel Akhdar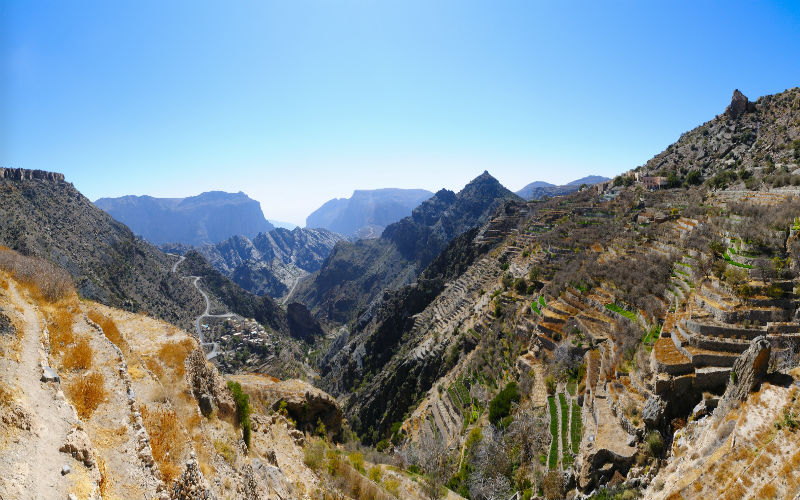 Jabel Akhdar in Arabic translates to "Green Mountain". Built on top of this mountain is a quaint little village with the most delicious fruit trees. Due to the high altitude and unique weather, Jabel Akhdar has the perfect environment for fruit farming. Only two and a half hours away from Muscat, you can spend an afternoon walking with goats through grape, pomegranate, apricot and walnut farms that are built on cascading terraces on the mountain side.
The falaj system, a water irrigation system created by the locals, is unique to the area as it transports groundwater around the village. To hike around the village, simply follow the falaj. If you want, you can even drink from it or dip your feet in it.
There are plenty of hotels nearby the mountain village with a wondrous view of the limestone mountains. Don't forget to pack warm clothes for the chilly nights, especially during the winter season.
3. Jabel Shams (also known as Jabel Shems)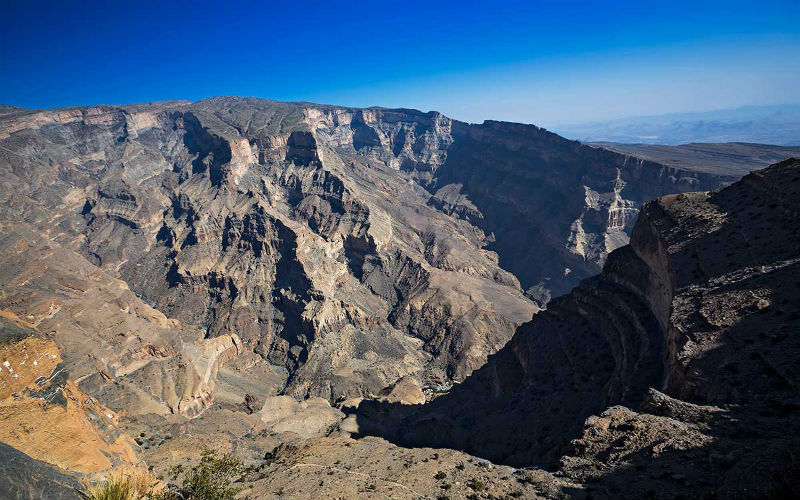 In Arabic, Jabel Shams means the "Sun Mountain". It is a fitting name as this mountain is the highest point in Oman. The drive on the rocky roads to the top of Jabel Shams is exhilarating. It is so steep that at some points it feels like the road ahead abruptly cuts off. Besides that, the views are breathtaking. Chances are your drive would be filled with photo stops to admire the mountain gorges, ravines, and mountainside villages like Al Khanteem.
One of the most fascinating things to see while you are here is the mountain goat. The adorable yet strong goats are bound to bother you for food, especially if you are staying in the resorts here. Don't be surprised if you see them climbing a tree, mountain goats are known to do that.
There are several resorts in Jabel Shams including the like Heights Resorts. This resort offers trekking tours, which can take you to the waterfall, villages, canyon viewpoints or ancient villages. You could also do rock climbing and mountain biking to explore the mountainous landscape. At night, they put on traditional dance shows for you to have a taste of the Omani culture.
4. Nizwa
Nizwa is an endearing and historic town just two-hour away from Muscat. Sit surrounded by a thick palm oasis and mountains, Nizwa still captures the traditional Omani life. It is perfect as a family-friendly weekend trip. Start by visiting old Nizwa Fort and Bahla Fort, which is a UNESCO World Heritage Site. In the fort, you can see how Omanis used to live, and what each fort room was used for.
After that, tour Jabreen Castle, a beautiful castle built after the Portuguese were removed from Oman. The design of Jabreen Castle is unique because unlike the other forts that was built during the war, this castle was built at times of peace. This gave the Omani ruler the luxury to focus on the art and science of constructing the castle.
Next, there is Nizwa souk, a traditional Arabian market. Local traders here ply their traditional handicrafts like claypots, scarfs and silver Khanjars (a traditional dagger) at reasonable prices. You can also buy dates, nut or meat from the cattle market. Nizwa is most popularly used as a pit stop on the way to Jabel Akhdar and Jabel Shams although there are also hotels in the area.
5. Bimmah Sinkhole
Lastly, swim in the clear, turquoise water of Bimmah Sinkhole. Located only an hour and a half away from Muscat, Bimmah Sinkhole is a fun stopover on the way to Sur.
The sinkhole was created when limestone rock started eroding. The water source is supposedly connected to an underground tunnel from the sea which is why water has such vibrant colours. In the water, you can see little fish swimming and most probably, nibbling your fingers and toes. These are fish popularly used in foot spas to nibble dead skin off the feet.Treat yourself to a free pedicure when you're here!
The sinkhole is located Hawiyat Naim Park which is safely fenced and equipped with toilets. It's perfect for a relaxing day of picnics, lazing, and swimming. However, there are no food shops nearby, so pack your own supply of food and water.

Read Next: