Following the worldwide recall of Samsung Galaxy Note 7, airline authorities worldwide have banned the use of the smartphone during flights.
In the United States, the Federal Aviation Administration are strongly advising airline passengers against switching on or charging their Samsung Galaxy Note 7 when onboard the plane. Passengers are also advised against packing the phones into checked-in luggages.
In India, aviation authorities also issued the same directive to passengers. "In light of the recent incidents involving battery incidents with Samsung about its Galaxy Note 7 devices globally, traveling public and airlines are advised not to switch on these mobiles during the flight or stow them in any checked in baggage," reads the Indian Directorate General of Civil Aviation (DGCA) order. The ban also prohibits the phone's use in flight mode. 
Australia carrier Qantas, Jetstar and Virgin Australia have also restricted the use or charging of the Galaxy Note 7 on their flights. The ban extends to the phones being plugged into flight entertainment systems where USB ports are available.
In Europe, the European Air Safety Agency warned "of the need to inform the cabin crew when a device is damaged, hot, produces smoke, is lost, or falls into the seat structure."
Malaysian carriers Malaysia Airlines and AirAsia have also prohibited the use of the phone during flights. They issued an advisory saying that the mobile device is not allowed on checked-in baggages and must be switched off until disembarkation from the aircraft. Malaysia Airlines issued an additional statement saying that they will not be accepting cargo shipment of the device.
Other airlines banning the use of Samsung Galaxy Note 7 on flights include American Airlines, Air France, Virgin Atlantic, Emirates, Lufthansa, Singapore Airlines, Thai Airways and Etihad Airways.
This comes after several incidents of the device spontaneously exploding or catching fire, a problem Samsung claims is due to a battery cell issue. The South Korean company has recalled the phone that was only recently released in August 2016. Samsung has urged customers to return their devices, which have a known fault with the Lithium-ion battery. They have also stopped the sale of the device.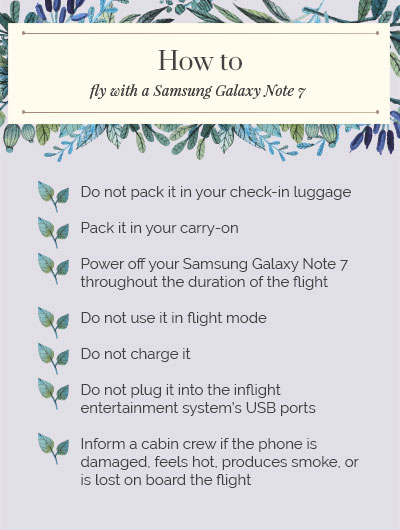 Report via Business Insider, BBC, Consumerist, Tech Times, Astro Awani

Read Next: