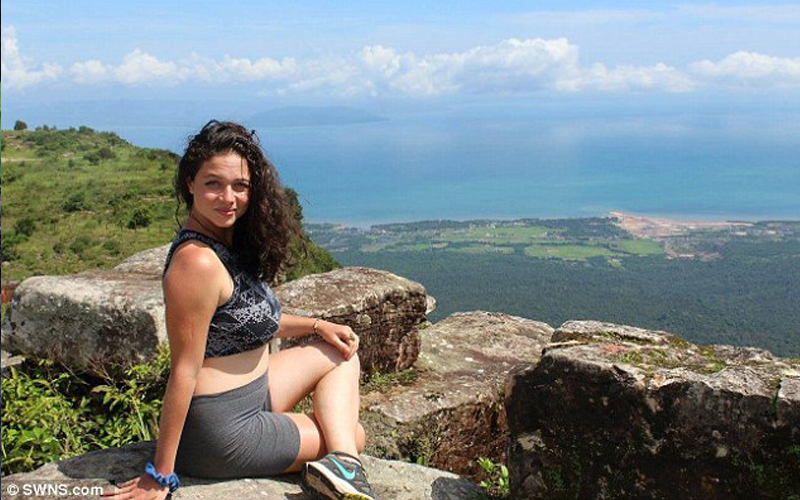 Hannah Gavios, a 23-year-old English teacher from New York was on a three-day holiday from her teaching job in Vietnam. She was looking forward to a relaxing holiday in Railay Bay, Krabi.
On the night of her arrival on 1 September 2016, Gavios was sexually assaulted by a man whom she had asked for directions to her hotel, the Chill Out Bar & Bungalow. The man had offered to walk her back but midway grabbed her and tried to take off her clothes.
In an attempt to escape, Gavios attacked the assailant and fled off in the darkness. She ran as fast as she could and fell off the edge of a 45-metre high cliff. Gavios fell down the rocky cliff and landed on a rock. She fractured her spine and laid there motionless as she was unable to move. As she yelled for help in the darkness, the assailant found her again using his cellphone flashlight. He then alternated between praying for her, groping her, masturbating on her, crying and apologising.
"I really thought I was going to die," Gavios told The Daily Mail.
Gavios was found the next day by the Krabi Rescue Center. She was first taken to Krabi Hospital and was later transferred by boat to the Bangkok Hospital in Phuket for emergency spinal surgery. Her family has flown over from New York to be with her while she recovers.
Night time horror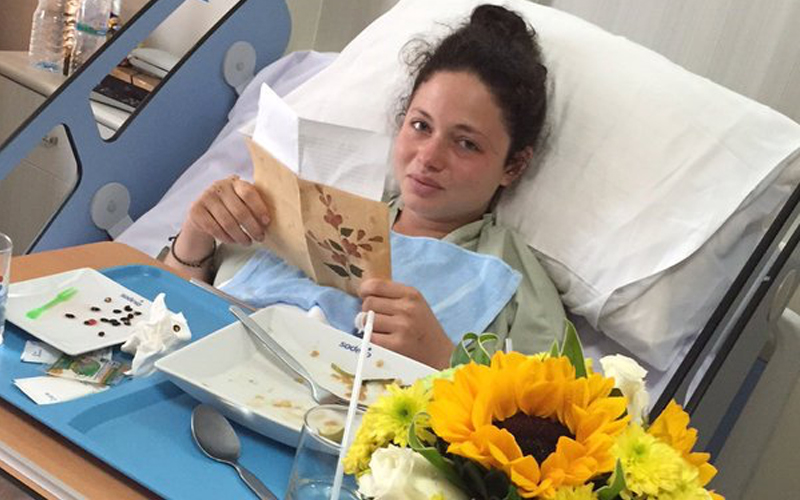 From her hospital bed in Phuket, Gavios recounts the horrifying night time sexual assault to the Daily Mail:
"It was dark around 11PM and the only way to get back to my accommodation was by crossing the cliffs. I went inside a tourist shop and asked for help back to my hotel. They said it was dangerous to do at night so they told me to follow one of their workers.
I didn't get the best feeling about him but I was tired and wanted to get home. I'd been travelling for 16 hours so I guess I wasn't feeling myself."
She recalled how she followed him up a trail and kept asking 'is this the right way?'. However, she told herself to "think positively."
"While we were walking he grabbed me and was holding me down and trying to take off my clothes. I started punching him in the face and beating him up and biting off his ear. I was biting his ear so hard it almost came off. His ear was half torn off."
"He was in pain and asked me to stop, so we shook hands and he stopped but I was still nervous and he was still trying to harass me so there was no choice but to run. I started walking back to where I came from. Once there was distance between us I started running."
"It was pitch black and before I knew it I was in mid air falling off a cliff. I was honestly thinking I wouldn't survive. I hit my head a few times and landed with a big bump. I was screaming in pain. It was the most painful thing ever. I felt like a total vegetable. I felt completely vulnerable. I couldn't move anything."
"He heard me screaming and moaning and he came down and climbed down the mountain and starting crying and praying. He was feeling very guilty. I was begging him to call for help. He got on the phone and started calling and I thought somebody was coming but nobody came."
"I was stuck with this crazy person. I was in the woods in the bushes with wild snakes crawling on me while he was still continuing to harass me."
"He got on top of me. He took of his pants and masturbated on me. He didn't rape me but he did everything else. I really thought I was going to die. I honestly didn't know what to do. I just had to remain calm. Whenever I screamed he was choking me so I had to try to keep cool and stay friendly with him."
"As soon as it got lighter I started calling for help. He kept saying 'no police no police'."
The New York Times reported that the assailant finally left in the pre-dawn hours but returned with other Thai men who helped move her before a medical rescue team arrived. "It was the most pain I'd ever had in my entire life… I almost gave up."
"I told them he had molested me, and they were appalled," she said.
Gavios regrets not listening to her instincts, "I feel like kind of an idiot for going with him… I was a little suspicious. But I was tired and wanted to get home."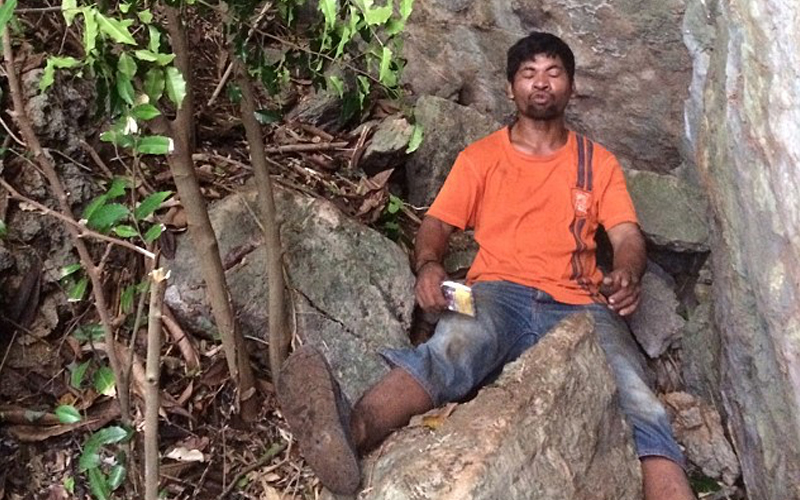 Nitipat Mongkolpradit, director of the Krabi Rescue Centre told the Phuket Gazette that they received reports of the incident at about 11PM on Thursday. "We initiated a search but could not find her, so we waited till the next morning and found her about 15 meters from the sea."
Gavios is now partly paralysed from the waist down. "I have no feeling in my feet," she said. The strong woman is keeping optimistic and hopes to continue travelling. Gavios told the Daily Mail: 'I'm taking one day at a time. But I'm really glad my legs aren't broken. I want to stay in Asia and return to teaching in Vietnam.
"The police have told me that the man will stay in prison for between five and ten years."
The incident has generated social media buzz in Thailand after local media posted photos of the suspect, 28-year-old Apai Ruengvorn, re-enacting the crime. He has reportedly confessed to the crime and was charged with obscene behaviour and causing serious injury.
"Mr Apai said that he had known the victim for a day. He volunteered to walk her to her place, but couldn't stop himself from touching her inappropriately. The victim was frightened and ran away to escape him," Lt Col Piyapong told the Phuket Gazette.
Rising violent crimes against foreigners in Thailand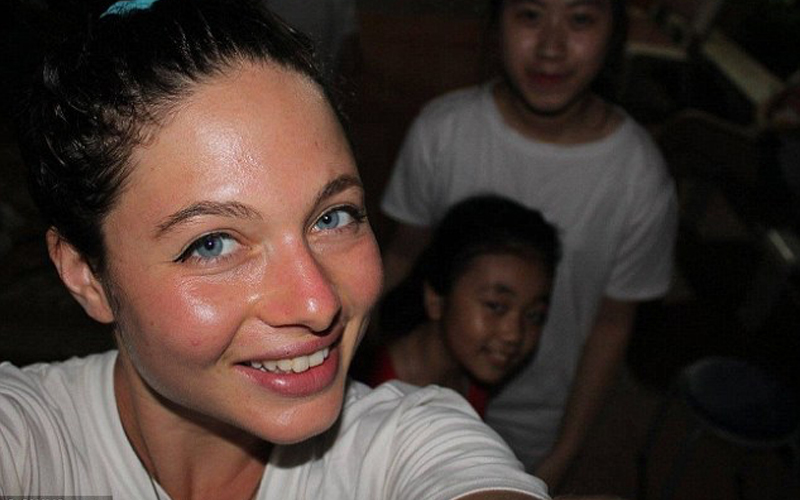 According to the New York Times, this attack is the latest in a series of high-profile crimes in Thailand's tourist destination since the military seized power in May 2014. It is the latest challenge to confront the tourism industry in Thailand where recent violent crimes against foreigners have attracted enormous attention.
Two British backpackers were murdered in September 2014 on Koh Tao, an island in the Gulf of Thailand. In February, four French tourists were assaulted on Koh Kut, including two women who were raped. Last month a series of bomb blasts across Thailand targeted Phuket and other tourist destinations.
Update (2 Nov 2016): Gavious is learning to walk again with special equipment, her recovery will take up to two years or more.
The attacker has been sentenced to 10 years in jail but the sentence was reduced to 5 years after he pleaded guilty to obscene behaviour and causing serious injury. "I am dismayed that it is automatically cut down to five years because of a guilty plea," said Gavios' mother in a statement to the New York Times.
Story via The New York Times, Phuket Gazette, Daily Mail
Editor's note: One main lesson for female travellers to take away from this horrifying incident is to always listen to your gut instincts. Ms. Gavios said she "didn't have the best feeling" and was "a little suspicious" of the man. But in her tired eagerness to get home, she told herself that it would be okay. We advise solo travellers to always acknowledge their suspicions, err on the side of caution, and act on it.

Read these tips to help you travel safer:
| | | |
| --- | --- | --- |
| | | |
| | | 11 Important Tips Every Businesswoman Should Know Before Travelling  |