As much fun as travelling might be, doing laundry while on the road can be a real pain. However, washing your clothes during a trip allows you to carry less, reuse your favourite travel outfits, and return home with less dirty laundry. This makes dobiQueen's newest laundry service particularly useful to long-term travellers like digital nomads or light packers like backpackers.
The new six-hour laundry pick-up and delivery service by dobiQueen makes keeping things clean much easier and faster. This service is the first of its type in Malaysia, and it promises to pick up, wash, and return customers' laundry in as little as six hours. And with 72 locations all over the Klang Valley (see here), it's just one less thing to stress about and you can just focus on work or discovering the city.
All you need to do is leave your dirty clothes outside your door to be picked up, cleaned, and delivered fresh and folded in a matter of hours. But remember — pick-ups must be arranged before noon for same day delivery; pick-ups after 12pm will be delivered the next day.
Hey, even if you're not a perennial traveller, as long as you're a busy KL-ite, this service is great to have!
Not convinced? Here are more reasons to consider giving it a go: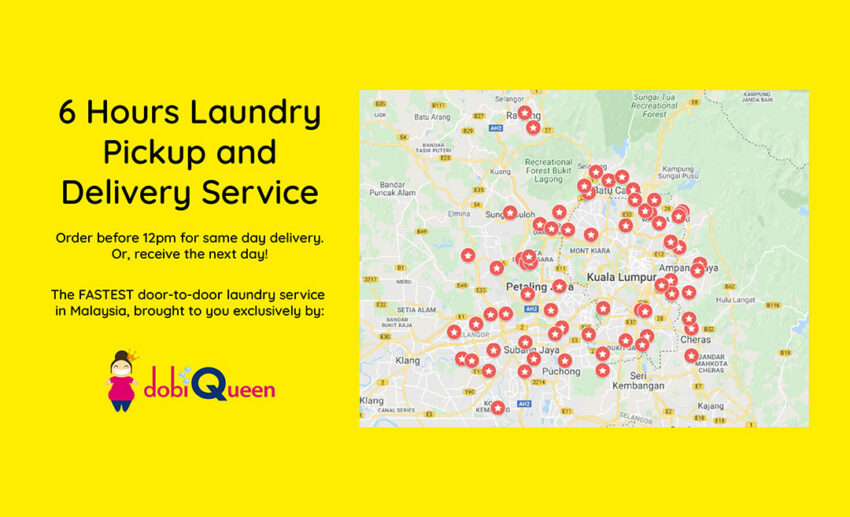 Minimising transition time between the washer and dryer by eliminating the need to transfer laundry.
Ideal for last-minute cleaning
Get perfume-smelling laundry services at low prices.
All of dobiQueen's detergents and softeners are of the highest quality.
Your clothes will be perfectly clean thanks to their industrial-sized washing machines that can wash even the bulkiest items, such duvets and blankets.
Wash and fold, washer-to-dryer transfers, and more are just some of the laundry services provided.