The school holidays are now in full swing, and with them, the chance to spin, soar, and splash at theme parks and water parks all over Selangor! If you haven't already planned out any activities for the kids, it's about time you get started. You know you want to tire them out. Here are some activities and day out ideas that are bound to give them endless fun.
Water theme parks in Selangor
1. Sunway Lagoon, Subang Jaya
Sunway Lagoon is always a crowd favourite. Malaysia's largest theme park is home to more than 90 attractions across its 88 acres. These attractions can be found in the park's six adventure zones that are the Water Park, Amusement Park, Wildlife Park, Extreme Park, Scream Park, and Nickelodeon Lost Lagoon — Asia's first Nickelodeon Themed Land. Once you're inside, you can easily stay all day here! Sunway Lagoon is open every day except Tuesday from 10am to 6pm.
2. Riverine Splash Water Theme Park @ Amverton Cove, Kuala Langat
The resort's Riverine Splash Water Theme Park has a tribal theme that's sure to get the little ones exited. There are more than a dozen rides and slides to enjoy, including the Anaconda Tube Slide, Rimba River, Survival Park, and the kid-only Kiddie Beats. The Riverine Splash Water Theme Park is open every day from 10am to 6pm except Tuesdays. Children's all-day tickets are RM38, while admission for adults is RM58.
Outdoor & indoor theme parks in Selangor
1. ESCAPE Challenge Adventure Park, Petaling Jaya
ESCAPE Petaling Jaya is the modern solution to our lack of play-related life skills. Exciting rides and activities from the great outdoors are given a futuristic makeover at Paradigm Mall in Petaling Jaya by ESCAPE PJ. The rides and games at ESCAPE PJ show that there is no age restriction on having fun, because they were made to accommodate a variety of age groups, abilities, and energy levels. The operating hours of ESCAPE Petaling Jaya are from 10am to 8pm, and the centre is closed on Mondays.
2. District 21, Sepang
Enjoy an exciting day out with your loved ones at District 21, exploring its visions of the post-apocalyptic future. Explore all eight of the included adventure activities, which involve flying, sliding, jumping, and free falling. Coming here entails purchasing a multi-entry ticket, so you can play whenever you like and stop whenever you want. District 21 is open daily from 12pm to 8pm on weekdays and from 10pm to 8pm on weekends.
Sports & recreational activities in Selangor
1. Camp5, 1-Utama, Petaling Jaya
Climbers of all skill levels are welcome at Camp5, 1-Utama, a climbing gym that also has bouldering and breathtaking views of the city. Located within is Malaysia's tallest indoor wall, making it a favourite among top-rope and lead climbers. You can test out climbing during their one-hour experience-only testing session, which is intended to give you a taste of the sport before fully committing to it. You can set your own objectives and advance at your own pace when you climb.
2. Morac Go Kart Track, 1-Utama, Petaling Jaya
The 420-metre track at Morac Go Kart Track was built with the goal of making go-kart racing attractive to anybody. Morac is a family-friendly go-kart circuit, and we even held our Zafigo-Karting event there! The brand-new Sodikarts are suitable for all participants, so everyone can have a thrilling and exciting time on the track, even those as young as seven.
Eco nature attractions in Selangor
1. Kelip-Kelip Kampung Kuantan Firefly Park, Kuala Selangor
Kampung Kuantan in Kuala Selangor is famous for its fireflies that glitter the night sky. Here, you will find several firefly nests, some of which are unique. Though the most common kind of firefly here in Kampung Kuantan is the 'Pteroptyx tener' species.
But why come see these bugs? The tail of the firefly, which causes light to blink, is what makes it unique. The synchronised blinking of three lights three times per second sets fireflies apart from other insects and is quite a sight to behold when there's so many of them. The park is open from 7:30pm to 10:30pm every day.
2. Kuala Selangor Nature Park, Kuala Selangor
Kuala Selangor Nature Park, also known as Taman Alam Kuala Selangor, is home to many different species of plants and animals like all of Malaysia's other national parks. The total area, which is divided into two main zones, is 296 hectares, with 201 hectares of tropical rainforest and the remaining area being swamp forest.
The park is home to several large bird species, such as milky storks and herons, as well as primates, such as silver leaf monkeys and long-tailed macaques, as it is a part of the Selangor River estuary. Additionally, the area is home to approximately 150 different bird species, including an estimated 100,000 wading birds of 30 distinct kinds, all passing each year as they migrate. Needless to say, one of the more interesting things to do here is bird watching.
Waterfalls & river activities in Selangor
1. Waterfalls @ Kanching Eco Forest Park, Rawang
The seven-tiered waterfalls of Kanching Eco Forest Park are among the most impressive in all of Selangor. Waterfalls can vary greatly in size and power, with some being little but mighty, while others remain small but exquisite in their gracefulness as they cascade gloriously. Visitors will be greeted by lush, natural greenery, wonderful foliage, and a peaceful stream that is stone-lined, where both adults and children can go swimming.
There are gazebos, stone benches, and a bridge over the creek, making this a wonderful picnic spot. The cement steps lead to the first waterfall. You can reach Tourism Selangor at 03-5513 2000 for additional details.
2. Sungai Chiling, Kuala Kubu Bharu
If you have a family of keen hikers, this one's a lot of fun. The distance from Kuala Kubu Bharu to Sungai Chiling is about 3 kilometres and will take you about an hour to reach while hiking through streams (the rainier it is, the higher the water). Similar to the Gabai Waterfalls, the Chiling Waterfalls is located at Taman Warisan Negeri Selangor (Selangor State Park).
Hikers can enjoy the jungle's abundant flora and fauna, including rare bamboo and wild orchids, on their way to the distinctive 80-meter waterfall that looks out over a calm lagoon. The Mahseer Fish Sanctuary, which is managed by the Selangor Fisheries and Forestry Departments, is also located near the waterfalls and river. Fish that swim down from the river's source to the major waterfall region now use the area as a crucial habitat and natural breeding site.
Wildlife galore in Selangor
1. Zoo Negara, Ulu Klang
Located in the upscale Ulu Klang neighbourhood, Zoo Negara (National Zoo) is the largest zoo in Malaysia. It covers 110 acres and is home to about 5,137 specimens from 476 different species of fish, amphibians, birds, mammals, and reptiles. Refurbished over the years, the new exhibits are roomy and arranged around a perfect lake with free-roaming storks, pelicans, egrets, ibises, and swans in a beautifully-designed setting full of mature trees. The Animal Feeding session is one not to be missed. Zoo Negara is open every day from 9am to 5pm.
2. Aviary & Bunny Park, National Botanical Garden Shah Alam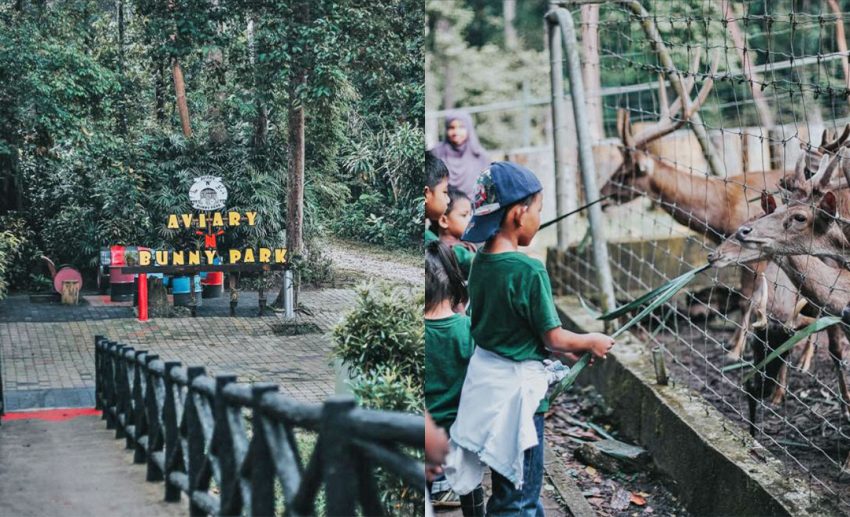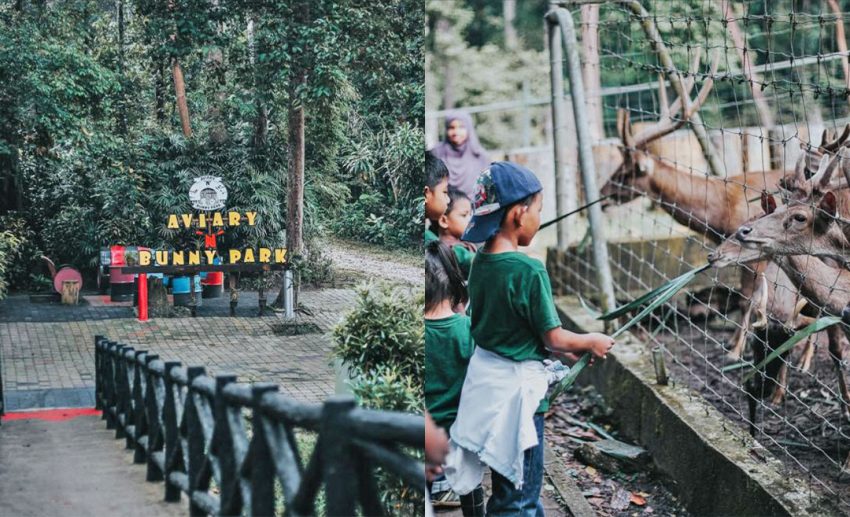 The Aviary & Bunny Park at Taman Botani Negara Shah Alam is a small petting zoo we're sure the kids will enjoy — especially the little ones! Young children can also participate in Pets Education (PE), where they can learn about petting zoos and animal kindness and how to respect and appreciate an animal's or pet's nature. This park is open daily from 8am to 5pm.