What's your priority when planning a trip? We could gander a guess that how much you spend comes up high on the list. And we bet you overpay every time you book a hotel. But allow us to let you in on some insider secrets. Learn what travel experts use to get the best hotel deals every time!
Whether you're looking to go 5-star all the way or considering a budget stay, here's what you need to know before booking any hotel:
1. Use multiple search engines
That's rule number one. Booking websites and search engines (like CozyCozy) often have a Price Match tag, but don't get fooled: that doesn't actually mean they surely offer the lowest price. That means that if you find a better rate in some other place, they'll give you the difference back of what you booked. But once again; it doesn't guarantee it's always the cheapest.
Here's an example of what you can save just by checking a few other websites if you were to book a 5-star resort in the Philippines: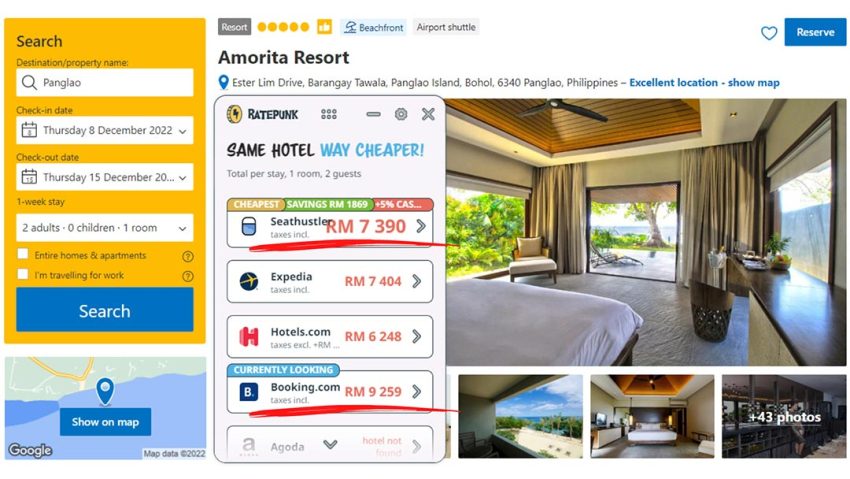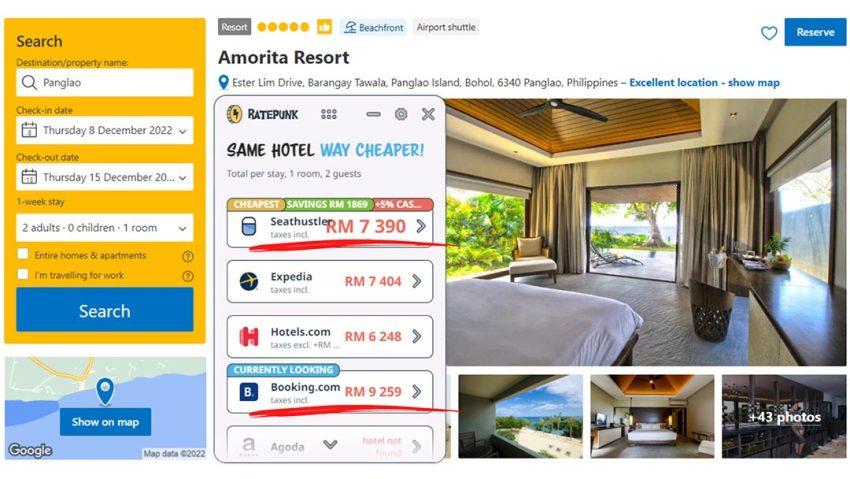 Booking.com suggests you book Amorita Resort for RM9,259. That's crazy expensive but also crazy luxurious, so the hefty price is to be expected. Meanwhile, you can get the same room on Seathustler for RM7,390 and for a bit more than that on Expedia. That's savings of RM1,869 here! And that is only because you didn't book from the first booking website that crossed your eye.
If you feel like you don't have time to check a bunch of booking websites, that's fair. RatePunk is a free browser extension that does all the work for you — you can install it on your computer or download it on your iPhone. You'll see how much your wanted hotel costs on all major booking websites in seconds, just like in the picture above. Install it for free here.
2. Be flexible
We call this one the law of opposites. Essentially, it's to go where other people aren't going. And most importantly, when they aren't going.
For instance, if you're going to a business destination, then don't go during weekdays. Go during the weekend. And if you're going to a resort destination, like Las Vegas, go during the weekday. Because everybody goes to Las Vegas on the weekend.
Example: This is Caesars Palace in Las Vegas, where the going rate per night is a whopping RM1,783 on the weekend.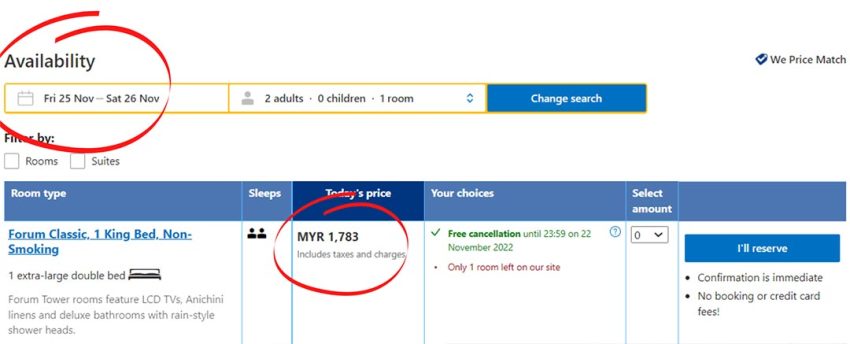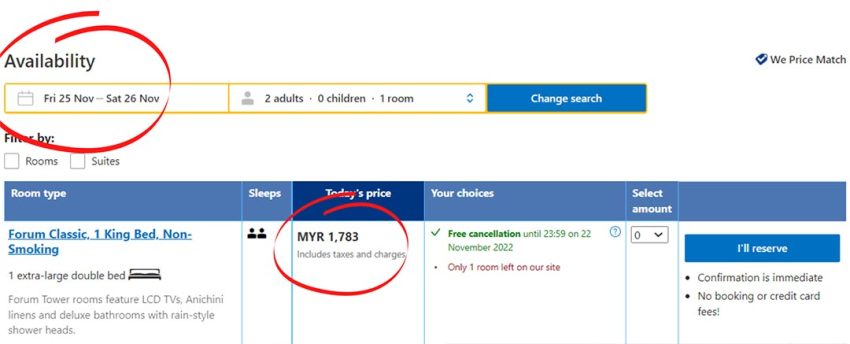 But that's the time of week when most people would like to visit. Now look again — the same Caesars Palace on weekdays costs more than 50% less. It's a simple case of supply and demand affecting prices.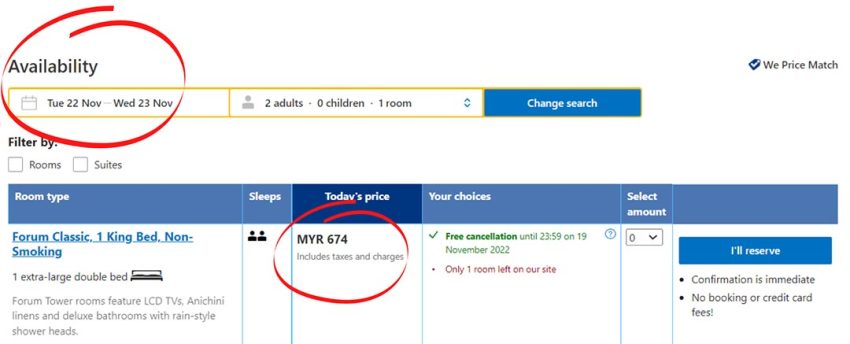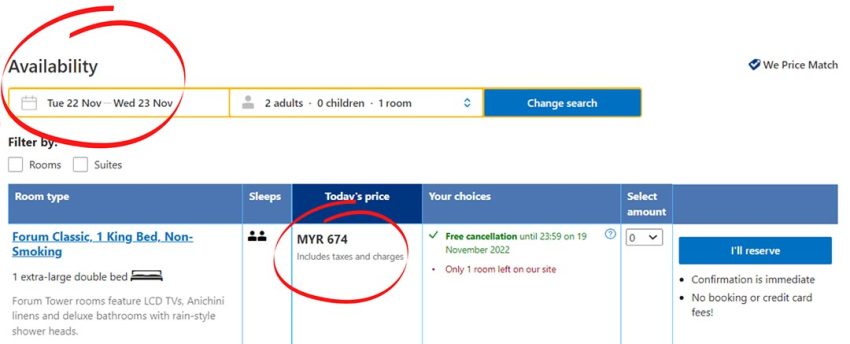 3. Look for new hotels
Not many people know about new hotels at their very start. And because they're still relatively unknown, their occupancy rates are often still pretty low. And so, new hotels offer significantly lower prices than their competition to attract clientele and get the ball rolling. So you book that cheap rate, you love it, then when you come back a year later, those prices have suddenly gone up.
If you're searching on Marriott, Hilton, Hyatt, or other big hotel chain websites, look for the properties that have that new marker to score a good deal.
4. Get creative with your searches
What do we mean by creative? If you're staying at the hotel for a week, and the week looks kind of expensive, try searching for one day at a time, just a weekend section, or just a weekday section. You might find that making three reservations at the same hotel might be cheaper than a week-long one.
When you make a week-long reservation, it makes all the nights equivalent to the most expensive night. Whereas if you book the individual ones, it might give you a cheaper rate.
On the flip side, some hotels (especially in these post-COVID-19 times), some properties may actually offer a discount the longer you stay with them. This is especially so in locations such as Phuket, that are desperately looking to recover from the two-year lull of the pandemic.
Now, let's continue with the fact that the rules for booking a resort differ from the tips you'd use when booking a regular hotel. Here are the things you need to know to book the best all-inclusive resorts for the best rate:
1. Popular destination ≠ expensive
It might seem that the most popular all-inclusive resort destinations like in Indonesia or Thailand should be the most costly. However, they have the most offers and some of the best all-inclusive deals. Moreover, since there is a plethora of resorts to choose from, they often lower their prices to be more attractive. So check your wanted resort and dates often, and you'll definitely find some bargains.
2. Don't leave things to the last minute
All-inclusive resorts are an exception — if you often try to get last-minute deals when booking flights or hotels, it's not that effective with resorts. The prices are lower if you start to look as early as possible.
3. Pick the right season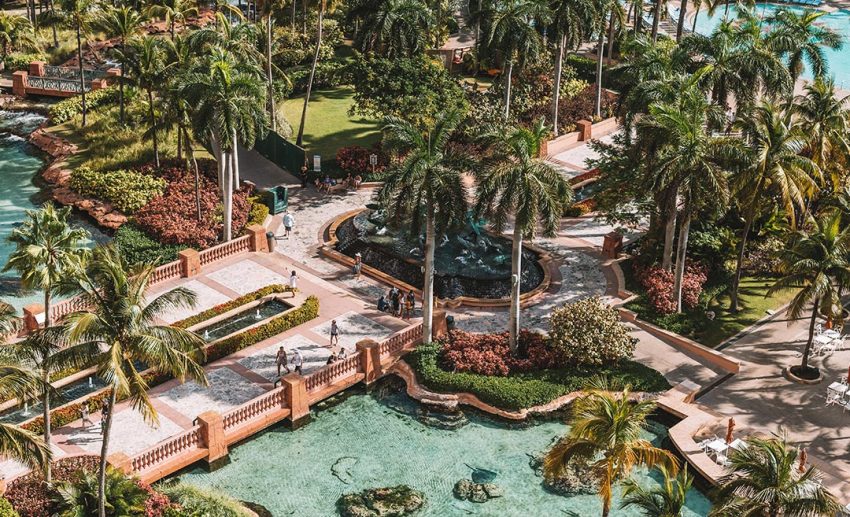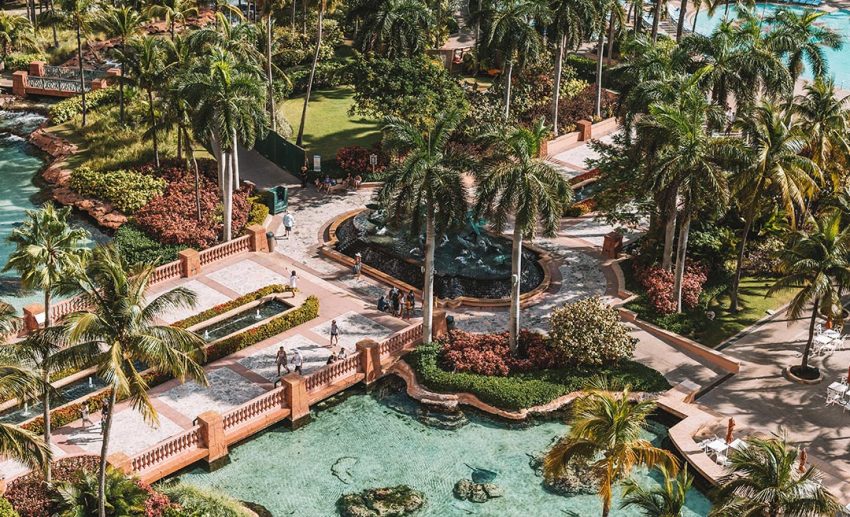 You don't want to travel during peak season, especially school holidays, since families are the primary audience of resorts.
TIP: Check the national and local celebrations — the resorts may be crowded on the days you wouldn't expect since there are certain annual or daily passes for locals.
4. Never opt out of the all-inclusive option
When booking a resort, there's sometimes a choice to skip the all-inclusive part. Some people think that they could never eat so much that the price of the whole package would be worth it. But one thing they forget — the prices at a resort won't be the standard ones. Since the rates are typically inflated, you could pay RM30 instead of RM15 for the same dish or drink. Also, some resorts include excursions at an all-inclusive price (spa, snorkelling, and so on) This is why picking the all-inclusive will most likely be worth it.
TIP: The best time to choose a resort in the Caribbean is between Thanksgiving and Christmas. Avoid travelling on the holidays, as you'll experience surcharges, but the period between late November to mid-December is ideal. In the Caribbean region, it's one of the best times weather-wise too.
5. Don't hesitate to ask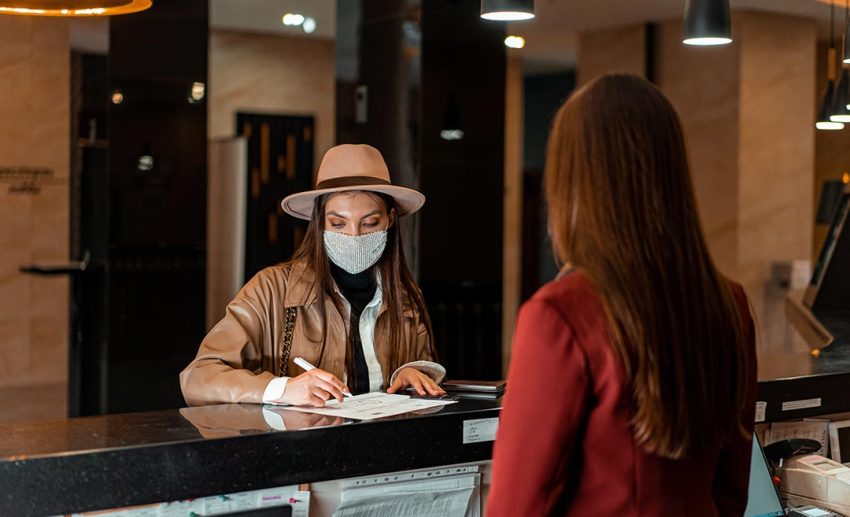 And we're talking about upgrades here. Let the resort know if you're going on special occasions (like on honeymoon, a birthday, or anniversary). There's a chance you'll get more than you paid for. Just remember — if you don't ask, the answer will always be no.
And that's pretty much how you can get hotels with five stars for the price of one with three. All it takes is a little bit of research and the help of technology, and you have your money-saving secret!