With the increasingly easy availability of co-working spaces in Kuala Lumpur, getting your job done while on the move is not limited to a drink and a table at Starbucks or the nearest café. There is a burgeoning number of spaces that offer office facilities, convenience and affordable rental rates to cater to start-ups, freelancers and business travellers.
1. The Co.
The Co. is a collection of co-working spaces that started in Singapore before expanding in Kuala Lumpur, and currently has two outlets in the city: At The Row, near the city centre, and in Bangsar, near KL Sentral. Conceived to foster a sense of community, it's ideal for entrepreneurs, freelancers and go-getters who don't just want to get work done but network for opportunities while doing so. They regularly host events to that effect as well.
Both of the outlets are minimally but well-dressed premises, and within easy reach of the train network as well as popular F&B outlets. At The Row, a block of beautiful heritage buildings dating to the 1940s that have been refurbished, The Co.'s neighbours include chic cafes, restaurants and pubs. The Bangsar outlet is housed in a bungalow and fronted by Bean Reserve, a small café that specialises in nitrogen-infused beverages, soft serves, and sandwiches.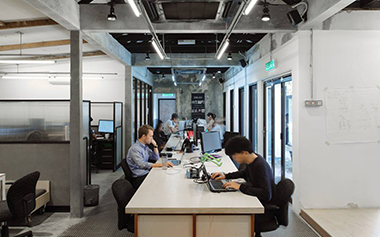 Rates: Day/walk-in pass at RM50; 10 passes for RM400; a monthly flexible desk starts at RM650
Facilities: Wifi, access to breakout spaces, complimentary coffee, tea and water cooler, surau (prayer room), 24-hour access to utilities like electricity, lighting and water, access to photocopier machine and general secretarial services (at additional charges)
Address: The Row, 42-48 Jalan Doraisamy, Kuala Lumpur / 8 Jalan Lengkok Abdullah, Bangsar, Kuala Lumpur | Nearest Monorail: Medan Tunku (2-min walk) / LRT Bangsar (3-min walk) | Tel: +603 2202 0336 | Website: www.facebook.com/jointhecokl 
2. Nook
Designed as a progressive workspace with a homely and casual café-like feel, Nook offers all of the 'hardware' you need to run your business. Featuring a spacious and comfortable open plan space, Nook is surrounded by soothing greenery, making it conducive for brainstorming and inspiring creativity.
Should you be feeling tight and tense (from being cooped up in an airplane or if you've been tapping away at your laptop for hours) and need a good sweat, there's a gym within the same building. Crazy Monkey Defense offers instructor-led self-defence programmes such as boxing and Brazilian Jiu Jitsu.
Rates: Daily drop-ins is at RM50; hot desking and virtual office facilities are RM400 monthly
Facilities: 15 dedicated desks, mail-boxes service, lockers, communal table, conference room for 12, fully equipped kitchen, free flow of espresso and tea, laser printer/scanner/copier, projector and flip charts
Address: 9 Jalan Riong Off Jalan Maarof, Bangsar, Kuala Lumpur | Nearest LRT: Bangsar (7-min walk) | Opens: 9am-6pm | Tel: +603 2201 5781 | Website: nook.my
3. Noofiz Service Office
Noofiz was built on the premise of supporting businesses without borders, and what they offer is unlimited access to offices and workstations worldwide, including in Kuala Lumpur.
Within their network, you can utilise fully-furnished work spaces at various landmark buildings across the city, including at strategic locations such as KLCC, Wisma Selangor Dredging, Menara IGB, Menara Sentral and Pavilion Kuala Lumpur.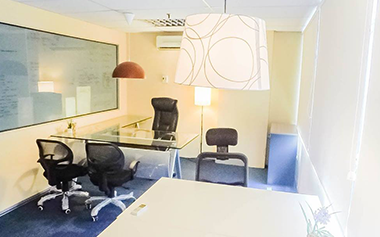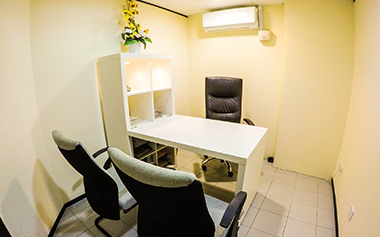 Rates: Work stations start at RM6 per hour; private offices from RM20 per hour
Facilities: 50Mbpd Fiber Optic Internet Connection With Wifi, dedicated phone number, receptionist phone services and standard office facilities
Address: Service Office and Virtual Office, Suite 109, Level 1, Block D, Kelana Square, Jalan SS7/26, Kelana Jaya, Petaling Jaya | Tel: +603 2770 2801/+6016 655 9637 | Website: www.noofiz.com.my
4. 8Spaces
Working with a team and need more than individual tables? 8spaces provides working, meeting and event venues at more than 10 different but equally elegant locations in Kuala Lumpur and Petaling Jaya that are suitable for groups of at least eight and up to 150 persons, and more. Each space is unique in its offerings (and rates vary accordingly as well), ranging from an urban retreat to a printing factory and a lifestyle café.
Two other spaces listed here, Nook and Impact Hub, are also part of this collective.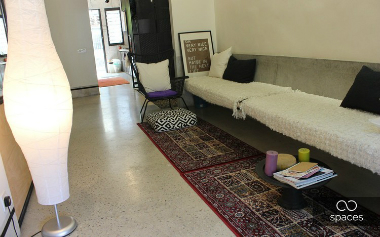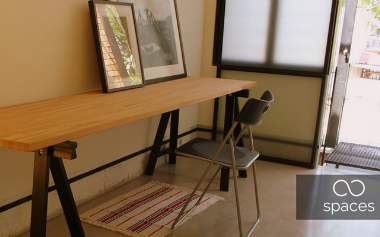 Rates: From RM100 a day (for 8 pax) to RM14,000 a day for the Hall of Awesomeness that can fit 150 people
Facilities: Wifi, water, coffee and tea, whiteboard and writing materials
Address: The Loop at Menara UOA / The Penthouse of the Syed Kechik Foundation / Sebelas (all in Bangsar) 11 | Nearest LRT: Bangsar | Tel: +6011 1618 8878 | Website: www.8spaces.co 
5. Impact Hub KL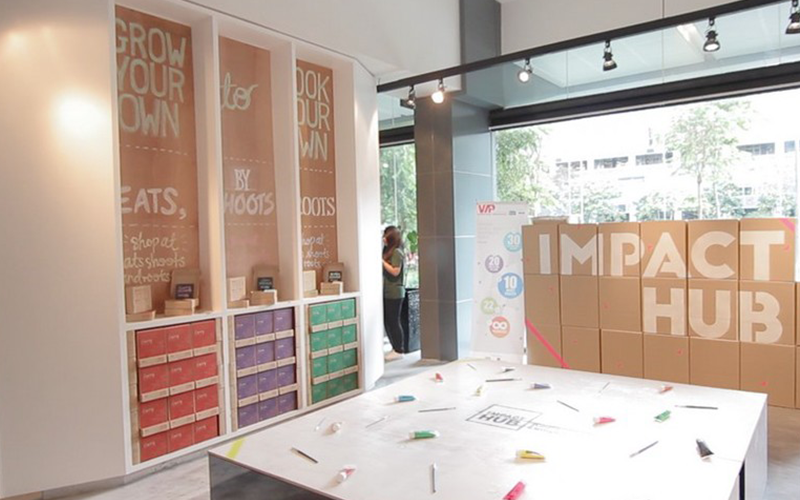 You never know who you're going to sit next to as a Hubber – this vibrant space epitomises the concept of a co-sharing workspace as a thriving community. Besides work spaces, The Impact Hub is also a venue for events and exhibitions, encouraging people to meet, connect and create. It attracts a diverse group, from artists to writers, entrepreneurs to social campaigners.
It sits on the ground floor of a sleek mixed development, with an airy courtyard in the middle of the building highlighted by wooden decks and water features. The unit across is Three Little Birds, a popular coffee roaster cum café chain that's loved for their specialty drips, delectable cakes, and rustic sandwiches by Tommy Le Baker. More food options are found at Eat, a grab-and-go eatery that offers quick and easy meals that fuse local and Western flavours. For a break of a completely different kind, a few doors away, The Refinery hosts art exhibitions and runs art jamming sessions.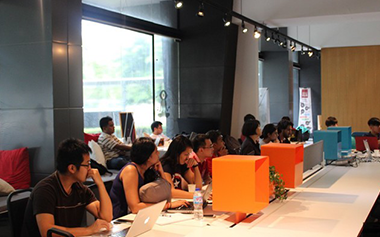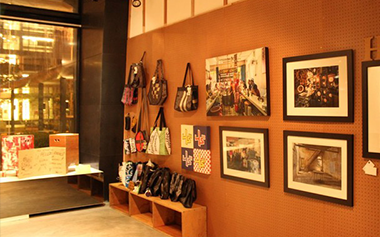 Rates: A co-sharing workspace membership starts at RM125; day passes are also available at RM35
Address: D7 @ Sentul East Design Centre Jalan Sentul, Kuala Lumpur | Nearest LRT: Sentul | Website: kualalumpur.impacthub.net
6. InCube8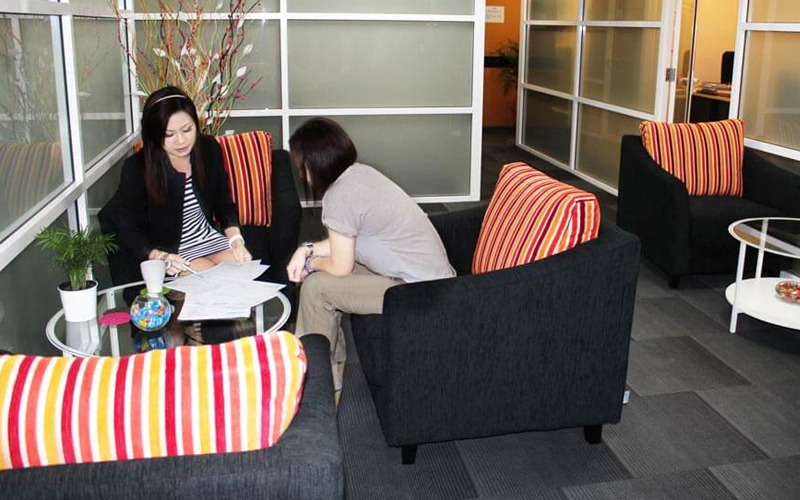 Located in upscale Mont Kiara, InCube8 offers a prestigious business address complete with a full suite of services. Day offices as well as fully-furnished office spaces are available, and can be customised according to individual corporate identity and colour scheme.
There are no LRT stations within walking distance but there is availability of taxis and lots of shops and eateries in the vicinity.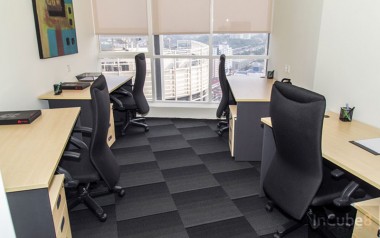 Rates: A small office suite starts at RM129 per day with unlimited Internet access, office services, and free flow of coffee and tea
Facilities: Dedicated phone line, mail handling, cleaning services, use of business centre's address, personalized answering service, complimentary use of meeting rooms (terms and conditions apply), 24-hour accessibility security door system
Address: Level 23, Premier Suite, 1 Mont Kiara, 1 Jalan Kiara, Kuala Lumpur | Tel: +603 2785 6800 | Website: www.incube-8.com
7. Startup Hub @Sunway Mentari, Sunway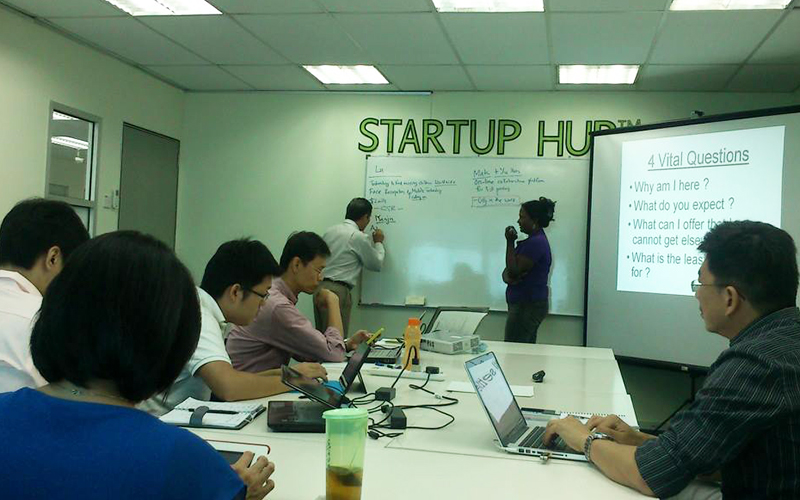 This fuss-free and no-frills office space caters to struggling young entrepreneurs under the MAD Incubator programme, Malaysia's leading and largest private incubator. Its Sunway Mentari outlet is located within a bustling student hub with easy access to shopping malls, restaurants and various service providers.
Startup Hub has two other outlets – one each in Putrajaya and Cyberjaya.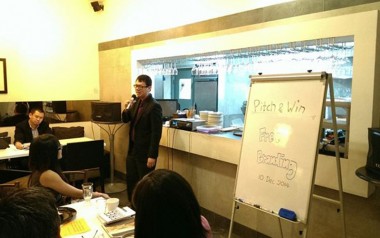 Rates: RM50 per eight hours; permanent desk at RM300 monthly
Facilities: Wifi, lockers, desks, meeting and training rooms, lounge, prayer room, cleaning services, and chargeable office facilities like faxing and photocopying. Tenants and renters also get free access to seminars, and to experts and coaches
Address: 6-2, Jalan PJS 8/12A, Bandar Sunway, Petaling Jaya | Tel: +603 5611 5886 | Website: www.incubator.com.my/hub/sunway
8. Zoom Co-Working Space

This is a brand new office space catering to start-ups or individuals seeking a quiet, shared working environment. It is located within an integrated commercial and residential development including retail shops away from the hustle and bustle of the city centre.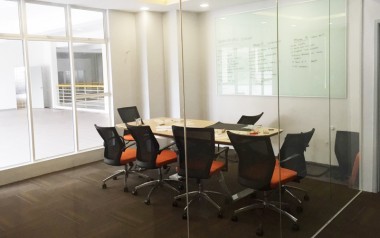 Rates: Walk-in at RM30 inclusive of a personal workstation; monthly rates are at RM400
Facilities: Fully-furnished office, meeting room, printer, filing cabinet, pantry with fridge and coffeemaker, and lounge with bean bags
Address: B4-1-3 Gaya Melawati, Kuala Lumpur | Nearest LRT: Wangsa Maju (7-min taxi ride) | Tel: +6012 251 2408 | Website: www.facebook.com/Zoom-Coworking-Space
9. CEO Suite Kuala Lumpur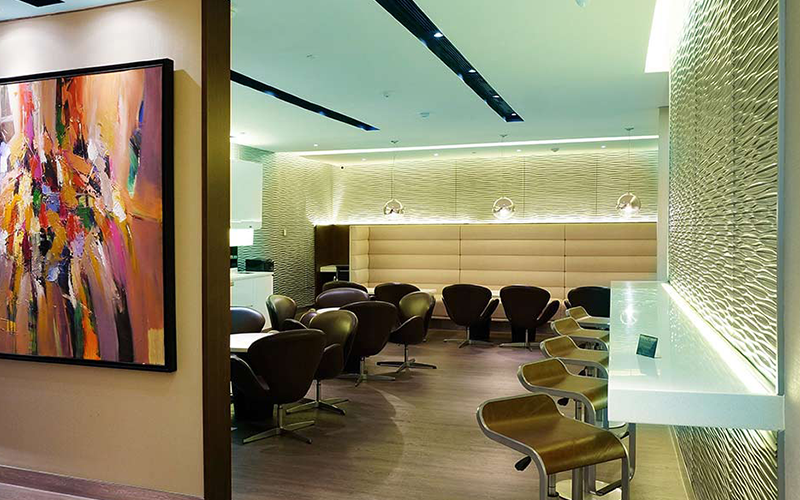 This is a professional one-stop serviced office provider run by multi-cultural industry experts. You can expect the CEO Suite to provide well equipped serviced offices as well as meeting rooms. The location is hard to beat, as it's just adjacent to the Kuala Lumpur Twin Towers in the heart of the city.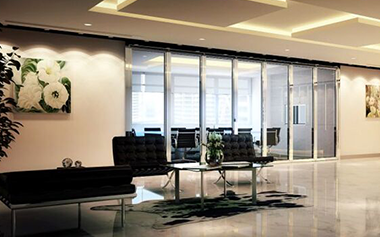 Rates: Hourly rates start at RM80 for a small private office with all-day internet access at RM50
Facilities: The office includes a desk and free flow of coffee and tea. It is also flexible and can be converted into a private meeting room for up to five pax. Secretarial services are available at RM15 to RM20 per 10 minutes
Address: 26th and 36th floors, Menara Maxis, Jalan Ampang, Kuala Lumpur | Nearest LRT: KLCC | Tel: +603 2615 0000 | Website: ceosuite.com/locations/kuala-lumpur-maxis-36th
10. Regus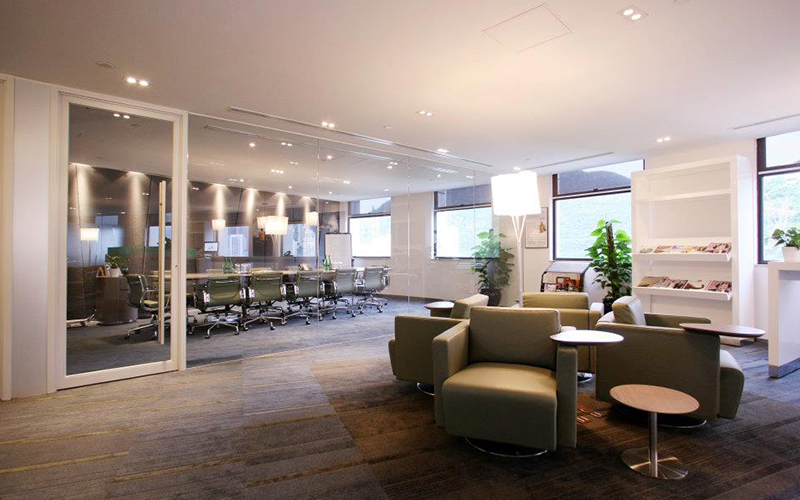 One of the world's largest provider of flexible workspace, Regus has a huge portfolio of virtual offices located in some of the best known and most centrally located corporate office towers in Kuala Lumpur, which include professional services designed to meet the needs of large and small businesses alike.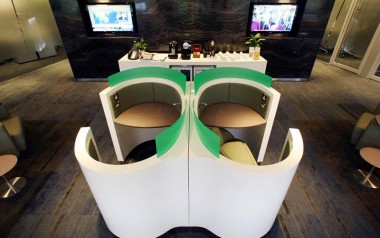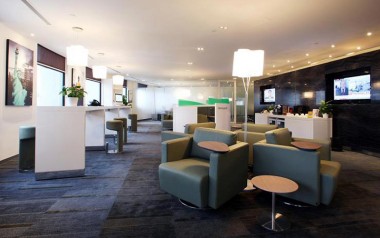 Rates: RM28 per hour for co-working spaces; from RM89 monthly for access to drop-in business lounges with free Wifi and refreshments; RM549 monthly for private offices five days a month
Facilities: Free access to over 3,000 business lounges, hot desks, meeting rooms, and video conferencing facilities as well as a business address and phone number at well-known offices
Address: Various, including KL Sentral, Menara IGB, Central Plaza and Wisma SDB in Kuala Lumpur | Tel: 1800-881-483 / +603-2168 4300 Website: regus.com.my
11. Whitespace International
Elegant, contemporary and professionally designed all-in-one serviced and virtual office solutions are offered at various locations in upmarket Solaris Mont Kiara and Bangsar. The company is known for their sophisticated offices with a stylish, minimalist appeal.
Rates: Daily walk-in rates start from RM207 inclusive of a private office suite with Wifi. There are additionally three monthly packages available starting from a Partner Virtual Office at RM169 to RM389 and RM489
Facilities: Varies according to packages; the most basic includes a dedicated phone and fax number, business administrators, and dispatch/receptionist/document/courier services
Address: Various locations. See list here | Tel: +603 6209 9988 | Website: whitespaceinternational.com
12. Workers Union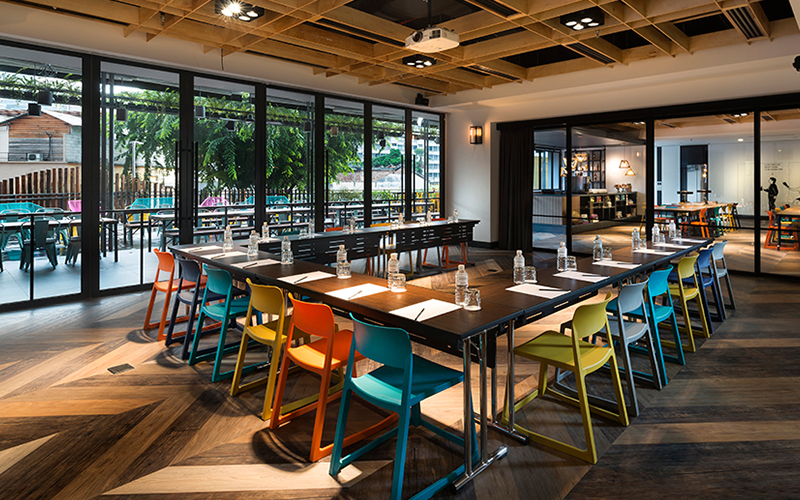 Work, socialise, organise a meeting or maybe catch an exhibition while you're at this well-dressed space that takes up the entire Level 1 of hip designer hotel The Kuala Lumpur Journal. The three meeting rooms, known as Studios, are decked out in the same fun, chic décor as the rest of the hotel and each one sports a different theme. The galleries (there are two, and can be joined into one) serve as a multi-function space for anything from exhibitions to workshops.
In the centre of this space is co-working space The Hub where long tables are available for your use for just the price of a drink from the barista bar. When you need to take a break, walk through to The Terrace and take in some fresh air. In the evenings, the adjacent beer garden The Shack swings into service for you to wind down with some drinks and light bites.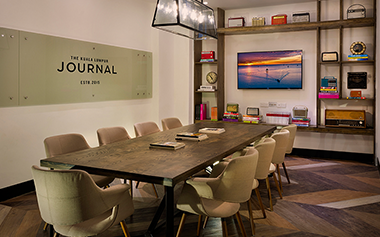 Rates: For The Hub, minimum one drink; for Studios and Gallery, meeting and event packages are available
Facilities: High-speed WiFi, LED projector, AV set-up, teleconferencing capability, 50" flat screen TV (Studios), writeable glass wall, flip chart
Address: The Kuala Lumpur Journal, 30 Jalan Beremi off Jalan Sultan Ismail, Kuala Lumpur | Nearest Monorail: Bukit Bintang | Tel: +603 2110 2211 | Website: www.kljournalhotel.com

Read more stories to help you work better in Kuala Lumpur:
Get all the latest travel stories from Zafigo. Follow us on Facebook and Twitter.