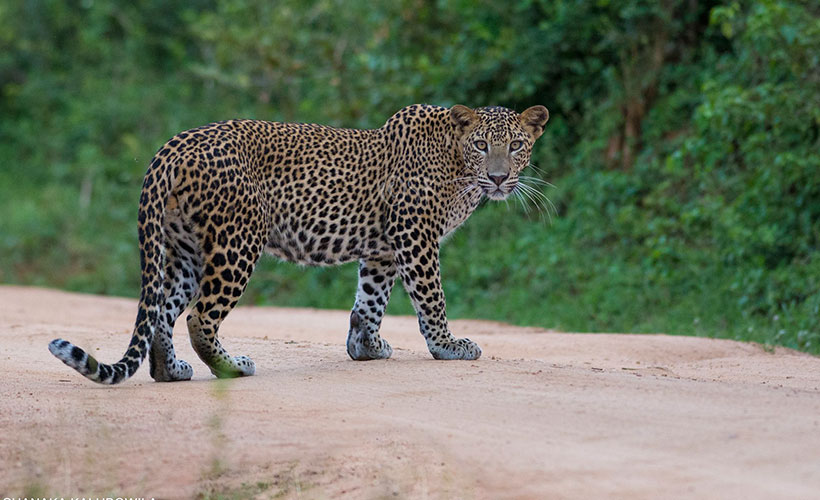 Sri Lanka may be a little island nation, but it's home to an enormous amount of wildlife. We're talking a healthy and growing elephant population of nearly 6,000 along with myriad other animals such as leopards, dolphins, and blue whales. Needless to say, you'll also want to explore its rich marine biodiversity by snorkelling through Sri Lanka's coral reefs.
Then there are those who call Sri Lanka their temporary home. In the winter months of December to April, a number of migratory birds frequent Sri Lanka and cruise over its vibrant skies.
So if you're an animal lover and are looking to a unique experience besides exploring Sri Lanka's stunning heritage sites, consider one of these. From elephants to endemic leopard subspecies, these are the best, ethical wildlife experiences you can have in Sri Lanka:
Where to see the wild elephants
If you want to see wild elephants, the national parks in Sri Lanka provide a fascinating experience. Minneriya National Park, Kaudulla National Park, and Udawalawe National Park are some of the popular ones.
In the dry months of June till September, The Gathering takes place in Kaudulla and Minneriya National Parks. Although they are two separate parks, they're located close to each other, as a thick, dense jungle named the 'elephant corridor' sits between them. During the hot, humid tropical afternoons, the gentle giants head to the reservoirs in these parks to bathe and feed on greener grass.
The Gathering is a migration known as the largest congregation of Asian elephants in the world, where you can see hundreds of elephants in their natural habitats. There are a number of places to stay in the area. For the budget female traveller, I recommend staying at Hangover Hostels in Sigiriya. If you want something special, consider the Mahagedara Wellness Retreat. Run by a woman, the eco-retreat incorporates female employees from the nearby village.

Visit the Elephant Transit Home
While the Pinnawala Elephant Orphanage is immensely popular as a spot to see elephants, the jury's out on whether it's an ethical place. Inside the orphanage, elephants are chained and used for human recreation. While there's nothing like seeing wild animals in their natural habitats, if you want to see an orphanage, I recommend the Elephant Transit Home in Udawalawe.
This is the only orphanage that offers an ethical experience. Orphaned elephant calves are taken in, nurtured, and looked after here until they're five or six years old. Afterwards, they're released back to the wild. The elephants here aren't chained and human contact is kept to a minimum. Every day at 9am, 3pm, and 6pm, the calves are fed milk. Visitors to the home can quietly observe them drinking milk, and freely roaming around the watering hole.
---
Thinking about a safari-like trip? Look to Asian destinations like India:
---
Where to see leopards
Prowling in the rustic shrublands of Sri Lanka is the Panthera pardus kotiya. A native, the Sri Lankan leopard – or Ceylon leopard – is an endangered species. The most popular place to spot a Sri Lankan leopard is Yala National Park. However, due to its popularity, Yala tends to get overcrowded.
Often, mass-scale tourism is a threat to wildlife. So instead of Yala, head north to Wilpattu National Park. The park is only a one-hour drive from Kalpitiya where you can find a number of accommodation options for every budget.
Kumana National Park, also known as Yala East, is less crowded and easily accessible from the nearby surf village of Arugam Bay. However, the chance of spotting a leopard is fairly low here and depends entirely on your luck.
Dolphin- and whale-watching
The Indian Ocean near Mirissa, Trincomalee, and Kalpitiya offer seasonal dolphin- and whale-watching experiences. Raja & the Whales are a family-owned tour operator in Mirissa. They organise ethical marine wildlife tours to see blue whales, sperm whales, fin whales, dolphins, and flying fish. The season runs from November to April.
On the north-western coast of Sri Lanka in the Kalpitiya Peninsula, from December till May, one can hop on a boat to see the largest creature on Earth – the blue whale. You'll also see large pods of sperm whales, spinner dolphins, and the occasional appearance of bottlenose and humpback dolphins. In Kalpitiya, you can stay in an eco-friendly cabana at Elements Beach & Nature Resort. The humble resort sits next to two flat water lagoons and an untouched beach.
---
View the spectacular animals migration via a guided drive, walking, or cycling tours:
---
Lagoon tours
If you're a birdwatcher, a canoe tour across the Kottukal Lagoon will be a blissful experience. The tour starts early at 5.30am, when the wildlife emerges for a new day. A number of different birds perch on mangroves, and you'll also be greeted by monitor lizards and sunbathing crocodiles. In the dry season, expect to meet a few elephants with their young calves. Sometimes, they swim in the lagoon waters. There are a number of tour operators, however, Ecowave Travels is a non-profit travel organisation who are committed to sustainable travel.

Living it up in the wild with Ahaspokuna
Ahaspokuna has no motorable route. Set in the wild, the tent-style luxury glamping site is reached by a 20-minute trek through the grasslands. The experience includes a few naturalist-led bushwalks during the day and night. A three-hour bushwalk takes you through the thick foliage, and you'll get to see elephants in the wild, sambar deer, wild boar, palm squirrels, and a cartload of monkeys.
The untouched region is also a paradise for birding. Some of the birds who frequent Ahaspokuna are the common iora, Indian pitta, peacock, Indian grey hornbill, and green bee-eater. At night, you can visit the waterhole frequented by wild elephants and other animals. If you're lucky, you'll also hear the occasional roar of the Sri Lankan leopard.
Lesser-known national parks
If you like to venture off the beaten track, head to Gal Oya Lodge. The carefully-designed eco bungalows here are located next to Gal Oya National Park. Even today, the park stays untouched. The unique feature here is that it borders the Senanayake Samudra – a reservoir that's Sri Lanka's largest inland waterbody. During your three- to four-hour boat safari, you'll see herds of elephants swimming across the shores, and crocodiles in the shallow waters putting up a bluff.
Other lesser-known national parks are Maduru Oya, Bundala, and Wasgamuwa. There are a number of small-scale, community-based accommodations and tours in these places. Wherever you choose to go, before you take part in a wildlife travel experience, be mindful to research and choose only the ethical ones.
All photos besides those credited are by the author.
Get all the latest travel stories from Zafigo. Follow us on Facebook, Twitter, and Instagram.