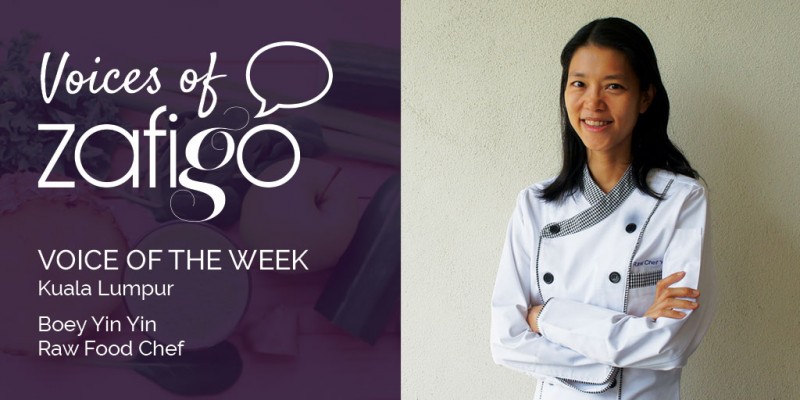 Boey Yin Yin grew up munching on raw cucumbers, carrots and celery sticks as snacks and didn't think there was unusual about that although she used to receive weird looks from her classmates. It was only two years ago, however, that she made her first fully raw meal – lasagne with cashew cheese and broccoli-sundried tomato pesto – that she realised that raw food is not only delicious but provides great energy as well.
In between her day job as an Artiste Manager to jazz guitarist Az Samad, she began training at the Matthew Kenney Culinary Academy, the world's first classically-structured raw and plant-based culinary school that's recognised as one of the world's best cooking classes by Food & Wine magazine. Yin has completed three courses from the Academy and now runs private classes in making healthy, energising and most importantly, delicious raw meals.
Yin shares her five favourite places to enjoy raw food in Kuala Lumpur: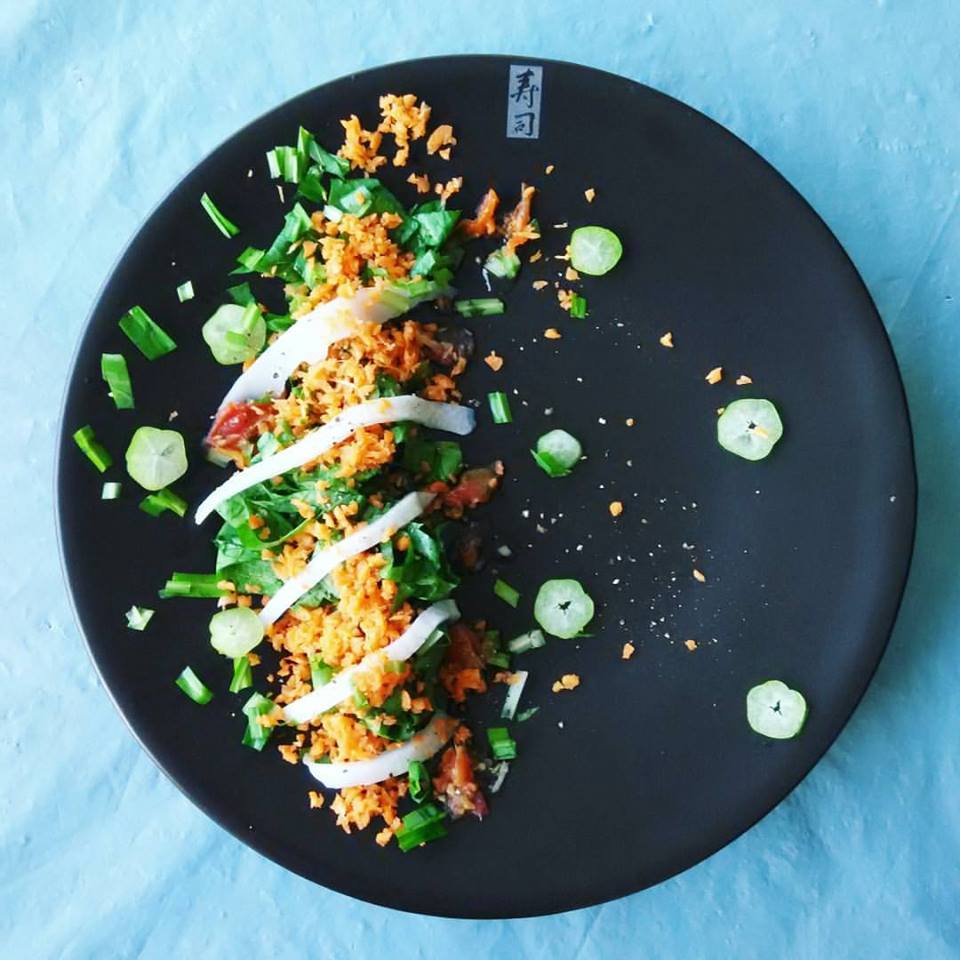 1. Raw Chef Yin's Private Dining and Workshop Services
Mention raw food and most people think it's bound to be tasteless, too green and unappetising. I'm a mission to change that perception and let people know that raw foods can and is scrumptious. I conduct private workshops and group classes on making delicious food that is life-giving, energising and delicious. The menu covers everything from appetisers to soups, noodles and desserts such as cucumber tartar, cauliflower caviar, beetroot noodles with avocado crème fraiche, carrot mango curry soup, key lime cardamom macaroons and dairy-free lavender ice-cream. My no-bake brownies (they're vegan, gluten-free, grain-free, refined sugar-free and soy-free) are very popular among friends and if you're persistent, I might be persuaded to sell them to you too.
See more of Yin's raw recipes on her Instagram feed @rawchefyin; for classes, email her at [email protected]
2. RGB and The Bean Hive
The food is not completely raw, but there are lots of vegan options loaded with raw components. One of my favourite dishes is their Hearty Har Har burger, with a delicious vegetarian patty. You can go carbless and have it served sans buns but on a bed of raw greens. Another vegetarian burger dish is the McBroccoli – don't you just love their sense of humour?
Address: 35 Jalan Damai | Tel: +603 2181 1329 | Opens: 8.30am-5.30pm, Tue-Fri; 9am-6.30pm, Sat-Sun | Website: www.facebook.com/RatherGoodBeans
3. Raisin The Roof Cafe
Their tagline is 'Making nutritious delicious', which aligns with my views on healthy food. You can customise your salads so if you want to have a fully raw meal, you can. They also serve raw cold-pressed juices, nut milks and smoothies as well as raw desserts such as bliss balls, cheesecakes and brownies.
Address: Plaza Damansara, No 61 Jalan Medan Setia 1, Bukit Damansara | Tel: +603 2011 5313 | Opens: 10am-8pm, Mon-Thu; 9am-6.30pm, Sat-Sun | Website: www.facebook.com/raisintheroofcafe
4. Goodness Greens Cafe by La Juiceria
They offer two types of smoothie bowls – pittaya and acai – and I love them both. Every ingredient that goes into the smoothie bowls is packed with health benefits and on top of that, they look so pretty. Their salad bowls are customisable and there's a good selection of ingredients you can throw together to make a raw meal. This cafe actually started out as a cold-pressed juicery so you will find a wide selection of juice blends.
Addess: 32 Jalan Datuk Sulaiman, Taman Tun Dr Ismail | Tel: +603 7732 0235/+6018 368 3320 | Opens: 9am-9pm, Mon-Fri; 8am-9pm, Sat-Sun | Website: goodnessgreenscafe/Instagram
5. Ashley's by Living Food
This is one of the few restaurants in Kuala Lumpur that has a specific 'Living food speciality' section where all dishes are prepared below 42 degrees so that all nutrients and enzymes are preserved. I like how they've given a lot of thought to their raw and living menu, and offer gourmet dishes. They are proof that raw food is not limited to salads or smoothies; they serve hearty meals like quiche, lasagne and pizzas. I reserve this for special occasions though as it's on the pricier side.
Address: 11 Ground Floor, Jalan Telawi 3, Bangsar | Tel: +6017 325 3663 | Opens: 11am-11pm, Mon-Thu; 11am-11.45pm, Fri; 9am-11.45pm, Sat; 9am-11pm, Sun | Website: www.ashleys.my
In Voices of Zafigo, we ask local women to give us their top recommendations on a particular subject or area of interest in their city. If you'd like to be featured in this section, drop an email to [email protected] with the subject line 'I want to be a Voice of Zafigo for my city'.

To find out more about Kuala Lumpur, read Zafigo's City Guide here
Read more Voices of Kuala Lumpur
Get all the latest travel stories from Zafigo. Follow us on Facebook and Twitter.