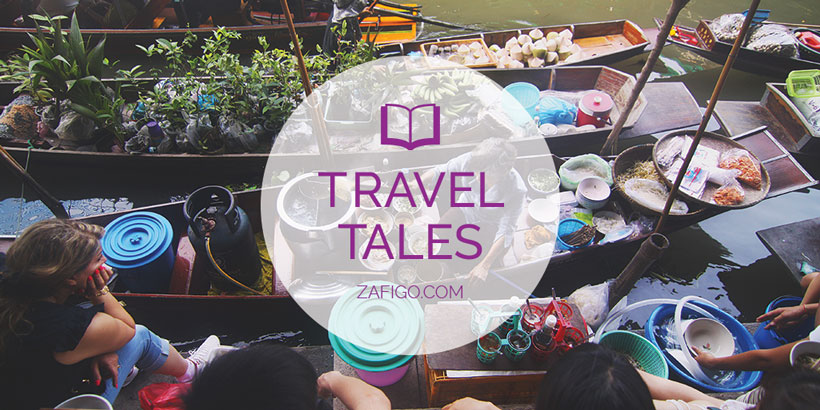 This year our annual family retreat took on an unconventional route, whereby the usual shopping or common touristy spots were not included in the itinerary. While Chiang Mai is well known for its pagodas and temples such as Wat Phra That Doi Suthep, Wat Rong Khun and Wat Phra Singh, our family decided to skip those, and try out more audacious, adventurous and uncommon activities instead.
Grand Canyon Chiang Mai
244 M.3, T.namphrae A.hangdong
Admission THB50 per person (same price whether you cliff jump or not)
Opens 8.30am-6pm (last cliff jump at 5.30pm)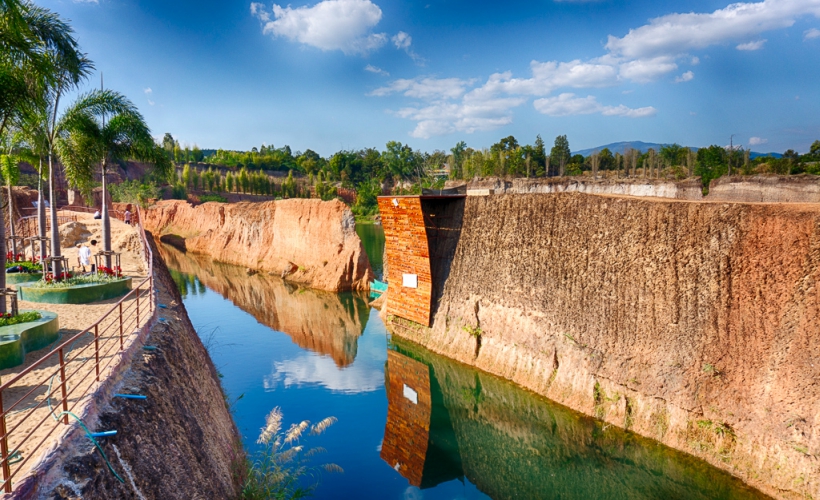 The Chiang Mai Grand Canyon, not to be mistaken with the Grand Canyon Water Park, is a manmade rock quarry located about 20 to 30 minutes from Chiang Mai town. The entire place is rather picturesque, with canyon walls surrounded by trees overlooking an emerald lake. There's a café, souvenir shop and massage parlour on site. Note that outside food is not allowed.
The highlight? Cliff jumping! You'll see signboards telling you the correct way to land when you cliff jump to avoid getting water-slapped, but you will inevitably have a bruised bum after your first try. There are plenty of bamboo rafts for you to lie down on and relax while watching others face their fears.
Even a self-proclaimed adrenaline junkie such as myself hesitated to take the first leap of faith to free fall off the cliff. But after the first attempt, I couldn't wait to do it again! The feeling is exhilarating.
The quarry is mostly surrounded by railings and there are lifeguards keeping watch and/or assisting as people jump off the cliff. This may be a safety precaution put in place after a tourist broke his neck and died after jumping off the cliff in September 2016.
Traveller's tip While the entrance fee allows you to stay for one whole day with unlimited jumps, spending three to four hours here is more than sufficient as it can be tiring to jump too many times. Mid-day is the best time to arrive. Have fun practising your jump to get the best shot and then hang around to witness a stunning sunset across the canyon.
Buatong Waterfalls (Sticky Waterfalls)
Mae Ho Phra, Mae Taeng District
Admission Free
Opens No fixed hours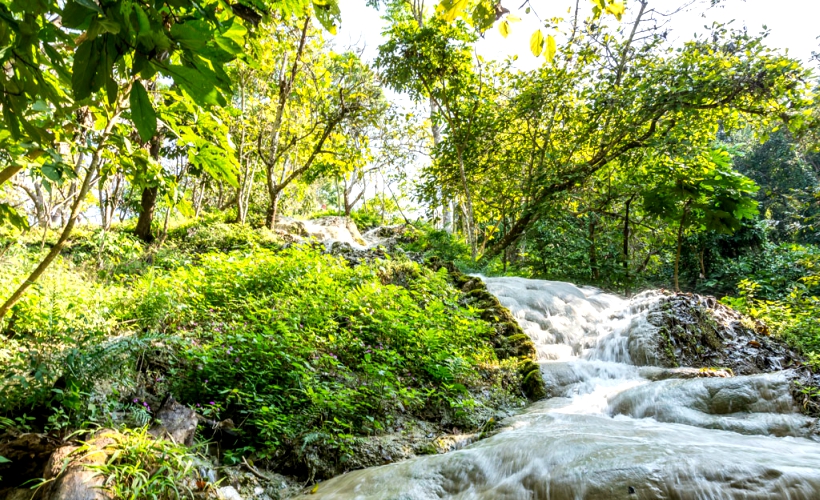 Thailand is well known for its many national parks and waterfalls, but this is no ordinary waterfall. It is nicknamed Sticky Waterfalls because its mineral deposit provides a surface that enables you to hold on with your bare hands and feet, and actually climb the waterfall. Sounds dangerous? Well, the surface is rough but sandy, and unlike the usual dark brown slimy rocks at most waterfalls, the ones here are white. If you are agile and know how to balance yourself while climbing on wet rocks, you will enjoy 'walking up' the rocks. There are also some ropes in place for you to hold and support yourself while you make your way up and down the cascading waterfall. However, do avoid stepping on the green mossy stones which are slippery.
Traveller's tip We arrived around 12.30pm and enjoyed a good hour or so at the waterfalls before the crowd arrived at about 2pm.
Elephant Poopoopaper Park
87 Moo 10 T. Maeram A.Maerim Chiangmai, 50180 Amphoe Mae Rim
Admission THB100 per person
Opens 9am-5.30pm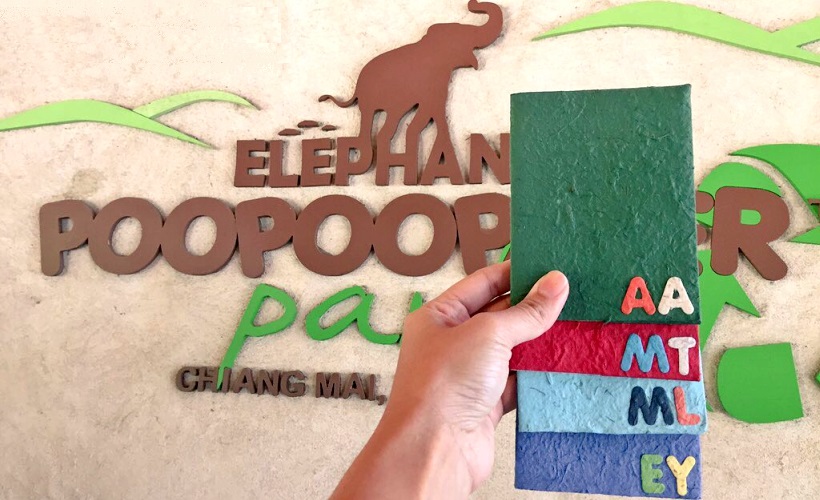 An amalgamation between a museum, café and an eco-friendly park, the Elephant Poopoopark is an interesting place to visit for both children and adults. Although you'll find that there are no elephants in sight, you will learn the process of paper-making using (yes, you guessed it) elephant poo! Elephants eat a lot and generate plenty of fibre-filled waste material which serves as the base for the pulp mixture from which paper is crafted.
Visitors can go on a self-guided tour as there are informative graphics and signages to let you appreciate the natural setting of the park at your own pace. Alternatively, there will be a guide to bring you to every 'station' and explain the fascinating paper-making process, from waste collection to rinsing to the final product assembly. Tours are run in Thai and English.
The guides are extremely experienced and passionate about conservation of the environment as well as promoting this bleach-, chlorine- and chemical-free traditional paper-making process.
There is a souvenir and gift shop in the park that sells incredible handcrafted products made from natural waste, such as greeting cards, passport holders, bookmarks, journals and calendars. And don't worry, they're all odourless. You can also design a personalised gift using cut-out letters. I made the above passport holders for my colleagues and decorated each with their respective initials.
Traveller's tip This park is conveniently located along common tour routes, so you can combine your visit with another. We stopped here on our way to Buatong Waterfall.
Doi Inthanon National Park
Ban Luang, Chom Thong
Admission THB300 per adult and THB150 for children
Opens 5.30am-6pm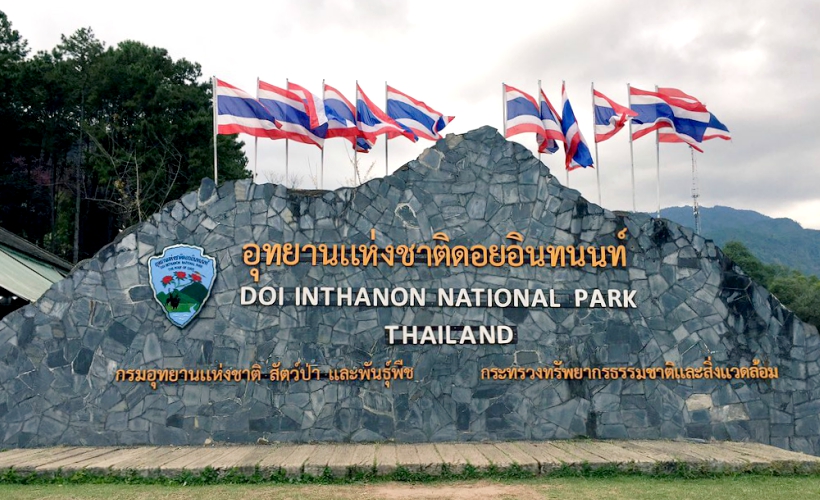 Due to its high altitude, this national park experiences high humidity and cold weather all year round. It is called the 'roof of Thailand' as it is home to the country's tallest mountain, Doi Inthanon. We were able to witness pink Siamese sakura blooming along the way, and our first pit stop along the trek to the top is the Wachirathan Waterfall. It is easily accessible at kilometre 20.8, from the car park next to the main road.
The Kew Mae Pan Nature Trail is one of the most popular trails in this national park because of its magical cloud forest and misty, dreamy waterfall that awaits at Thailand's tallest peak. To enter, visitors must engage a local guide and are required to pay an additional THB200 per group. The trail is approximately 3.2km long and takes around 3.5 hours to complete.
Traveller's tip Always come prepared with a light sweatshirt as it can get pretty chilly and windy, even during the day. Needless to say, you must wear proper walking/hiking shoes if you intend to go on the nature trails.
Warorot Market (Kad Luang)
Chang Moi, Mueang Chiang Mai District
Admission Free
Opens 5.45am-7.30pm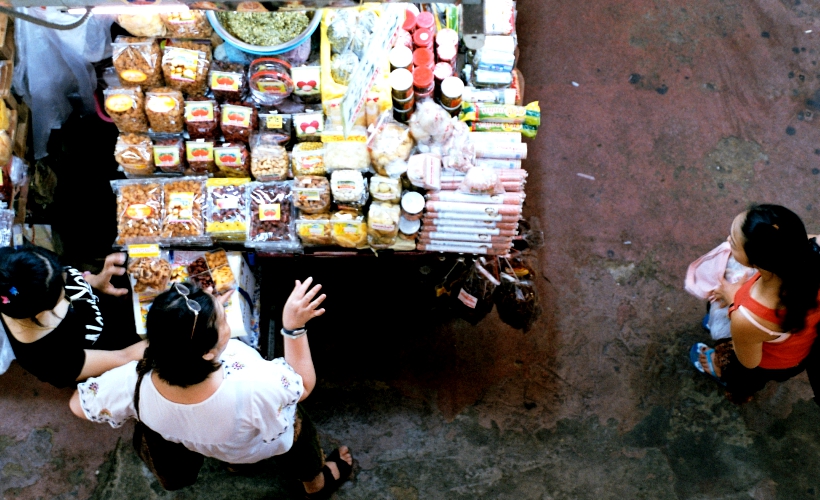 Warorot Market, loosely translated to 'great market', is one of the oldest and most well-known markets located in the heart of Chiang Mai along the Ping River. It's a shopper's paradise offering a wide array of goods such as herbs, spices, dried fruits, nuts, vegetables, handicrafts, souvenirs, jewellery, clothes and household appliances.
For most of the trip, I was on the spy to purchase dry Thai spices for tom yam soup. Since the market mostly targets loyal local patrons, the prices are cheaper compared to the other more touristy night markets.
Traveller's tip Be prepared to deal with traffic congestion during your journey to Wararot Market and at the entrance itself – there are usually barricades set up, presumably for traffic management, so you will have to navigate around them. The songthaew (red taxi) drivers usually drop customers near the dark red arch that marks the entryway to the market.
---
 Read our last Travel Tale:
---
Here's your chance to get published on Zafigo! We want your most interesting Travel Tales, from memorable adventures to heartwarming encounters, scrumptious local food to surreal experiences, and everything in between.
They can be in any form and length –short stories, top tips, diary entries, even poems and videos. Zafigo is read by women travellers the world over, so your stories will be shared to all corners of the globe.
Email your stories to [email protected] with the subject line 'Travel Tales'. Include your profile photo and contact details. Published stories will receive a token sum.