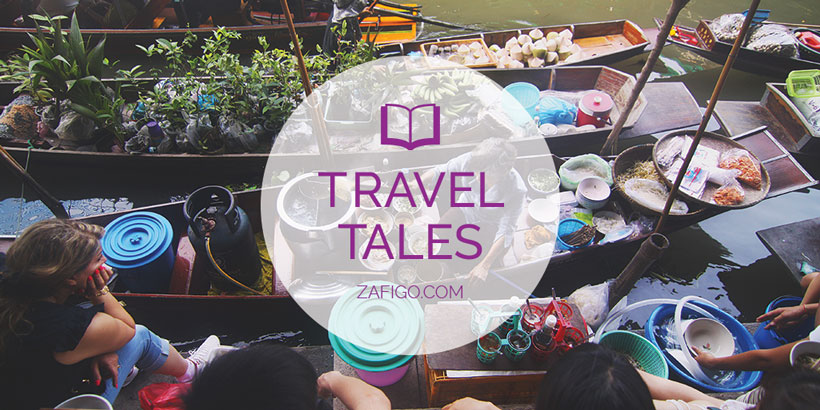 There are two things I really love – travelling and the great outdoors. So naturally, as I was making my way through a three-month solo backpacking journey around Southeast Asia, I ensured that I hiked in each country I visited. At the tail end of my trip along the pancake trail, I visited Myanmar. The country's known for being relatively off-the-beaten-track, but thus the basis of its appeal.
Of course, I did my research prior to the trip, and that's what led me to Hsipaw, a quaint village known for trekking. Here, I stumbled upon Mr Bike Trekking – a trekking company located in Hsipaw known for its treehouse. However, getting to this treehouse required a three-day trek. I figured that after an overnight trek in Sa Pa, Vietnam, I was ready for anything, so here are the highlights and lowlights of my unforgettable adventure in the middle of nowhere in Myanmar:
Day 1 – The journey begins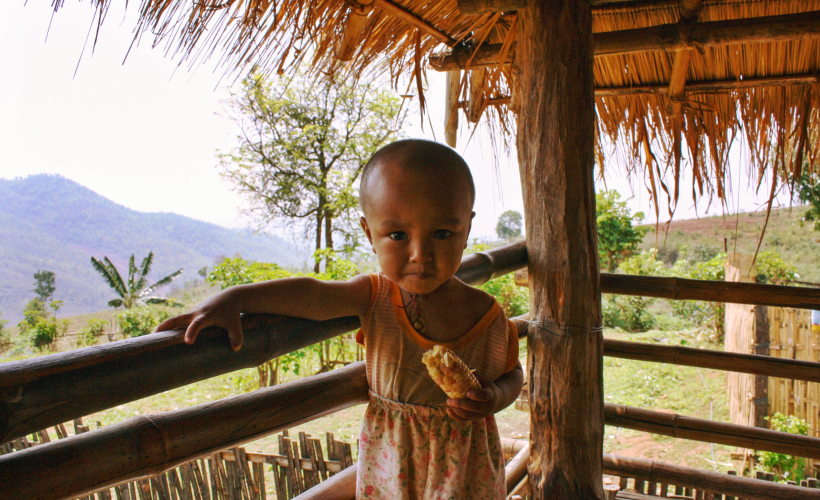 Highlights
The trek started through local villages, where children greeted us with curiosity and laughter. Our guide, Bachit, answered every question we had, and upon realising our shared fascination with wildlife, began showing us local flora and fauna unique to the region. Occasionally, he'd even stop to pluck fresh fruits for us, like figs and wild grapes.
Our base for the night was a treehouse. Not just one, but three, including the main treehouse used for dining and lounging. Each treehouse was built entirely from scratch by the owner and staff of Mr Bike Trekking.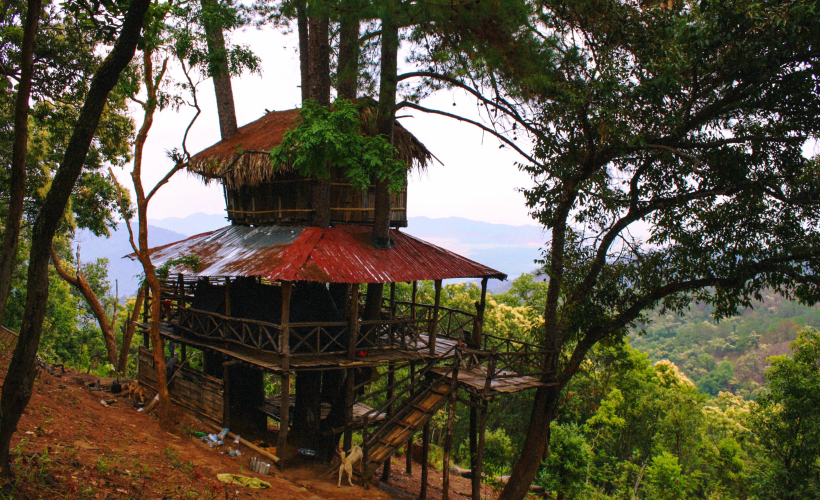 Lowlights
When they tell you that you need to go over a mountain to get to your destination, know that they mean it literally. It was a steep 800 metre ascent at 42°, but hey, if the porter's dog could manage, so could we.
Although I didn't ask, I already knew shower facilities wouldn't exist, but I didn't know the toilet would be an actual, literal hole in the ground filled with waste. I've always appreciated Western amenities, but cramping from menstruation while squatting on two precarious wooden planks surrounded by flies and bees has made me much more grateful.
Day 2 – It only gets better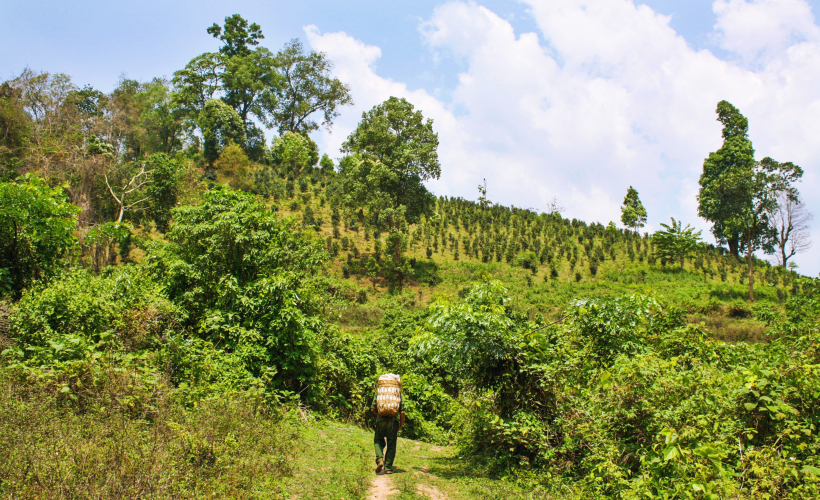 Highlights
I thought it couldn't get any better than the day before, but I was very, very wrong. While trekking, our porter collected fresh mushrooms from the trunks of trees which he then prepared for dinner that evening. We also refilled our bottles with fresh water from the river. After arriving at our next base, we plunged into the nearby river for a bath, and later, warmed ourselves by the campfire.
Once the sun set fully, we observed fireflies from a bamboo bridge over the river and even spotted two shooting stars! I decided to sleep in a hammock that night even though individual huts were provided, and let me tell you, it gets freakishly cold around 5am. Luckily, I had an extra blanket nearby. Oh, and if you're wondering, the toilet was more modern at this base. Phew!
Lowlights
Due to a storm the night before that literally shook the treehouse side to side, we encountered several blockages on our route. Thankfully, there's nothing the porter couldn't hack away with his machete! Although there was another mountain to ascend on the second day, we were totally prepared after the excruciating first ascent. Besides that, the fact that I was hiking barefoot caused several scratches and blisters, but they were nothing unbearable.
Day 3 – All good things must come to an end
Highlights
The last day was the most relaxed. It started with breakfast by the river, served on bamboo plates, and accompanied by bamboo cups. After stuffing ourselves, we played some card games, and then left for our last activity: tubing. It's exactly what it sounds like – a giant circular tube used to float downstream.
While en route to the Shan village, we spotted a majestic waterfall plunging dramatically from the top of a mountain. From the base of the village, we walked to our last destination: lunch. The state of Shan is renowned for their noodles, so it seemed fitting we ended our trip with a bowl. Before leaving to town, Bachit gifted us with personalised t-shirts that had our group photo on it – definitely the biggest highlight of the day.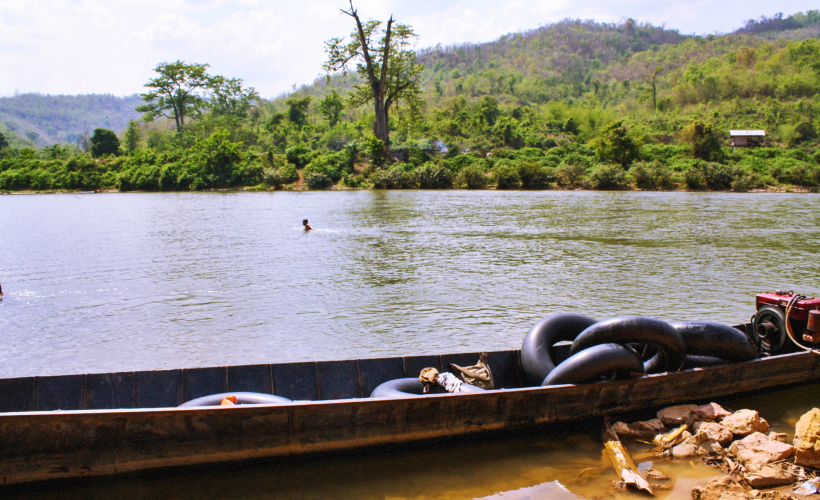 Lowlights
The currents of the river can get rough, so it felt as if I was tubing-cum-river-rafting; something adrenaline junkies would love. However, being a control-freak, I really had to talk myself into going with the flow of the currents, and eventually, I began enjoying them. Unaware of the duration of our activity, I didn't apply any sunscreen, and we tubed for almost four hours so I was extremely sunburnt. Okay, so maybe that just adds to the memories. This trek was truly unforgettable.
---
 Read our last Travel Tale:
Why You Must Visit Volcano Island When In The Philippines
---
Here's your chance to get published on Zafigo! We want your most interesting Travel Tales, from memorable adventures to heartwarming encounters, scrumptious local food to surreal experiences, and everything in between.
They can be in any form and length –short stories, top tips, diary entries, even poems and videos. Zafigo is read by women travellers the world over, so your stories will be shared to all corners of the globe.
Email your stories to editor@zafigo.com with the subject line 'Travel Tales'. Include your profile photo and contact details. Published stories will receive a token sum.
Get all the latest travel stories from Zafigo. Follow us on Facebook, Twitter, and Instagram.