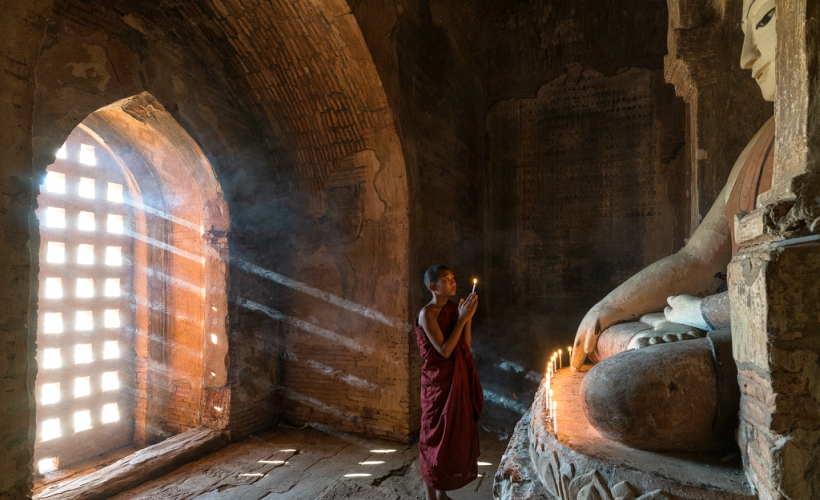 Bagan is the most visited spot in Myanmar and it's no wonder why. With about 2,000 ancient temples spread across grassy plains, it offers a stunning vista unlike any other. No doubt, you can spend weeks exploring Bagan's temples, but most people only have a couple of days. With so much to see and do, it's important to make the most of it. These are the eight temples you don't want to miss.
Shwesandaw Pagoda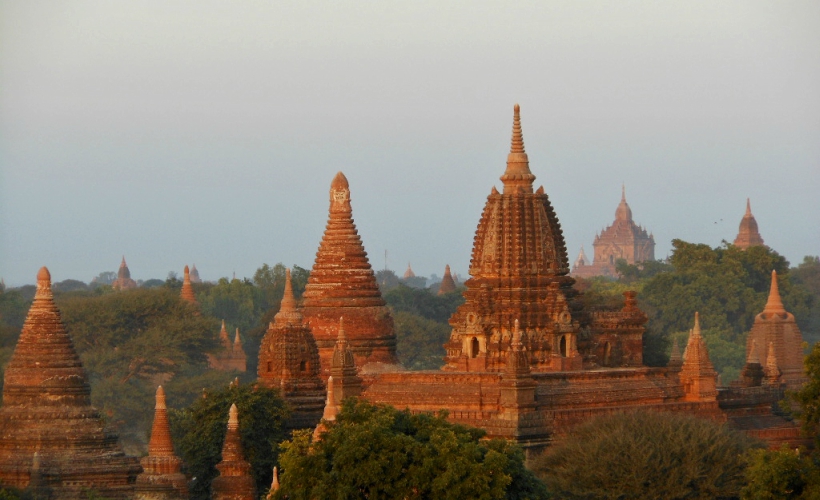 Location Close to Old Bagan
One of the most popular pagodas in Bagan, its beautiful design features five terraces of varying heights that visitors can climb for a view of the plains. This also makes it a popular spot to watch the sun rise. This pagoda is important to the local people as, according to legend, it holds a relic of Buddha's hair.
Ananda Temple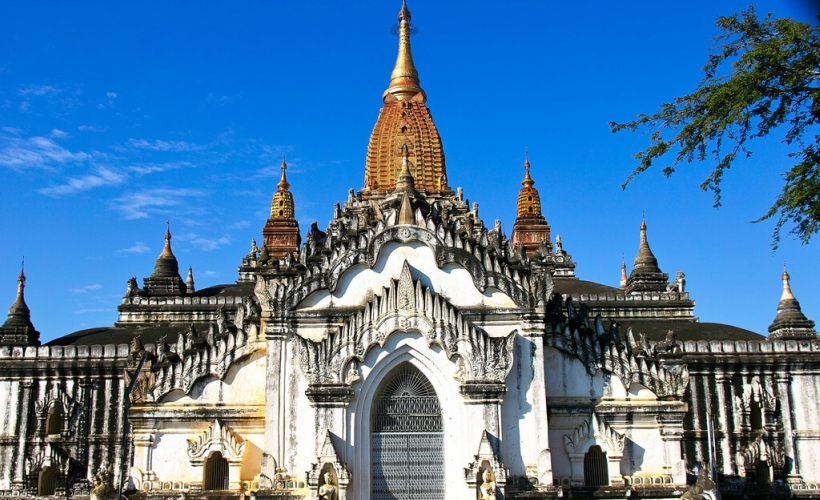 Location Near Tharabar Gate in Old Town
Ananda is known as one of Bagan's most beautiful temples, a vision in white, with a gilded sikhara (the dome that crowns the temple) that makes it visible from all around, especially when lit up at night. It is said that this temple was fashioned after a legendary cave temple located in the Himalayas. The king of the time wanted to replicate it, and after the temple was complete, he had the workers executed so they wouldn't be able to build something similar ever again.
Dhammayangyi Temple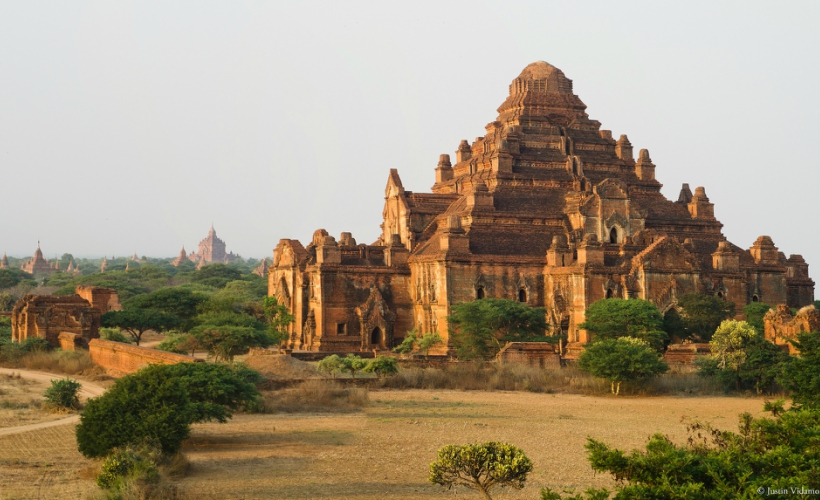 Location Not far from Shwesandaw Pagoda
The largest temple in all of Bagan, Dhammayangyi has a mysterious and violent history. It is said that the king who built it assassinated his father for the throne and had this large, pyramid-shaped temple designed to atone for his sins. However, the murderous king was killed himself before the temple was completed. While you can enter the temple, much of it is blocked off and filled with rubble. Dhammayangyi remains one of the most intact historic temples of Bagan, but has not undergone the same restoration process as the other major temples, perhaps because of the bad karma that is associated with it.
Shwezigon Pagoda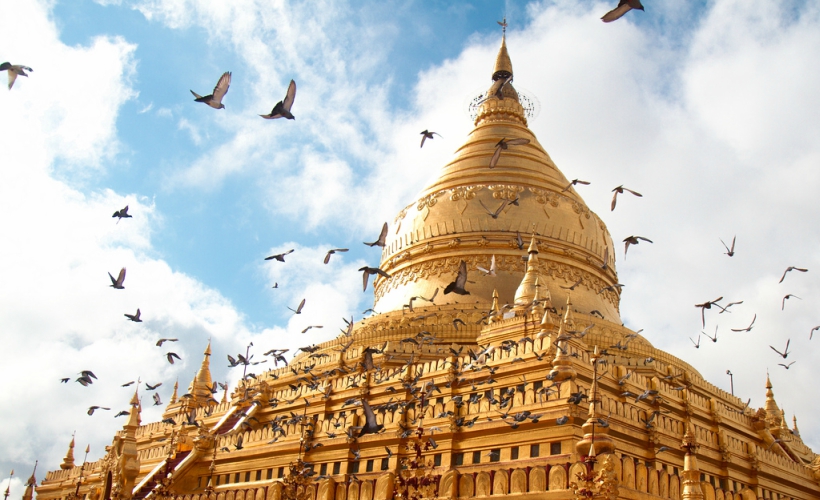 Location Just outside Nyuang-U, by the Irrawaddy river
This massive golden pagoda is said to enshrine several important and sacred Buddha relics. For this reason, it is not only popular with tourists, but is a pilgrimage site for Buddhist monks. It is a busy and crowded spot, but a must-see while in Bagan. Shwezigon is a beautiful site during the day and especially magical at night when it's lit up.
Sulamani Temple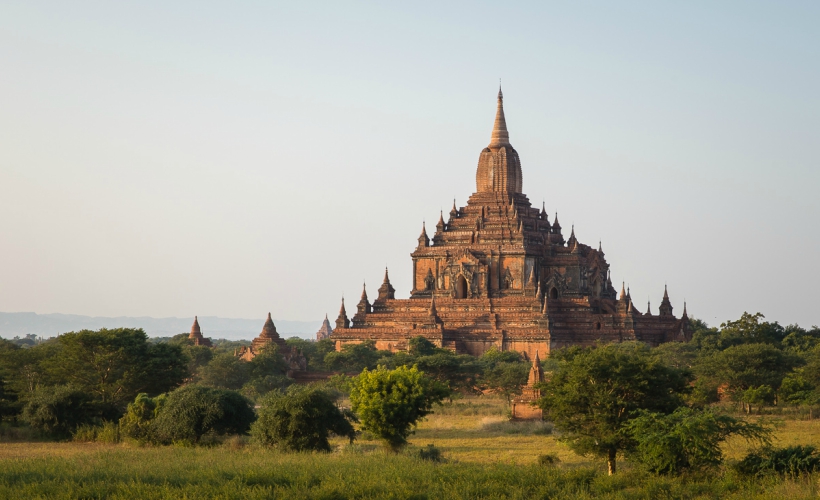 Location Close to Dhammayangyi Temple
The Sulamani Temple is probably the most elegant one in Bagan. Its name means 'small ruby' because according to legend, the king found a small ruby on the spot where he had it built. The inside holds images of Buddha as well as frescoes depicting Buddhist mythologies. On the outside of the temple are terracotta plaques that contain the Jakata tales, or stories of the previous lives of Buddha.
Thatbyinnyu Temple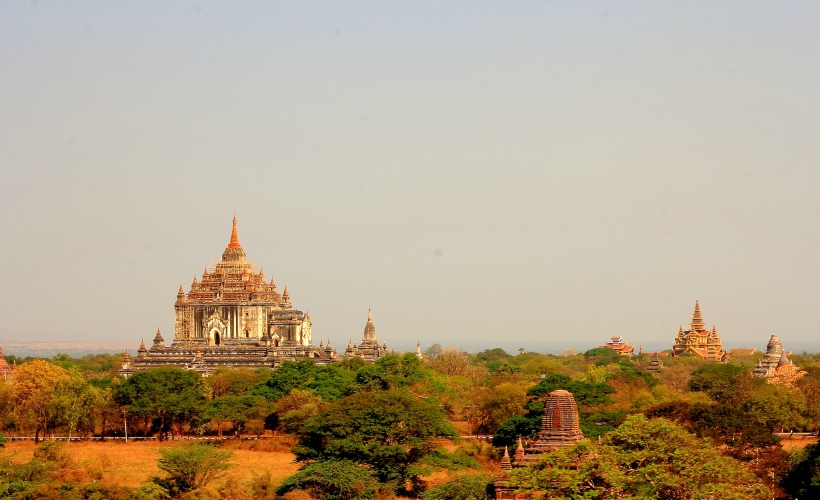 Location Close to Old Bagan, not too far from Ananda Temple
At 60 metres tall, Thatbyinnyu is one of the tallest temples in Bagan and can be seen across the plains. It looks almost like it was pulled from the pages of a fairy tale. Its unique design makes it worth a visit, even though sadly, the terraces are closed after being damaged in an earthquake.
Nanda Pyin Nya
Location Near Minanthu Village, closer to New Bagan
Often called the 'painted temple', the interiors of this small temple are covered in paintings that depict ancient stories and Buddhist legends. Sitting off the main temple route and in a more rural area, it will take some time to get to from old Bagan (about 30 minutes by electronic bicycle, or e-bike). Note that photography is not allowed inside in order to help preserve the ancient artwork.
Ta Wet Temple
Location Close to Sulamani Temple
You won't find this on most tourist maps as this temple does not boast any special designs or famous legends. But it is one of the best places to catch Bagan's famed sunrises, with less crowds than Shwesandaw Pagoda. You can climb to a terrace or even higher to an upper ledge. Many of the hot air balloons fly directly overhead, making for quite a breathtaking view.