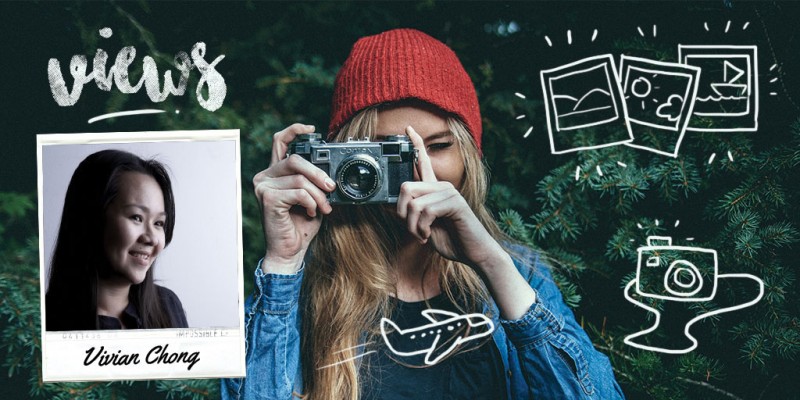 Views is our photo essay section, whereby we ask women to share 6 of their favourite images that tell the story of their city or a destination they have travelled to. We welcome contributions from readers; if you have a photo story to share, email [email protected] and indicate 'Views' in the subject line. Published submissions will receive a token sum from us.
---
One of the biggest festivals celebrated in Malaysia, Chinese or Lunar New Year heralds the arrival of spring and is the one time of the year when Malaysian Chinese quite literally paint the town red. Considered an auspicious colour as it portends luck, good fortune and joy, the fiery shade can be seen in all forms this season: From the spanking new wardrobes that devotees dress up in to the decorative scrolls that deck homes, offices and shopping malls and packets of money, called ang pow, that are given out to children and those who are not married.
My mother and I have made it our tradition to visit Thean Hou Temple, which is always gaily decorated with hundreds of bright red lanterns all the way from the foot of the small hill it sits atop to the main temple premise. These photos were taken on the second day of this Year of the Fire Monkey as we joined throngs of devotees to present offerings of gratitude for the year that has passed and pray for blessings in the coming year.
Temple on a hill
Thean Hou Temple is located along Jalan Syed Putra, about 5 minutes' by car from Mid Valley Megamall. A popular tourist landmark on any given day, it draws its biggest crowds throughout the 15 days of Chinese New Year, where live stage performances are held nightly. The temple also houses a Registrar of Marriage office so you would often see families of wedding parties or couples having their pre-wedding photos taken here.
Keep shining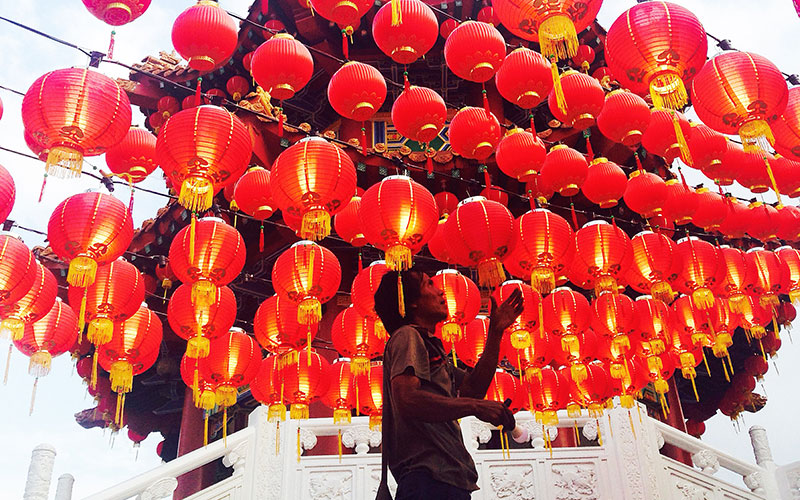 A maintenance worker fixing a strand of lanterns at the temple. One interesting facet of Buddhist temples in Malaysia is that they commonly hire non-Chinese workers, who may often be more familiar with prayer rituals at the temples than some Chinese devotees!
Vantage point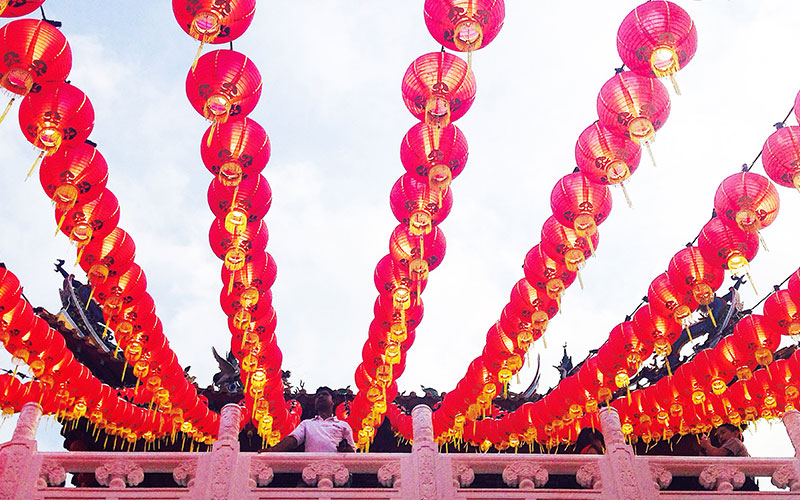 As the temple sits on a small hill, it is a great vantage point to take in sweeping views of the Kuala Lumpur skyline – you can even see the KL Tower and Petronas Twin Towers in the distance.
Red letter days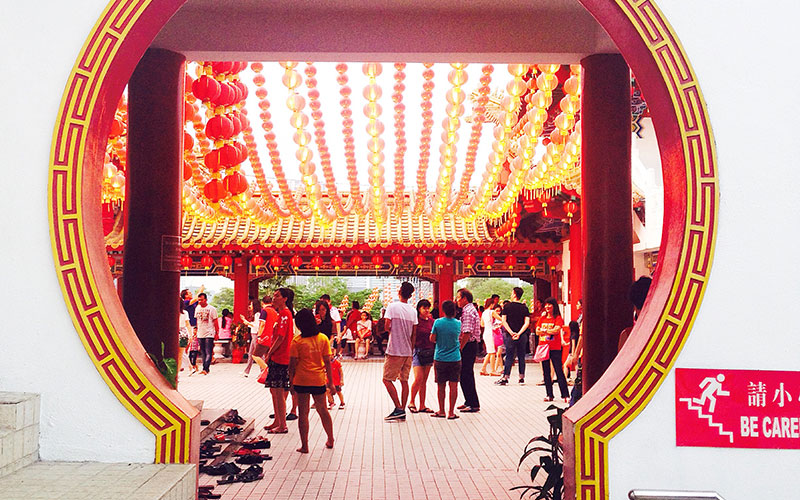 Devotees usually turn up with their families who, besides praying and getting their fortune told, also take the opportunity to soak in the festive atmosphere or perhaps catch the sunset on a good weather day.
Love, Actually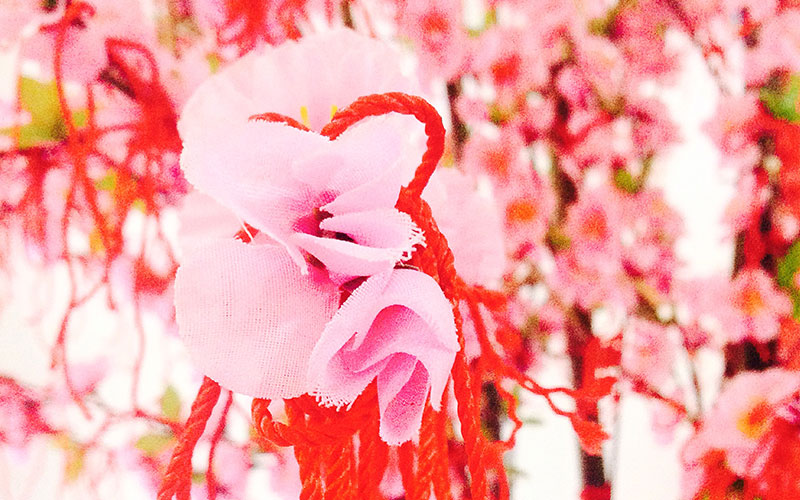 Besides the temple proper, there are smaller prayer 'stations' set up around the perimeters, with each dedicated to a different God or Goddess to grant specific wishes. This faux spring blossom tree, for example, is for those who want to pray for love. Place a donation in the box, get a red string and tie it to the branches. Yue Xia Lao Ren or Yue Lao (which means 'old man under the moon), the God of marriage and love, will unite you with the one you are meant to be with.
Lotus and lights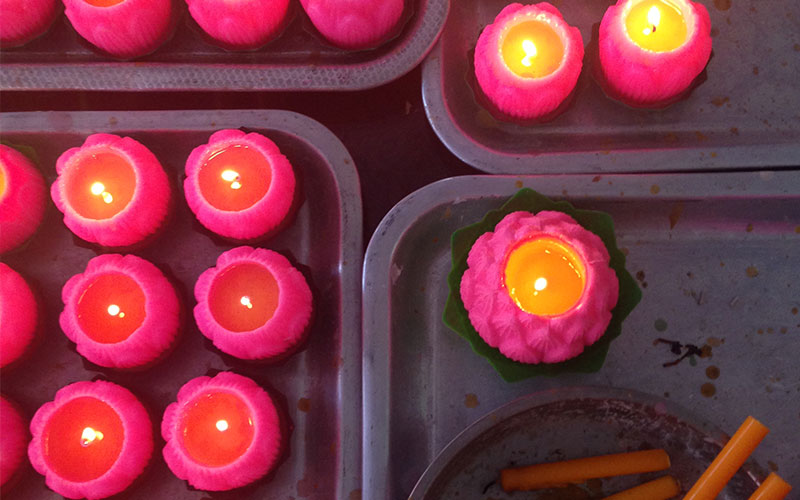 Besides incense sticks, coil incense and red candles, devotees also light these lotus flower candles. The lotus is an important symbol in Buddhism as it represents many positive attributes: Purity of the heart and mind, longevity, humility and honour.

More from Zafigo:
Chinese New Year adventures in Kuala Lumpur
Quick & easy cheongsam shopping guide
Get all the latest travel updates from Zafigo. Follow us:
[button url="https://www.facebook.com/zafigo" size="small" value="Facebook" color="#94288e"]  [button url="https://twitter.com/ZafigoAsia" size="small" value=" Twitter " color="#89c44c"]  [button url="https://instagram.com/zafigoasia" size="small" value="Instagram" color="#14afa9″]