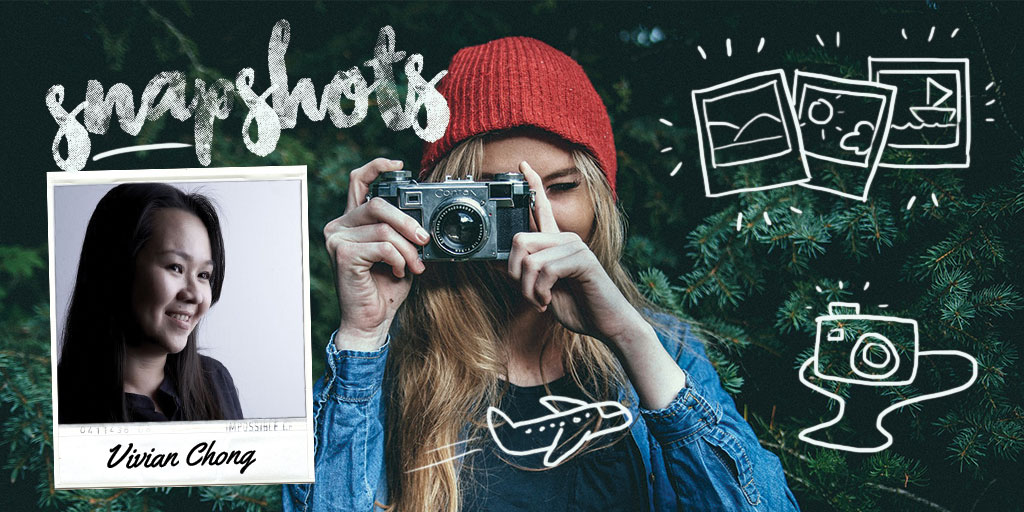 Combing the roads in the town centre, which were strewn with flowers and other colourful things after the procession, for bits of coconut with flesh intact that my little friends and I could snack on – that's my earliest recollection of Thaipusam, an annual Hindu festival dedicated to Lord Murugan and a key event in Malaysia's cultural calendar.
I remembered that it was colourful and festive, with non-stop music, dancing and a general air of merriment. Growing up, Thaipusam became just another public holiday to me; I'd always known about the biggest celebrations at Batu Caves in Selangor and marvelled at the photos of devotees carrying milk pots up the 272 steps, kavadi bearers with the weight of the world on their shoulders, and the body piercings that amazingly drew no blood. But I'd never witnessed it myself. It was one of those things that were so familiar because you read about them all the time, but don't actually know anything about. Last year, a few friends and I decided that it was high time to see for ourselves this fascinating part of our cultural fabric, one that reportedly draws over a million people each year including tourists.
We gathered at 3am to board the KTM Komuter at KL Sentral and headed for Batu Caves station (just for Thaipusam, this train service runs 24 hours from the day before). Once there, we simply followed the crowds and found ourselves immersed, engaged, and enraptured… it truly was an amazing spectacle, an experience to be had at least once and cherished for time.
Tip:- These six photos only tell a part of the story; see for yourself at this year's Thaipusam, taking place on 9 February 2017.
It takes a village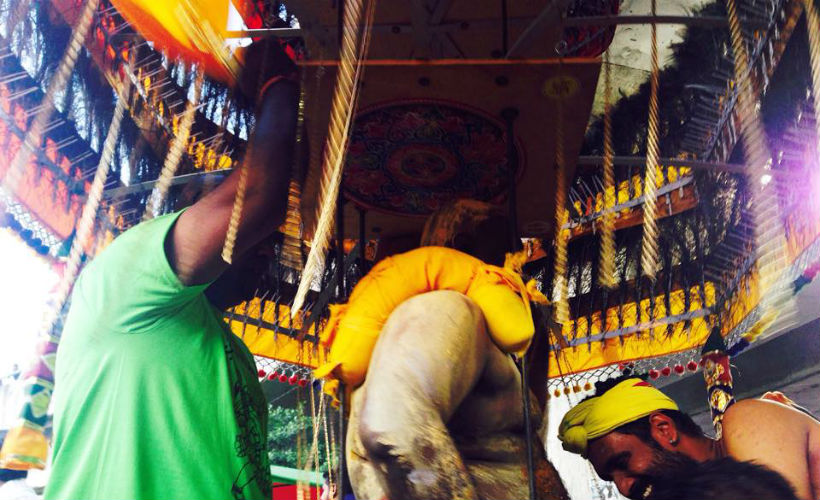 Devotees carry kavadi, a ceremonial sacrifice to ask Lord Murugan for his assistance or blessings. Kavadi can range from a milk pot that is balanced on the head to elaborate wood or steel structures extending several feet high and weighing tens of kilos. The latter is always a sight to behold – beautifully embellished with flowers, feathers and fabrics in bold hues – and require several men to hoist it up and onto the shoulders of the bearer. Physical feat aside, it was their camaraderie and tight team work that made for such fond memories.
Chained reaction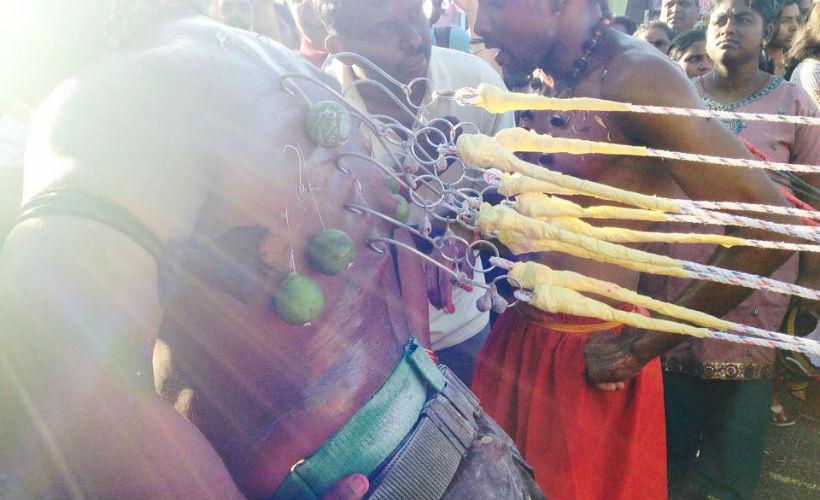 The kavadi is attached to chains that are hooked into the flesh of the bearer. I got near enough to watch this being done and even though there was no blood or as much as a pip from the person being pierced, I couldn't help but cringe. The kavadi bearer and his entourage, on the other hand, were smiling all along as if it's something they do every day, and even asked if I wanted to take a selfie with them.
Slowly but surely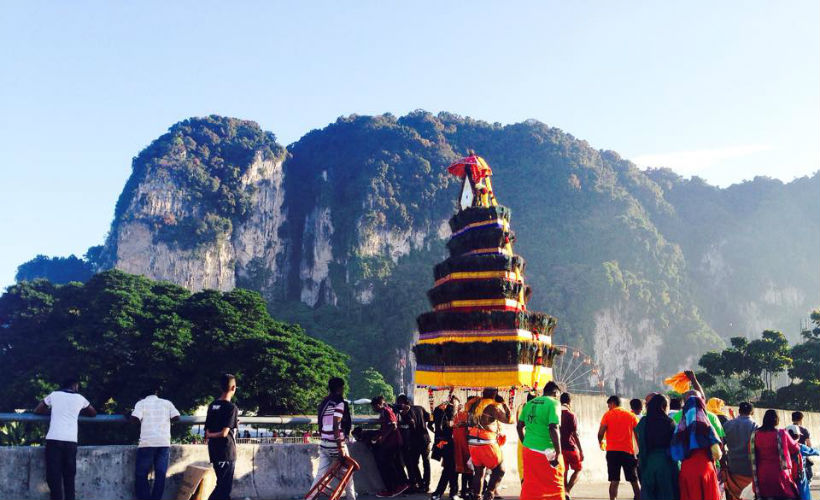 From the riverside, kavadi bearers will walk towards the cave temple, accompanied by an enthusiastic entourage who may play music, sing or dance, or all three. It's a slow journey as they stop often so that the bearer can rest (someone will swiftly plop a chair in place for him to sit on). Yet their energy never seemed to wane and their determination was obvious to the onlooker.
We've got your back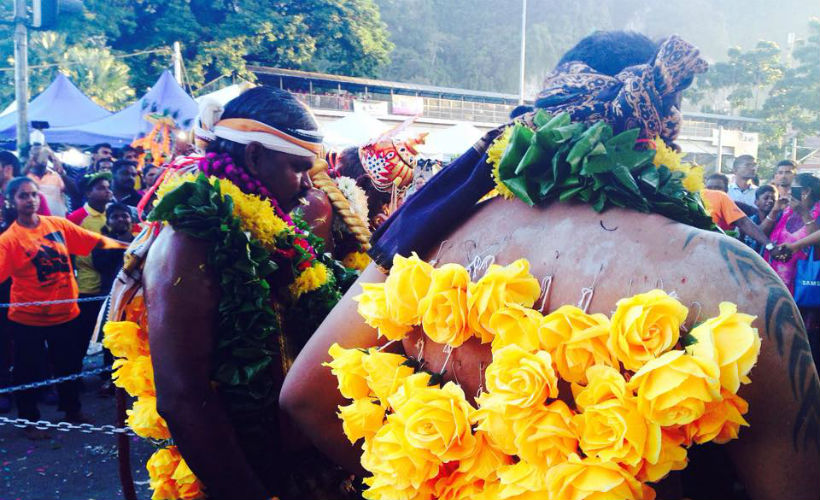 There appeared to be no limit as to what one can hang onto the hooks pierced into the flesh. I saw a man who looked like a walking fruit stall as he ambled past laden with green limes on his back, another had little brass pots wrapped in red cloths, while these two brought a smile to my face with their cheerful yellow flowers.
Palette perfection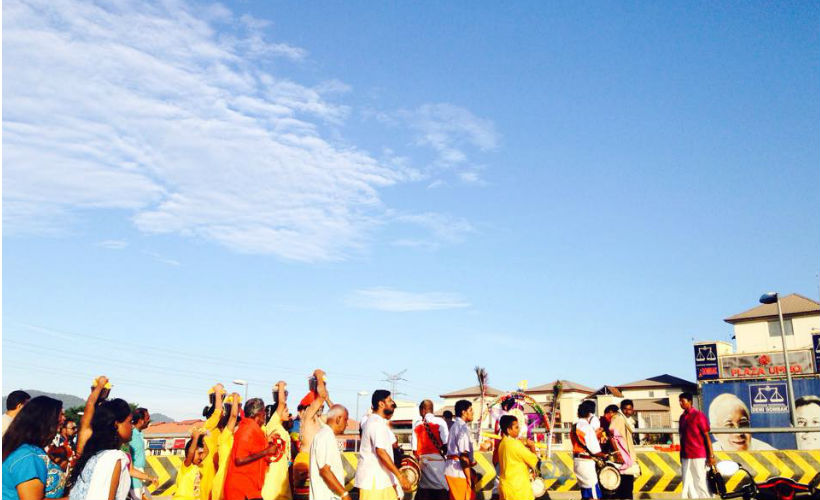 What did I say about this being a colourful festival? From elaborate kavadis to the women's gorgeous sarees, the entire scene was a riot of striking shades. Even the sky was in on it that morning, a huge swathe of blue with patches of clouds, while the sun shone brightly.
Model behaviour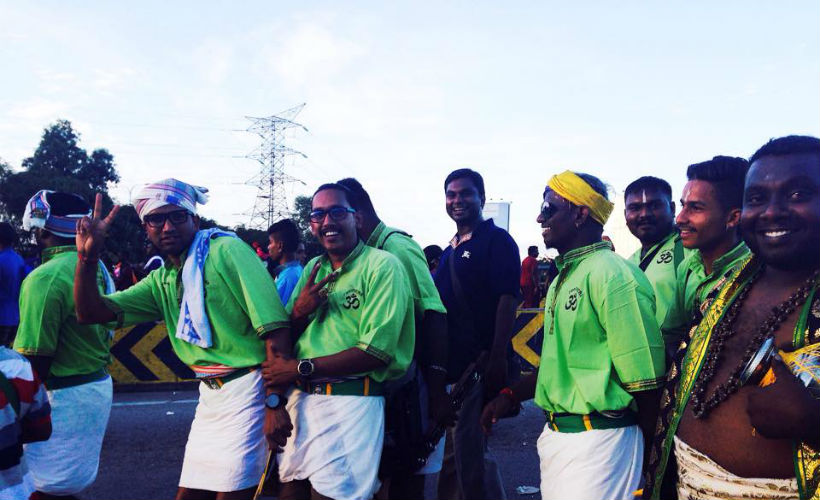 Yes, there were crowds of people everywhere but I never felt jostled or pushed around as everything was so orderly. The devotees were completely focused on what they were there to do, and their supporters jovial and welcoming to visitors. All I had to do was point my phone camera and so many ready models jumped into frame!