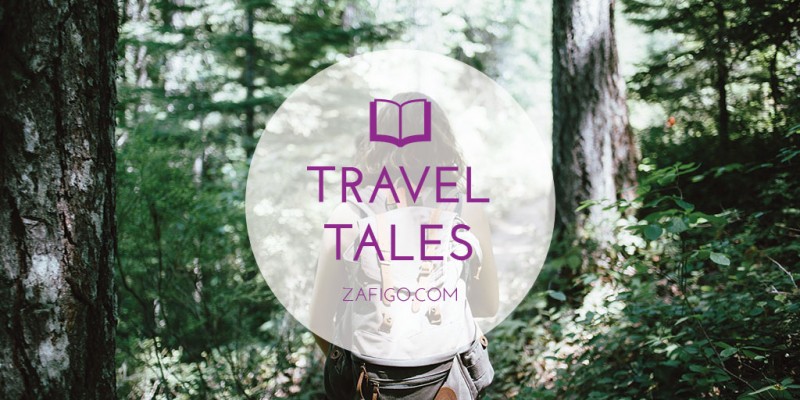 While I am always open to meet new people, make new friends and discover new experiences during my travels, I do draw some lines at the more personal encounters. I travel solo most of the time, thus I always try my best to ensure that my safety is not compromised while enjoying opportunities to soak in local cultures. I am not making my gender an excuse but I have come to accept that women are more vulnerable to assaults and harassments.
Being a closeted introvert – the main reason I prefer to travel solo is to get some solitude after my everyday social obligations at home – apart from friendly greetings, small talks and bonding moments in the kitchen of the backpackers' hostel, I am not always sure that I have the energy to sustain more intense social interactions. But as I planned my fourth trip to Japan, I realised that I needed to get out of my comfort zone if I were to move beyond my previous experiences in the Land of the Rising Sun.
I had heard about Nagomi Visit after my last visit to Japan the year before. It's non-profit organisation based in Tokyo, run by Megumi Kusunoki and Alisa Sanada. The way it works is simple enough – it provides a platform that connects visitors to Japan with local (volunteer) hosts. Megumi was inspired by her own experience with a host family, who had generously opened their home to her on a trip to Sweden. She sought to provide similar non-typical, authentic experiences for visitors who want to explore a different side of Japan. Thus she came up with Nagomi Visit, where visitors can have a meal (lunch or dinner) with local residents, in the comfort of the locals' home.
Nagomi Visit sounded like the much-needed prescription for me. "For us, it was a practical thing to do," said Takuo Nakamura, over his family's decision to volunteer as hosts with Nagomi Visit. "My wife and I both work, and our son Hayate is in school so it is difficult to get a mutual long vacation time," he explained as we walked to his family's home in a suburb of Sapporo, Hokkaido. Nine-year-old Hayate cycled along the pavement, happy to follow his father's pace – a typical Japanese walking pace, which meant I had to hasten my steps at times, just to catch up.
"So we decided to do Nagomi Visit. We get to meet people from all over the world without having to travel abroad. Also, we get to speak English," the kaishain (salary man), a Kamakura native, elaborated.
It was early Sunday evening in Sapporo, just past 6PM. It was summer and while one could still feel the stifling heat from the day, it was gradually getting dark. A few minutes earlier, I had met Takuo and Hayate at the Japan Railway (JR) Kotoni Station, the agreed meeting point set via email that started less than a week before.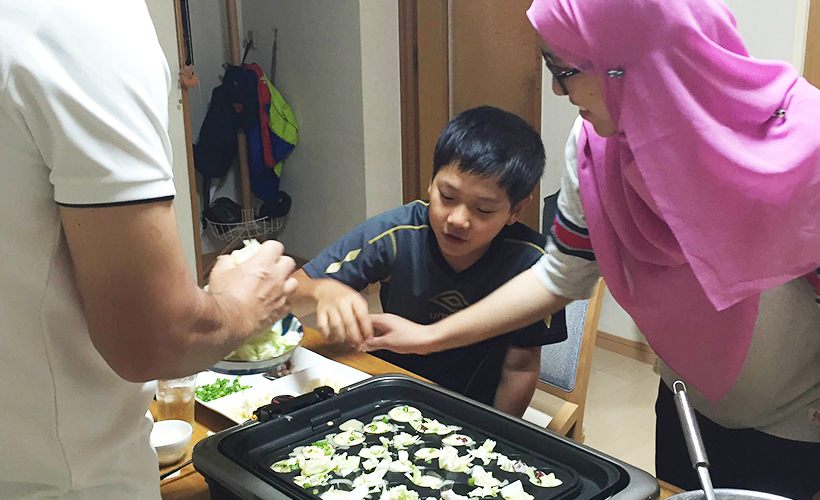 Around 10 days before leaving for Sapporo, I submitted a request for a host at my destination by filling up the booking form. Within two days, I had offers from two potential hosts and one of them was Takuo and his family. It didn't take me long to decide; I liked their introductory note. Upon acceptance, I paid the JPY3500 fee (to cover operational costs only – Megumi is adamant that Nagomi Visit is not a business transaction) and started corresponding with my host.
The walk from the train station to their house didn't feel far, but as we crossed streets and weaved our way further into the residential area, I knew that if I were to make a dash for it for any reason at all (God forbid), I wouldn't be able to retrace the route on my own.
I was quite nervous at first. The anxiety that never left the back of my mind constantly put me on edge, but I kept on reminding myself that I had taken the necessary precautions. I had forwarded the last few email correspondence with the Nakamuras, including their contact information, to my sisters. I had also texted the girls before leaving my hostel. Thus they should know something was amiss if they didn't hear from me in the next few hours.
I was glad to find that my worries dissipated during the short walk; Takuo seemed like a nice person, and his son was friendly. He gladly answered my many borderline prying questions about the typical everyday life of a modern Japanese family, not once showing his discomfort, if any. Hayate even learned a few Malay phrases to greet me, and happily practised his English when answering my queries.
I was welcomed with equal warmth by Shiori, Takuo's wife and Hayate's mother, upon arrival at their family home. She was preparing dinner, so Hayate filled in the time by showing me how to play one of his favourite traditional games, kendama. He had been playing for a while so he was an ace at it. I even had a go, but being a first timer, I wasn't even able to get the ball in place once. But one thing for sure: It broke the ice, and put me more at ease with my hosts.
Takuo and Shiori went over dinner's menu as I gawked at the huge spread of food on the table. The menu addressed my dietary restrictions as a Muslim. I really didn't want to trouble anyone to go out of their way for me, thus I just mentioned two things – no meat and no alcohol.
Japanese food, being the diverse cuisine that it is, did not suffer from the restrictions or take away an amazing homecooked dinner experience from me. In fact, I could hardly contain my delight as Takuo and Shiori described one dish after another, as most of them are not easily found at restaurants when eating out.
Conversations were surprisingly fluid, which put my worry about socialising to rest. As much as I was interested in Japan, the Nakamuras were equally, if not more, curious about Malaysia and the Malaysian way of life. We mostly conversed in English but they knew that I had been learning Japanese, and patiently guided me through Japanese phrases and sentences. There were never awkward pauses as we kept on asking questions, making remarks and offering explanations about one thing after another over Japanese board and card games.
Time passed pleasantly. Come 9PM, it was time for me to take my leave. The family presented me with local souvenirs as parting gifts, including a 10-yen coin tied to a maneki neko (lucky cat). "A symbol of lasting friendship," Takuo explained.
I said my goodbye to Shiori and Hayate before Takuo walked me to the subway station, with an invitation to return the favour by hosting them for a meal at my place when they visit Malaysia.
Two days later, on my last full day in Sapporo, the weather was unusually humid and hot. When I reconnected to the Internet upon returning to my hostel later in the evening, there was an email from Takuo and his family, reminding me to stay safe and to contact them if I needed any help. Unbeknownst to this ignorant tropical traveller, the uncommon weather indicated an incoming typhoon.
At that moment, I was fully convinced… that if I let my guard down a little bit and take (calculated) risks, I would not only have amazing experiences but forge sincere, lasting friendships.
[box color="#89c44c"] On our last Travel Tale, Physician Dr. Fiona Chan shared about her foray into solo travel that began in 2013 while she was still in medical school.  Read her story here: "How I Was Diagnosed With Wanderlust In The Midst Of Medical School" [/box]
Here's your chance to get published on Zafigo! We want your most interesting Travel Tales, from memorable adventures to heartwarming encounters, scrumptious local food to surreal experiences, and everything in between. They can be in any form and length –short stories, top tips, diary entries, even poems and videos. Zafigo is read by women travellers the world over, so your stories will be shared to all corners of the globe.
Email your stories to [email protected] with the subject line 'Travel Tales'. Include your profile photo and contact details. Published stories will receive a token sum.

Read Next: