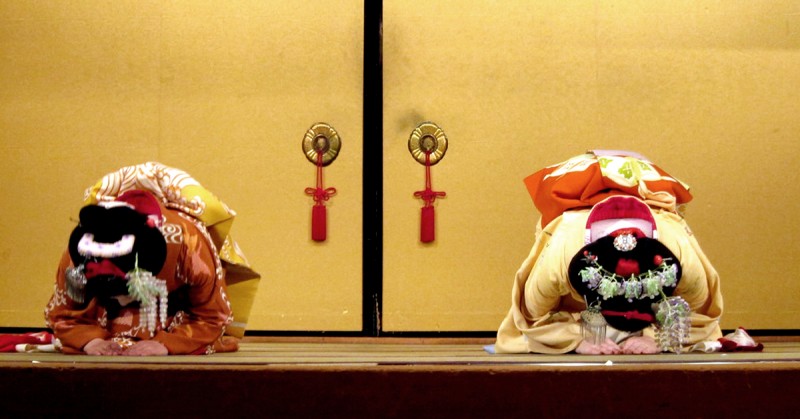 Welcome to Hokkaido, a paradise of Japanese hospitality! Here, the people are warm and friendly. They will show you the most heartfelt hospitality, but it'd be great if you could talk softly, and avoid performing your bodily functions such as belching or farting in public.
That is exactly what's written in The Traveler's Etiquette Guide to Hokkaido pamphlet by the Hokkaido Tourism Organisation.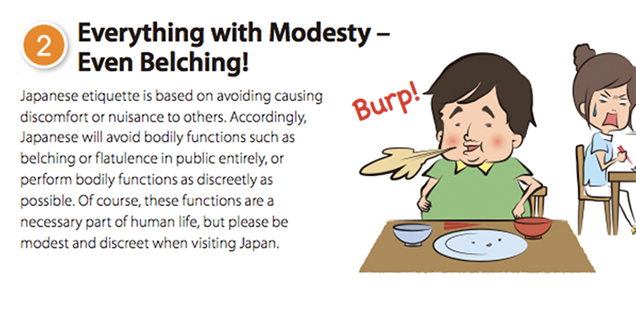 "We hope to provide insights towards the nature of Japan and the Japanese mind, opening the doors to many joyful and memorable experiences,"  the pamphlet reads. It says the key to a rewarding visit is to understand the Hokkaido local's ways of thinking, customs and dispositions.
The tourist pamphlet continues to list dos and don'ts of conducting oneself in the modest Japanese community, highlighting table manners, punctuality, lining up, public bath etiquette, toilet etiquette, and more.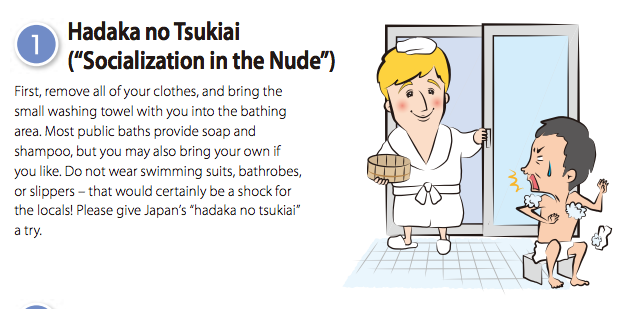 A quick glance through the 10-page pamphlet and you will notice that it is obviously aimed to reduce bad behaviours from visitors, including littering, loud behaviours, and soiling public toilets.
This is not the first pamphlet educating tourists to adopt the Japanese sense of decorum.
The first version of this pamphlet was aimed directly at Chinese tourists and created controversy for its patronizing tone.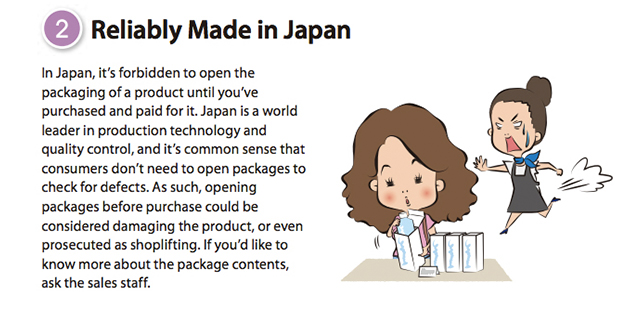 According to Japan Times, Hokkaido Tourism Organisation initially came up with the idea for this pamphlet after local hotels were reluctant to host tourists from China. Several cases of rowdy Chinese tourists leaving hotel rooms dirty and behaving rudely left a bad impression in hoteliers' books. One local resident said they assumed the Chinese lack common sense.
In hopes to address this issue, the Hokkaido Tourism Organization then released the tourist pamphlet titled "Hokkaido Ryoko Joshiki" ("Common Sense When Traveling Hokkaido"). Printed in Mandarin, the pamphlet had illustrations showing example after example of bad tourist behaviour marked with large 'X's. Chinese residents in Hokkaido took offence, complaining that it gave a false impression that all Chinese lack common sense and manners.
This revised, more polite version was published in March was renamed to "Hokkaido Kokoroe" ("The Traveler's Etiquette Guide to Hokkaido"). It is published in both English and Mandarin with depictions of Caucasian and Asian tourists.
The full The Traveler's Etiquette Guide to Hokkaido pamphlet is as below: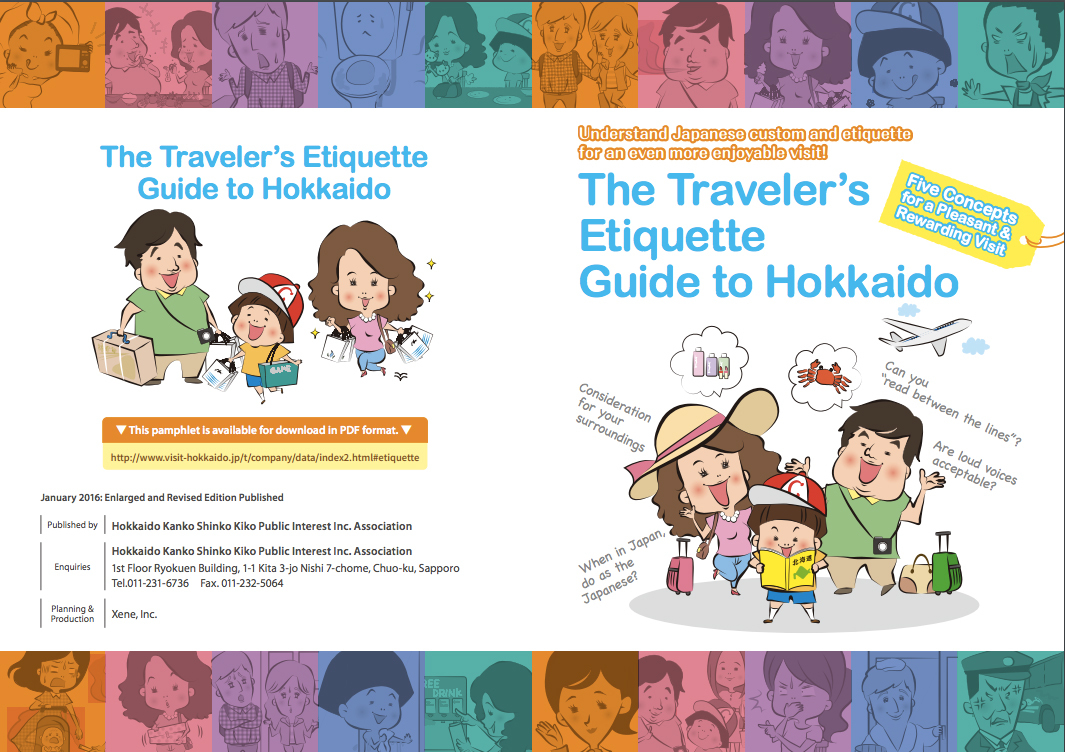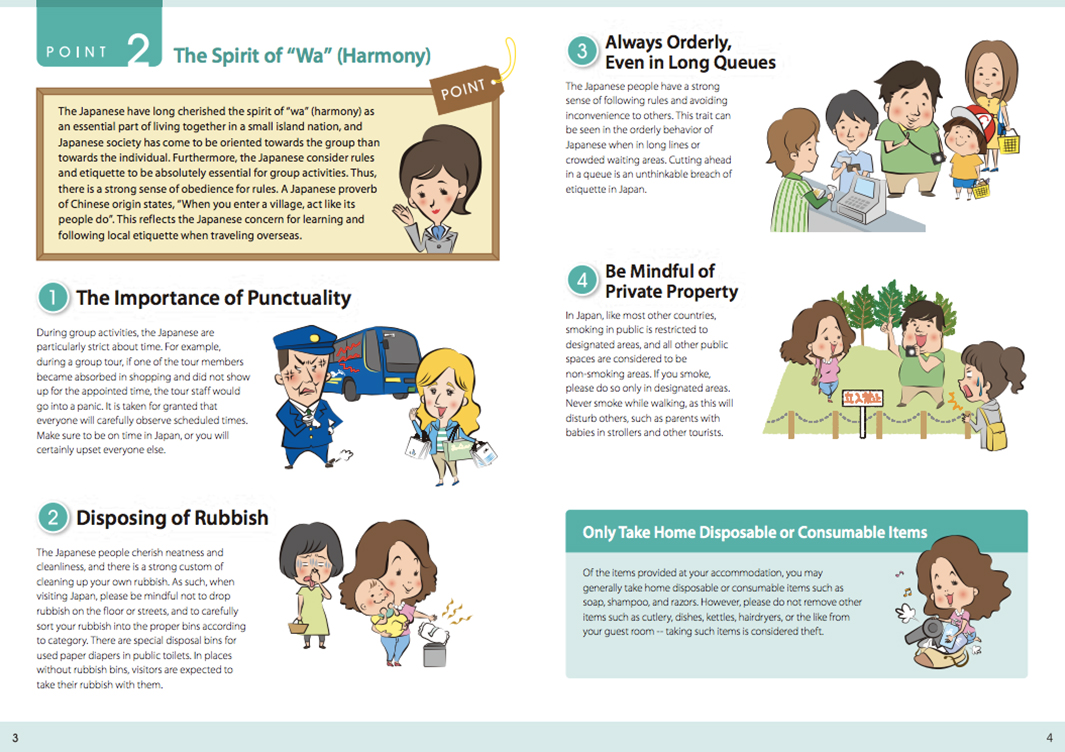 You can find pick up this pamphlet at hotels or selected venues across the prefecture. It is also available for download at the Hokkaido Tourism website.
H/T: Mashable

Read Next:
| | | |
| --- | --- | --- |
| |   | |
| 19 Photos Of Cherry Blossom Season That'll Make You Wish You Were In Japan Right Now | | |
Get the latest travel stories from Zafigo. Follow us on Facebook and Twitter for updates.