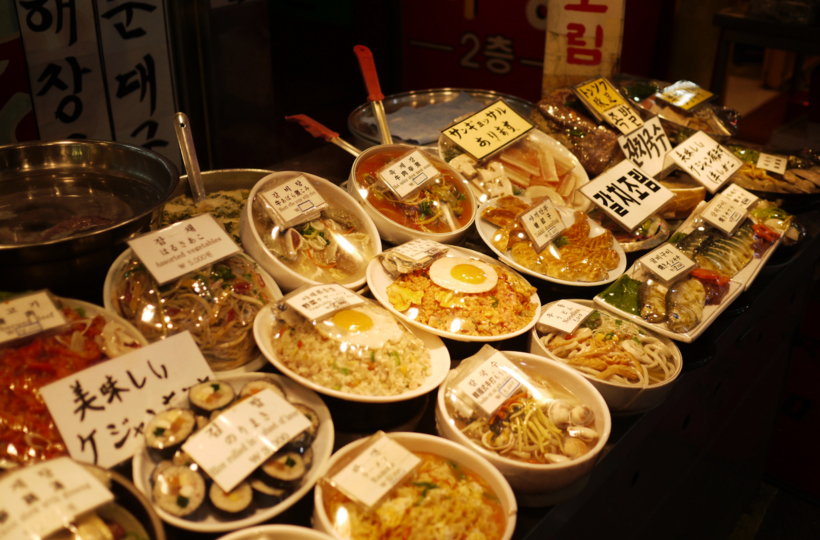 Gaining popularity as a top holiday destination in East Asia, Seoul, the capital city of South Korea, is a paradise for every type of traveller. With ancient palaces that tell tales of the past and high speed underground subways that zoom into the future, antique markets and haute couture, humble temples and modern glass skyscrapers, Seoul's a stunning mix of then, now, and later.
While the city offers many attractions, if you're a Muslim traveller, one of the biggest concerns you'll have in mind is what you can eat when in Seoul. If you're worried about subsisting on only instant rice and cup noodles when in South Korea, hold that thought, because you can feast on the local grub. Here's our pick of Seoul's top 10 Halal street eats:
Tteokbokki (Korean rice cake)
Walk into any of Seoul's alleys and you'll find the pojangmacha (street vendors) selling out paper cups laden with this street food delight. Tteokbokki is a stir-fried mixture of soft rice cakes in a sweet and spicy red chili sauce called gochujang, that's made from red Korean peppers. This simple combination of chewy rice cakes in spicy sauce will leave you craving for more!
Foodie Tip: The sauce may sometimes contain some vegetables and fish cakes, but generally no kind of meat is added.
Pajeon (green onion pancake)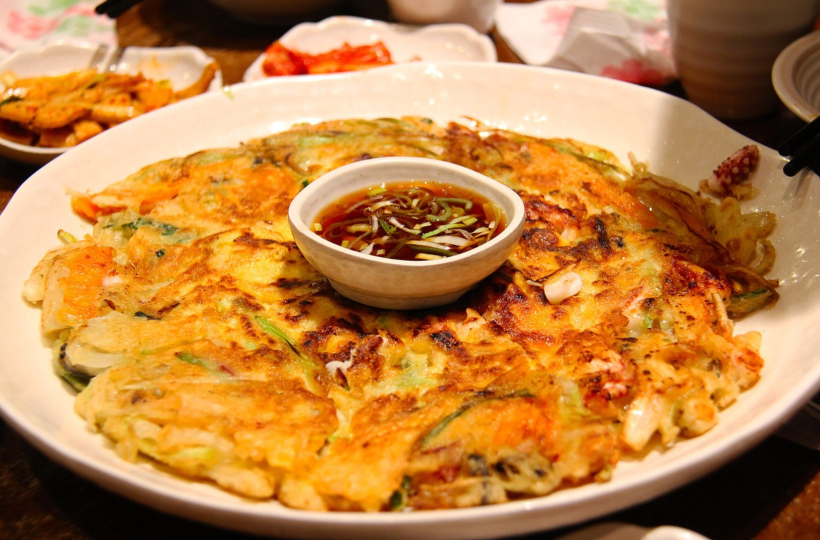 A savoury Korean pancake, pajeon is another enticing Korean street food. The pancake is made from a batter of eggs, wheat flour, and stalks of green onion, often topped with seafood like shrimp and squid (haemul pajeon). The fried concoction is served alongside a slightly salty soy sauce and chili dip. If you're not big on seafood, you can request for a vegetarian option instead. Couple this dish with some instant Korean coffee and you've had your high tea right on the streets!
Bungeo-ppang (fish-shaped pastry)
This age-old street snack can be found everywhere along the city's streets, and the name 'bungeo-ppang' actually means 'fish bread.' This fish-shaped pastry puff is stuffed with a delicious filling of red bean paste, cream custard, or cheese, and some stalls even sell them with an ice-cream filling.
Bungeo-ppang is prepared in special skillets, which give the treat a crusty and flaky texture, and are served steaming hot. If you're not a fan of sweet treats, order a cheese bungeo-ppang. All that gooey cheese is oh-so-satisfying!
Twigim (deep-fried snack)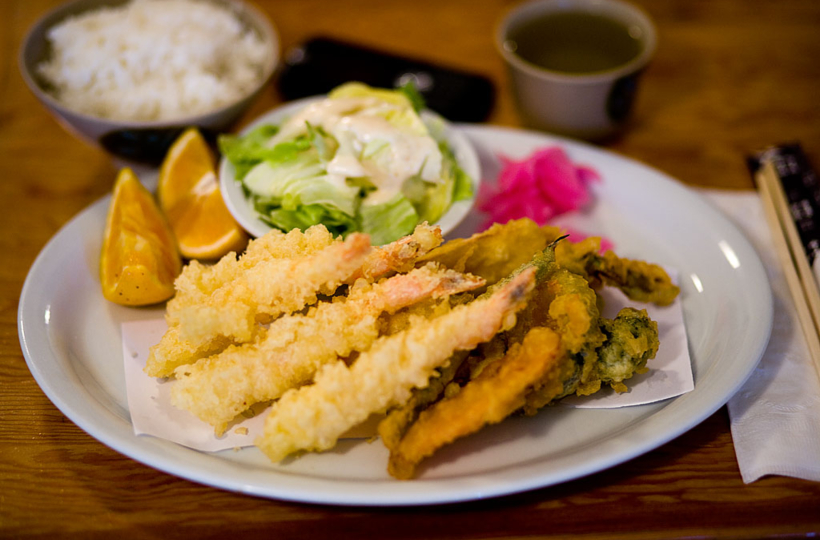 Probably the best way to satisfy your snack cravings while in Korea is to bite into one of these deep-fried treats. Twigim, as it's called by the locals, is a whole food coated with a delicious tempura-style batter and deep-fried until crispy. The choice ranges from pieces of squid and shrimp to vegetables like peppers, spinach leaves, sweet potatoes (best!) and even hard boiled eggs.
Chamchi (tuna) kimbap
No trip to Korea is complete without trying kimbap – the dressier Korean version of Japanese sushi. Sticky rice is wrapped with a sheet of seaweed, and drizzled with oil and sesame seeds. Kimbap normally has a generous filling of pickled vegetables, kimchi and meat, seafood, or tofu.
While many variants of the kimbap are available, you can opt for chamchi kimbap, which is a tuna filling. Alternatively, you can also go for the veggie roll, which is made up of spicy pickled vegetables, for an explosion of flavours with each bite.
Gyeran-ppang (egg bread)
If you're looking for a street snack that's more substantial and filling, you best bet is a gyeran-ppang, or simply put, Korean egg bread. This snack is the Korean version of the all-time favourite breakfast of eggs and toast. A whole egg is either baked on top of or inside the bread, and then topped with parsley or, sometimes, sunflower seeds and nuts. Available at all times of the day, gyeran-ppang is a delightful way to satisfy hunger pangs albeit in a healthy manner.
Ojingeo gui (spicy grilled squid)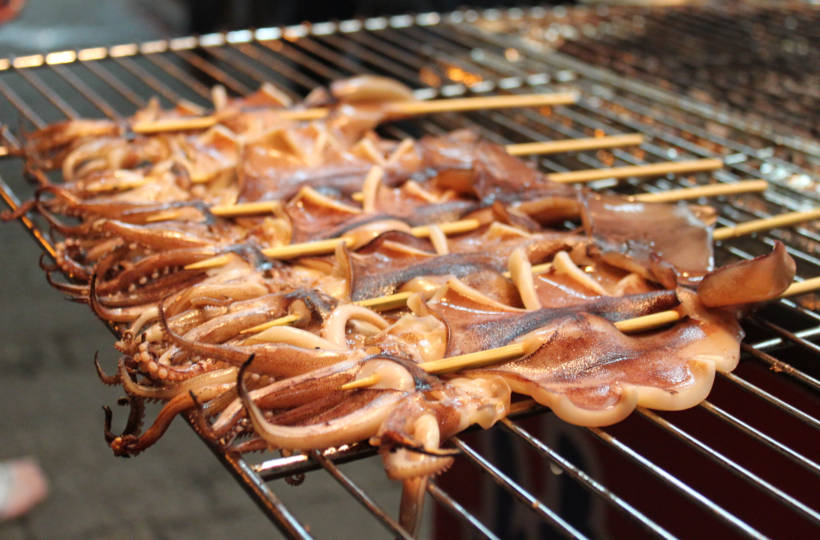 Koreans love to put food on a stick, and the most popular skewered food around here that's available at all major markets and foodie streets is ojingeo gui. A very simple preparation, it consists of squid cut into pieces and grilled on a charcoal barbecue. If you're a Korean barbecue lover, you'll love its smokey flavor. If you want more grease in your meal, try a packet of butter roasted squid for some guilty pleasure.
Eomuk (fishcake)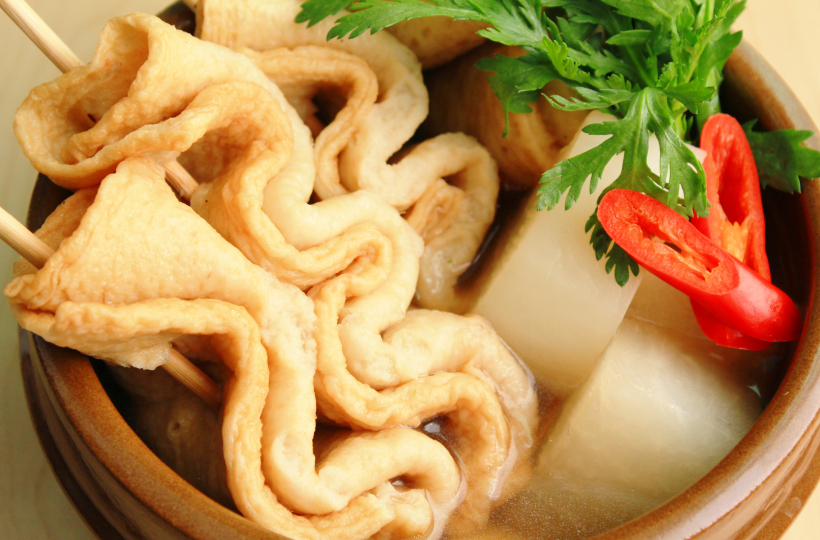 Unlike other Korean street eats, which are either deep-fried or drizzled with butter, eomuk is a healthier alternative. These delectable fishcakes are skewered onto sticks, steamed, and then dipped into a hot broth prepared with vegetables and seafood like green onion, leeks, pumpkin, and crab meat.
At a local vendor, you can pick as many fishcake sticks as you want, and then enjoy them by dipping the skewers into the flavoursome broth or ladling some into a cup to enjoy on the side. The broth is free of charge and you can help yourself to as much of it as you can stomach.
Hotteok (sweet pancake)
If you've already had a meal and are looking for a local dessert, our top recommendation is hotteok, a traditional Korean dessert made with dough and stuffed with honey, brown sugar, nuts, and cinnamon. The pancake is served either hot and crispy or chewy, with each mouthful oozing sweet goodness. Every vendor will have their own style and recipe of making hotteok, so try a few places until you find one that you like the best. Ignore the calories, you're on a vacation!
Banana fritters
This particular street eat will fill Malaysians and Indonesians with delight. Korea's equivalent to goreng pisang (banana fritters), this snack is simply prepared and very filling. Fully ripe bananas are cut into little pieces, then deep-fried until golden brown and crispy. What takes the dish to another level is that the Korean version comes with the option of toppings such as whipped cream, chocolate sauce, colourful sprinkles, nuts, cinnamon powder and more.
Get all the latest travel stories from Zafigo. Follow us on Facebook, Twitter, and Instagram.