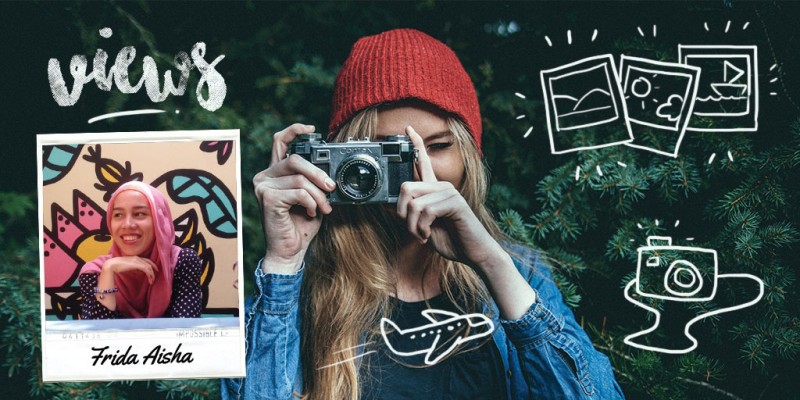 Views is our photo essay section, whereby we ask women to share 6 of their favourite images that tell the story of their city or a destination they have travelled to. We welcome contributions from readers; if you have a photo story to share, email [email protected] and indicate 'Views' in the subject line. Published submissions will receive a token sum from us.
---
Songkran is one of Thailand's best-known festivals, popular for it's the one time in the year when you can douse perfect strangers in water and come away as friends. It's considered a form of respect to the Lord Buddha and symbolises being refreshed or cleansed.
Last April, I experienced Songkran for the first time in Bangkok and needless to say, had a splashing good time. The biggest parties are at Silom, Khao San and Central World mall but celebrations can be seen across the city. I saw people standing on the sidewalks next to huge buckets of water, happily drenching everyone who passed by. I joined the merry crowd at Silom where water guns and foam were part of the action.
1. Find Your Weapon of Choice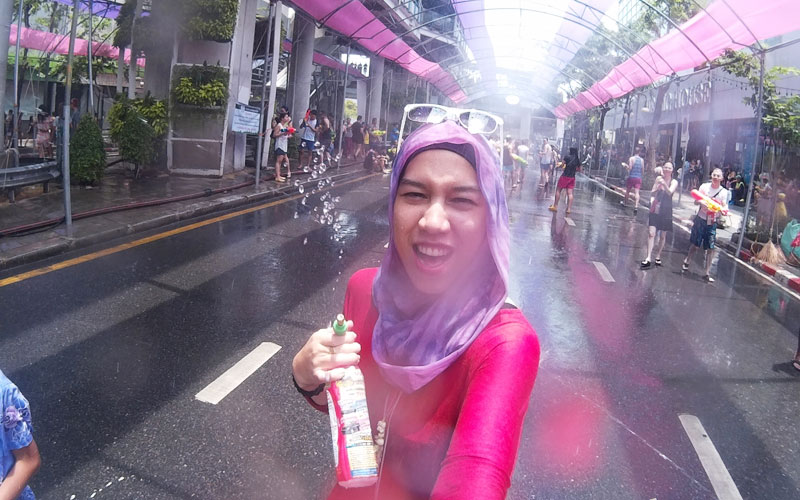 In moving with the times, most people choose to participate using water guns rather than pails of water. There are many types to choose from, in varying sizes and budgets. As a first-timer, a simple squirt nozzle attached to a plastic bottle is good enough to join in the fun.
2. Ready, Set, Aim!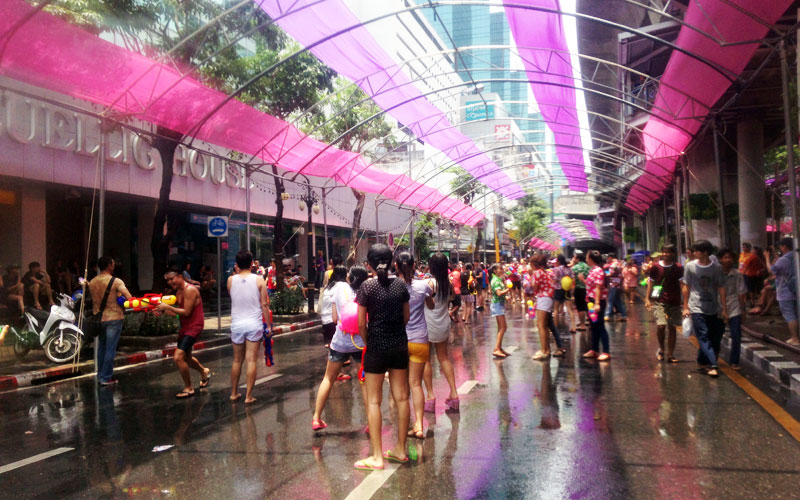 Spending the first day of Songkran at one of Bangkok's longest streets that was closed to cars specially for this event did not disappoint! Walking down from the Silom BTS station, my friends and I were greeted by people running around all drenched up and throwing powder at our faces. It was a shock to the senses but was also an assuring sign that we were in the zone. Everyone was armed with a water gun and fire trucks stood by to let people refill them.
3. All Dressed Up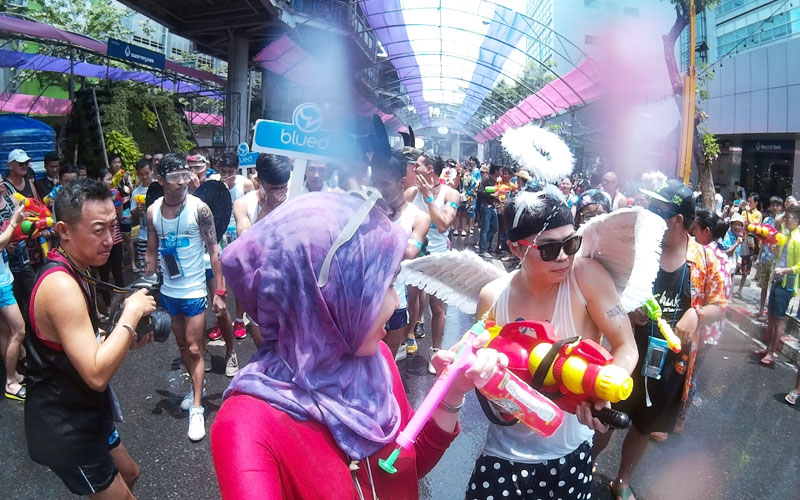 It appears to be a huge party where everything goes, and that applies to what one wears as well. Many turned up in funny, whimsical costumes – like this Water Angel I bumped into – that added to the merriment.
4. Fantastic Foam Fun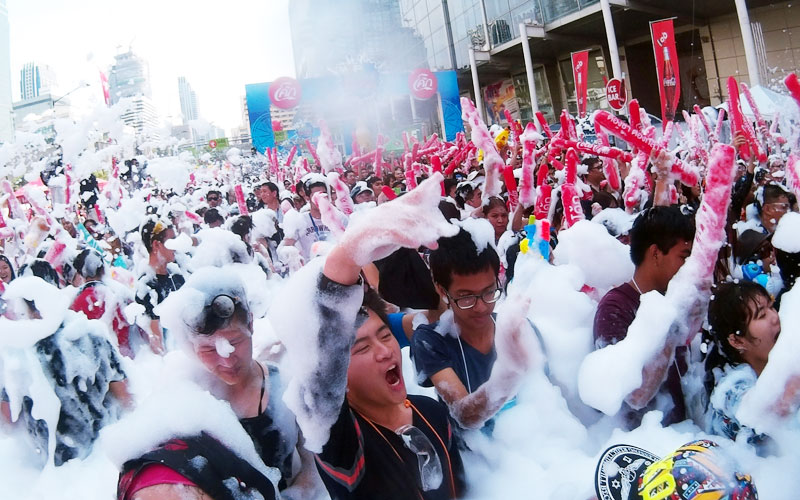 On the second day of Songkran, I joined the foam party just outside of Central World where the soapy suds spewed from a huge, fan-like machine and carpeted the crowd. Locals sang along to live music from a famous Thai band before the soundtrack shifted to EDM music, which got everyone jumping and dancing along – while trying to avoid the foam getting into our mouths.
5. Friendly Faces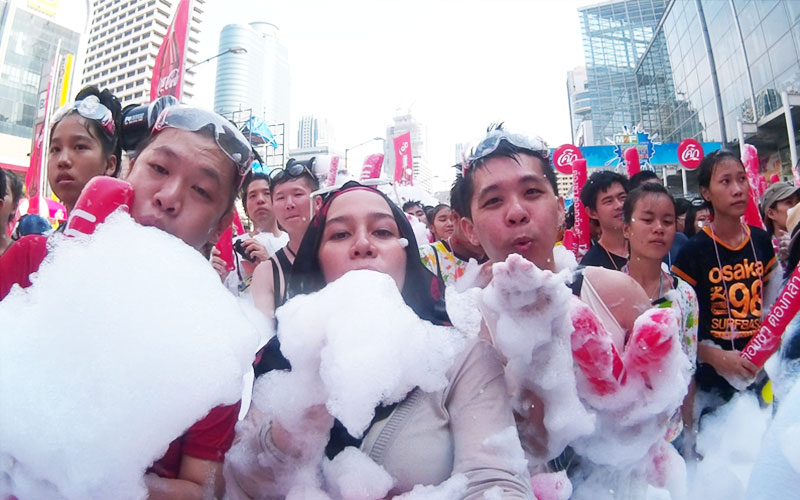 My friends were initially quite apprehensive about joining the foam party, given the throng of people waiting to get into the party zone. While waiting in line, I met three guys from Johor, Malaysia and I guess our mutual excitement helped us to bond immediately. We ended up partying together, and I was so grateful they looked out for me when the foam got so much at one point that I was practically snowed under! Turns out, Songkran is a pretty good place to meet new friends too.
6. Eat. Pray. Shop. Play
[responsive-video identifier="F8iqJy7FT2Q"]
Even though I was in Bangkok mainly for Songkran, I made time to sample the city's best offerings – food and shopping. This video sums up what was a truly memorable visit to the Land of Smiles
All in all, when you visit Bangkok for Songkran, you will definitely have a good time if you don't forget to shop, eat, and visit all the touristic spots like the Grand Palace!

Read Next:
Get all the latest travel stories from Zafigo. Follow us on Facebook and Twitter.