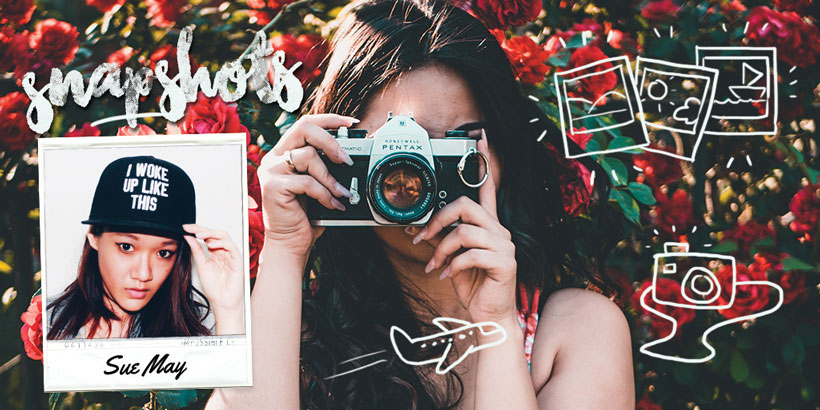 As someone who grew up in the suburban city of Subang Jaya, my memories of Ramadan bazaars are of excitement, when my parents would allow me to buy one tea time snack if I'd been behaving. Kuihs (traditional Malay cakes) like ondeh-ondeh (poached rice flour dumplings, coated with grated coconut, filled with melted gula melaka aka palm sugar) or fried popiahs (spring roll) were always a top pick. If I had a hankering for something a bit greasier, maybe a roti bom (small flatbread with margarine).
The hot and sweaty affair of the sunny evenings wasn't an issue for little me. As I grew older and explored more, that shine of excitement hasn't diminished. And why would it when there's so much to be explored – and eaten – in Ramadan bazaars?
If you've been lucky enough to visit Malaysia this time of the year, here's what you can expect; a taste of Malaysian culture in one complete package. I must also add that you best be prepared to walk through the bazaar and leave with bags filled with the makings of a homemade buffet.
Murtabak for days
The savoury pan-fried bread stuffed with meat isn't something exclusive to Ramadan bazaars. Although it's available year-round in most mamak shops (street side casual restaurants selling local delicacies), somehow, it just tastes better from the bazaars. Try the ones also stuffed with cheese!
Get heated up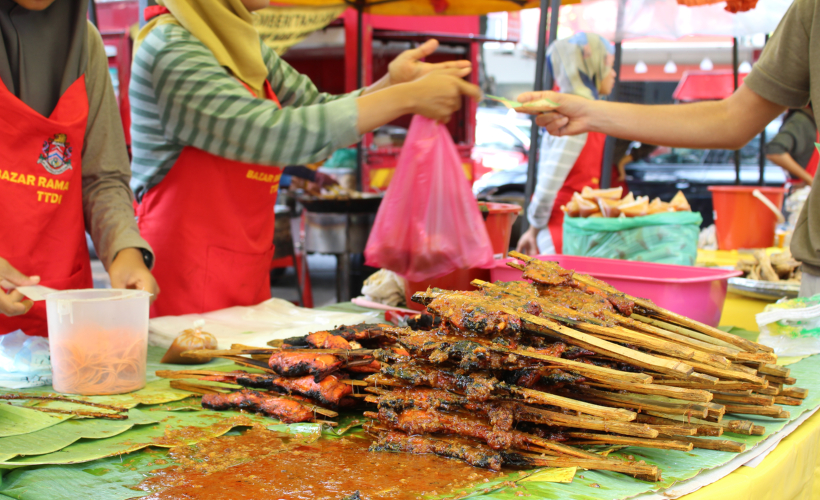 A local crowd favourite, ayam percik is a roasted or grilled chicken marinated in flavourful spices and coated with a creamy spicy sauce. Many swear that it doesn't feel like Ramadan if they don't have their ayam percik.
Melting pot
Not unlike holding a kenduri kahwin (wedding banquet) these stalls don't play around when they cook. As you walk through the bazaars, you'll be able to witness a mass frying of noodles in giant kualis (pans). The huge pots and pans aren't just for show though, they do the job well to cook the food and also keep the food warm until they sell out.  
Like Ramli but cheesy
Burgers aren't an uncommon offering at bazaars, which is why some vendors get pretty creative with their offerings. This particular one in the Taman Tun Dr Ismail (TTDI) bazaar coats the burger patty in cheese!
Sweet bites
There's never a shortage of cakes, jelly and kuihs at the bazaars, but what might catch your attention will be the apam balik. Think a regular fluffy pancake but with Malaysian flair – peanuts, sweet corn and a hint of sweetness.
Hot cakes
A Malay adaptation of a popular Indian snack, putu piring is a type of round, steamed rice cake with gula melaka in the centre. You can witness the making of this snack as vendors prepare them fresh.
Quench that thirst
Making your rounds, you're sure to spot one or two specialty stalls claiming to be the best mango juice or being the famous cendol (iced dessert) from certain areas/regions, but for those unsure of what they want, there are plenty of option-friendly stalls selling multi-hued drinks ranging from sirap bandung (evaporated milk with rose cordial syrup) to soya bean and an array of other juices.
Squeezed fresh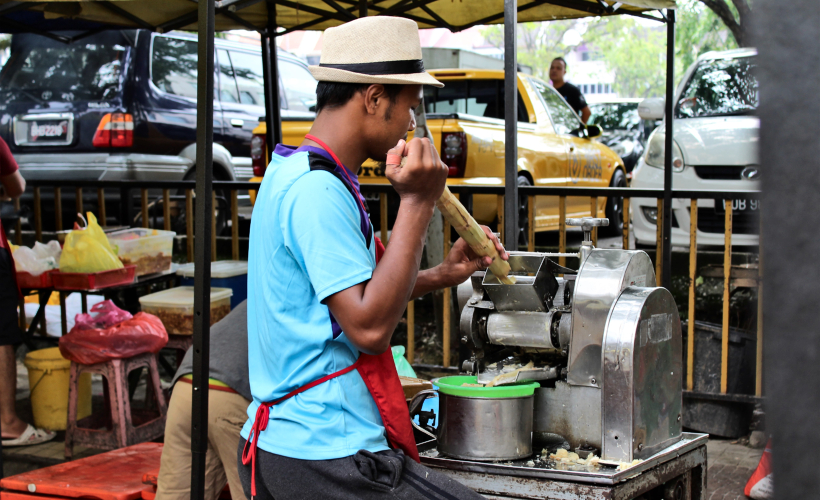 If you're not a fan of the multi-coloured drinks available, you can also opt for something fresh, and head for one of the stalls selling fresh-pressed juice and sugarcane. Should you be as familiar with night markets as I am, you'll be able to hear the roar of the machine before you even see the sugar cane stall.
*All photos courtesy of author
Snapshots is our photo essay section, where we ask readers to share a curation of their favourite images to tell the story of their city or a destination they have travelled to. We welcome contributions from readers; if you have a photo story to share, email [email protected] and indicate 'Snapshots' in the subject line. Published submissions will receive a token sum from us. 
Get all the latest travel stories from Zafigo. Follow us on Facebook, Twitter, and Instagram.