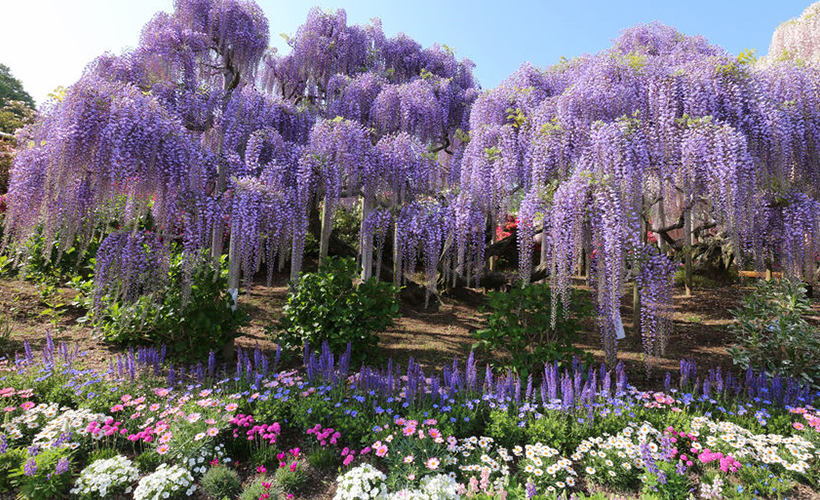 When the words 'flowers' and 'Japan' come up in the same sentence, it usually conjures up images of pretty pink cherry blossoms. Seeing the blooming of the sakura – a tradition known as hanami – is on many travellers' bucket list. The window to see these blooms is very narrow (about one week) and it's not always possible to predict when it will happen.
However, Japan has another less well-known flower display to offer. Ashikaga Flower Park is one of a few parks that proudly boasts spectacular displays of wisterias, locally known as Fuji.
The wisterias in Ashikaga Flower Park in the Tochigi Prefecture (about 80 kilometres from Tokyo) usually reaches full bloom between late April and the beginning of May, making that the peak season and best time to visit. Which is roughly during hanami season as well. Another great time to visit is during winter as well to view the parks spectacular light displays.
In actuality, the entire blooming season is long, beginning as soon as early March and culminating in end June. That said, you're allowed to visit the park all year round for a cheaper fee (different seasons have set prices and passes are most expensive when the great wisteria are in peak bloom). It is, after all, the flower haven for all seasons.
A visit to Ashikaga offers a completely different experience and mood from hanami. First of all, Ashikaga Flower Park spans about 94,000 square metres and the great wisteria tree is over 150 years old. Its branches are supported by beams and grids with over 600 tatami mats underneath. This structure creates a wisteria umbrella that reaches upwards of 1,000 square metres with around 80,000 individual flowers – that's a lot of beautiful blooms to bask in! The colourful wisteria flowers drape down over the structures, creating a colourful flower-waterfall effect.
This stunning tree makes up a part of the 11 wisteria hot spots in Ashikaga Flower Park. Don't miss out on the 80-metre long tunnel of white wisterias where you'll be tenderly enveloped in the sweet scent of these gorgeous flowers. Then, there's another 80-metre long tunnel, this time with yellow wisteria, that's the only one of its kind in Japan. Depending on when you choose to visit the park, different coloured wisteria can be seen throughout the peak blooming season. First to arrive are pale red flowers, followed by purple, then white, and lastly yellow wisteria.
Another stunning sight for sore eyes is the white wisteria waterfall that cascades down over a pond at about 35 metres wide and nine metres high. A secret spot with another white wisteria can be found by stepping around this waterfall.
Besides the wisteria, Ashikaga Flower Park is home to a number of other flowers with eight different annual themes to be enjoyed. In April, tulips and spiraea start to bloom, followed by the wisteria in May. June brings the rainy season along with blue, white, and pink hydrangeas and roses. Finally, an abundance of amethyst sage covers the park in October. The centre of the park also features a sea of azaleas.
In the winter (late October to early February) and during festival times, the park is transformed into a scene much like one in James Cameron's Avatar with lights shaped like wisteria-draped throughout the park, creating an illuminated evening display. The Pale Pink Bridge is especially magical to see during these night-time illuminations as the lights gently reflect off of the pond below.
Besides the flowers, Ashikaga Flower Park offers a variety of unique gourmet experiences. Tuck into some wisteria soft serve ice cream or visit the Fuji Creamery (established in collaboration with Cold Stone Creamery). For something savoury, slurp up some wisteria noodles instead. There's also a number of wisteria cosmetics, candies, and accessories you can consider bringing back as keepsakes or gifts.
27498, 27216, 21313
Get all the latest travel stories from Zafigo. Follow us on Facebook, Twitter, and Instagram.