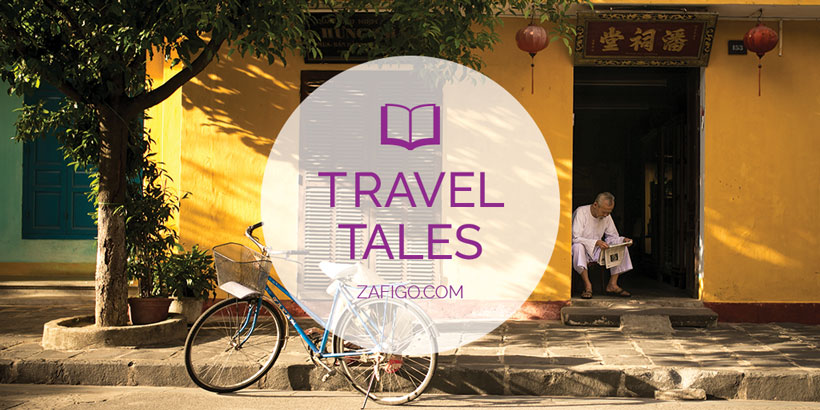 The multiple light-well ceilings of Kashan Bazaar and the enamelled Arabesque ceiling of the Tomb of Hafez pavilion emanating turquoise serenity – these were the absolute must-see destinations obsessively fixated in my mind, while remotely negotiating the Iran tour agenda with the Friendly Iran agency based in Shiraz. It would be unfair to say that I expected any more of Iran than these two spectacles before my 10-day trip.
As a teenager, I had briefly read M. Motahhari and, of course, heard the buzzing stories about Imam Khomeini. But what I did not know about Iran was mindboggling. Geographically, Iran is the size of UK, Germany, and France combined. Home to 11 climate zones out of the world's total 13, Iran is equally impressive in its diversity of languages, ethnicities, cultures, and religions.
Starting in Tehran
Tehran was our first destination and the daytime traffic was bustling despite Eid holidays. I knew we could not use our credit cards there, but I was more impressed by the fact that they had their own credit cards. When it came to not just modern-day devices and utilities but also food and beverage, there was always a made-in-Iran twist we grew to expect.
On the second day, we drove through Tehran's affluent district, one of the longest boulevards in Iran, which the tour guide cared to highlight used to be called Africa Street but has since been renamed after Nelson Mandela. The selective highlights of our Tehran tour guide were both interesting and bemusing!
A Book Lover's Dream
On the same day in Tehran I stood by what seemed to be Book Garden signage, taking a few quick photos, sighing we did not have time to explore further the inviting greenery lying ahead. Signs saying 'Library' in the middle of a busy traffic junction showcased its equal importance to a bank or hospital. Special Book Room signage in mosque complexes, or bending bookshelves cornered in traditional teahouses and restaurants told me that Iran had a huge love affair with books, much to my fascination and delight. A few days after we returned home that same July 2017, I came across a World Economic Forum news article on Iran launching "possibly the world's biggest bookstore". The article briefly described this green rooftop building as hosting "bookshops, an art gallery, and 10 theatres and amphitheatres". I was not surprised with the described colossal scale of the project, given my witnessed book-loving experience in Iran, whereby even the traditional confection masghati was packaged in book-like boxes, bearing real book titles of Persian poetry, such as Hafez's Divan.
Kashan
Upon starting our land trip from Tehran to Shiraz, covering about 900 kilometres, we were joined by a new driver-cum-tour-guide as per plan. It was a group tour, arranged to be detouring to Kashan, Esfahan, and Persepolis along the way. This was the final agreed plan having had no choice but to sadly leave out Abyaneh, the 2,500 year old village, due to time and budget constrains.
Kashan had a cityscape with blanketed with ziggurats – a Mesopotamian architectural style with flat rooftops – and houses along the highway shaped like rectangular boxes, with the longest side falling behind while showing only a frontal short side. The town was full of mud-brick structures, endless twisting alleys and underground cooling courtyards with geometrical-shaped fountains in the middle.
In Kashan, for the first time, I witnessed traditional wind-catchers, buildings with roundish stony rooftops and roof-lanterns equivalent to modern solar skylights. Besides, these rooftops were fantastic spaces for an easy walk. The Bazaar of Kashan itself was a puzzle to be solved. After arriving, I had to wander across its huge maze-like structure, a few miles in length, often leading to cul-de-sacs, and making a return through its many wings of bazaars. I worked at avoiding distraction or making a quick purchase stop, and rushed by to find the section of Timche-Aminoddole caravanserai, the light-well ceiling which I was looking for. We sat there in a kilim-covered seat-like rise, observing sadly the onetime majestic but now dilapidated section. We had some rose-syrup ice cream under that ceiling, skipped suggestions to climb the exterior rooftop, and found the way back to join our tour group just in time.
---
More diverse than you think:
---
Esfahan
If Kashan was incredulous, Esfahan was a little more than, in addition to being completely spellbinding. After visiting Jame Mosque, I declared that nothing could be more splendid and wanted to spend more time there. Then, as if convinced that there was more to the Persian universe, we went to Naqsh-Jahan square and we saw the spectacular masterpiece that is the Shah Mosque or Imam Mosque. The rectangular complex comprised of Shah Mosque, Lotfullah Mosque, Ali Qapu palace and its musical halls, as well as the endless Qaiseriyyah Bazaar. The square still stands as one of the world's largest.
It was not its imposing size per se that was captivating. It's the enchanting ornamentation and the stylistic tile work of the walls and ceilings, the pools, fountains, and the many gardens. It was here that I experienced a sort of magical realism. These were liberating buildings – always having an extension or a connection to the outside world, admitting natural light and air into the multi-coloured space. I could see why a passionate artist would sit on a piece of work for years or decades to perfect its state of art, or when a few focus on perfecting a building in its every fine detail, but I couldn't fathom this being done to perfect every corner and tip of an entire city.
Detours as good as the tour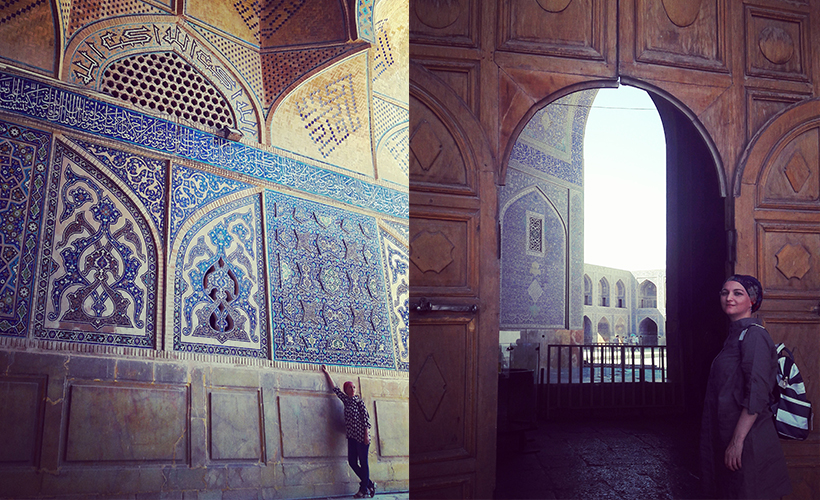 The tour driver was brilliant, willingly taking detours for us outside of the arranged trajectory, eager and proud to showcase the treasures of Iran. Thus, we spent a few hours in Pasargadae, the capital of the Achaemenid Empire under Cyrus the Great, where his tomb lays. Cyrus the Great is described as a just king, monotheistic believer, and an emperor of one of the greatest kingdoms to have ever existed. References to him are said to have been made in the Bible, whereas his two-horned images were interpreted by early Muslim scholars as a suggested connection to the Qur'anic Two-Horned King or Dhul-Qarnayn. We stood in reverence and awe at the side of the tomb where Alexander the Great must have been standing sometime in 4th century BC, ordering his fellow transcribers to translate the tomb inscription in Greek.
The next bonus detour was towards Naqsh-e Rustam, the Achaemenid necropolis located about 12 kilometres northwest of Persepolis, where large tombs of a string of Persian emperors were cut high into the cliff rock face. I would have expected to see something like that only in Egypt or Petra, Jorda. The enthusiasm reached its peak when the tour members, including the guide and my two otherwise not-easily-excited kids, started racing in the middle of the Persepolis desert with mid-day temperature hitting above 40°C.
Hitting the road again
After visiting the Persepolis, we hit the road again. While driving through Persian Gates, a part of the Zagros mountains – the site where the last Achaemenid troops resisted the flooding army of Alexander the Great – we lamented once more the burned-to-ashes Persopolis. Outside, the temperature was scorching and the scenery turned increasingly dry with swathes of desert. "This must have been part of the ancient highway system" whispered someone. Buzzing talk cited the lauded Persian couriers of the Royal Road for their efficient travel, be it horse mounted or on foot. The Greek historian Herodotus is reported to have written, "There is nothing in the world that travels faster than these Persian couriers." The Royal Road, then the longest in the world and built by Cyrus the Great, was meant to connect major cities of the vast Persian empire and enable rapid communication through postal service. It was also part of the Silk Road and Uttara Path built in ancient South Asia and Central Asia, facilitating the centuries-old trade.
Despite our modern means, the desert drive was long and exhaustive. Unlike the chapar khanehs (ancient couriers), our resting spaces were sparse and the petrol stations along the highway were not well-maintained. No wonder other tourists lauded us when we arrived in Shiraz. "Oh you went to desert? So brave! We cancelled our desert trip." said to me a Japanese lady, tellingly pointing to her 5-year old son.
---
Got Kurdistan on your mind?
---
Settling into Shiraz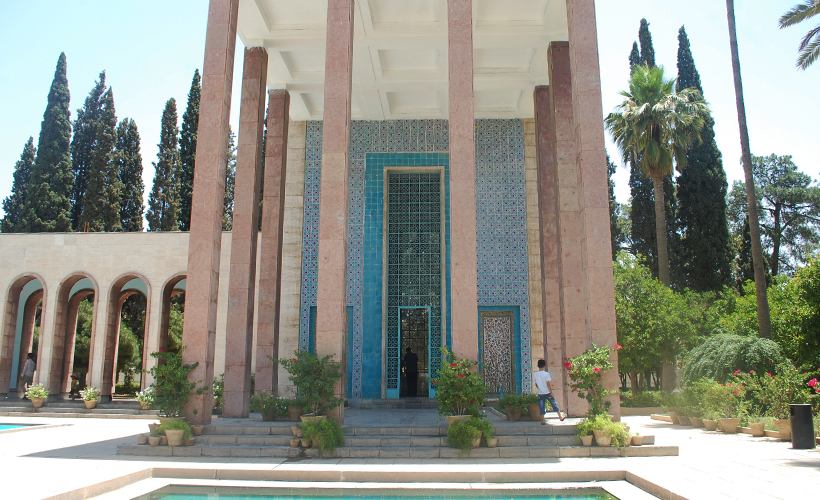 For a while, being in Shiraz was like getting back to modernity after a period of time-travelling into the past. The city structure, its houses, streets, and shops were reminiscent to any of my hometown landscapes. Finally, after many iterations on travel routes, on the very last day of our trip we visited the Tomb of Hafez. It was more than anything we expected based on available online images. At its gates, oracle parrots were skilfully heralding news to visitors via lucky-draw beak-picking of Hafez postcards, politely expecting coins in return for offered services, often un-demanded. The postcard picked from the glass bowl by the pigeon read Hafez's rhymes, having a fresco of his younger image on the reverse:
My fantasy of your vision, my inner sight takes a peek
None like you could anyone ever draw or speak
Although in your pursuit I ride the Northern wind
Left behind in your dust, however I try and seek.
Serenity. Garden. Prayer. Daylight. Nothing there resembled a tomb, a forsaken place, nor a dusted-over gravestone. Its ceiling was a galactic metaphor of laced flowers and intricacies, its comprehensive beauty was hardly captured by camera.
Looking up
Was there something about ceilings in Iran, I reflected, that made me wonder about the human souls behind their creations? Were these noble, skilled, genius craftsmen in desperate need to create beauty to defeat something they struggled with in life, something unbearable like mortality? Did they feel the urge to leave behind a beautiful legacy of their life before submitting peacefully into the hands of destiny?
It's no wonder that the design represented by Persian gardens had influenced the design of gardens from Andalusia to India, and beyond. What drove these artists to sit and passionately glitter colourful tiles in the middle of a desert? Be it the gold coins of powerful shahs, or perhaps their inexplicable intrinsic quest for transcendental art, something struck a timeless chord in these creators, and continues to inspire travellers hundreds of years later.
*All photos courtesy of the author
---
 Read our last Travel Tale:
---
Here's your chance to get published on Zafigo! We want your most interesting Travel Tales, from memorable adventures to heartwarming encounters, scrumptious local food to surreal experiences, and everything in between.
They can be in any form and length –short stories, top tips, diary entries, even poems and videos. Zafigo is read by women travellers the world over, so your stories will be shared to all corners of the globe.
Email your stories to editor@zafigo.com with the subject line 'Travel Tales'. Include your profile photo and contact details. Published stories will receive a token sum. 
Get all the latest travel stories from Zafigo. Follow us on Facebook, Twitter, and Instagram.